feature
Lawrence Halprin: Designer of "one of the most important urban spaces since the Renaissance"
Larry Halprin changed the profession of landscape architecture. Period.
He loved people. 
He was fascinated by cities.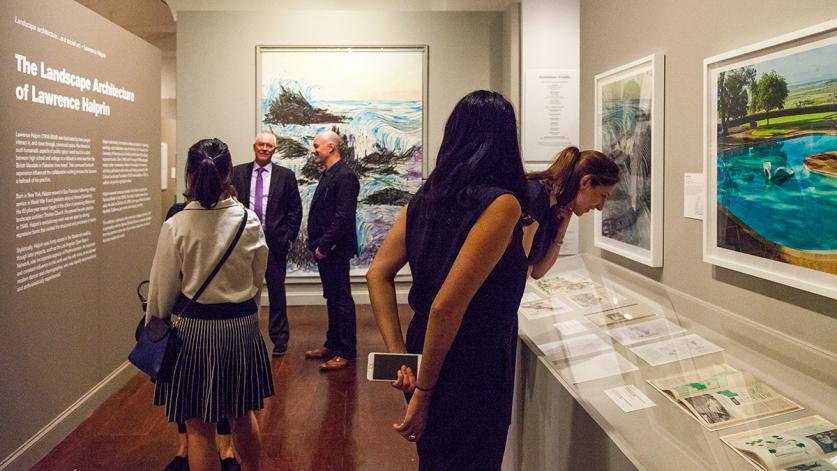 He created bold, innovative environments that blew people away. When the Ira Keller Forecourt Fountain in Portland, OR opened, the New York Times architecture critic Ada Louise Huxtable said it was "one of the most important urban spaces since the Renaissance."
That site and several dozen others are featured in a new traveling exhibition - The Landscape Architecture of Lawrence Halprin - organized and curated by The Cultural Landscape Foundation in collaboration with the National Building Museum in Washington, D.C., where it is on view through April 16, 2017.
It coincides with the 100th anniversary of Halprin's birth and features more than 50 newly commissioned photographs of his built works, as well as sketches, drawings, notebooks, models and other artifacts from the Architectural Archives at the University of Pennsylvania, and drawings from Halprin's personal collection courtesy Edward Cella Art & Architecture in Los Angeles.
The New York-born, San Francisco-based Halprin was not only a gifted designer and a terrific advocate, he was also prescient; his influential treatises Cities (1963) and Freeways (1966) presaged the urban renaissance taking place across the country today. The exhibition is meant to be an introduction to Halprin's work, not an exhaustive account of his professional activities; but it does highlight the innate ephemerality of his built legacy and the need for action to safeguard it.
In 1994 the perpetually upbeat and forward looking Halprin said somewhat ruefully to me: "We spend thirty or forty years trying to get our projects built and then the next twenty trying to make sure that they don't get knocked down." He had recently completed the four projects that make up the Los Angeles Open Space Network, a significant example of Postmodernist design. And there were other projects in his future, most notably Sigmund Stern Grove, the Letterman Digital Arts Center in San Francisco, and the Yosemite Falls Corridor. Those all opened in 2005 - when Halprin was 89.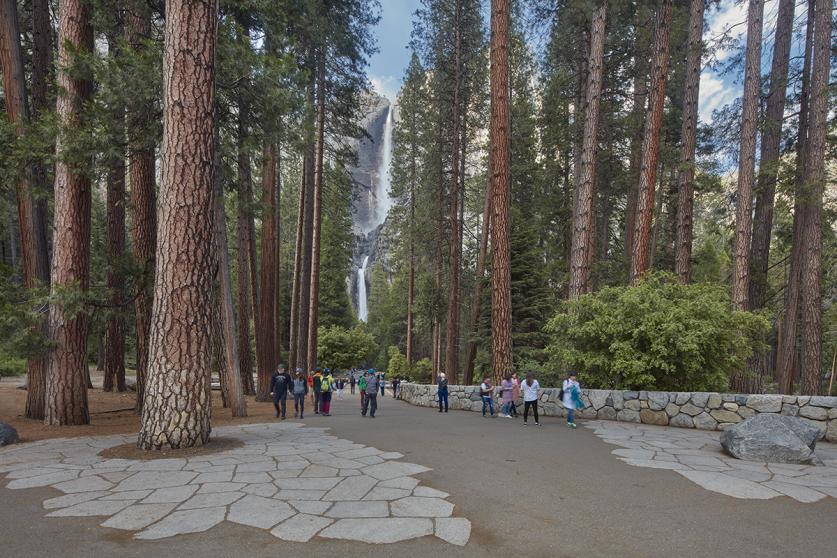 Nevertheless, by the end of the last century, Halprin was very aware of the fragility of his work; some projects had been demolished including Old Orchard Shopping Center, in Skokie, IL, and Nicollet Mall, in Minneapolis, MN. At the time, none of his projects were eligible for inclusion in the National Register of Historic Places because Halprin hadn't retired and his body of work could not be assessed.
In 2002, TCLF's nascent Landslide program, which calls attention to nationally significant works of landscape architecture that are threatened and at-risk, named Halprin's Skyline Park in Denver, CO a Landslide site. This was followed in 2003 by Heritage Park Plaza in Fort Worth, TX. Threats to other sites arose including to Freeway Park In Seattle, WA, and Park Central Square in Springfield, MO, and in 2006 his sculpture garden at the Virginia Museum of Fine Arts was demolished.
However, there has been a shift. Within a year of Halprin's death in late 2009, Park Central Square and Heritage Park Plaza were listed in the National Register of Historic Places; in 2013, the Portland Open Space Sequence, which includes the Ira Keller Fountain that Huxtable praised, was similarly designated thanks to the leadership of the Halprin Landscape Conservancy. The Seattle-based, non-profit, Freeway Park Association is helping raise the visibility of Freeway Park, a work that pioneered the concept in the U.S. of a "capped" park over a freeway (a remarkable turn of events since about a decade ago plans were advanced to amputate a third of the site).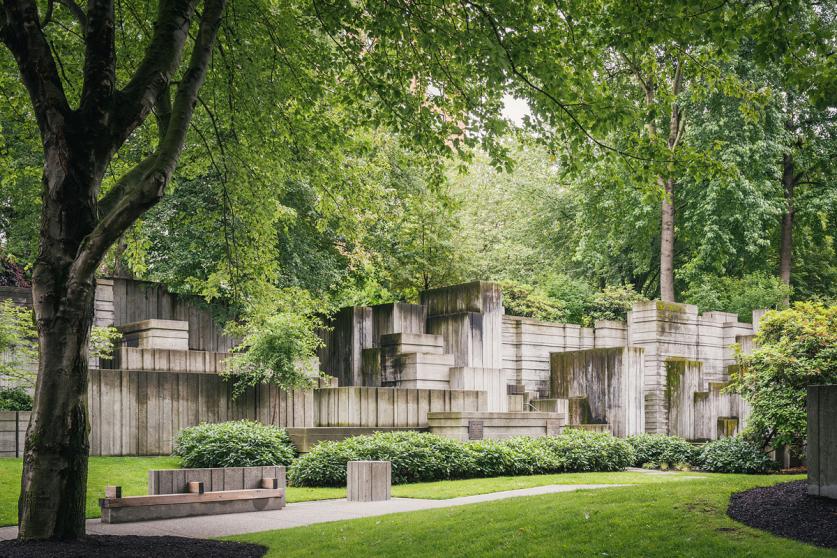 In addition, Heritage Park Plaza is the focus of an ambitious rehabilitation plan led by the Dallas-based studioOutside and Bennett Benner Partners for the City of Fort Worth Parks & Recreation and Downtown Fort Worth, Inc.
More can and should happen. All of the projects featured in the exhibition, including residential, academic, planned communities, parks, plazas, and open space systems, are likely eligible for inclusion in the National Register of Historic Places, because they meet the program's criteria as "the work of a master."
Nevertheless, while Halprin is achieving greater recognition, there are real threats to his built legacy. His work from the early 1960s at the Capitol Towers residential complex in Sacramento is facing imminent demolition. Elsewhere, several of his signature projects suffer from years of deferred maintenance and others are the victims of unsympathetic alterations. For example, the great cascade that runs the entire length of the Bunker Hill Steps in downtown Los Angeles has in the past year been substantially altered - without any public discourse. Halprin spent considerable time perfecting this site-specific and unique design detail; suddenly, it has been neutered.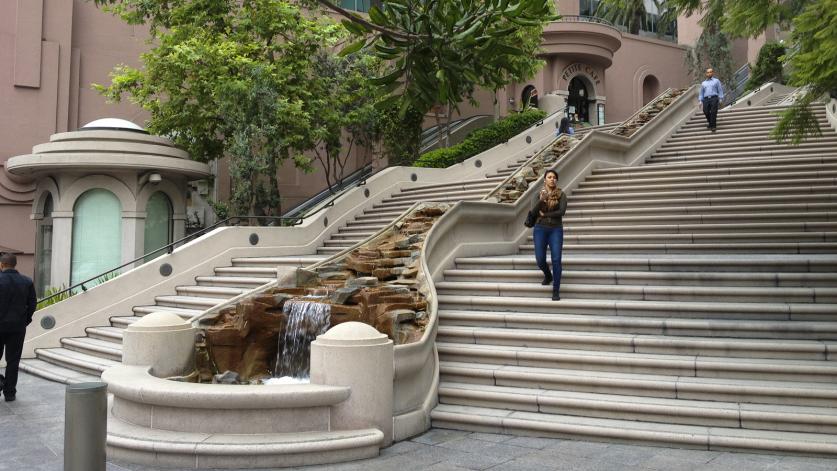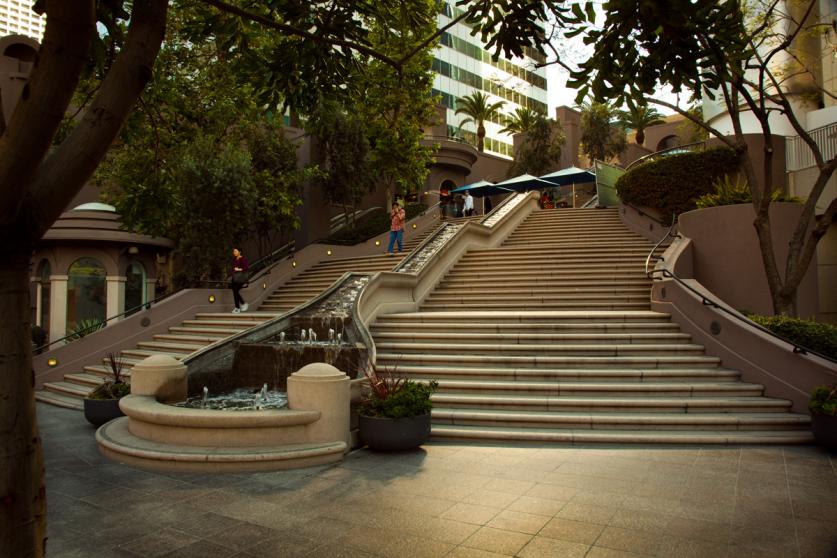 The Landscape Architecture of Lawrence Halprin exhibition and website are meant to create discourse. Along with additional photography, links to a video oral history with Halprin, and other material, the website includes two salient rankings - the current state of each site and the degree to which Halprin's design is recognized by the site's stewards.
There's much to discover about this charismatic, innovative and prescient artist - and visiting one of his landscapes is a great way to start.
This article originally appeared on the Huffington Post on November 10, 2016.