feature
Central Park's Iconic Adventure Playground Is Open Again


in Central Park
 after rehabilitation, 2015
. Photo courtesy of the Central Park Conservancy
After a yearlong rehabilitation by the Central Park Conservancy, Adventure Playground in Central Park reopened this month. One of the park's most popular playgrounds and a significant work of mid-century design, it was created by architect Richard Dattner and first opened in May of 1967. Almost fifty years later, this historic playground has been renewed in a process that involved retrofitting many of its original play features, rebuilding others, and restoring details that had been lost over time. The opening of the playground provides an opportunity to revisit its history and to highlight the Conservancy's careful stewardship of this and other adventure-style playgrounds built during the 1960s and '70s. Such stewardship guarantees that new generations of children can experience these playgrounds, and also creates a stronger connection between the playgrounds and a restored Central Park.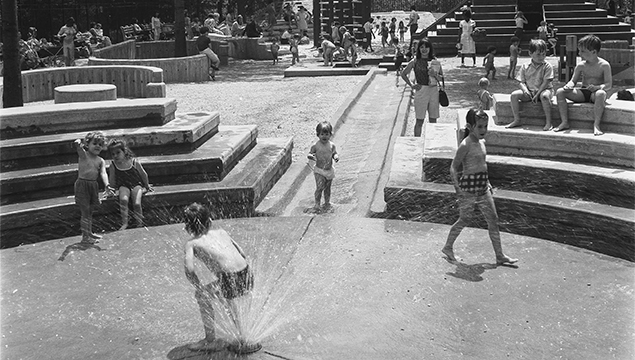 Adventure Playground, 1967. Photo courtesy of New York City Parks Photo Archive
History
Adventure Playground was the first adventure-style playground in Central Park, and the first playground designed by Dattner, a young architect with an interest in child development and a keen awareness of contemporary trends in urban recreation. The design was a profound expression of "the playground revolution," a widespread response to the standard conception of the playground as an equipment-filled lot, which, as designers, critics, and parents began to recognize, lacked opportunities for creative and interactive play. Dattner drew upon the earlier work of M. Paul Friedberg, one of the first to re-envision the playground as a comprehensively designed environment, and whose playground at the Jacob Riis Houses in Lower Manhattan incorporated the groundbreaking idea of "linked play." There, Friedberg created a configuration of interconnected forms—pyramids, mounds, stepping forms, tree houses—that would influence Dattner's design, which reflected how children actually explored the world. Dattner was also inspired by the European adventure playgrounds (hence the name he chose) in which children were provided with tools and materials and guided in creating their own play environments. He designed modular panels that children could use for building, and with the help of neighborhood parents, arranged for a supervisor to facilitate creative play. 
Following the success of Adventure Playground, Central Park became the epicenter of the playground revolution. Nine of the park's eighteen playgrounds were rebuilt, with Dattner working on five of these. The new playgrounds represented a significant investment in the park during a period otherwise defined by limited resources and poor management of its landscapes, and the work could not have been accomplished without citizen support and private investment. Neighborhood parents who were dissatisfied with existing playgrounds initiated the creation of Adventure Playground, with the Lauder Foundation funding its design and construction. The subsequent playground reconstructions also came about through parents' activism and were funded by philanthropists and often by the parents themselves.
As the present author will further explore in an upcoming book on these playgrounds (as part of TCLF's award-winning Modern Landscapes: Transition and Transformation series), they are historically significant not only in the context of design, but also as a response to urban crisis. The playgrounds were part of broader efforts to reinvigorate public space and to create new opportunities for recreation and social interaction in a city struggling with poverty, social unrest, and deteriorating infrastructure. Those efforts were manifest throughout Central Park, which hosted an unprecedented number and array of events intended to engender new forms of urban play for adults as well as children.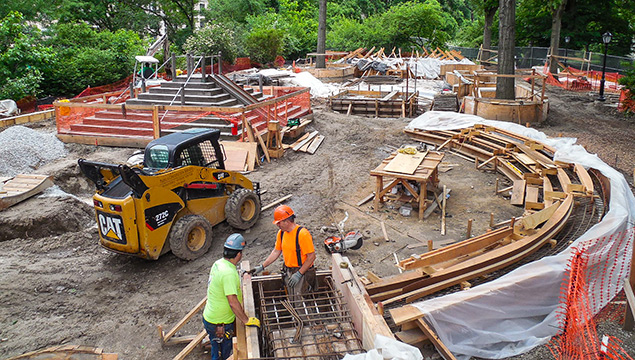 Adventure Playground under construction, 2015. Photo courtesy of the Central Park Conservancy
Stewardship
Central Park is home to the few remaining adventure-style playgrounds in New York City, and the Central Park Conservancy has been at work in all of them. Over the years, the Conservancy's Office of Planning, Design, and Construction has developed a unique approach to upgrading and preserving these playgrounds—one that relies on input from multiple stakeholders, including Dattner and other original designers, citizen groups, and playground users. While this approach is predicated on the fact that playgrounds must change in order to meet contemporary expectations of children's needs and the role of play in their lives, it recognizes that the adventure-style playgrounds are significant examples of urban design history and offer a play experience that is still valuable and relevant. Working within the framework of the original designs, the Conservancy rebuilds and redesigns some features, modifies and renovates others, and incorporates new play elements.
The recent work at Adventure Playground is part of the Conservancy's campaign to rebuild or renovate all of the park's twenty-one playgrounds according to a consistent set of design goals. The overall design of Adventure Playground had remained relatively unchanged, though there were some modifications made in the 1970s and '80s to respond to issues of use and maintenance, as well as a modest renovation in the mid-1990s. The recent project involved retrofitting and reconstructing play features in order to meet new standards of safety and accessibility, and rebuilding infrastructure. Some of these changes are barely noticeable, such as those at the maze, which involved changing grades and adding and modifying railings. Other more prominent changes included restoring elements that had been lost over time. For example, at the conical climber, tunnels that had been closed since the 1970s were reintegrated into the experience of the structure. One tunnel was reopened, and a "talk tube" (allowing children to communicate inside the structure) was installed on another. A new wood climber was built and installed, based on the original, and the wooden tree house and other wood elements were also rebuilt according to the original design. The Central Park Conservancy contemplated various approaches to making the playground's unique water feature accessible to those with disabilities and to upgrading its deteriorating infrastructure. After discussions with various stakeholders, the Conservancy decided to rebuild the water feature, based on its original design, instead of making targeted interventions to the existing fabric. Rebuilding also allowed for a more comprehensive upgrade to the water feature's infrastructure and for the addition of new aquatic play elements.
The work on Adventure Playground and other adventure-style playgrounds has revealed them as distinct modern layers of the park. At the same time, these projects—and all of the current work to rebuild playgrounds in Central Park—have also focused on better integrating playgrounds into the park's landscapes. New fences that are lower and more transparent, additional perimeter plantings, and redesigning the playground footprint to reflect the playground design and site conditions are all ways the Conservancy has worked to blur the lines between the playground and the park. The result is an exceptional play experience, both of the playground and of Central Park.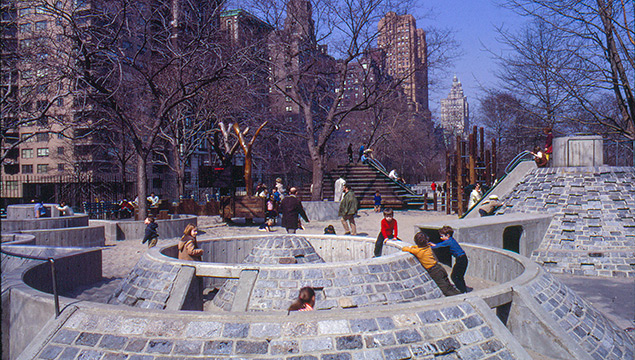 Adventure Playground circa 1967. Photo courtesy of New York City Parks Photo Archive