A New Focus on Postmodernist Landscapes

A New Focus on Postmodernist Landscapes
A New Focus on Postmodernist Landscapes


Maguire Gardens at the Los Angeles Central Library, designed by Lawrence Halprin & Associates and completed in 1988.
A new typology has been added to the What's Out There® database – Postmodernist landscapes – reflecting both the increased attention to this design style and threats to it. An intriguing Postmodernist collection can be found in downtown Los Angeles (which was featured during What's Out There Weekend Los Angeles October 26-27, 2013), and includes the Los Angeles Open Space Network designed by Lawrence Halprin in the 1980s and 1990s. These spaces (which include Wells Fargo Court, Bunker Hill Steps, Maguire Gardens, and Grand Hope Park), are rich in historical and environmental references specific to the sites and the region, a classic characteristic of Postmodernist design.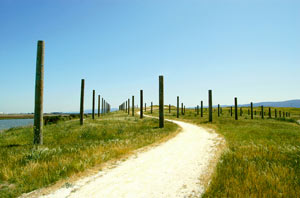 Byxbee Park's Pole Field, designed by Hargreaves Associates in
collaboration with artists Peter Richards and Michael Oppenheimer.
Photo by Peter Richards, 1991.Meanwhile, another destination during the Weekend, Pershing Square, is already slated to be replaced, illustrating the fragility of this recent heritage; and we've just learned that Byxbee Park in Palo Alto, by Hargreaves Associates in collaboration with artists Peter Richards and Michael Oppenheimer (winner of an ASLA Honor Award in Design in 1993), has been significantly altered. We've barely begun to assess the legacy, impact and import of this unique landscape architectural design, and already it is under threat, hence the need for documentation through What's Out There. In addition to the Postmodernist landscapes profiled in the database and the forthcoming What's Out There Weekend in Los Angeles, TCLF is organizing a conference on Postmodernism in Southern California for 2014 (following up on the Landscapes for Living: Post War Landscape Architecture in Los Angeles conference held in spring of 2011).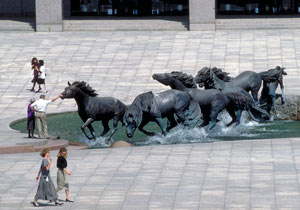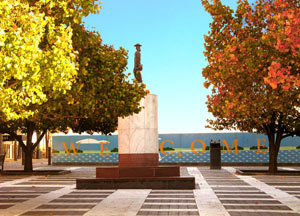 (upper) The iconic mustang sculpture in Williams Square at Las Colinas,
designed by SWA Group. Photo courtesy of SWA Group. (lower)
Welcome Park in Philadephia, designed by Venturi, Scott Brown and
Associates and opened in 1982.Of course, Postmodernist landscape is not limited to Southern California. SWA Group's Williams Square design in Las Colinas between Dallas and Fort Worth, where bronze Texas Mustangs race across an abstracted plain and streambed, became one of the most visited private sites in the state when it opened in 1984. And the work of Venturi, Scott Brown and Associates at Welcome Park and Franklin Court in Philadelphia and Freedom Plaza in Washington, DC exemplify Postmodernist references to thoughtful, site-specific historic events and places.
The Postmodernist definition was thoroughly researched and vetted with scholars and experts in the field. It is the 15th landscape style to be included in TCLF's What's Out There database. Launched in October 2009, the database now includes more than 1400 different landscapes with 9000 images and links to more than 700 designers. It is the most comprehensive database of historic designed landscapes in the US.
Here's the definition we've added:
Beginning in the 1960s, Postmodernist design emerged as a departure from Modernism's ideological belief in a singular purpose and focus on form and function, seeking a more pluralistic approach that embraced multiple uses and contexts on a given site. Rather than a complete rejection of Modernist principles, Postmodernism is often seen as a fracturing of Modernist ideas to accommodate a diversity of viewpoints and histories.
Postmodernism's desire for plurality was influenced by the environmental and historic preservation movements and a change in the way project work was conceived, utilizing multidisciplinary teams of consultants and often engaging local citizens and constituents in the design process. Whereas Modernism's core philosophy sought to create the perfect form on an empty or open site with a fixed program, Postmodernism embraced wide-ranging social, economic, cultural and ecological histories of a site and the equally diverse needs of potential users. Instead of erasing the evidence of past uses in industrial or urban landscapes, Postmodernist landscape designs often maintained fragments of the past or recycled particular materials to evoke or reference a prior use. Postmodernist design is also distinct in its frequent integration of architecture, landscape and public art – often sculpture. In appearance, some Postmodernist landscapes are not radically different from Modernist ones, but broader programming and uses can reflect an underlying shift in their design intent.