feature
TCLF Mourns the Passing of Early Board Member and Supporter Kalvin Platt

Kalvin Platt at the Roystonland Excursion in the California Bay Area (May 2008). Photo   Charles A. Birnbaum
Kalvin Platt, FAIA, passed away on December 26, 2015, at the age of 84 at his home in Mill Valley, California, after a courageous battle with cancer. Born in 1931 in New York City, Platt leaves his wife of 53 years, Janne; his son, David; daughter, Andrea; and four grandchildren. 
The Board of Directors of The Cultural Landscape Foundation mourns the loss of Kalvin Platt, who served on TCLF's Board for a decade, beginning in 2002, just four years after the foundation's founding in 1998. Platt's association with TCLF began with a chance meeting between him and TCLF's president and CEO, Charles Birnbaum, on a bus tour organized by the California Preservation Foundation. Platt's involvement with TCLF went on to be profoundly consequential. Reflecting on Platt's contributions and lasting impact, Birnbaum noted that "Kal was an early and steadfast supporter who, along with founding co-chair Sally Boasberg, served as one of TCLF's foundational pillars in our infancy. We will all miss his candor, pragmatism, passion, and good cheer. His political acumen, sensitivity, and moral compass set benchmarks for others to meet, often expanding and enabling avenues for creative endeavors. We will miss him more than words can say."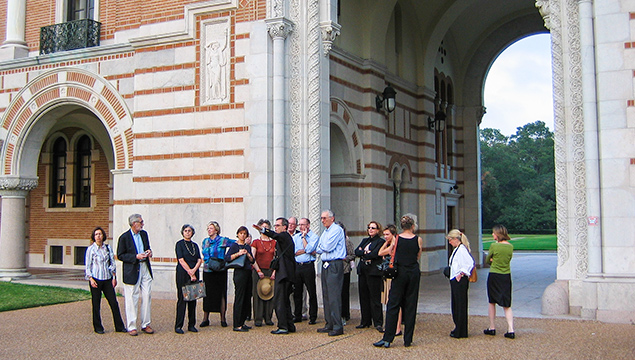 Platt at TCLF's Board Excursion in Houston, Texas (November 2005). Photo © Charles A. Birnbaum
An alumnus of the Harvard Graduate School of Design (GSD), Platt's career as an urban planner and landscape architect spanned 55 years, principally with the SWA Group. He earned a bachelor's degree in architecture from the University of Florida in 1953, a master's degree in city planning from Harvard University in 1959, and he was a Fellow of the American Institute of Architects. From 1980 to 1982, he served as director of the Land Development Studio at the GSD. During his long tenure at the SWA Group, Platt served as chairman and consulting principal, CEO and president. Platt received numerous awards for excellence throughout his career. Rene Bihan, FASLA, the managing principal of SWA's San Francisco office, who joined TCLF's Board following Platt's departure, noted, "Kalvin was more than just an important figure at SWA. He was our first CEO and president after we took over the firm from Peter Walker. Kalvin brought us from 'Pete's team' to the international, broad-based design firm we are today. Kalvin also brought us employee ownership, and, with it, the empowerment and respect of the group over the individual. He had a knack for big ideas and broad thinking, which was perfectly balanced with his respect for those who brought detail, materiality, and a sense of place-making to our projects. In today's world of big egos, Kalvin's moral compass is missed every day at SWA."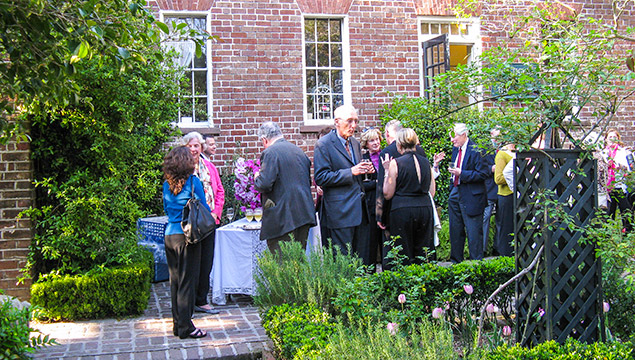 Platt at the TCLF Board Excursion in Charleston, South Carolina (March 2008). Photo © Charles A. Birnbaum
Platt often attended TCLF events with his wife, Janne, and was instrumental in bringing structure to the foundation's finances and governance. While an architect by training, Platt's infectious passion about advancing the profession of landscape architecture was always strong and riveting. It was not unusual for a conversation to range from his delight over a new SWA project (e.g. the green roof at the California Academy of Science in San Francisco) to a legacy practitioner like Jim Reeves, who should not be forgotten, to the need for advocacy and engagement (from land conservation along the California coast to an increased profile by landscape architects at the Urban Land Institute). 
Douglas Reed, FASLA, who served as TCLF's Board chairman during Platt's tenure on the Board, noted, "I am saddened to hear about Kal's passing. I simply loved the man. TCLF brought us together and his contributions were enormous. I admired his intelligence, wisdom, candor, and, most of all, his kind, gentle spirit. He always inspired."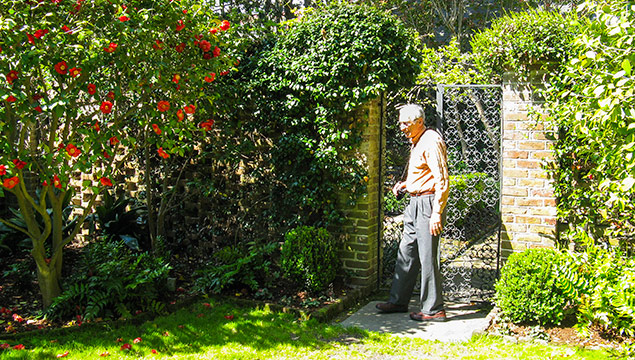 Platt during the TCLF Board Excursion in Charleston, South Carolina (March 2008). Photo © Charles A. Birnbaum