Our Days Are Like Full Years

Our Days Are Like Full Years
Our Days Are Like Full Years
In the fascinating and richly-illustrated new book "Our Days Are Like Full Years" (Yale University Press), landscape architect Harriet Pattison opens up about her professional and romantic relationship with the influential architect Louis Kahn (the book's title is taken from a line in a postcard Kahn sent Pattison on December 18, 1959). 
From the prologue to the final pages, the book is a generous and very personal gift from Pattison who is otherwise known for being reticent and reserved. There are moments of trenchant introspection, accounts of warmth and turmoil, along with recollections of great professional accomplishments and searing personal tensions.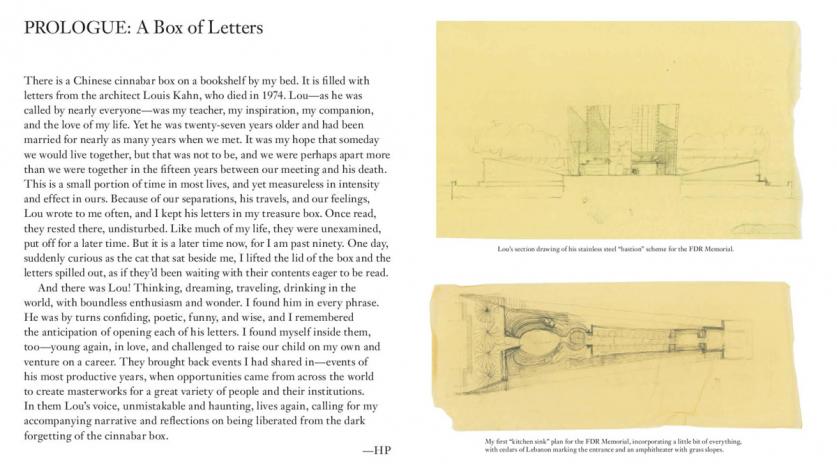 The relationship was challenging from the beginning. Kahn was 27 years her senior and married. The book chronicles their fifteen-year relationship from 1959 to Kahn's death in 1974. During that time, Kahn worked on some of his most influential projects, Pattison developed here career as a landscape architect starting in the office of Dan Kiley, and they had a son, Nathaniel, who would go on to be nominated for an Academy Award for the documentary "My Architect," about Kahn.
Through letters, postcards, telegrams, sketches, photographs and more, Pattison provides us with intimate access to Kahn, a peripatetic "wizard" who was "always on the move, trying to engage the world and make it better through his art." He is charming and exotic: "Dearest pussycats" he wrote to Pattison and their son on August 2, 1972, "Tomorrow we leave for Kathmandu."
Among the gems of "Our Days Are Like Full Years" are beautifully rendered drawings of designs by both Pattison and Kahn, including renderings of Four Freedoms Park in New York City, the park in honor of Franklin Delano Roosevelt on which they collaborated that opened in 2012. 
Pattison proivded us with the following:
At 92, it is deeply gratifying to have my book of memories with letters from Louis Kahn published – not only for the insights I hope it will give to the relationship between the architect's little known inner life and his inspiring works, both built and unbuilt, but that it will also tell my story of discovery and beginning the practice of landscape architecture in an era when such roles for women seemed as daunting as being an unmarried mother or the romantic partner of a man twice one's age. But I hope too, that its pages will show how being able to help Lou on some of his great works, was worth every hardship we endured together and that the reader may come away with a sense not only of what our lives were like, but also of the thrilling possibilities that open when solid architecture can fuse with life forces of a landscape.  Above all my hopes for this book and pleasure in seeing its reality, is that Lou's passion for the work and faith in the power of art flowing through its letters and drawings, may become guiding inspirations for challenges we now face on our planet.
In 2015, The Cultural Landscape Foundation produced a Pioneers oral history with Pattison. We are honored to have that work cited in the book's acknowledgements.
To order your copy today, visit the Yale University Press website.