profile
Phyllis Lambert
Posted: Dec 19, 2019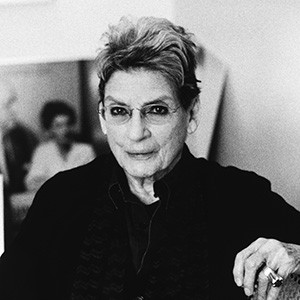 Phyllis Lambert, architect, author, scholar, curator, conservationist, activist, and critic of architecture and urbanism, is the founding director emeritus of the Canadian Centre for Architecture (CCA), which she created in 1979 as an international research center and museum. Through its projects—research programs, public events, exhibitions, publications, and continuously building its exceptional collection of books, photographs, drawings, and architectural archives—the CCA seeks to create a new discourse for the architecture of the 21st century.
For Ms. Lambert, architecture is a public concern. In June 1954, prior to proposing Mies van der Rohe as the architect for the Seagram Building, she wrote to the president of Seagram, her father: "Your building is not only for the people of your companies who work there, but for all who pass by, for the area it is in, for New York City and for the rest of the world."
After earning a Master of Architecture in 1963 from the Illinois Institute of Technology in Chicago, Illinois, Ms. Lambert has worked consistently to advance the quality of contemporary architecture together with the social issues of urban conservation. In 1975 she founded Heritage Montreal, and she was instrumental in establishing Milton-Parc, the largest and most vital non-profit cooperative housing renovation project in North America. She continues to be involved in social housing and community planning, and she has served for 23 years on the board of Montreal's Old Port.  
Ms. Lambert has been honored with 29 honorary degrees, appointed Companion of the Order of Canada, Grand Officer of the National Order of Québec, and Commander of the Order of Arts and Letters of France. She is a Fellow of the Royal Architectural Institute of Canada and a recipient of its Gold Medal. She was awarded the Golden Lion of the 2014 Venice Architecture Biennale, in honor of her life's work. 
Statement: In the 1980s Cornelia and I had our first dinner together in a restaurant high in the Vancouver woods. Such dinners, just the two of us, we love. As we did in our first tête à tête, we often talk of Cornelia's extraordinary mother (Beate Hahn), who involved her as a small child in a garden of her own and wrote delightful books (and I think also made the lovely illustrations) to instruct children in gardening and to instill in them the love and respect of every blade of grass, "every leaf."
Cornelia has become a fearless innovator in sustainability in the field of landscape architecture, for which nothing has been too small or too big in engaging her keen analysis and the creation of sustainable landscapes. A clear, straight talker, a dedicated, unflinching, persistent worker who will not let go, Cornelia is at the same time fun, funny, and charming. We love to laugh together, yet we also wring our hands at the lack of care and maintenance of gardens and buildings. Cornelia is like a child celebrating when projects go well, or more certainly they go well because she never lets go, because she knows what every plant needs, and she solves the problems, such as those attendant on finally re-installing the pond at the Museum of Anthropology at the University of British Columbia, which she had designed as part of the landscape in which the building is set. Cornelia was determined that it would be completed for June 14, 2010, on what would have been Arthur Erickson's 86th birthday.
On a professional level, I have a privileged relationship to Cornelia through the Canadian Centre for Architecture in Montreal, which holds her archive, where her ideas are the subject of debates and exhibitions, and her summer workshops have enchanted children.