Born in Benton Harbor, Michigan, Moore graduated from the University of Michigan in 1947 and registered as an architect by the time he was 21. He continued his education, completing an M.F.A. and Ph.D. at Princeton University in 1957. Academic pursuits remained an important part of Moore's career, with leadership teaching posts at the University of California in Los Angeles and Berkeley, and at Yale and the University of Texas, among others.
Inspired by early travels throughout the United States, Europe, North Africa, and Japan, Moore employed a humanistic approach to design. He instructed his students to "look at places, listen to people." Moore's built work was completed through seven different firms, reflecting evolving partnerships and Moore's academic positions in various locations. In the mid-1960s he worked with Lawrence Halprin at Sea Ranch, a landmark project in both men's careers. Moore is recognized as a progenitor of Postmodernist design, with projects such as the campus of Kresge College in Santa Cruz, designed as a meandering village street connecting plazas in a redwood forest, and the Piazza d'Italia in New Orleans, where Moore created a "surprise plaza" with a collision of styles and abstracted minimalism that also reinvigorated abandoned infrastructure.

Moore had a prolific writing career, with books including The Poetics of Gardens (1993, with William J. Mitchell and William Turnbull Jr.) and The Chambers for a Memory Palace (1996, with Donlyn Lyndon), which explore Moore's philosophy that "good places matter." He received the Gold Medal from the American Instituite of Architects in 1991.
Moore was born on October 31, 1925, in Benton Harbor, Michigan, a small town on the shore of Lake Michigan. He earned a B. Arch. in 1947 from the University of Michigan, where he was mentored by Roger Bailey, the dean of the architecture school and a proponent of the Beaux-Arts style. After graduation, exhilarated by the diverse landscapes of the Bay Area, Moore moved to San Francisco, where he apprenticed for several architectural firms and registered as an architect at age 21.
In 1949 he was awarded the University of Michigan's George G. Booth Traveling Fellowship, which offered him the opportunity to travel throughout Europe and North Africa between 1949 and 1950, where he painted, photographed, wrote about and made films of important architectural monuments and landscapes. He was especially inspired by the Trevi Fountain, Venice, Portobello, Normandy, and pastoral English landscapes. During this time, Roger Baily invited Moore to teach at the University of Utah, where the distinctive beauty of the rock formations shaped over millennia by natural forces inspired Moore, who would cite them as a source of inspiration years later.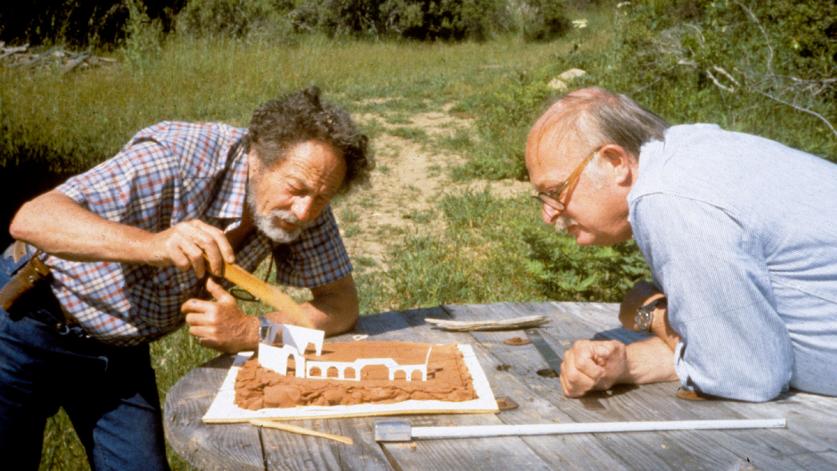 Anticipating a draft for the Korean War, Moore enlisted in the Army Corps of Engineers in 1950 and served as a lieutenant in Seoul, South Korea, where he designed simple functional structures, including schools. During his time off, he travelled through Japan, where he noted that architecture and landscape works were unified in sprit and subtlety. This marked another early travel experience and outlook that influenced his subsequent work.
With support from the GI Bill, Moore enrolled in the architecture Ph.D. program at Princeton University in 1954. He was especially influenced by Louis Kahn, serving as his teaching assistant and post-doctoral fellow for one year. In his Ph.D. thesis "Water and Architecture," which would later serve as the basis for a book with the same title, Moore wrote about the role of water features in architecture and landscape architecture. He forged several important and lasting relationships with classmates William Turnbull, Jr., Donlyn Lyndon, Richard Peters, and Hugh Hardy.
Returning to the Bay Area in 1958, Moore began teaching at the University of California, Berkeley. There he formed a partnership with William Turnbull, Jr., Donlyn Lyndon, and Richard Whitaker, naming the firm MTLW. Bonham House, one of MLTW's early projects, which featured a small cabin among a grove of redwoods, caught the attention of famed landscape architect Lawrence Halprin, marking the beginning of a longstanding collaborative relationship between Moore and Halprin. In 1963 Halprin commissioned MLTW to design Sea Ranch Condominium I (listed on the National Register of Historic Places in 2005) as a part of the larger Sea Ranch community. Sitting atop a dramatic cliff overlooking the Pacific Ocean, the fir post-and-beam structure cladded with redwood siding was inspired by the wood-framed barns that weathered the harsh winds and sea spray in the region.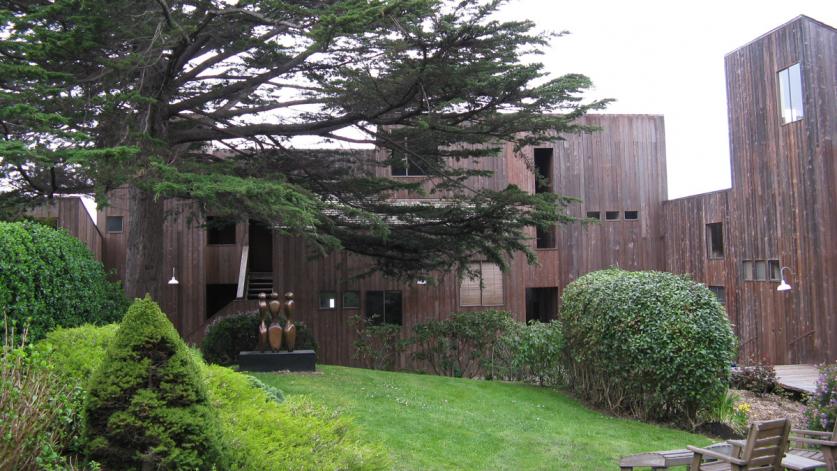 Moore reflected, "It was built to demonstrate the type of structure that was needed for an exposed location. That's why it's out on the edge of a bluff that is constantly pounded by crashing waves and subject to gale-force winds. We didn't want a building that was subservient to the site or seemed to be melding into it. And we didn't want a building that was separate. We wanted a building that was in partnership with the site."

Moore and Turnbull also designed a wooden lattice pavilion and helped design a fountain of stepped concrete tiers at Lovejoy Plaza, one of Halprin's most iconic projects, which became part of the Portland Open Space Sequence in the 1960s.
Moore became chairman of the Yale School of Architecture in 1965, and would later serves as the school's dean. By this point, he had established himself as a progenitor of the Postmodernist style.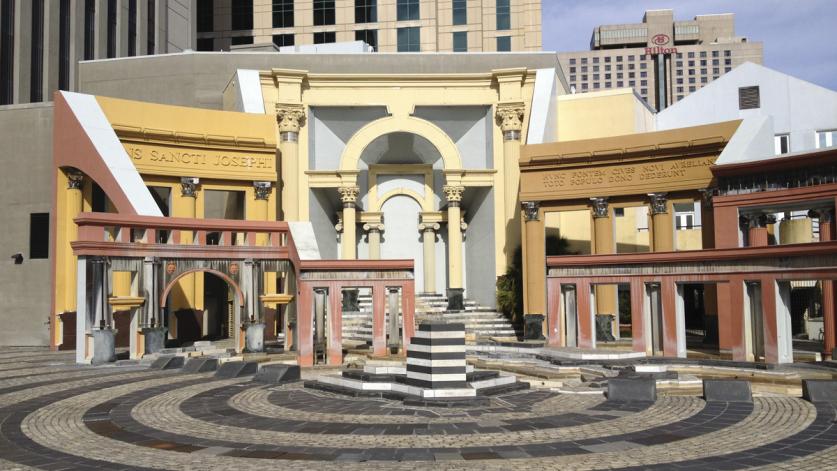 By 1975 Moore returned to California to lead the Department of Architecture at the University of South California, Los Angeles, and the Urban Innovations Group. With this firm, Moore completed the Piazza d'Italia in New Orleans, considered one of his most important works. Containing various architectural elements from Roman antiquity, the whimsical design was intended to revitalize downtown New Orleans and serve as a center for the city's Italian-American community.
The Urban Innovations Group also built two civic centers for Beverly Hills and Oceanside. During this period Halprin and Moore, with the hope of resuscitating downtown Los Angeles, proposed a series of projects known as the Los Angeles Open Space Network; however, only a few designs were ever realized. From 1984 to 1987, architects Moore Ruble Yudell worked on a waterfront redevelopment plan that replaced the Santa Monica Pier and created Carousel Park in collaboration with landscape architects Campbell & Campbell.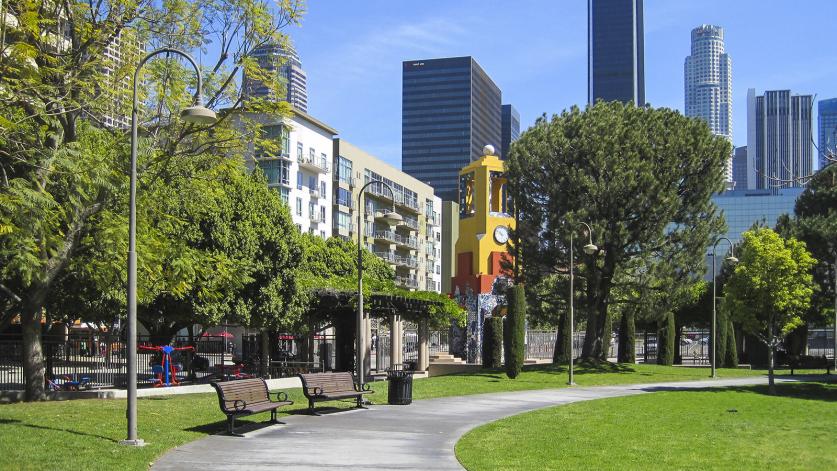 In 1984 Moore relocated again and became a professor at the University of Texas, Austin. There he collaborated with Arthur Andersson in the firm Moore/Andersson Architects.
Moore published many books, including: The Place of Houses (with Gerald Allen and Donlyn Lyndon), Chambers for a Memory Palace (with Donlyn Lyndon), The City Observed: Los Angeles (with Peter Becker and Regula Campbell), Water and Architecture, and The Poetics of Gardens (with William Mitchell and William Turnbull).
Moore's career was diverse. He held academic posts at important universities across the country and founded seven different architecture partnerships and firms. He is considered a progenitor of Postmodernist design and is also known for challenging the pattern of suburban sprawl that development after World War II, as is evident in his work on several downtown revitalization projects.

He has been recognized with several awards, including, in 1991, the American Institute of Architects' Gold Medal, the nation's highest accolade in the profession, and the Topaz Medallion, bestowed in recognition of achievement in teaching and scholarship. The Sea Ranch Condominium I was awarded an AIA Twenty-five Year Award, and two of Moore's firms received the AIA Architecture Firm Awards.
Moore died of heart failure on December 13, 1993, at his home in Austin, Texas, after coping with diabetes for many years. He was 68 years old.
Bibliography
Keim, Kevin. s.v. "Moore, Charles W." in Shaping the Postwar Landscape: New Profiles from the Pioneers of American Landscape Design Project, Charles A. Birnbaum and Scott Craver, eds. (forthcoming from the University of Virginia Press).
Littlejohn, David. The Life and Works of Charles W. Moore (New York: Holt, Rinehart & Winston, 1984), 53.
Online Resources