Pioneer Information
Born in Summerville, South Carolina, Daugherty studied architecture at the Georgia Institute of Technology before serving in the U.S. Army during World War II. Following the war, he enrolled at the University of Georgia, where he pursued a bachelor's degree in landscape architecture before transferring to Harvard University in 1948. During his time at Harvard, he apprenticed under Dan Kiley and also with the Olmsted Brothers firm. Daugherty graduated from Harvard with a B.L.A. in 1950 and then earned an M.L.A., also from Harvard, in 1951. He was subsequently awarded a Fulbright Scholarship to study town planning in England. Following his overseas travels, he returned to Atlanta to begin a private practice. Initially dedicated to creating residential landscapes, Daugherty's firm gained prominence with its design of a Modernist garden for the Egleston's Children Hospital in 1959, followed shortly thereafter by a garden for the blind in Atlanta's Piedmont Park. The positive publicity spurred the firm's growth, and Daugherty then embarked upon a wide range of commercial and institutional projects. During the 1960s he served as the landscape architect for the Georgia Governor's Mansion and assisted Thomas Church in his design of the School for Continuing Education at the University of Georgia, in Athens. Among Daugherty's other designed landscapes are Marietta Square in Marietta, Georgia, the All Saints Episcopal Church in Atlanta, and the Atlanta Botanical Garden. In addition to his design work, Daugherty was a lecturer in landscape architecture at the Georgia Institute of Technology's School of Architecture. In 1971 he was named a Fellow of the American Society of Landscape Architects (ASLA) and was awarded the ASLA Medal, the society's highest honor, in 2010.

Born on October 20, 1926, Edward Lawton Daugherty was raised in Atlanta, Georgia. After graduation from high school in 1943, he entered the Georgia Institute of Technology to study architecture. But World War II interrupted Daugherty's education, and after serving two years in the U.S. Army he transferred to the University of Georgia to study landscape architecture under Hubert Bond Owens from 1947 to 1948. Daugherty was then admitted to the Harvard Graduate School of Design, which was, at that time, willing to accept veterans who had three years of education in a design field. Daugherty was awarded his B.L.A. from Harvard in 1950 and his M.L.A. in 1951. While at Harvard, he studied alongside students such as Ian McHarg and Robert Zion* in a program energized by modernism. He also apprenticed in the office of Dan Kiley and with Olmsted Brothers in Brookline, Massachusetts.
Daugherty was awarded a Fulbright grant in 1952 and spent a year studying town planning in England, a country still recovering from the German bombardment during World War II. His interest in town planning was inspired by William Holford (Baron William Graham Holford), the author of the Greater London Plan, who was a professor in residence at Harvard during Daugherty's years there. Daugherty saw strong parallels between the rebuilding of post-War England and the building of post-War Georgia. In England, significant planning was preceding new construction while planning seemed to be of little concern in his home state, despite the fact that the population was surging.
While many of his Harvard classmates entered practices in the northeastern or western United States, Daugherty returned to his southern roots in Atlanta. Instead of apprenticing with an established firm there, he opened a practice on the sun porch of his parents' house on East Paces Ferry Road in the Buckhead area of the city. In the early 1950s, Daugherty worked mostly on designing landscapes for single-family homes, using native plants, including Aralia spinosa and sumac, then generally regarded in Atlanta as weeds to be killed or controlled. Whether it was the plant form, its blooming character, or its showy seed clusters, Daugherty looked to Georgia plants for inspiration and to provide for the proper counterpoint to an architectural setting.
In 1959, Daugherty received his first major public commission: a Modernist garden for Egleston Children's Hospital. His design was characterized by flowing biomorphic lines and asymmetrical balance, and was a dynamic response to the severe and rectilinear aesthetic popular in the 1950s. During this same period, he designed a Garden for the Blind in Atlanta's Piedmont Park. The garden was built in the form of a long oval within a surrounding berm. Daugherty focused on plants characteristic of Georgia's three climatic zones and sought to introduce the state's horticultural diversity to the unsighted through fragrance and touch. Although the garden was demolished in 2003 during the expansion of the Atlanta Botanical Garden, the commission, along with that for Egleston Hospital, propelled the growth of Daugherty's practice to include the variety of residential, commercial, and institutional work that would characterize it over the next five decades.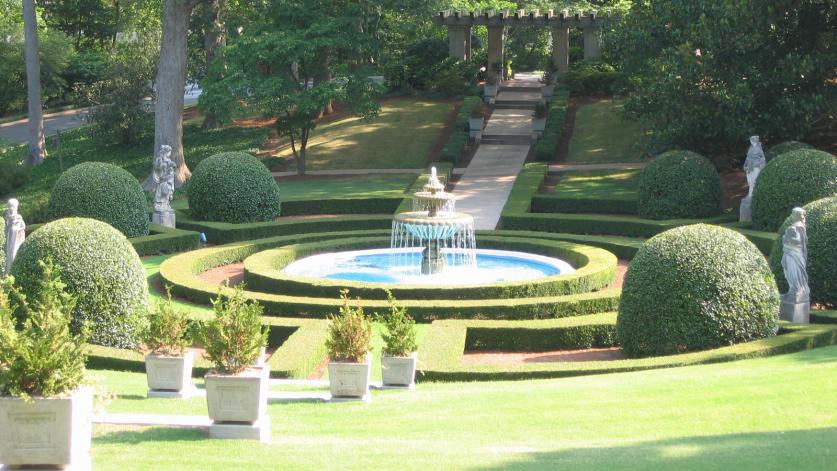 In 1966, Daugherty was selected as the landscape architect for the Georgia Governor's Mansion. This Greek Revival structure replaced an early twentieth-century country estate, and Daugherty was instrumental in assuring that the core of the historic landscape was retained and sympathetically adapted for the new mansion. During this period, he served as Thomas Church's local landscape architect and project manager on the School for Continuing Education at the University of Georgia in Athens. Because Church's practice was based in California, a sympathetic local practitioner was vital to achieving Church's vision. Church's design, though much modified through additions to the building, represented a highpoint in landscape architecture in Georgia, as Church was a national figure and already viewed as a leader in the field.
In the late 1960s, Daugherty completed the site design for the Avon corporate headquarters in suburban Atlanta. His plan provided for stormwater management and preserved large stands of native forest long before environmental regulations called for such mandates. A similar ecological ethic is evident at Westchester Square and Paces Place, two Atlanta townhouse communities where Daugherty retained mature oaks, provided community open spaces, reduced hardscapes, and preserved flood plains well in advance of regulations that required such actions.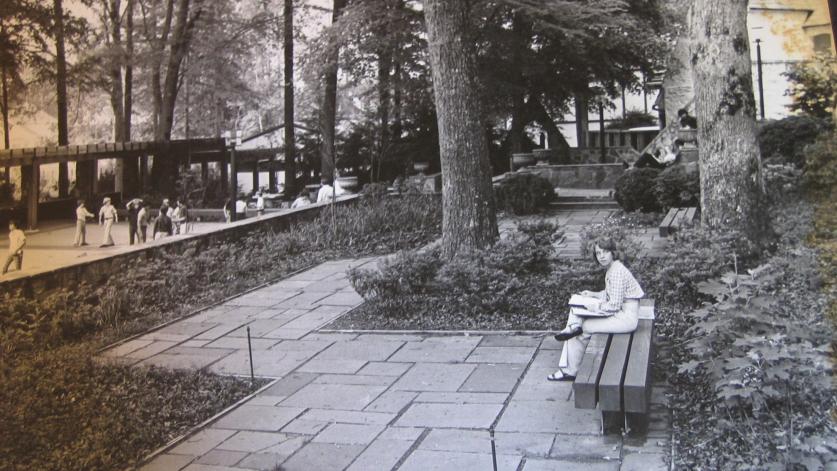 Daugherty championed historic preservation throughout his career, and some of his most fully realized work is found in Marietta Square in downtown Marietta, Georgia. In formulating this human-scaled and openly urban response to a decaying downtown, he included an economist on his creative team so that the design solutions would be economically viable. His solutions here, as elsewhere, were also carefully crafted to avoid conveying a false sense of history. One of his longest professional involvements has been with All Saints Episcopal Church in Atlanta. The church, where he was confirmed and has been a lifelong communicant, bears the imprint of nearly forty years of master planning and a highly articulated site design. Here Daugherty replaced an automobile courtyard with a pedestrian space that has continued to evolve to serve the needs of the congregation and the community in response to four decades of increased urbanization.
From 1963 to 1973, Daugherty lectured on landscape architecture at the Georgia Institute of technology's School of Architecture. There he was able to foreground site design within the architectural curriculum, and he was the first landscape architect that generations of students would meet. The late Hubert Bond Owens, founder of the School of Environmental Design at the University of Georgia, dubbed Daugherty's office "my finishing school," because Daugherty hired and trained so many Georgia graduates during the 1950s, '60s, and '70s.  
Daugherty's career represents a vital link in the history of landscape architecture, one that connected and adapted the groundbreaking ideas of Garrett Eckbo and James Rose to a growing post-War community in the American south. His teaching shaped generations of architects and landscape architects who learned from him in his classroom and his practice.  
Daugherty was made a Fellow of the American Society of Landscape Architects (ASLA) in 1971. For his work on downtown Marietta, Georgia, he received an Honor Award from the Georgia Chapter of the ASLA in 1979, and in 2010 he received the coveted ASLA Medal, the highest honor the society bestows. He and his wife, Martha, reside in Atlanta's Peachtree Heights subdivision.