feature
Sexy Infrastructure and Other Notable Developments in 2016
Judging by the heaps of praise for projects including Governors Island in New York, Chicago's Navy Pier, the Lower Rainier Vista at the University of Washington in Seattle, and plans for Dallas' hugely ambitious 10,000-acre nature district, infrastructure is sexy. Moreover, these projects are evidence that landscape architects continue to grow as a leading force shaping our cities, dealing with complex environmental issues and the locus of exceptional design.
At Governors Island, the New York City and Rotterdam-based landscape architecture firm West 8 has created a hot, hip destination that also reflects the city's ambition; a large-scale civic experience that also provides moments of solitude.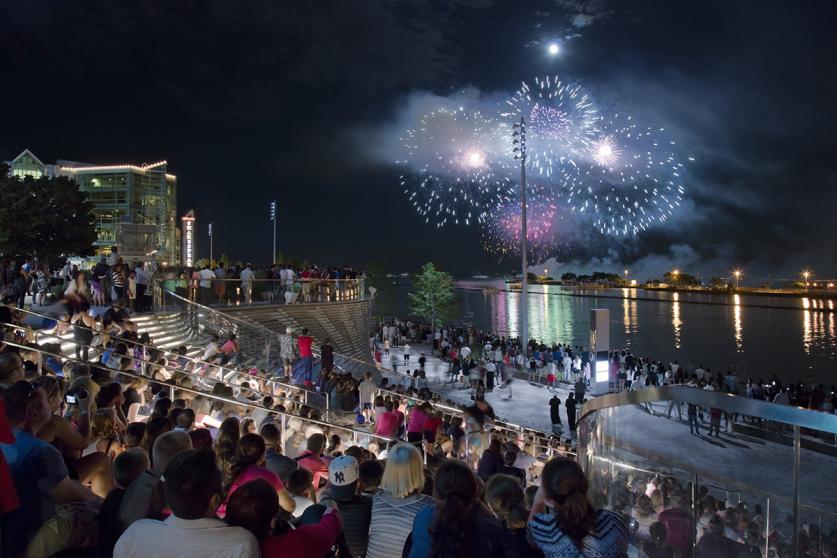 In Chicago, the Navy Pier celebrated its centennial with a renovation by James Corner Field Operations, the lead design firm at the High Line in New York.  Chicago Tribune architecture critic Blair Kamin concluded the effort rendered the 3,300-foot-long entertainment complex that annually attracts some eight million people "more authentic."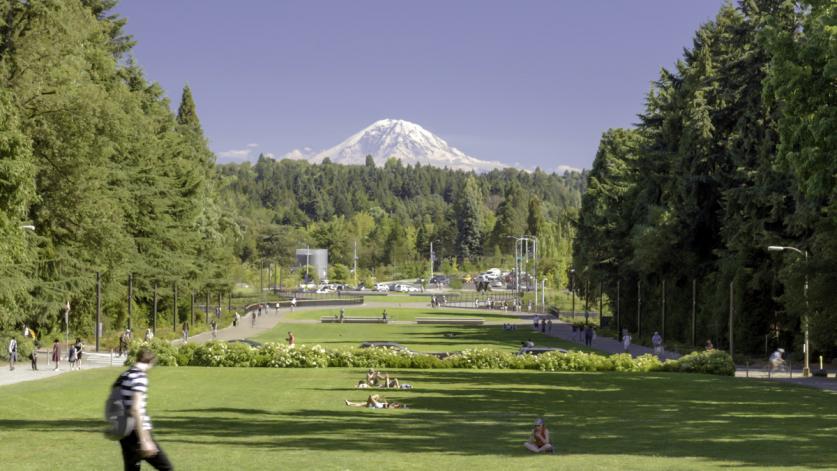 The 6.3-acre Seattle project by Gustafson Guthrie Nichol works within the bone structure of the original early twentieth century Olmsted Brothers plan at the University of Washington's historic campus. Along with a new land bridge, ADA accessibility and other features, it elegantly refines an iconic view corridor to Mount Rainier. The plans for Dallas include the 285-acre Trinity River Park by Michael Van Valkenburgh Associates, which is being championed by the Dallas Morning News architecture critic Mark Lamster. "For the first time in a long time," Lamster wrote, "the city has been given a blueprint for the Trinity that is worthy of serious discussion, and by professionals with a proven track record of producing spaces of grandeur and vitality. It is time to foster the political will and financial muscle to make a new vision for the Trinity a reality."
These projects would not have been possible without the pioneering efforts of two Modernist visionaries who redefined the art and scope of landscape architecture, and who were the subject of museum exhibitions.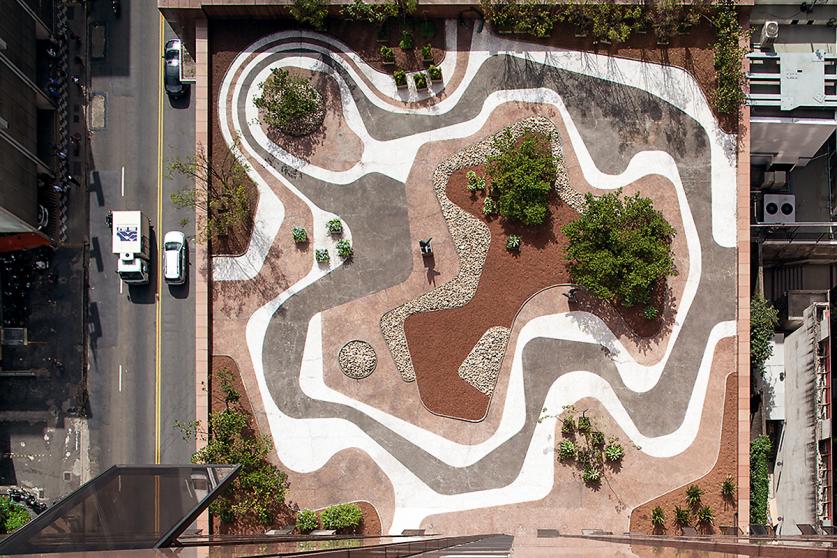 The Jewish Museum in New York hosted an ambitious, compelling and inspiring examination of the great Brazilian landscape architect Robert Burle Marx whose voluptuous and eccentric Modernism had global impact.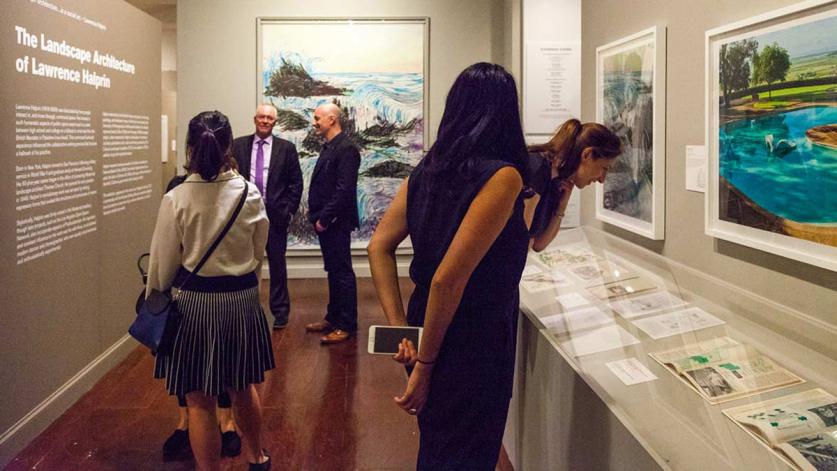 This article originally appeared in the Huffington Post on Monday, December 12, 2016.
The National Building Museum in Washington, DC, is the inaugural venue for The Landscape Architecture of Lawrence Halprin (which my foundation organized). The Brooklyn-born Halprin who once aspired to become a baseball player, settled in San Francisco with his wife, the famed choreographer Anna. During a 60-year career he pioneered designs and processes that are now commonplace - from "capped parks" over highways to new strategies to safeguard environmental assets and invite community engagement. 
The future of this built legacy is innately tenuous and dependent on sound stewardship. This year saw the turning point for two public sites.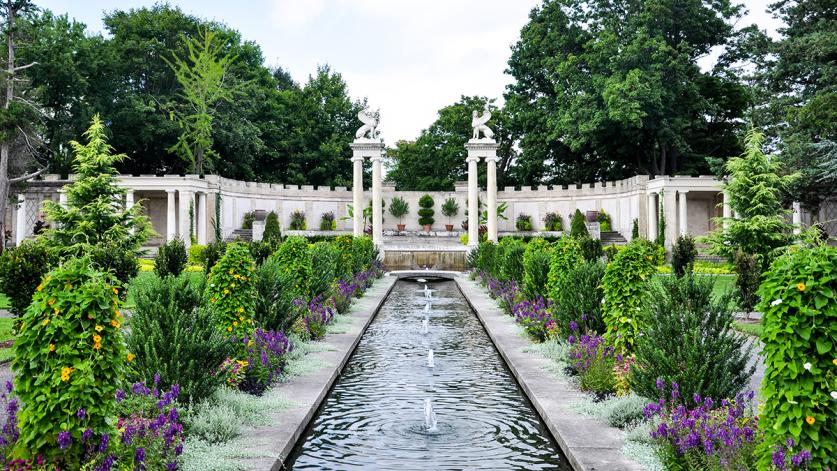 The 46-acre Untermyer Park and Gardens in Yonkers, New York, is the remainder of a 150-acre estate designed in the early twentieth century by William Welles Bosworth for Samuel Untermyer and now owned by the city. After years of decline, the Untermyer Gardens Conservancy, operating out of a one-room office, in partnership with the Yonkers Parks Department has engineered a Lazarus-like resurrection of this great site by restoring major features in including the Temple of Love, the Walled Garden and significant other components.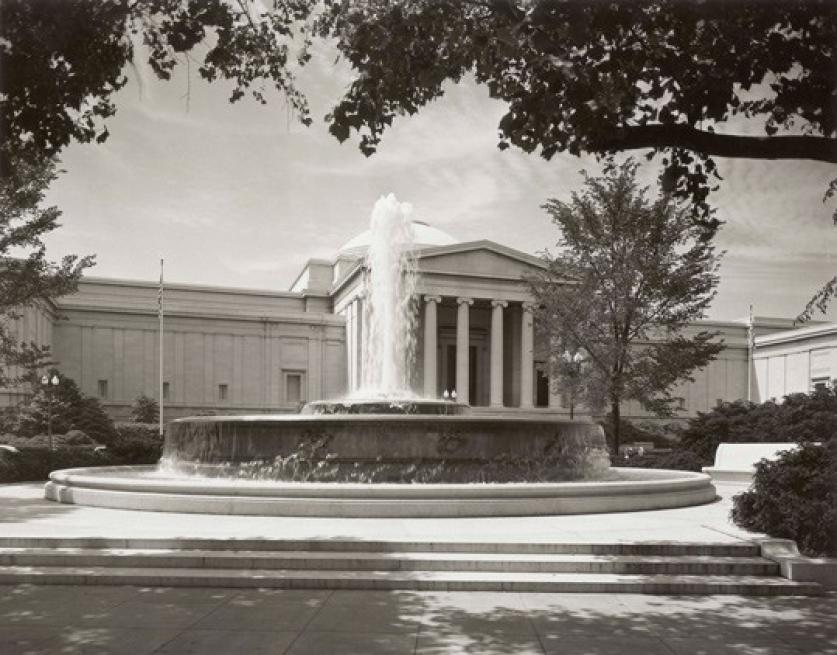 Meanwhile, the National Gallery of Art in Washington, DC, has overseen the restoration of the Andrew W. Mellon Memorial Fountain and the renovation of its surrounding Clarke, Rapuano & Hollerman-designed landscape on Pennsylvania Avenue. The bronze, Sidney Waugh-designed fountain was created to honor Mellon, who donated his world-class art collection to the nation and founded the gallery. At the fountain's dedication in 1952 Chief Justice of the United States Fred Vinson said: "Let us consider this fountain as another symbol of the inspiration and intangible values that have come to us through Mr. Mellon's contributions." Today, let us consider the Gallery's stewardship as an inspiration for what could be done elsewhere on America's Main Street, beginning with the rehabilitation of Pershing Park, the M. Paul Friedberg-designed site, determined eligible for listing in the National Register of Historic Places earlier this year, that is presently threatened with demolition to make way for a World War I memorial.
Protection of larger-scaled patrimony has also seen significant advances. During the past eight years President Obama has created some 23 new national monuments and expanded a few others earning him the title of the "Monument Maker" in the New York Times.
Meanwhile, efforts to promote a more integrated approach to planning received a boost from the National Endowment for the Arts (NEA), which issued How to Do Creative Placemaking, a free publication that their press release says is "intended as a primer for those interested in bringing the arts to the community development table as a tool--along with housing, transportation, public health and other sectors--to advance revitalization efforts in an authentic way." According to NEA Director of Design and Creative Placemaking Jason Schupbach, "We wanted to create something easy to use and full of options for communities to begin doing this work, or to improve what they have already started."
In 2016, Harriet Pattison, the 88-year-old Philadelphia-based landscape architect who, with Louis Kahn, designed the Kimbell Art Museum in Fort Worth and Franklin D. Roosevelt Four Freedoms Park in New York City, finally became a fellow of the American Society of Landscape Architects. It was a long overdue recognition for one of the most dignified members of the profession. A new monograph by landscape architect Kelly Comras reveals the genius of Ruth Shellhorn (1909-2006), who shaped Southern California Modernism in a diverse body of projects including private residences, schools and universities, and commercial institutions such as Bullock's department stores. We also saw the passing of one of the profession's most respected members, Diana Balmori, who broke down the barriers between architecture and landscape architecture. The New York Times obituary for Balmori praised her holistic vision - that vision should be the ongoing aspiration for landscape architects and landscape architecture, to see "the urban fabric as an interweaving of human activity, natural forces and designed settings and buildings."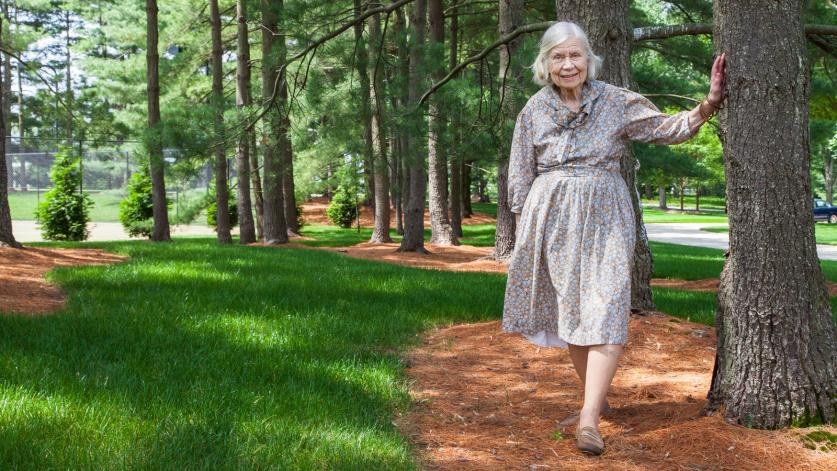 This article originally appeared in the Huffington Post on December 12, 2016.