feature
TCLF Mourns the Loss of Rich Haag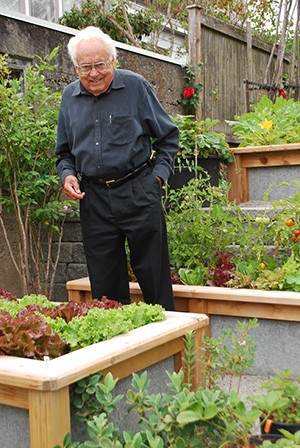 Richard Lewis Haag, a teacher, mentor, advocate, and celebrated landscape architect, died on May 9, 2018. His passing was a quiet but profound blow to the many colleagues, friends, and admirers whom his life and work touched deeply. He will be remembered for several projects that remain as icons in the field of landscape architecture—including Seattle's Gas Works Park and the Bloedel Reserve—and for the personal generosity he showed as a teacher and mentor.
Haag was born on October 23, 1923, in Louisville, Kentucky. With two brothers and three sisters, he was the oldest of six children. Haag's father, called Rudy, a second-generation German American, was a self-taught horticulturist and nurseryman; Haag's mother, Luthera Owing Haag, devoutly religious, was from the "landed aristocracy of the South," as he would later recall. Haag spent much of his youth outdoors. His father owned and operated R.L. Haag Nursey, opened in 1920, and the young Haag would often accompany crews to work sites. Even as a child, he gained renown for his deft ability to identify arcane species of plants and for his experiments in plant-grafting techniques. But time was also spent having fun, building camps and forts in the woods, visiting Cherokee Park, and exploring Floyd's Fork and Beargrass Creek.       
Haag never graduated from high school. He enlisted in the U.S. Army in 1942 before the end of his senior year. He served in the U.S. Army Air Forces as a radar engineer, training stateside before traveling to Casablanca via troop ship, then making his way to Egypt, China, and India.
Honorably discharged in 1945, Haag studied landscape architecture at the University of Illinois, Urbana-Champaign, on the G.I. Bill. There he met two people who would influence the course of his life and work. The animated and inspirational professor Stanley White, whom Haag called "a genius that could get you to really think and feel and emote about the profession and how to approach it," introduced him to the fundamentals of landscape architecture; and Hideo Sasaki, who graduated from the program in 1946 (and taught there through 1948), became a lifelong friend. Haag's friendships with these two men were cemented during road trips taken in Haag's Army-surplus Jeep. In 1948 he and White traveled the East Coast, stopping at myriad parks, arboreta, museums, and rural landscapes. They eventually arrived in Maine, visiting White's brother, the writer E.B. White, and the architect and theorist Buckminster Fuller. The next summer, Haag and Sasaki travelled from Champaign, Illinois, to California, often in deep discussion about their profession and the landscapes they encountered.
In 1949, with Sasaki's help, Haag transferred to U.C. Berkeley, earning a B.L.A. in 1950. He also worked for Sasaki in the summers of 1949 and 1950, and for celebrated landscape architect Dan Kiley during the summer of 1951. After plans for work in Wisconsin fell through, Haag entered Harvard's Graduate School of Design, once again with Sasaki's help, earning his M.L.A. in 1952. After graduation, he returned to Kentucky, devising site plans for United Mine Workers of America hospitals in Appalachia. A Fulbright scholarship took him to Kyoto, Japan, from 1953 to 1955, where he "developed a reverence for old things and old ways and old methods." Although, like his father, Haag never claimed to belong to any religious group, the principles of Zen Buddhism and Taoism, which he learned while in Japan, would inform his future practice.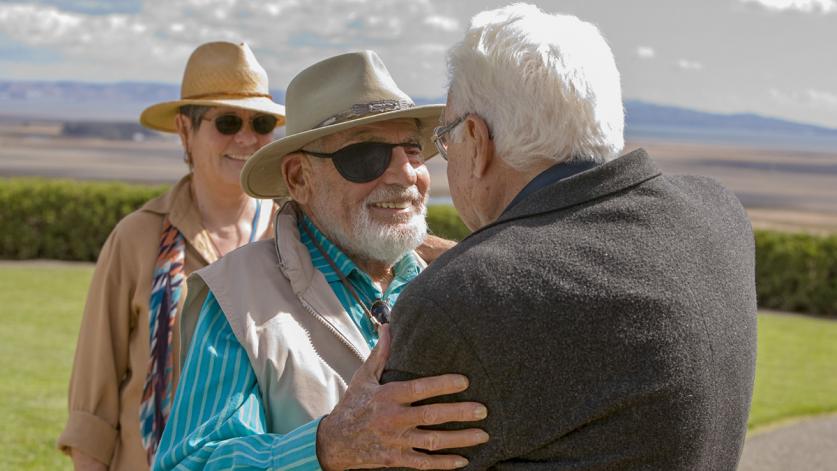 After returning to the United States, Haag settled in San Francisco, working briefly for the firm Osmundson and Staley and then for Lawrence Halprin in 1956-1957, when he also became licensed to practice independently. He then left Halprin's office to form his own Bay Area firm, Rich Haag Associates, which produced several award-winning projects. Thomas Church sent work Haag's way, helping to get him on his feet.
It was also Church who, in 1958, recommended Haag for a teaching post at the University of Washington in Seattle. The school's College of Architecture and Urban Planning was then considering the formation of a landscape-architecture department and was in search of a capable practitioner to establish it. In the autumn of 1958, Haag moved with his family to Seattle and joined the faculty. He opened a small office to continue his practice and taught courses at the university to architecture students until the new department was officially established in 1964. Haag chaired the department for a decade, and under his leadership, the program would grow to prominence and gain a national reputation for excellence. Even after stepping down as chairman, he continued to teach and influence generations of students.
Haag's practice also grew, and he eventually opened his own nursery to supply the plantings. From 1958 to 2000, the firm completed more than 500 built projects throughout the Pacific Northwest and farther afield. Although generally quiet and unassuming, Haag was uncompromising about his vision and designs. While many of his landscapes, such as Seattle's Steinbreuck Park, have been universally lauded, his two most important projects, which have gained international acclaim, are Gas Works Park (1971-1988), also in Seattle, and the Bloedel Reserve (1979-1984) on Bainbridge Island in Puget Sound.
For Gas Works Park, Haag's first job was to convince local officials and the citizenry to leave in place the hulking remnants of a former industrial plant that converted coal to gas, rather than clear the nineteen-acre site for a pristine landscape. Haag insisted that the rusted structures, a collection of towers, stacks, pipes, and sheds recalling the site's industrial past, should be embraced and retained as part of his design. To accomplish the task, Haag and his firm devised what was possibly the nation's first scientific soil-remediation program for a public park. He used plants and natural biological processes to, in essence, heal the soil—an endeavor that was then highly controversial but is now a standard practice. The prescient work at Gas Works Park proved groundbreaking, creating a public space of unusual beauty while changing the public's perception of post-industrial landscapes. The park was listed in the National Register of Historic Places in 2013.         
For the Bloedel Reserve, the former estate of timber baron Prentice Bloedel, Haag created a series of extraordinary landscapes known as the Moss Garden, the Garden of Planes, and the Reflection Garden. Calm and contemplative, each space is a study in simplicity that communicates in a spiritual, as well as visual, language. Haag later noted the influence of his time in Japan on his work at the Bloedel Reserve, which has been described as "an artistic landscape masterpiece." In the Reflection Garden, clipped yew hedges form a perfect rectangular clearing amid a landscape of Douglas firs, which are reflected in a central, shallow basin, effecting what landscape architect Laurie Olin, one of Haag's early students and employees, has called "a physical and spiritual experience of concentration and release that is remarkable, accomplished, and unique."
Summing up Haag's approach to design, Olin wrote in 2009:
Haag's design vocabulary is a self-imposed, limited one. The most fundamental aspect of his work has consistently been a concern for landform and sculpting of the land. His predilection is for prime forms, clarity of shape, and simple and direct plans, as well as modernist abstract imagery. He frequently employs circles, squares, truncated cones, and pyramids and makes generous use of vertical relief, stairs, and ramps. He combines simple and direct plan organization with an encyclopedic knowledge of plants and horticulture. His choice of plants and their juxtaposition is often rich, bold, and strong, yet he uses only a few species and groups at a time. In some projects, he juxtaposes native flora with contrasting Asian or other ornamental species. Emphasizing the natural and physical dynamics at work in the world and on his sites, Haag realizes that his works are cultural productions made by and for society.
Olin added a more somber reflection after hearing of Haag's death:
I think about Rich as a teacher. Why was he so successful and inspiring? In part he taught in equal doses by indirection and confrontation. He told stories and offered direct experience of the physical world. He also combined book-learning with first-hand knowledge, like his heroes, who included Lincoln, Ghandi and Thoreau, the latter admired as much for his essay on 'Civil Disobedience' as for 'Walden'. Rich's knowledge was first-hand from planting something or talking with a farmer who knew and shared the experience of generations. He would surprise one with the latest findings of the National Oceanographic and Atmospheric Administration or the U.S. Department of Agriculture, while appearing disinterested in professional and design journals, with the exception of J.B. Jackson's odd but persuasive publication, Landscape. Rich was attentive to the differences in his students, alternatively seeming to allow one into his personal and emotionally rich world and conversely being aloof, oblivious, and disdainful of what he regarded as petty, bourgeois conservative and unworthy ideas or actions. Rich was the same whether teaching, working, or playing—it was a continuum, and quality, good humor, and clarity were expected whatever. He taught by example.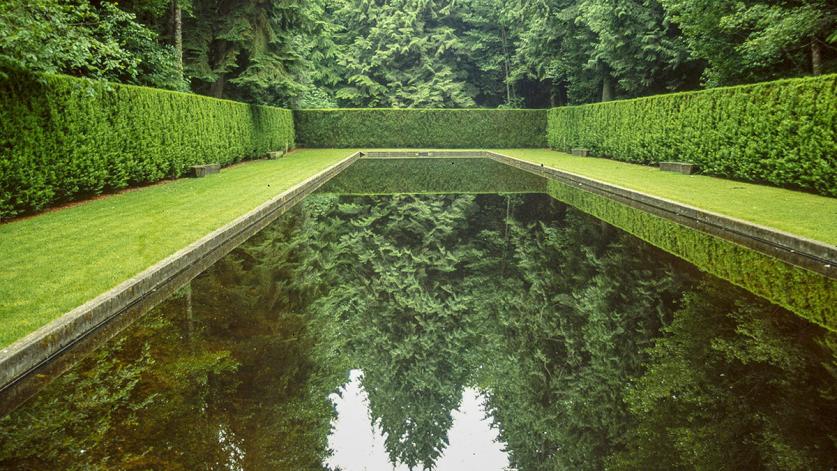 Haag was named a Fellow of the American Society of Landscape Architects (ASLA) in 1983. He is the only person ever to have received two Presidential Awards for Design Excellence from the ASLA, one for Gas Works Park and the other for the Bloedel Reserve. In 2003 he was awarded the ASLA Medal, the organization's highest honor bestowed for lifetime achievements and contribution to the profession. He was an honorary member of the American Institute of Architects and a Resident of the American Academy in Rome. In 1996 the Harvard University Graduate School of Design honored Haag with a symposium and exhibition, which were followed by the publication of the book Richard Haag: Bloedel Reserve and Gas Works Park. Rich Haag Associates officially closed on June 30, 2016. Soon thereafter, Haag and his wife, Cheryl, moved from Seattle to a residence near Pasadena, California.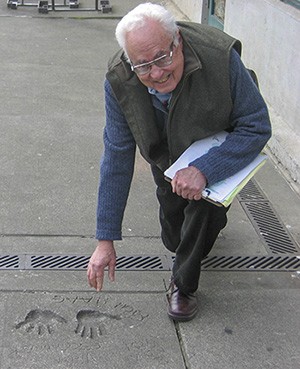 TCLF completed and published a video oral history of Haag in May 2014. The oral history features interviews with him at his home and at selected projects in and around Seattle in November 2004 and in May 2013. The oral history also includes personal and insightful written reflections by colleagues and friends, including Thaisa Way (author of The Landscape Architecture of Richard Haag: From Modern Space to Urban Ecological Design), Gary Hilderbrand, Michael Van Valkenburgh, and a dozen others.
Musing about philosophy and ideas for future projects during his oral history interviews, Haag spoke of the writing of Albert Camus and what it might inspire: "I'd like to dig this hole in the earth. You would descend into this hole of darkness and you would see the North Star light through some opening…the magnificent, magnificent indifference of nature."