Landslide
U.S. Border Patrol Announcement Threatens California's Friendship Park
The latest news about Friendship Park, one of the sites featured in Landslide 2021: Race and Space, is not good. The park is located at the westernmost end of the U.S.-Mexico border where San Diego, California, meets Tijuana, Mexico, and has been an important bi-national cultural landscape, as well as a gathering space for families and loved ones separated by the border, for more than 50 years. Unfortunately, the U.S. Customs and Border Patrol's (CBP) on again off again plans to replace the park's existing eighteen-foot-tall with a 30-foot-tall wall are proceeding ahead. Nevertheless, on February 2, more than 40 Californians signed an open letter to the administration of President Joe Biden, urging him to stop the construction of the new border walls at Friendship Park, though it's unclear if that will sway CBP.
Established on August 18, 1971, in a ceremony attended by First Lady Pat Nixon, the park, also known as "Parque de la Amistad" in Spanish, demarcates the physical location of the international boundary line and has historically been equally split east-to-west between the United States and Mexico by an increasingly fortified fence. The site also includes a nine-foot-tall marble obelisk that was erected by the U.S. government as a boundary marker in 1851 and listed in the National Register of Historic Places in 1974.
Similar bi-national parks located along the northern border attract travelers who come from hundreds of miles away to visit with their loved ones in person. These northern border parks were heavily used during the coronavirus pandemic when the Canada-U.S. border was closed. By contrast, on the southern border the bi-national portion of Friendship Park, then located between two eighteen-foot-tall walls covered in wire mesh with ¼" openings for people to touch fingertips, remained closed. Prior to closure in February 2020 visitation restrictions were continually increased eliminating weekly and annual events. Long lines were common and a maximum capacity limitation of ten people meant many who traveled from far away were not able to see their loved ones in the four-hour window it was open on Saturdays and Sundays.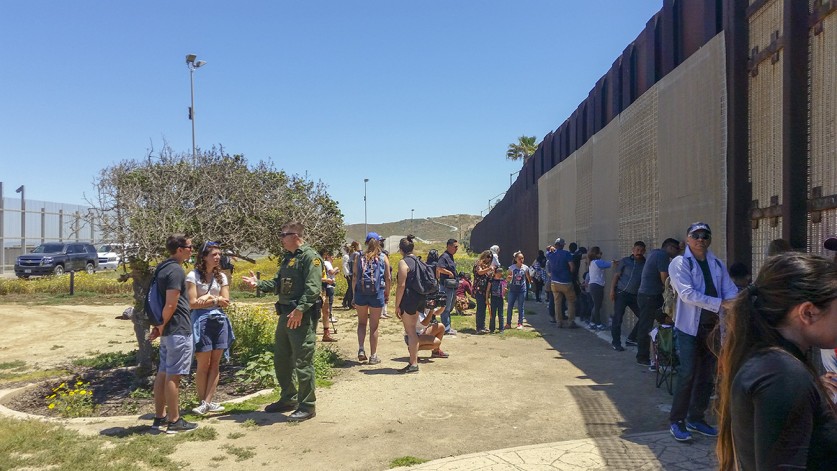 Unlike other cultural, historic, and environmental resources found in our country, border projects are exempt from the National Environmental Policy Act (NEPA) and the 37 different laws and acts designed to protect such resources. As part of the 2005 REAL ID Act enacted under President George W. Bush's administration, language was added to exempt border projects from the NEPA process. That language remains active through the issuance of waivers by the Department of Homeland Security. Once issued, those waivers never expire. It is important to note that even with NEPA in place, projects can still remove such resources but to do so requires a full public disclosure of what is being lost. Prior to recent border security upgrades there were trees, lawn, a vibrant bi-national native plant garden, access to the historic monument, undisturbed Kumeyaay Native American sites, and a U.S. flag and marker matching ones on the Mexico side.
On July 27, 2022, CBP announced that the existing eighteen-foot-tall walls would be replaced with 30-foot-tall walls and that there was no commitment for funding to reopen the park. The CBP claimed the replacement of the border walls was a necessary safety measure and that the existing eighteen-foot-tall walls posed risks to visitors and others. The 1851 original monument will remain as it has since 2011, relegated to the Mexico side of the wall and no longer visible from the United States. With construction set to begin in early August of 2022, local legislators and city officials requested a 120-day pause in construction to provide meaningful stakeholder input regarding the wall design and resource protection. Over several days of public meetings, landscape architects, engineers, and advocates presented evidence on the structural integrity of the existing walls and proposed design solutions for secure border fencing that still allowed for reasonable public access to Friendship Park and protected the integrity of the sightlines along the border. On August 4, advocates got good news when CBP declared a pause on primary and secondary border barrier construction in the area immediately surrounding Friendship Park.
However, in January 2023, CBP informed the park's advocates and the public that a decision had been reached to resume construction of new, 30-foot-tall walls along the border. At the center of Friendship Park, in an area designated as "Friendship Circle," CBP would maintain an eighteen-foot wall height for a distance of 60 feet, 30 feet on either side of the border boundary marker. Outside of that radius, walls would stand 30 feet tall, blocking a prominent, unobstructed view from the Mexican border up the coastline into La Jolla, California, a significant visual connection between the two countries. Other changes, including the removal of a large-scale rolling gate, will make it more difficult for the park to host bi-national programming, such as the annual religious service for La Posada. CBP maintains that the park will be open to visitors from both sides of the border, with visitor capacity capped at 25, an increase from a capacity of ten enforced during the height of the COVID pandemic, though not as generous as the pre-pandemic capacity of 50.
Security hardening since 9/11 has changed the face of buildings, monument, memorials, and civic spaces across the country. The steady implementation of barriers has become a new cultural construct; we increasingly find impediments where we once found connections. This iteration at the border is certainly not anomalous, but it is unfortunate and ironic, especially at a place called "Friendship."