Landslide
Fallen Tree Damages James Rose Center
In early May of 2016, a wind storm uprooted a large willow near the southeastern corner of the small New Jersey site where landscape architect James Rose built his modernist home (now the James Rose Center), sending the tree toppling onto the roof of the nearby Zendo (a place used for Zen meditation) and adjacent roof-garden structures and causing significant damage.  While the James Rose Center remains open to the public, the roof garden is no longer accessible. More significantly, the impact from the falling tree has threatened the preservation of the roof garden and adjacent structures, as well as a portion of the structure upon which the home was built. Awarded the ASLA Classic Award in 2000, Rose's home has been described by Elizabeth Meyer as "a vision of the ideal minimalist residence built as a critique of post-World War II planning and design conventions," and by Peter Walker as "one of the most important designs of the last half century."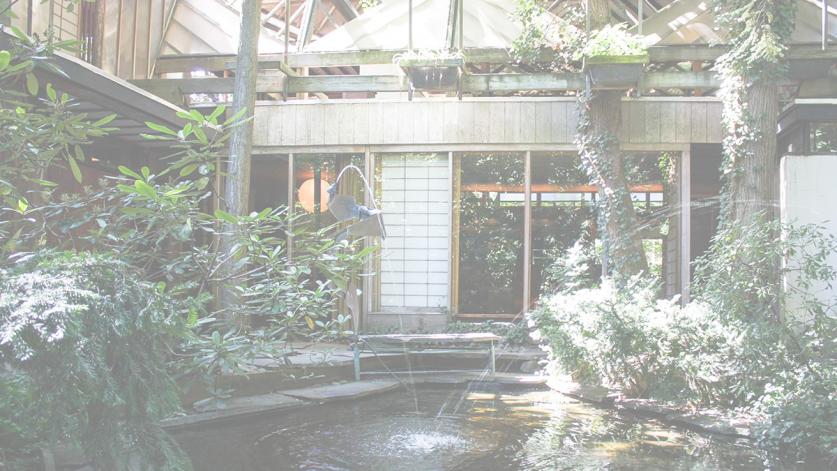 History
Along with Garrett Eckbo and Dan Kiley, James Rose (described by one author as "the James Dean of landscape architecture") was a true pioneer of modern landscape design, publishing nineteen influential articles on the subject between 1938 and 1941.  Rose went on to write numerous other articles and four books, and to create hundreds of distinctive landscapes in the post-War era. Of his built works, his own home is the most significant. Conceived as an antidote to his misery while stationed in the Pacific during World War II, it was to be a continuously changing fusion of indoor and outdoor space. Rose built a model of his "dream home" out of scraps he scavenged from construction battalion headquarters in Okinawa, and he published a significant article describing his conception in American Home magazine right after the war.
Rose's home was eventually built in 1952-1953 on a tiny (approximately 10,000 square feet) scrap of leftover land in the already developed New York City suburb of Ridgewood, New Jersey. The site had once been a trolley stop along the Ho-Ho-Kus Brook (a tributary of the Saddle River). As conceived by Rose, his home changed over the almost forty years he lived there, "a metamorphosis," he described, "such as you find commonly in nature." Today, the changes Rose made are self-evident, because he made no attempt to conceal them. As such, the home provides a moving picture (rather than a snapshot) of its author's thinking about modern living and design.
One major change to the property was the addition of the roof garden in the late 1960s. By this time, Rose had become a practicing Zen Buddhist and he included on the roof a remarkable room with flexible, ethereal edges. The Zendo was used for meditation by Rose, to clear his mind before he spontaneously improvised gardens on nearby sites. It was surrounded by a gallery and adjacent to a unique filigreed overhanging structure which Rose described as "a pattern of organic, rather than cosmetic decoration and an integral division of space."
Threat
Image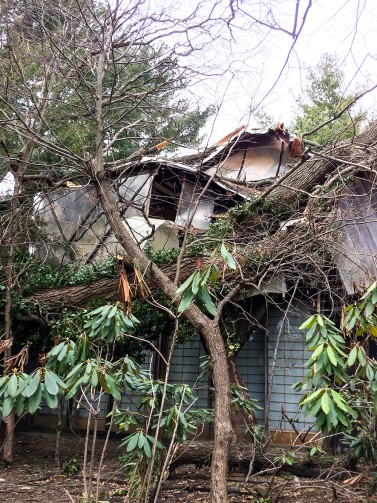 The falling tree crashed down on all of these unique site features, destabilizing the complex structure and rendering the roof garden inaccessible to the public. Important exhibitions, such as the Suburbia Transformed exhibitions, among other contemporary uses, are no longer possible. The educational foundation that Rose initiated has removed the tree and replanted the important native rhododendron edge beneath the Zendo, but it will be a significant challenge to repair the extensive damage to Rose's complex structure once again, as the foundation has done numerous times in the twenty-five years since his death.
Get Involved
The James Rose Center is an important and instructive modern masterpiece, which has been preserved for the past twenty-five years, providing a venue for internships, lectures, research, garden documentation, preservation, and design exhibitions and competitions. To meet this latest challenge, the center needs professional, volunteer, and financial help. To make a contribution or for more information, visit the James Rose Center's website or contact the center's director, Dean Cardasis, directly.
About the Author:
Dean Cardasis, FASLA, is a professor in the Department of Landscape Architecture, School of Environmental and Biological Sciences, at Rutgers, The State University of New Jersey, and is the director of the James Rose Center for Landscape Architectural Research and Design.