An Important James Rose Landscape At-risk

An Important James Rose Landscape At-risk
An Important James Rose Landscape At-risk
Introduction
In 1985 James Rose, an iconic and iconoclastic postwar landscape architect, built much of a corporate garden in an electric company right-of-way ("ROW") on the Texwipe company's campus in Upper Saddle River, New Jersey. As the James Rose Center Director Dean Cardasis has written, for Rose this was an act of civil disobedience illustrating how land upon which it was illegal to build could still be used to inspire "heavenly" experience without interfering with the utility/maintenance function for which it had been reserved. Rose created his characteristic, restless, obtuse-angled, interlocking "space-form" using pressure-treated landscape timbers, by then a common suburban material—indeed, an industry—that had evolved from his original use of scavenged railroad ties in 1946.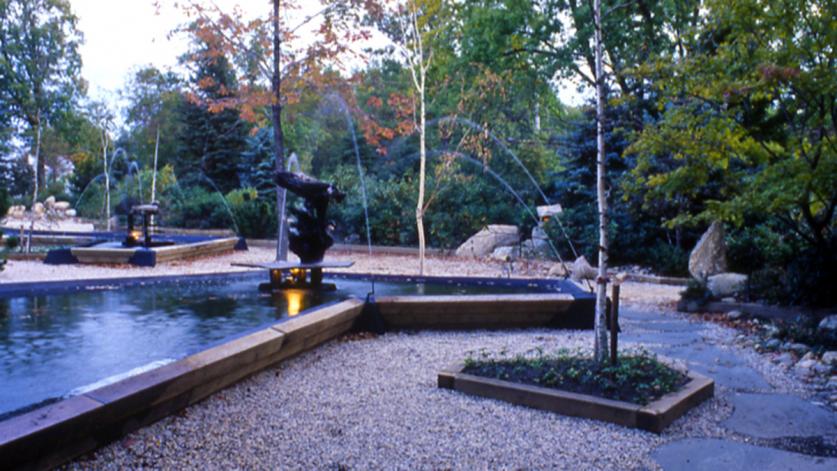 Orange and Rockland Utilities ("ORU") possesses a 100' wide easement across the northern part of the corporate campus, now owned by EarthCam, for purposes of maintaining an electric transmission line.  Part of the Rose-designed garden exists within the utility ROW, and ORU has been cutting and removing trees from the area for years over continued objection from the property owners (both former and current). ORU claims New Jersey Board of Public Utility (BPU) regulations require these removals to assure reliable power transmission. Continued clearance of trees and other elements threatens the integrity of this rare work in Rose's oeuvre whose own house and garden in Ridgewood, which is open to the public, was listed on the National Register of Historic Places in 2019 as the work of a master.
History
Texwipe in Upper Saddle River, New Jersey, now the EarthCampus, is one of a handful of corporate projects designed in suburbia by the influential postwar landscape architect James Rose (1913-1991). Completed in 1985 for Florence and Edward Paley, clients whose nearby residence Rose had previously designed, it is also one of a host of "lost" projects executed in the 1970s and '80s by a modern landscape design pioneer and social critic who was alienated by the conventions of suburban planning and design that, as he saw it, were destroying the natural world and degrading the quality of life. Rose's antitheses were his gardens.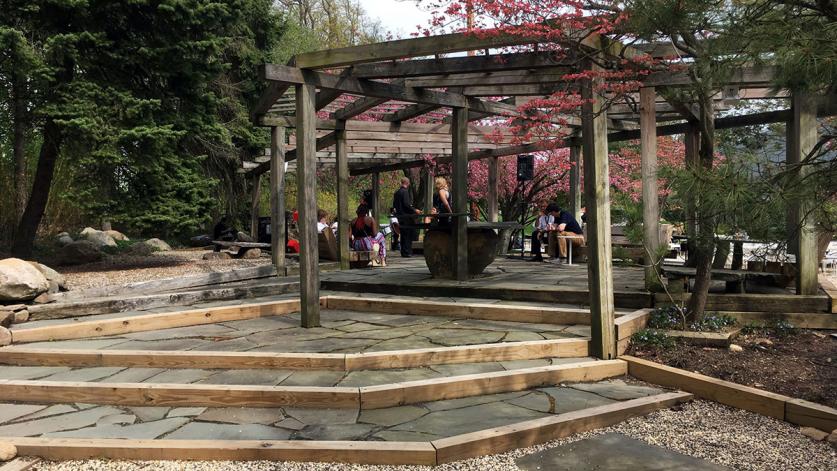 In Rose's designed landscape experience at Texwipe, one feels as if one is "meandering" like a stream through the carefully considered, modulating space, between extant tree trunks, in and out of shade, over broken pieces of Pennsylvania bluestone set in white gravel, and beside the landscape timber structures, accented with pagoda-like bluestone lanterns, "rock ikebana," and tree-root sculptures he assembled from materials that were left over or unearthed during a spontaneous design-build process. Moving through the landscape, one realizes the design in its spatial choreography: an always-changing, contemplative experience of moving pictures and sensations within the site, as Rose has revealed them to us. As he eloquently characterized his method decades earlier, "As the participant moves, the garden moves, and each is involved in an infinity of relationships wherein the sky, the earth, the man—and the handiwork of each—become one" (Modern American Gardens, 1967, p.11). 
For almost two decades this kaleidoscope of changing garden experiences at Texwipe continued to be available to its community, but in 2001 Texwipe was sold. Its headquarters was moved to North Carolina, and by 2004 the New Jersey site was abandoned. Almost immediately, Rose's less-than-durable materials, along with the garden experiences they held in place, began to decay rapidly. Mechanical systems failed, pools cracked and leaked, carefully balanced sculptural accents toppled and broke. Benches, walls, steps, bridges, and other structures began to rot and collapse. Many plants died while others became overgrown or were mutilated by electric company maintenance crews. 
In 2013, Brian Cury, founder and CEO of EarthCam, a high-tech company providing webcam technology and services, was scouting for a new headquarters and discovered the abandoned Texwipe site. Following the site's acquisition, EarthCam Vice President Bill Sharp contacted the James Rose Center, which provided advice and historical information, including measured plans and photographs the Center had created as a record in the early 1990s.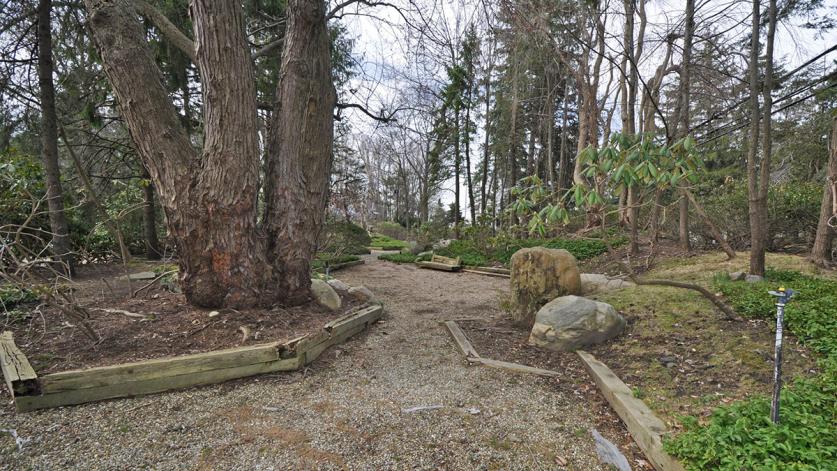 Beyond repairing the infrastructure and precisely reconstructing the bluestone paths, EarthCam rebuilt the failing timber walls, steps, and benches throughout the site, and they pruned and replaced much of the planting to re-establish Rose's basic spatial choreography (TCLF published a more extensive article about the site's rehabilitation in 2018). While EarthCam carefully repaired much of Rose's design, as in any rehabilitation, they also made some changes. A new high-tech atrium illuminating EarthCam's technology, designed by Davis Brody Bond in collaboration with Spacesmith, replaced part of Rose's front entry court, and a new outdoor eating area was added in the rear. Rose's short-lived, timber-edged, rubber-lined pools (already rebuilt at least once) were recast precisely in their previous locations, but this time in concrete; their standard hose nozzles and floating lanterns were replaced by bubbling fountain heads and gas-fired globes. 
The rehabilitation efforts have been recognized at a national level by Docomomo, which bestowed the project with its 2020 Modernism in America Award of Excellence. Bob Hruby, a member of the Docomomo jury, interviewed in Landscape Architecture Magazine commended the rehabilitation effort and said: "Rose is a significant figure in landscape architecture but remains a bit obscure, making this project all the more important to preserve his legacy."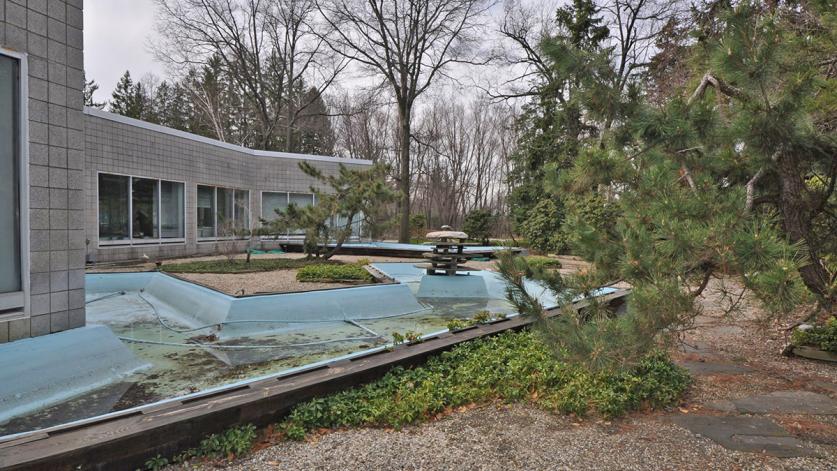 The restoration project also received an Honor Award from the New Jersey chapter of the American Society of Landscape Architects (NJASLA), in the category of Historic Preservation/Restoration. The NASLA describes Honor Awards as representing the highest level of achievement distinguished by "superior professional accomplishment." 
Threat
As noted above, part of the Rose-designed garden sits within the Orange and Rockland Utilities ("ORU") transmission line right-of-way ("ROW"). EarthCam has been cooperative in maintaining the trees and vegetation in the garden areas to not interfere with ROW access and operation. Nevertheless, ORU have called for the removal of all the trees under the transmission lines. ORU claims New Jersey Board of Public Utility ("BPU") regulations that require these removals to assure reliable power transmission. While the site currently retains a high degree of integrity, continued clearance of trees and other elements threatens this rare work in Rose's oeuvre.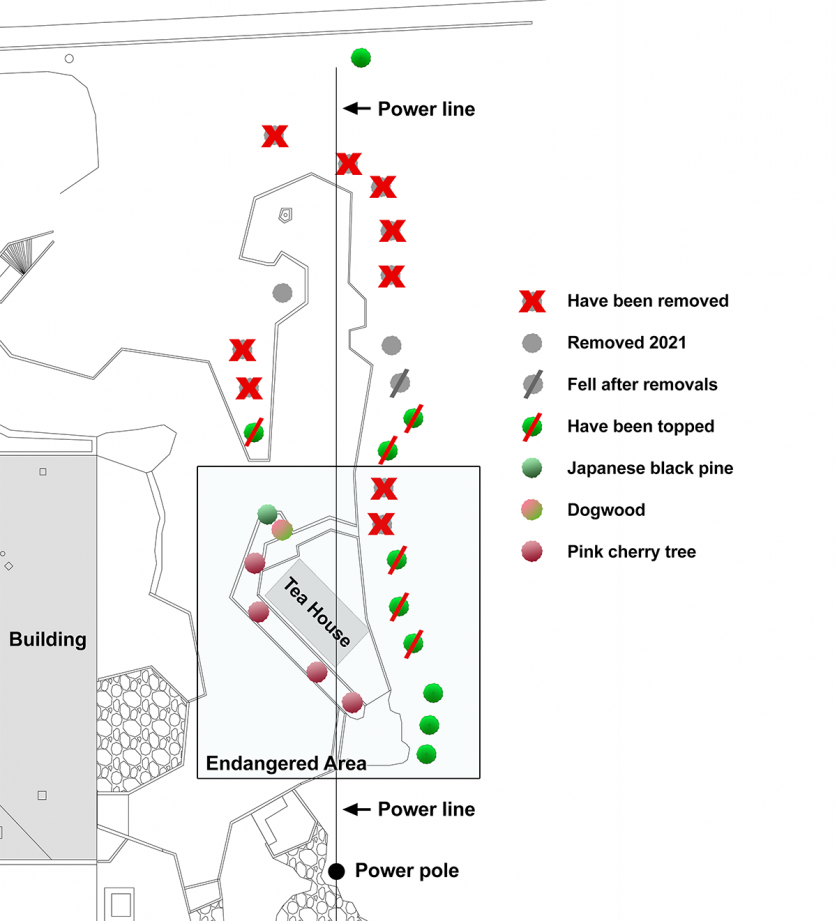 What You Can do to Help
Supporters of this rare, surviving Rose-designed garden are encouraged to lend their voice. Please send comments or letters of support to EarthCam for inclusion in their upcoming appeal to ORU and the BPU.
Email letters to: bill@earthcam.com
Send printed letters to:
Bill Sharp c/o EarthCam, Inc.
650 East Crescent Avenue
Upper Saddle River, NJ 07458