Connecticut Completes Modern Home Survey

Connecticut Completes Modern Home Survey
Connecticut Completes Modern Home Survey

Celenese House, Edward Durell Stone architect. Courtesy Connecticut Commission on Culture & Tourism
One of the first of its kind in the nation, the survey is the result of a multi-year multi-organization partnership. 
The Connecticut State Historic Preservation Office (SHPO) of the Connecticut Commission on Culture and Tourism, in partnership with National Trust for Historic Preservation (NTHP), the Connecticut Trust for Historic Preservation, the New Canaan Historical Society, and the Philip Johnson Glass House Museum, has announced the completion of the Modern Homes Survey - New Canaan Connecticut. One of the first of its kind in the nation, the survey is the result of a multi-year partnership and was conducted by Building Conservation Associates, Inc of New York City.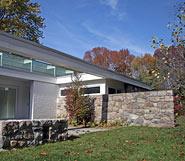 This survey is especially noteworthy given the meaningful participation of the owners, many of whom not only asked to be  included, but offered interior access as well as use of their own archival materials related to the building. The information will be utilized to construct a multiple property nomination for the National Register of Historic Places.
The exhibit celebrates the more than 100 Modern homes constructed in New Canaan between 1946 and 1980 uncovered through the survey process. Large-scale photography, architectural models, period magazines, film clips, and furniture by New Canaan designer Jens Rizom exemplify the beauty, fragility, and compelling need to preserve New Canaan's world-class collection of Modern residences.
New Canaan, only an hour from New York City, became a center of Modern architecture when a group of Harvard University-educated architects settled in the town in the 1940's. Later known as the "Harvard Five"—Marcel Breuer, Landis Gores, John Johansen, Eliot Noyes, and Philip Johnson—established what would become a core of architects who experimented with Modern residential design.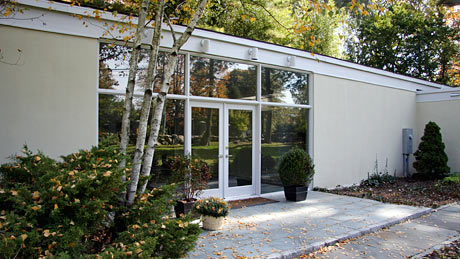 Alice Ball House, Philip Johnson architect. Courtesy Connecticut Commission on Culture & Tourism
The completion of Philip Johnson's Glass House caused an immediate nationwide sensation and the architects capitalized on the attention by participating in a series of Modern house tours that showcased their work.  By the end of 1952, over thirty Modern houses had been constructed and, by the end of the 1970s, more than 100 houses were scattered around town.  
Today, thanks to the efforts of organizations such as DOCOMOMO_US and the National Trust for Historic Preservation, combined with the invaluable efforts of local and state preservationists, the public awareness of Modernism's importance has greatly increased. The opening of the Philip Johnson Glass House in 2007, a National Trust property in New Canaan, drew international attention. The New Canaan survey will help to further heighten awareness of the significance of Modern design as the rich diversity of information garnered will inform historians across the country with regards to Modern resources in their own regions.