Landslide
A Midwestern Original: Stan Hywet Hall and Gardens

In the 1910s, Boston landscape architect Warren Manning designed this estate for industrialist patron Frank Seiberling.
Together, these visionaries created a distinct American style reflecting an expansive midwestern sense of place. More a product of the Arts and Crafts aesthetic than of the Gilded Age estates of Newport, this estate — with its garden rooms, views and vistas — melds historicism with nature. Today, poor drainage and storm water management threaten the foundations of the mansion. A decision has been made to excavate much of the historic landscape in order to replace the old drainage system. A plan projects restoration of the historic gardens; however, funds for this restoration work currently are not available.
History
Growing up in Akron, Ohio, in the twilight of the 19th century, F.A. Seiberling explored the fields and woods beyond the city, hunting in an area where sandstone had once been quarried. Even then, the dramatic views of the Cuyahoga Valley - it's natural vistas spread before him like paintings-affected him deeply. He never forgot them.
In 1911, as the co-founder of The Goodyear Tire & Rubber Company and father of six, F.A. Seiberling together with his wife Gertrude, commissioned the building of a 65-room Tudor Revival Estate known as Stan Hywet Hall. While the country house was designed to fill all possible domestic, social, and recreational needs, the land itself was the essential element in defining the estate's character. The Seiberlings wanted the landscape to be a sanctuary reflective of the simple, expansive qualities of the Midwest.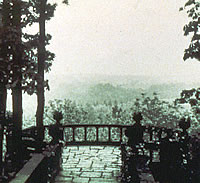 American landscape designers in the early 20th century adapted from the 18th and 19th century "romantic" style a less restrained, asymmetrical approach to their craft. This period, roughly between 1890 and 1940, has been called the "Golden Age" of American gardens. Warren H. Manning, one of America's premier landscape architects, was noted for creating naturalistic, rambling designs with the land and its natural topography serving as his primary inspiration. Thus Manning was the perfect landscape architect for the Seiberlings, and it was Manning who encouraged F.A. and Gertrude to purchase the property on which Stan Hywet Hall and Gardens stands.
Manning assured that Stan Hywet was a highly sensory experience. Many landscape features, such as "garden rooms" and allées, were designed to serve as a gentle transition of environments from a man-made interior space, through a neighboring partially-controlled landscape, and ultimately to an entirely natural landscape. Among the site's signature gardens are several orchards and allées, a walled English garden, a Japanese garden, and a formal rose garden. The dramatic lagoon is a home for wildlife and provided for many of the Seiberling's recreational passions such as canoeing, fishing, swimming, and ice-skating.

The Seiberlings left a powerful legacy of community support, entrepreneurship, and cultural appreciation that remains in Akron, Ohio today. Although America lost many of its historic country estates between 1940 and 1960, Stan Hywet Hall and Gardens has enjoyed a different fate due to the insight and altruistic spirit of family members who opened their heritage to the public. Following the deaths of F. A. and Gertrude, their children and adult grandchildren elected in 1957 to transfer ownership of the estate to a non-profit organization. Today Stan Hywet Hall and Gardens is a National Historic Landmark, a museum accredited by the American Association of Museums, and a premier tourist attraction in northeast Ohio.
Stan Hywet Hall and Gardens has long been recognized by the American Society of Landscape Architects (ASLA) for the significance of its landscape in the history of American landscape design as well as for the garden preservation and restoration efforts in which it engages to maintain this work of art. Originally a 3,000-acre site with dramatic views of the Cuyahoga Valley, Stan Hywet is today relatively intact and retains much of Warren Manning's original landscape design. Truly a master at incorporating many elements of rural America such as orchards, meadows, and cultivated fields into his designs, Warren Manning succeeded at Stan Hywet in his desire to create a landscape that was both utilitarian and artistic in scope.
In studying the Stan Hywet landscape in 1983, Douglas Reed, ASLA, referred to Stan Hywet as "one of the great existing romantic landscapes of the 20th century." Warren Manning's mastery in the use of native plants, his use of the natural landscape features, and the positioning of the Manor House and other estate structures within this context, provided Stan Hywet with a landscape of historical significance unparalleled by that of many other historic homes.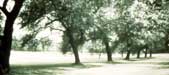 Threat
In 1996, an estate-wide needs assessment was conducted at Stan Hywet Hall and Gardens, that identified severely deteriorated Manor House foundation, rainwater and surface drainage systems. In 1997, an engineering study concluded that these failed water management systems required immediate action. The study proposed the complete restoration of the property's three original drainage systems. It was recommended that the entire project be approached in systematic phases over a period of five to seven years.
In order to access the foundation of the Manor House and address the failed drainage systems, this project will significantly impact eight major historic gardens and landscape areas designed by Warren Manning. The scope of the project will allow for improved efficiency and effectiveness of the water and drainage systems, power and lighting systems upgrades, the historically accurate restoration of several signature gardens and the re-establishment of a major garden that has been absent from the original landscape design since the 1950's. In total, the project will be the largest preservation effort in Stan Hywet's history and will cost approximately $8 million.
Stan Hywet Hall and Gardens has identified the Manor House Water Management Systems and Garden Restoration Project as its highest preservation priority. A failure to address this priority could significantly damage the Manor House and its superb gardens, thereby limiting the public's future access to this historic site.

How to Help
In June 2001, Stan Hywet Hall and Gardens launched The Campaign for Stan Hywet, an $8 million capital campaign to provide funding for this critical three-phase multi-year restoration effort. To date, Phase I is nearly complete and the campaign has generated $4.4 million from government, foundation, corporate and individual donors. However, failure to raise the remaining funds may impair the work of garden restoration.
Those interested in supporting this effort should contact Stan Hywet Hall and Gardens for additional information.
Susan D. Van Vorst
V.P. Development and President, Stan Hywet Hall and Gardens Foundation 714 North Portage Path, Akron, OH 44303-1399.
Tel: 330.315.3216
Fax: 330.836.2680
Email: Svanvorst@stanhywet.org
http:// www.stanhywet.org