Landslide
Threat to Pershing Park Increases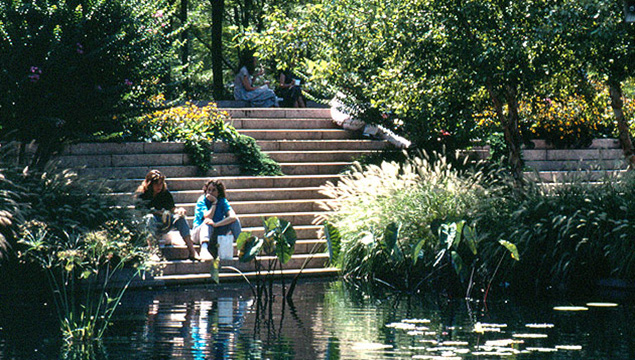 Pershing Park. Photo courtesy of M. Paul Friedberg
On January 26, 2016, the World War I Centennial Commission announced that The Weight of Sacrifice, by Joe Weishaar & Sabin Howard, was selected from among five finalists as the winning design for a  proposed new national war memorial in Washington, D.C. Should the design be executed, it would result in the demolition of Pershing Park, which was designed by landscape architect M. Paul Friedberg with a planting plan by landscape architects Oehme, van Sweden, and which the National Park Service (NPS) has determined eligible for listing in the National Register of Historic Places. The decision comes despite reservations and concerns registered by the U.S. Commission of Fine Arts (CFA), the National Capital Planning Commission (NCPC), and the District of Columbia State Historic Preservation Office (DCSHPO), all of which must approve the project.  More recently, Pulitzer Prize-winning Washington Post critic Philip Kennicott wrote: "All five of the designs obliterate the Friedberg park, rather than building on it," adding that, "None of the proposals, selected in July from 360 entries, rises to a standard the commission should champion."
Despite the World War I Centennial Commission's near unanimous approval of the design, several of its members seemed underwhelmed by the choice. During a conference call announcing the decision, Commissioner Thomas Moe, from Ohio, panned the winning design as "unremarkable" and was the sole vote against it.
In a January 20, 2016, press announcement, Commission spokesperson Chris Isleib wrote of the design competition process: "The five design teams consulted with representatives from the Commission, the National Park Service, the U.S. Commission of Fine Arts, the National Capital Planning Commission, and other stakeholders to develop and refine their design concepts. The designs must must (sic) meet a number of criteria related to design merit, site considerations, environmental impact, historical (sic) preservation, sustainability, and cost. The designers submitted their final concepts in December 2015."
"The World War I Centennial Commission did meet with stakeholders, and they also knew that Pershing Park would likely be eligible to the National Register, which would restrict the impact on the park, but they never really listened," said Charles A. Birnbaum, president and CEO of The Cultural Landscape Foundation (TCLF).  "Instead, they opted for conflict over collaboration," he added.
In a statement announcing the decision, the Commission reiterated its commitment to work with stakeholders. Hopefully the process will be more collaborative than it has been thus far.