Landslide
NPS Declares Pershing Park Eligible for National Register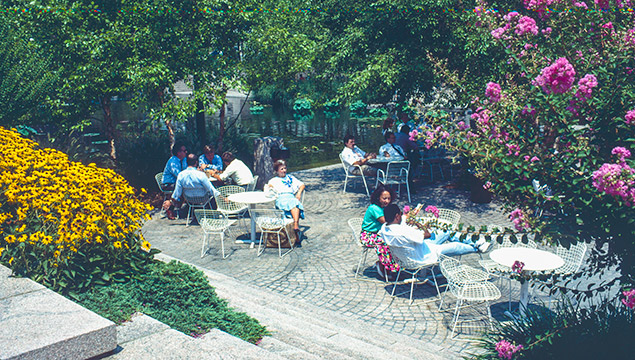 Pershing Park in Washington, D.C. Photo courtesy of Oehme, van Sweden & Associates
On January 25, 2016, the World War I Centennial Commission will announce the winner of a design competition that would result in the demolition of Modernist Pershing Park on Pennsylvania Ave, two blocks from the White House. This is happening in advance of an official determination of whether the existing park is eligible for listing in the National Register of Historic Places (a decision is expected as early as March); a determination of eligibility would essentially prevent significant changes to Pershing Park. Nevertheless, the memorial's proponents have advanced five finalist designs that competition manager Roger Lewis says take a "tabula rasa" approach to the existing park, despite sharp criticism and strong reservations expressed by members of the U.S. Commission of Fine Arts and the National Capital Planning Commission, both of which must approve a new park. But in a new development, a January 4, 2016, letter from the National Park Service (NPS) to the competition jury appears to render the five finalist designs effectively invalid. The letter from Gay Vietzke, the superintendent of the National Mall and memorial parks, states: "Although the Determination of Eligibility (DOE) for the World War I Memorial (Pershing Park) has not yet been completed, the National Park Service has identified the World War I Memorial (Pershing Park) as being eligible for listing in the National Register of Historic Places based on the finding of the Pennsylvania Avenue National Historic Site Cultural Landscape Inventory (CLI)." This should come as no surprise—NPS official Peter May, an adviser to the design competition, has said it was assumed more than a year ago that Pershing Park would be determined eligible.
The letter expresses NPS's desire that any new design would "enhance the existing park to accommodate a new memorial, while retaining the signature elements of the park." Because Pershing Park is eligible, "any adverse impacts [on the park] will require minimization and/or mitigation to be determined in consultation with the SHPO [State Historic Preservation Office] and other Consulting Parties." That language effectively invalidates all five of the finalist entries as currently conceived, because all five would entirely obliterate the current design of the park. The letter says, "The World War I Memorial (Pershing Park) exemplifies signature elements of Modernist landscape design that are characterized by simple designs, strong geometric lines, rectilinear forms, and largely open plans."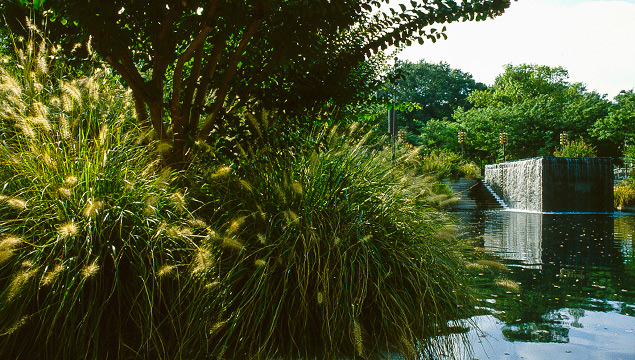 Pershing Park. Photo courtesy of Oehme, van Sweden & Associates
While proponents of a new memorial have made ecumenical-sounding claims that "all options are on the table," from the restoration of Pershing Park to outright demolition, they have also expressed a strong bias against the existing park, which was designed by award-winning Modernist landscape architect M. Paul Friedberg with a planting plan by Oehme, van Sweden & Associates, the firm responsible for the influential style known as the "New American Garden." Not only did the competition's design guidelines encourage an entirely new design, commission officials, including Mr. Lewis and Edwin Fountain, the commission's vice chair, have consistently denigrated the Friedberg design in public presentations and media interviews. In a meeting on December 16, 2015, Mr. Fountain stated that, "it almost seemed an affront to preserve the bones of the Friedberg design" and declared that it was not the Centennial Commission's job to "restore the park." At one point he declared that if a preservation approach is required, "speaking personally...we'll have to decide if we move forward."
The World War I Centennial Commission seems to have created an unnecessary and unfortunate situation by aggressively pushing forward with tabula rasa designs, despite its NPS adviser having said it was assumed for at least a year that Pershing Park would be determined eligible for listing in the National Register of Historic Places. Mr. Fountain did, however, make another remark at that December 16 meeting that points to an opportunity to heal the rift. He said of the final decision to be made on January 25th, "Are we choosing a design, a design idea, or a designer? We're selecting a designer based on a design concept." What remains to be seen is whether the World War I Centennial Commission will select a designer who can work with Pershing Park, rather than raze it.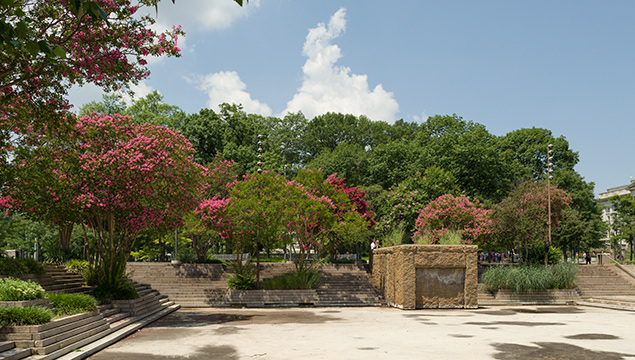 Pershing Park, July 2015. Photo © Brian Thomson