Landslide
Two-Way Traffic to Replace Eckbo's Fulton Mall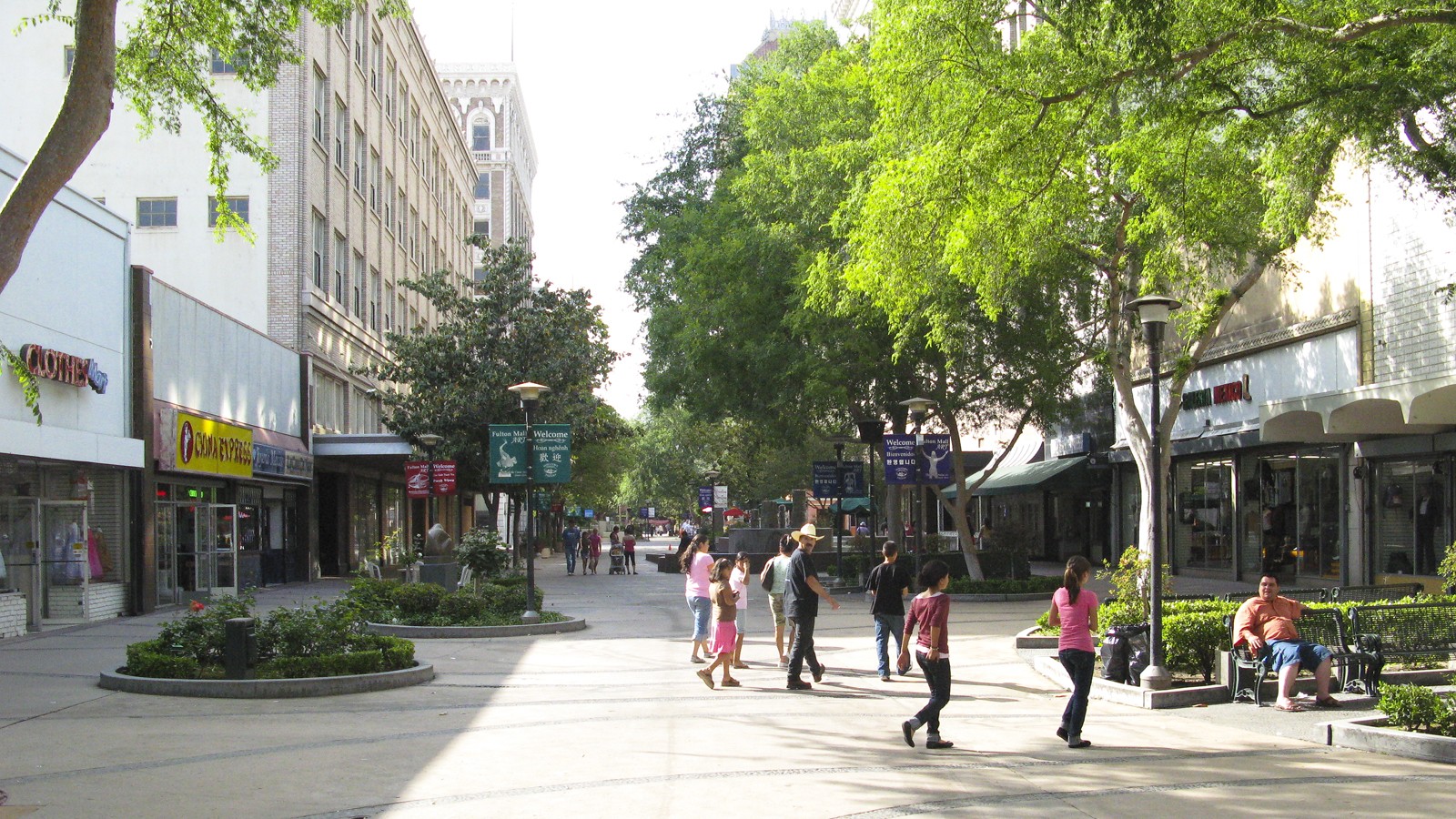 A ruling by U.S. District Court Judge Kimberly J. Mueller on January 13, 2016, has removed what appears to be the final barrier to the controversial reconstruction of the Fulton Mall in Fresno, California. The judge denied a motion for summary judgment filed by the Downtown Fresno Coalition, which had sought to stop the insertion of two-way vehicular traffic in the historic downtown pedestrian space. Designed by renowned landscape architect Garrett Eckbo and completed in 1964, the six-block pedestrian mall is eligible for listing in the National Register of Historic Places.
Originally conceived in an effort to maintain Fresno's downtown area as a retail destination, the mall is widely touted as one of Eckbo's crowning achievements. The design comprised more than 140 trees, with additional shrubs and flowers in planting beds varying by size, shape, and elevation. Some nineteen water features, including pools, fountains, and streams were placed throughout the mall, with eighty seating areas in various configurations, many containing benches with vibrant mosaic backs. Two "tot lots" were included for convenience, while nineteen works of sculpture—including a rare piece by Pierre-Auguste Renoir—made the space a unique venue for public art.
In the decades after Eckbo's design was implemented, the growth of suburban areas (with competing shopping venues) around Fresno further effected a "flight" from the city's downtown core. TCLF added the Fulton Mall to its Landslide program in 2008, when two blocks of the site were initially included in a proposed scheme to redevelop the downtown area, and discussions about opening the mall to vehicular traffic were underway.
Seeking alternatives for reinvigorating the urban core, the City of Fresno sponsored a charrette (the Fulton Corridor Specific Plan Design Workshop) in 2010, which was led by architect and urban designer Stefanos Polyzoides and included Charles Birnbaum, TCLF's president and CEO, among others. During the charrette process, Birnbaum developed a white paper that argued for a hybrid alternative, one that would open a number of the mall's cross-streets to vehicular traffic without sacrificing Eckbo's design or the pedestrian zone—a solution that has enjoyed success, for example, at the Charlottesville (Virginia) Pedestrian Mall. In 2013, a Draft Environmental Impact Report was issued, which included proposals that would nonetheless threaten the integrity of the mall. The Fresno City Council voted in February 2014 to reopen the mall to automobile traffic, and on December 3, 2015, a six-to-one vote by the Council awarded a $22.4 million contract to a local company, which will now begin the work.