feature
Making Visible the Contributions of Pioneering Women in Landscape Architecture
Throughout the month of March, the Library of Congress, National Archives and Records Administration, National Endowment for the Humanities, National Gallery of Art, National Park Service, Smithsonian Institution, and United States Holocaust Memorial Museum come together to commemorate and encourage the study, observance, and celebration of the vital role of women in American history.
In recognition of this annual event, The Cultural Landscape Foundation (TCLF) would like to draw attention to the foundation's myriad online resources dedicated to those pioneering women who have shaped the North American landscape.
Today's practitioners, educators, and authors firmly stand on the shoulders of pioneering practitioners (Marion Cruger Coffin, Martha Brookes Hutcheson, and Jane Silverstein Ries), Country Place-era garden photographers (Jessie Tarbox Beals, Frances Benjamin Johnston), garden writers and authors (Helena Rutherford Ely, Rose Standish Nichols, and Mariana Griswold Van Rensselaer), interdisciplinary artists (Mary Miss, Nancy Holt, and Athena Tacha), and postwar practitioners (e.g. Angela Danadjieva, Denise Scott Brown, and Mai Arbegast).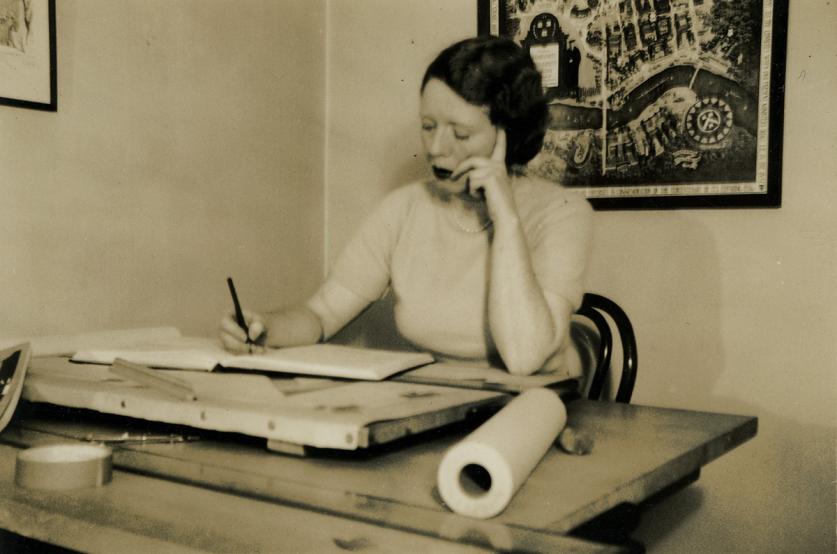 As Harriet Pattison, the third woman subject of a TCLF oral history (following Carol Johnson and Cornelia Hahn Oberlander), has noted of these early women professionals:
"They've been unsung and forgotten, and I just think that it was a kind of necessary purging of the profession that Ian McHarg practiced—that he brought about a huge change in the profession, which had become self-indulgent in a way and dependent on rich patrons and people who could afford gardens, and it was time for a huge change. But at the same time, these artists, I think, were lost, and their heritage was not transformed. I think [of] Ian McHarg, my reaction to Ian was that he absolutely gave the Earth a voice and a conscience to the practitioners of a profession, which really had not been a profession in a way. That gave us all a sense of responsibility for nature. But at the same time, we lost some of the artists, and I would just like to see the artists come back into the world of landscape architects. There have been a few along the way who are artists, but everything is so result-driven and measurable and scientifically important, and significant. But I think that art has a different transforming power that needs to be reinstated in our profession."
TCLF's What's Out There database, a constantly growing online database of historic designed landscapes, currently features more than 2,000 site descriptions, 900 designer profiles, and 11,000 images. The database raises awareness about the interconnectedness and diversity of designed landscapes, provides critical context for students and historians, inspires design professionals, and enhances local and regional heritage tourism efforts. In 2014, the database was optimized for iPhones and similar handheld devices and includes a feature called What's Nearby, a GPS-enabled function that locates all sites in the database within a 25-mile radius of the user.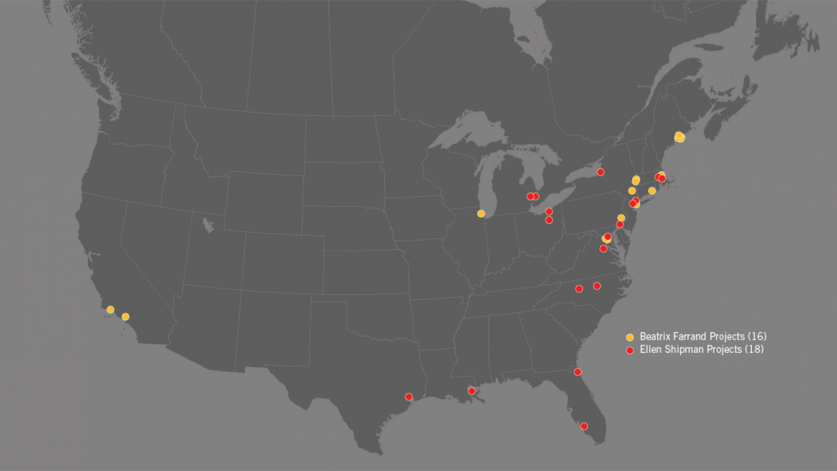 To illustrate the What's Out There database in action, let's imagine you are conducting research on either Beatrix Farrand (1872-1959) or Ellen Shipman (1869-1950)– two enormously influential practitioners.  As illustrated on the maps below, a current search of Beatrix Farrand projects yields sixteen total in the database spanning coast-to-coast from Mount Desert, Maine to Santa Barbara, California.  Ellen Shipman (1869-1950), who currently edges out Farrand with eighteen sites in the database, is well represented throughout the north and southeast, in addition to Michigan, Jacksonville, Florida, New Orleans, Louisiana, and Houston, Texas. 
At present, less than 10% of the profiles in the database are of women designers. Help us to expand the representation of pioneering women in our database so that for Women's History Month in 2018 we can make visible other forgotten designers and the places they created. Contact TCLF at info@tclf.org.