Frances Benjamin Johnston
Born in West Virginia, Johnston, one of the first professional women photographers, was a pioneer in photographing gardens during the American Country Place Era. She sustained a fifty-year career by selling photographs and related articles to magazines, newspapers, landscape architects and house owners.
After studying fine art at the Académie Julian in Paris from 1883 to 1885, Johnston returned to live in Washington, D.C, where in the 1890s she became a photojournalist and portrait photographer. In 1909, recognizing the potential for work on newly completed City Beautiful projects, she moved to New York City, a center of architectural photography.
Beginning with urban mansions and philanthropic institutions, Johnston turned to photographing estate gardens, working with photographer Mattie Edwards Hewitt from 1909 until 1917. That year, she returned to independent practice and until the Depression photographed in black and white over two hundred gardens across America and in Europe.
With her photographs of California, Long Island, Massachusetts and Southern gardens designed by Marion Coffin, Beatrix Farrand, Lewis P. Hobart, and Olmsted Brothers, Johnston produced hand-colored lantern slides for lectures on design and wildflower preservation that she delivered to garden club audiences.
In 1927 Johnston moved back to Washington where she worked with the Library of Congress documenting historic southern houses and gardens until her retirement to New Orleans in 1945. Today, the Library of Congress preserves her manuscript and photography archives.

This biography is featured in honor of the publication of Sam Watters' book, Gardens for a Beautiful America 1895 - 1935: Photographs by Frances Benjamin Johnston.
House and garden photographer Frances Benjamin Johnston was born in Grafton, West Virginia a year before the end of the American Civil War. She was the only child of journalist Frances Antoinette Benjamin and Anderson Doniphan Johnston, a clerk at the U.S. Treasury in Washington, D.C. From 1873, the family lived in a house that Johnston's father purchased from his treasury colleague, American naturalist John Burroughs.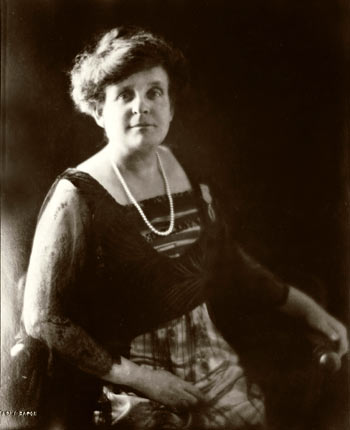 After graduating from the Notre Dame of Maryland Collegiate Institute for Young Ladies, in Govanstown, Maryland, Johnston left in 1883 for two years at the Académie Julian in Paris. Her fine-art training there, and later at the Art Students League in Washington, defined her pictorial aesthetic. She received her first camera in 1888 from George Eastman and studied photo technology with Thomas Smillie, the first photographer at the United States Museum, today The Smithsonian.
Johnston began her career as a photojournalist in Washington during the 1890s, selling illustrated profiles to Ladies' Home Journal and Demorest's Family Magazine, reporting on The White House, diplomat residences and, in 1893, Chicago's World's Columbian Exposition. She participated in Alfred Stieglitz's promotion of photography as fine art and photographed writers, educators, presidents and their families, from Benjamin Harrison through Theodore Roosevelt. Her posed 1899 photographs of African-American students at the Hampton Normal and Agricultural Institute are among her most significant work.
At the turn of the 20th century, garden photography evolved with professional landscape architecture. Johnston produced her first garden images while photographing The White House in the late 1890s. In 1903, she photographed the northern California ranch designed by Albert C. Schweinfurth for education reformer Phoebe Apperson Hearst. After featuring Johnston's photographs of the Mission Revival house and garden in 1904, Country Life in America became the photographer's lead publisher, followed in the 1920s by The Garden Magazine, The House Beautiful, House & Garden and Town & Country.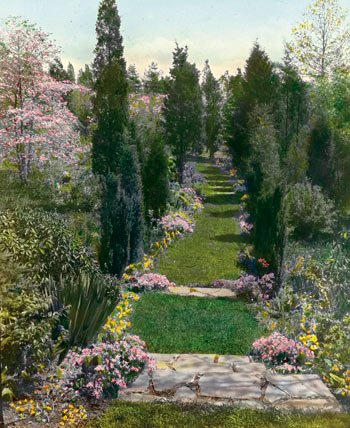 Recognizing career opportunities in New York, a center of publishing and architecture, Johnston moved to the city in 1909 after winning a commission to photograph Carrère & Hastings' New Theatre. From 1909 until 1916 she worked and lived with Mattie Edwards Hewitt who began her photography career in St. Louis.
The two women formed a professional partnership in 1913, the year twelve East Coast garden clubs founded The Garden Club of America. Already established through their published images of Daniel W. Langton's Princeton, New Jersey garden for Moses Taylor Pyne; J. Pierpont Morgan's Cragsland along the Hudson River; and Long Island North and South Shore estates, Johnston and Hewitt worked for club members collecting photographs for their organization's photo archive. They worked in black and white and autochrome, an early color process. The Glen Cove garden of George D. Pratt, designed by James L. Greenleaf, the Southampton garden of Colonel Thomas H. Barber designed by the Olmsted firm, and Gray Gardens in Easthampton by garden club author Anna Gilman Hill were among Johnston and Hewitt's assignments from 1913 through 1916.
In 1917 Johnston ended her association with Hewitt. Both continued as independent photographers, living in New York and working on speculation and on commission from landscape architects and garden owners. Johnston travelled March through October in New England and the Midwest, to California in 1917 and 1923, and to the Middle East and Western Europe in 1925 where she photographed Italian Renaissance villas and the revivalist gardens of Americans Bernard Berenson, Elsie de Wolfe, and Nancy Astor. In the 1920s Johnston joined the urban garden movement as a member of The City Gardens Club of New York City and photographed newly renovated row house yards, notably Turtle Bay Gardens, for that project's co-architect, Edward C. Dean.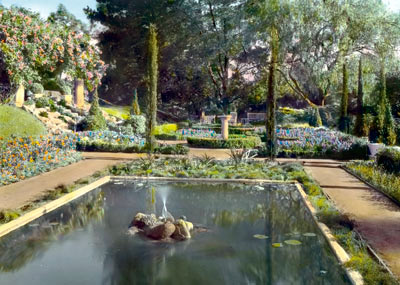 Johnston published photo-illustrated articles on architect Myron Hunt's backyard garden in Pasadena, California and Edith Wharton's Pavillon Colombe north of Paris, France. She exhibited prints at horticultural societies and from 1915 lectured at clubs and museums, projecting hand-colored, lantern slides produced from her photographs. Speaking extemporaneously, Johnston promoted principles of contemporary landscape design--the outdoor room, graduated color in flower borders and the linkage of house to garden through planning.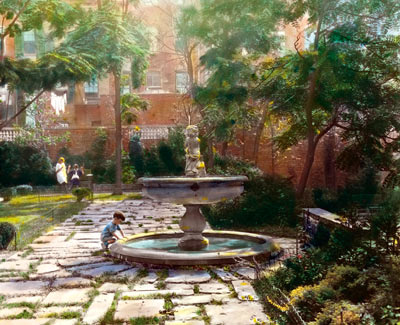 While scouting for Town & Country in 1926, Johnston toured southern antebellum gardens undergoing restoration. Foreseeing opportunities for work, she moved back to Washington, D.C. in 1927. In that year and the next, she produced a photo survey of buildings and gardens in and around colonial Fredericksburg, Virginia, paid for by heiress Helen S. Devore, living at Chatham manor landscaped by Ellen Shipman. From this time through the Depression, Johnston transitioned from photographing gardens designed by local garden club members and landscape architects, including Rose Greely and Nellie B. Allen, to documenting southern architecture, in coordination with the Library of Congress.
In 1945, after a sixty-year career, Johnston retired to New Orleans. At her house along Bourbon Street, she designed and planted her only garden.
As one of the first professional garden photographers, Frances Benjamin Johnston helped define the practice and aesthetics of American garden photography. Her images, through publication, influenced American landscape design by both amateurs and professionals. Today, the Library of Congress preserves her house and garden print photographs and over one thousand lantern slides.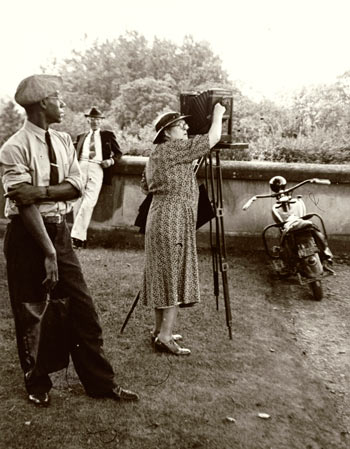 References
Ambassadors of Progress, edited by Bronwyn A. E. Griffith. Washington, D.C.: Musée d'Art Américain, Giverny, France, in Association with the Library of Congress, 2001.
Ausherman, Maria Elizabeth. The Photographic Legacy of Frances Benjamin Johnston. Gainesville: University Press of Florida, 2009.
Berch, Bettina, Berch, The Woman behind the Lens. Charlottesville: University of Virginia Press, 2000.
Watters, Sam. Gardens for a Beautiful America, 1895-1935, Photographs by Frances Benjamin Johnston. New York: Acanthus Press, in collaboration with the Library of Congress, 2012.
Woods, Mary N. Beyond the Architect's Eye, Photographs and the American Built Environment. Philadelphia: University of Pennsylvania Press, 2009.
All photographs courtesy The Library of Congress, Washington, D.C.