Reflections on Richard Haag, Teacher and Advocate
Reflections on Richard Haag, Teacher and Advocate
Reflections on Richard Haag, Teacher and Advocate

Richard Haag with students.
While many know of Richard Haag's design work, and others of his advocacy for thinking differently about landscape architecture, there is a much smaller community that has known him as a teacher. And yet if you have been a student of landscape architecture at the University of Washington at almost any time from 1958 to 2014, you have had the opportunity to engage with Rich.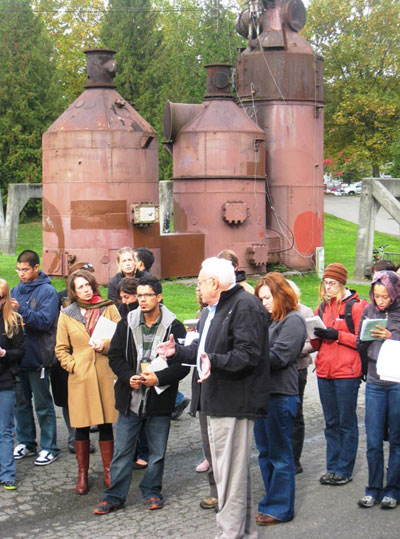 Richard Haag with students in Gas Works Park.From 1958 to 1994, students took his theory and perception course, some inspired to pursue practice, others to pursue politics, and others to find another profession, but all educated in reading the landscapes around them. More recently, as he retired from teaching almost two decades ago, students are invited to join him in their first quarter to tour Gas Works Park and then in the spring to go with him to Bloedel Reserve; if he is not off on some project in China or Italy. As a colleague I have had the privilege of joining some of these trips as well as hearing students in the following weeks and months muse on lessons learned. As a historian I have also had the delight of reviewing almost four decades of syllabi, lecture notes, and slide shows.
Rich has a catalytic effect on students. First and foremost he inspires and delights students by his story telling. He knows design history as well as contemporary design and designers. He knows plants, often describing trees as if they were personal friends, members of his family. He is a nurseryman and an artist, a designer and a critic. His knowledge of the literature is as deep as any designer I know, and he can quote the salient points, whether it is Soetsu Yanagi or Jay Appleton or Al Gore. He shares his design philosophy, much of which was grounded in his Japanese experiences as a Fulbright recipient from 1954-1955, with phrases such as min/ max, non-striving, and spatial sensations, one moment quoting a zen monk, the next the writing of Loren Eisley or Kevin Lynch. This is Rich as the artist and designer.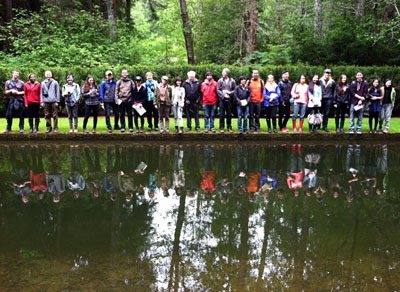 Richard Haag with students at Bloedel Reserve.But there is also Rich as the confident advocate and determined activist teacher. In this role he can offend and shock - whether by suggesting students copulate with the earth or by laughing about the many visual swindles he has used to push a project through to success. He regales students with stories of his political manipulations, his willingness to do whatever it took to make Gas Works Park happen. He describes the cunning of his methods in getting the public to support his designs, by drawing anything they wanted to see. It becomes clear that in fact he might be playing with you right now, there might be an agenda to what appears a light hearted remark or a funny idea. You learn to rarely take Rich lightly, as the saying goes he tolerates no fools. To my delight he remained generous as I wrote my book even though he had no veto power or even license to determine what projects or what perspective I took. I suspect this generosity of spirit came with age, but it also came from a place of deep humility.
Because yes, Rich is a confident designer, but he is also a humble designer, in a way that few designers are today. His curiosity knows no boundaries and he will as quickly become the student as he will the master. He attends more lectures in the College today than many of the design faculty and almost always engages with a challenging question for the speaker. He is willing to talk with any student with the guts to approach him. As to his willingness to let me delve into his work, I suspect he was as curious to read how I might critique his work, describe his legacy, as he was concerned that I would get it wrong. As the book is not out yet, that jury is still out.
Above all it is Rich's conviction that is most inspiring to students. They are thrilled to hear from a landscape architect who thinks he can change the world, and who is willing to break any rule to do so. Rich is the teacher that more of us need to emulate. Ok maybe I can't pull off the references to sex and drugs, but I can remember that if I don't believe in the power of landscape architecture to make a different world, to change the way we live on the earth, then what the hell am I doing as a teacher.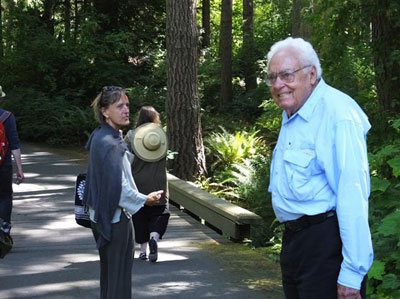 Richard Haag and Thaisa Way.From Rich to all of us:
The Cosmos                 is an experiment
The University               is a park
The Earth                       is a pleasure ground
        Nature                    is the theater
The Landscape            is our stage
Let us write                    the script
       Direct                       the play
And embrace                the audience
With compassion and joy
For Life
Editor's Note: This recollection is excerpted from the

Richard Haag Oral History

, released in May 2014. The complete Reflections, which include recollections from Grant Jones, Reuben Rainey, Michael Van Valkenburgh and others, can be found

HERE

.
Photos courtesy Thaisa Way.