feature
What's Out There Expands into Canada
TCLF is delighted to have initiated its first international partnership to share strategies for cultural landscape recognition and stewardship. At Ryerson University's School of Urban and Regional Planning in Toronto, Canada, TCLF and Professor Nina-Marie Lister collaborated this past fall to deliver two Urban Planning courses focused on Toronto's cultural landscapes.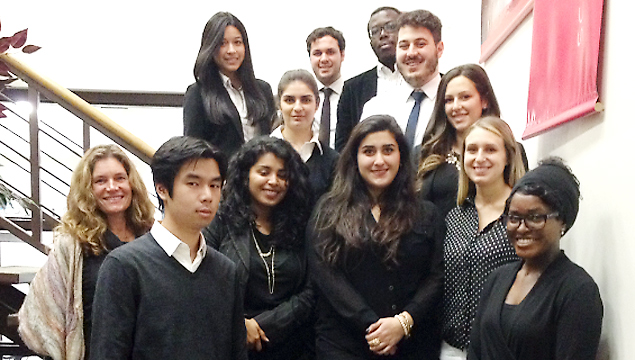 Ryerson University undergraduate students
In Ryerson's unique client-driven, hands-on studios, eighteen students—eleven senior undergraduates and seven Masters' candidates—ventured to document, analyze, and catalogue Toronto's diverse cultural landscapes. A daunting but exciting challenge for the students, this was the first comprehensive inventory and analysis of the City's cultural landscape fabric.
In preparing the What's Out There Toronto Guide, the students undertook extensive background research on historic and contemporary cultural landscapes in general and in Toronto specifically; their work included a range of historical and archival research as well as documentary site visits and field studies using various tools from photography to site plans to drawings and design histories. Working with TCLF, Professor Lister, and project mentors, the students identified various types of cultural landscapes in Toronto, and developed an impressive inventory of sites within each category identified. Through this process, the students identified more than 160 sites and invited four leading urban design professionals to peer-review the long list. From this review, a short list of sites was developed for which detailed analyses including field research and site documentation were completed by the team. More than 70 detailed site analyses along with original and archival photographs comprise the draft What's Out There Toronto Guide.
To complement and enrich the What's Out There Toronto Guide, the students also researched and wrote a series of short, overarching essays. As a combination of written and graphic content, these insightful essays highlight cultural landscape features that uniquely shape and significantly influence Toronto. This includes the natural ravine system – the world's largest; the contemporary commuter infrastructure;  Toronto's Modernist design legacy; and the emerging POPs (privately-owned public space) phenomenon.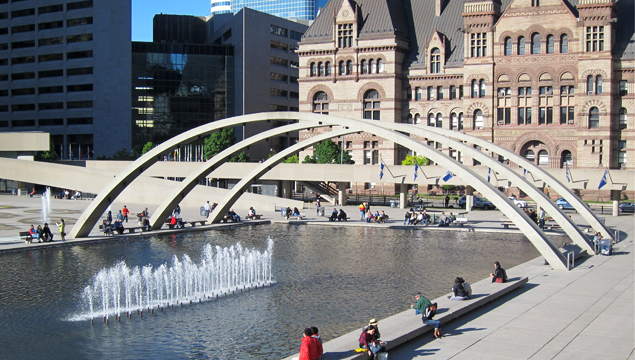 Nathan Phillips Square, photo © Charles A. Birnbaum
But the What's Out There Toronto Guide is not the end of the story; in fact, it's an exciting beginning. The students' collective work is a significant and essential step in preparing for TCLF's inaugural international What's Out There Weekend and Second Wave of Modernism III: Leading with Landscape symposium, to be held from May 22 to 25, 2015. The students' work will be published by TCLF in print and online in advance of the What's Out There Weekend Toronto, and as such, it will serve as critical background information for the symposium and for the development of a comprehensive cultural landscape strategy that flows from these events. TCLF is partnering with the City of Toronto to bring What's Out There Weekend to Canada—and importantly—to use the event to catalyze a significant public policy dialogue on the importance of recognizing, protecting, and enhancing the urban cultural landscape through a tangible stewardship legacy. In this unique context, the What's Out There Weekend and symposium together have the potential to both animate dialogue between citizens, planners, landscape architects, architects, and urban policy and design professionals, and to ignite a strategy for action. As a foundation in this partnership, the Ryerson students' work is indeed a timely and critical contribution.
At the end of the project, Master's candidate Melinda Holland reported: "I just want to thank you for providing us the pleasure of working on this wonderful project this semester. I speak for myself and all of the graduate students when I say it has been an amazing experience learning so much about the City we know and love. We look forward to continuing this project into the future at the conference this coming May."
The students benefited from exceptional mentorship by Brendan Stewart, OALA, of ERA Architects and Kelsey Blackwell, Principal of Studio:Blackwell. As a landscape architect specializing in heritage landscapes, Stewart's expertise in Toronto's landscape history was invaluable to the students through weekly critiques and site direction. As a communication designer, Blackwell guided the students in visual communication strategies for their research, infographics, and the eventual draft of the What's Out There Toronto Guide—from layout to content formatting.
Stewart summarized his experience with the program thusly: "Cataloging and analyzing the cultural landscapes of Toronto was a colossal assignment. The Ryerson students brought loads of enthusiasm and did an admirable job digging into the many ecological and cultural layers driving the evolution of the sites while working collaboratively to package the work into a useful format. Their efforts represent a significant achievement and an important baseline of research for the upcoming What's Out There Toronto program in 2015. In the longer term, their work will further public education and advocacy efforts toward the improved management of Toronto's landscapes. For the dedicated, thoughtful work the Ryerson students applied to this assignment, sincere congratulations are in order."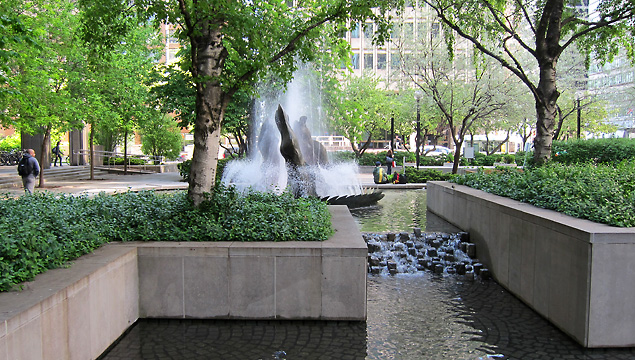 Mac Donald Block, photo © Charles A. Birnbaum