Controversial Confiscation in Washington Park

Controversial Confiscation in Washington Park
Controversial Confiscation in Washington Park
The bidding war for the Obama Presidential Library got very controversial with the University of Chicago's (UofC) January 6, 2015 announcement of its unprecedented proposal to confiscate land they do not own - public parkland - should they win. Other locations are under consideration, including in Hawaii at Kaka'ako Makai, New York's Columbia University and the University of Illinois in Chicago (UIC), but UofC is getting much of the attention.
UofC has two proposals on the table, and both would require the City of Chicago to take away at least 20 acres of parkland designed by the "Father of American Landscape Architecture" Frederick Law Olmsted, Sr. and his esteemed colleague Calvert Vaux. Washington and Jackson Parks are part of the only Midwestern park system created by the duo. Of the two sites Washington Park is more significant because it is more intact, it's also listed in the National Register of Historic Places and is a potential National Historic Landmark.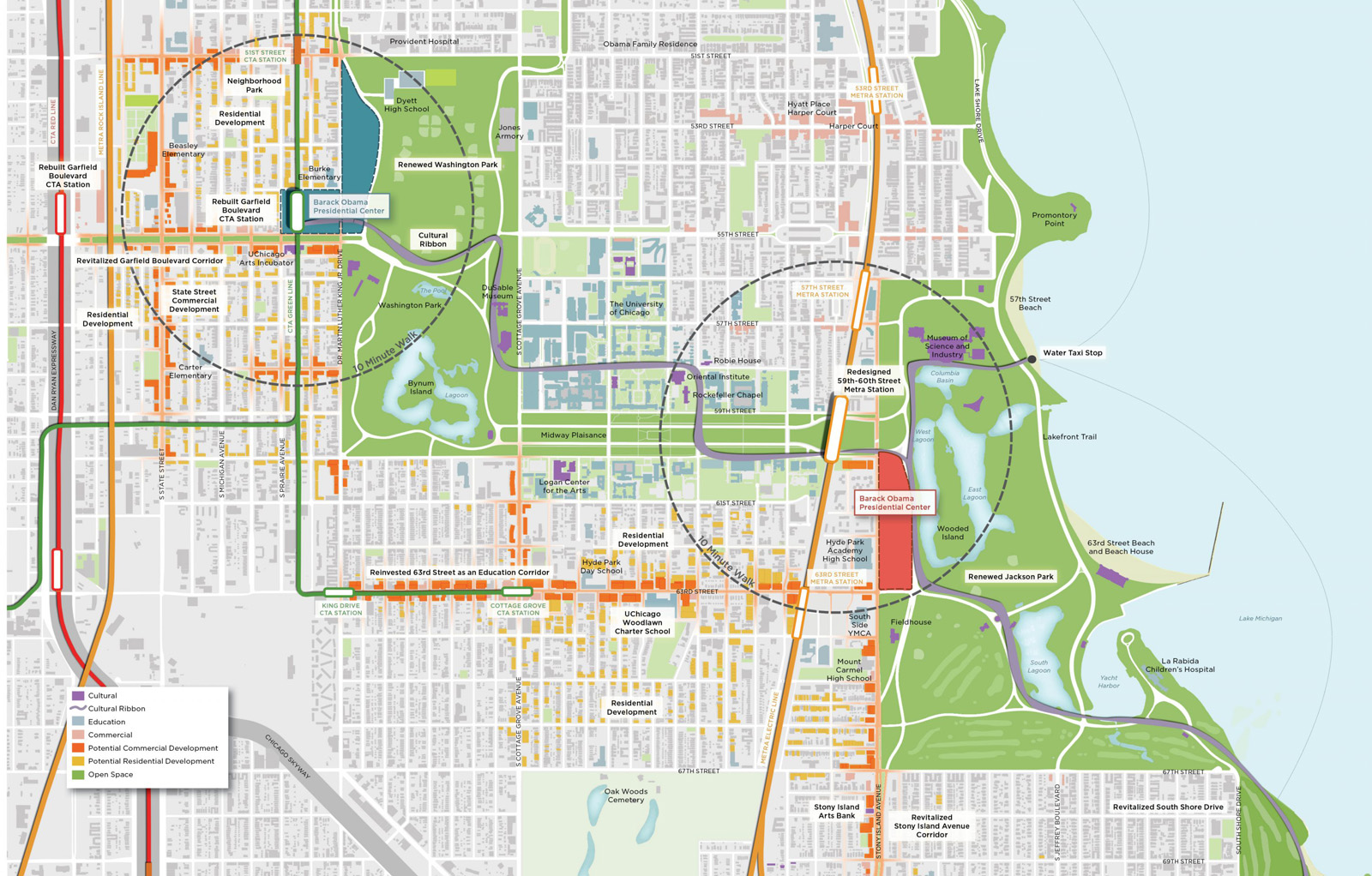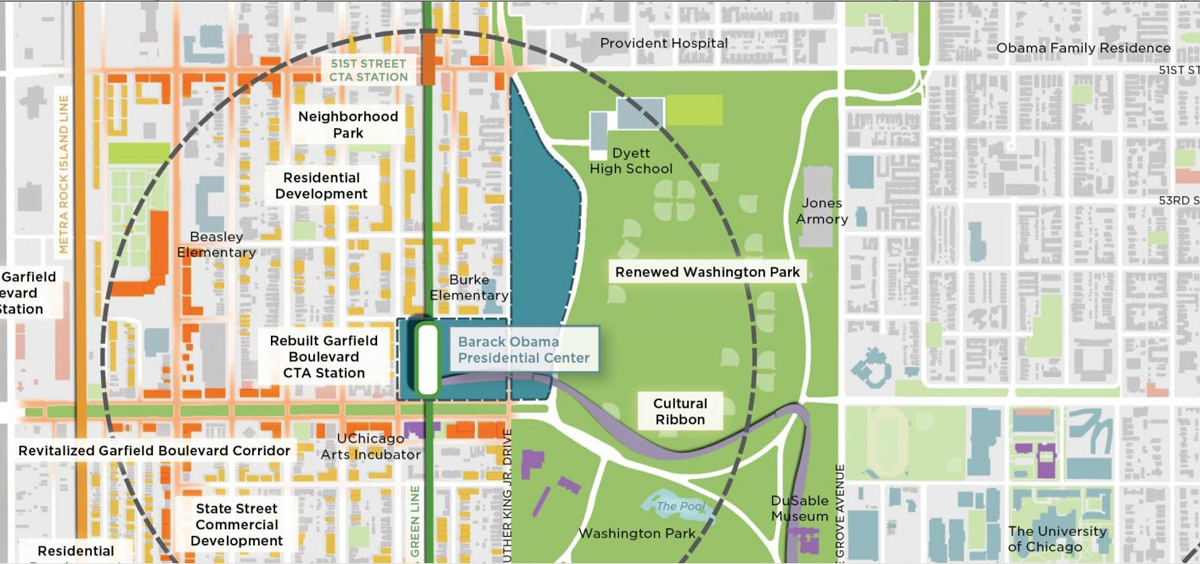 This is not the first time Washington Park has been in development crosshairs. In 2009, the City proposed siting an 80,000-seat stadium there as part of their (failed) bid for the 2016 Olympics - this resulted in the park being included on The Cultural Landscape Foundation's Landslide compendium of threatened and at-risk landscapes and landscape features. For reasons detailed below, Washington Park is again on Landslide.
Across the street from Washington Park, on the city's South Side, UofC owns eleven acres, which they are prepared to use for the library, but they insist on getting 22 acres of parkland, too. In a recent roundtable discussion on WTTW's Chicago Tonight, Derek Douglas, the university's Vice President for Civic Engagement, in justifying the proposed annexation, made various statements that begged for clarification. First, Mr. Douglas claimed the average acreage for the last three presidential libraries is 50 acres, which immediately made their 33-acre site sound more reasonable. He noted that most of the libraries are on "large acreage areas," but failed to provide any follow up or context. His math is not correct - the total acreage for the most recent three is 140 acres - George W. Bush (23.11 acres), Bill Clinton (27 acres) and George Bush (90 acres) - so the average is less than 50. For perspective, here's the acreage for other presidential library complexes: FDR (16); Eisenhower (22); LBJ (30); Nixon (9.6); Ford (20); Carter (35); and Reagan (100).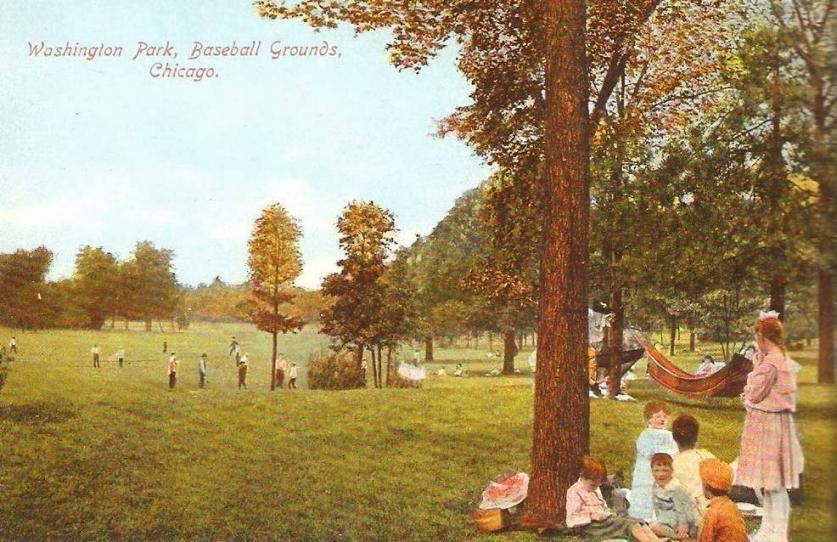 On that same program, Cassandra Francis, president of Friends of the Parks, provided much needed context noting that, unlike other presidential library sites, the proposed South Side location is urban. She suggested the university should seek a higher density solution that would be more appropriate for the neighborhood. Ms. Francis and her organization have written the President stating their support for having the library in Chicago, but not at the expense of public parkland.
The only other urban site - the John F. Kennedy Library in Boston - covers 10 acres (with a landscape designed by the great Modernist Dan Kiley). However, it is on the waterfront and was a land reclamation site, not in a city neighborhood.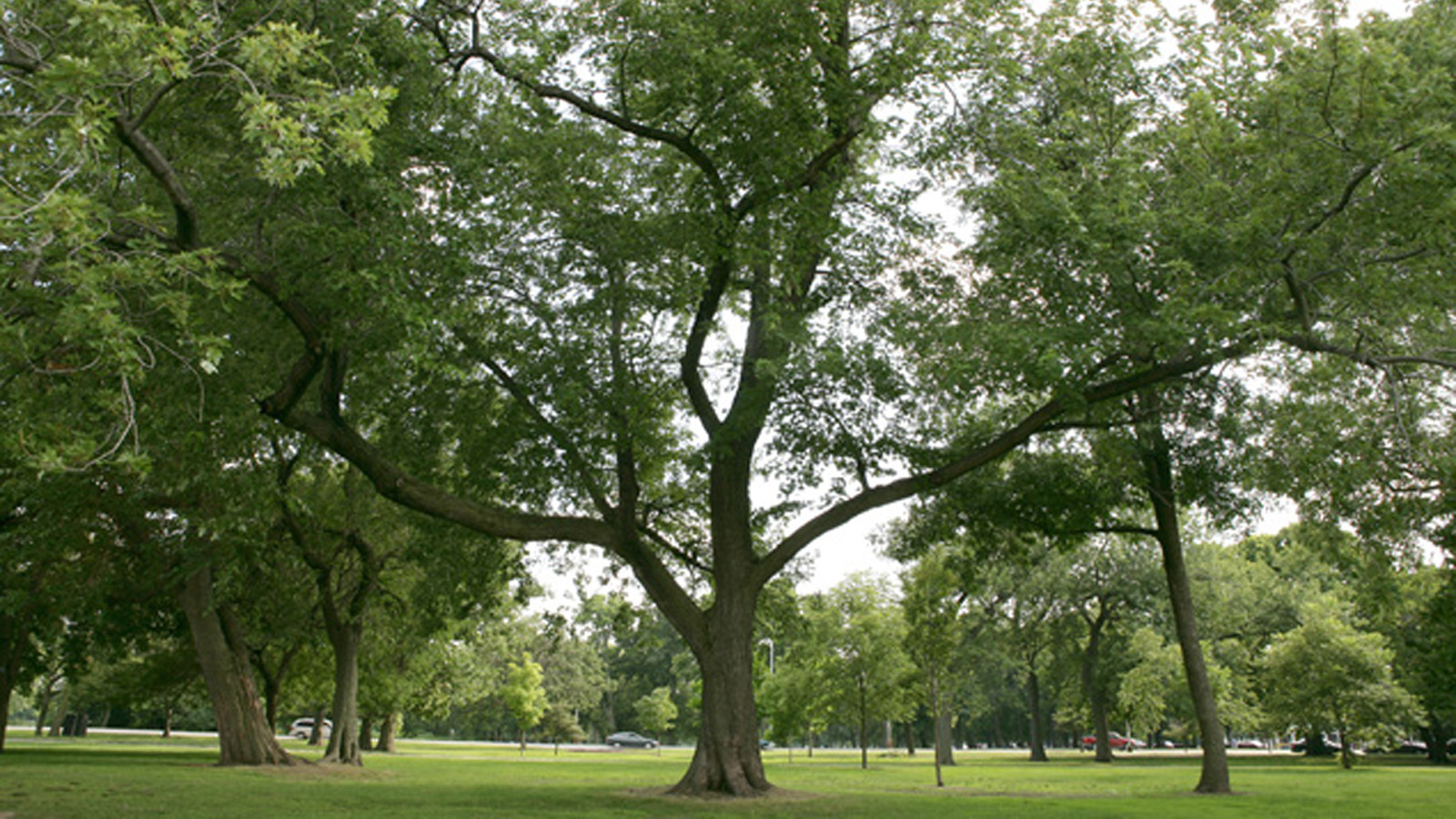 According to a DNAinfo report by Sam Cholke, "Susan Sher, [senior adviser to University of Chicago President Robert J. Zimmer], has said there is a long tradition of museums in parks and the university viewed the library as an opportunity to restore an Olmsted park." On Chicago Tonight, Mr. Douglas echoed those claims but provided no elaboration. The destruction of 22 acres of historic parkland that contains an arboretum is not the definition of restoration (or as Mr. Cholke tweeted: "Does UofC want to cut down a 150-year-old forest in Washington Park for the Obama library?"). And, as for introducing museums, monuments, and other structures into a seminal Olmsted/Vaux landscape, Mr. Olmsted had to deal with such proposals during his lifetime and wrote, "The Park is a ground appropriated and arranged for the enjoyment of all classes that inhabit a great city." These proposals would not create "great additions" to the park, but "deductions from it." He also wrote, "they would take much from its value as a park. They would be worth more to the city if they were elsewhere."
By the way, has anyone mentioned that the public parkland currently open to everyone free of charge, would be replaced with a facility that would presumably charge admission (as other presidential libraries do: Ford & Clinton, $7; Truman, LBJ & Carter, $8; Eisenhower, $10; Nixon, $11.95; Kennedy, $14; Reagan & George W. Bush, $16)?
During the WTTW roundtable Mr. Douglas also painted a rosy job creation scenario - the university predicts 3,300 construction jobs and 1,900 new permanent jobs. It would behoove decision-makers to get an independent accounting; promoters of the Keystone XL pipeline made similarly grand employment claims only to have them called into question (most recently by The Fact Checker column of the Washington Post).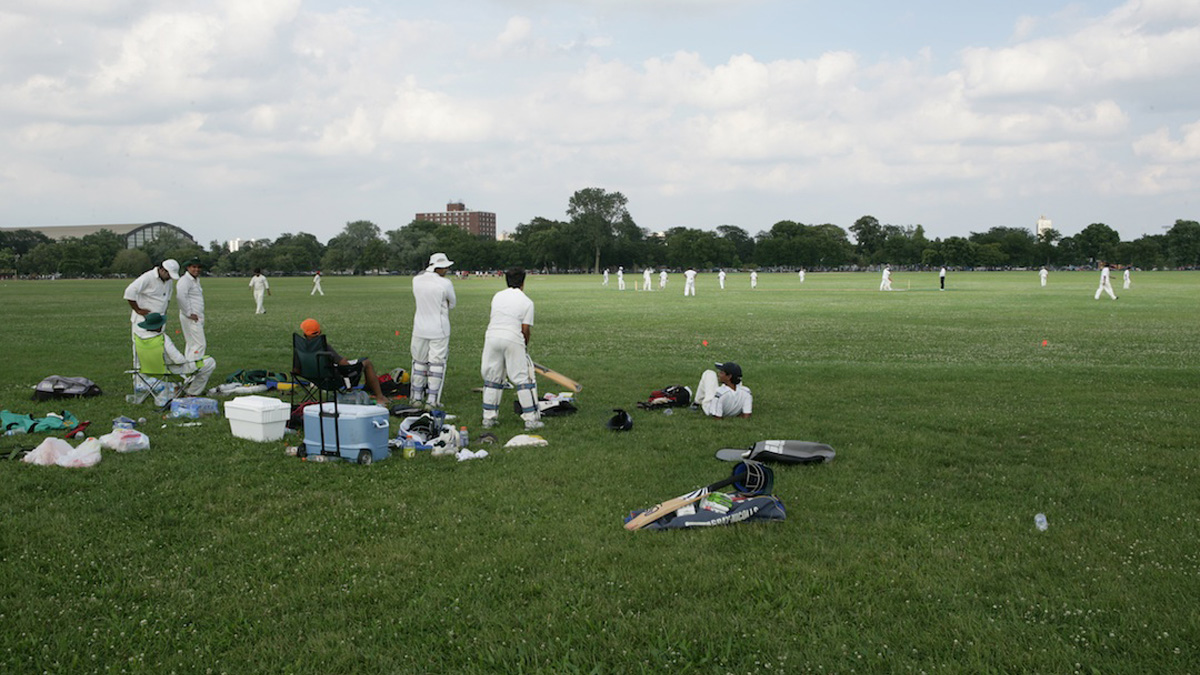 There is considerable support for this confiscation. When word first surfaced in December that the UofC bids might be in trouble because of the land ownership issue, Lynn Sweet at the Chicago Sun-Times reported: "Mayor Rahm Emanuel started the ball rolling for the city to acquire the Chicago Park District sites." Mr. Cholke's DNAinfo article quoted a letter from aldermen Pat Dowell, Will Burns, Leslie Hairston and Willie Cochran that said: "The bid enjoys enormous support from civic leaders, community organizations and residents." He added:
Thirty-eight community leaders also signed a letter to Mayor Rahm Emanuel in support of "prompt steps to resolve the issue of parkland."

"We support a plan that honors the distinctive character of our parks while maintaining and enhancing the park space available to the public -- a key element of the South Side's bid for the library," the letter says. "If making parkland available on these terms will help bring the library to the South Side, you have our strong support to get it done."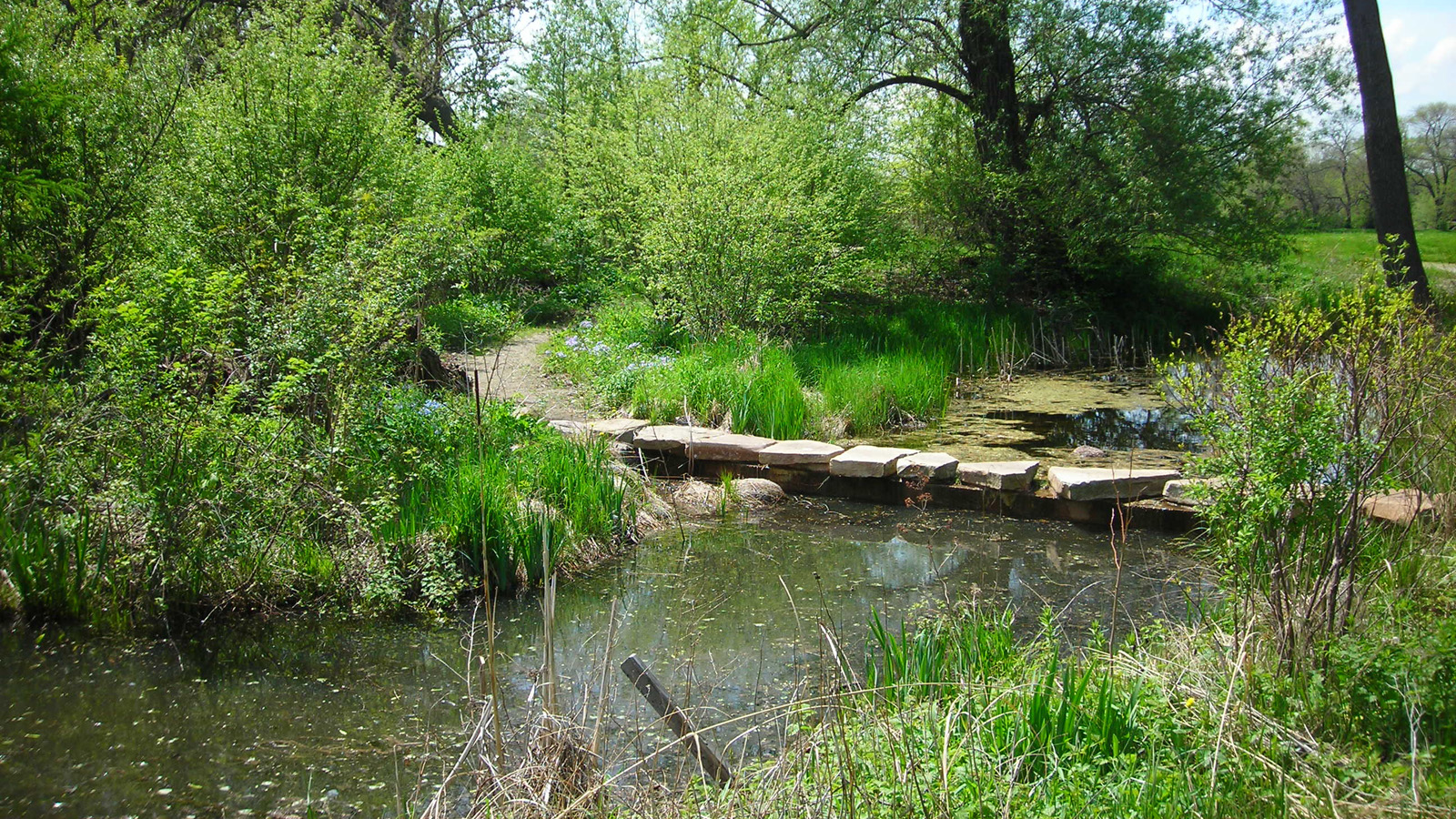 So what about public process? There will be two hearings (reservations are required), but on Chicago Tonight, the question was raised about whether this is a "done deal" and that prompted a revealing exchange later in the program between the show's moderator Carol Marin and Chicago Tribune business reporter Melissa Harris. Ms. Marin noted that the "city council does not usually vote against the mayor"; and, that the parks department "does not ever, ever vote against the mayor" (the latter was met with laughter). Ms. Harris went further - in discussing upcoming public hearings, she stated: "[City officials] need to say they've been able to do them. They need to say they've listened. But the votes are there."
Sounds like a done deal to me.
Mr. Douglas says the ultimate decision about the library's location rests with President and Mrs. Obama, which raises a question: If president Obama wants to again make history, does he want to do so by endorsing the expropriation of public parkland? And not just any park, but one that is a candidate for National Historic Landmark status designed by the "Father of Landscape Architecture" Frederick Law Olmsted, Sr.?
This article first appeared on the Huffington Post on January 12, 2015.