Landslide
Washington Park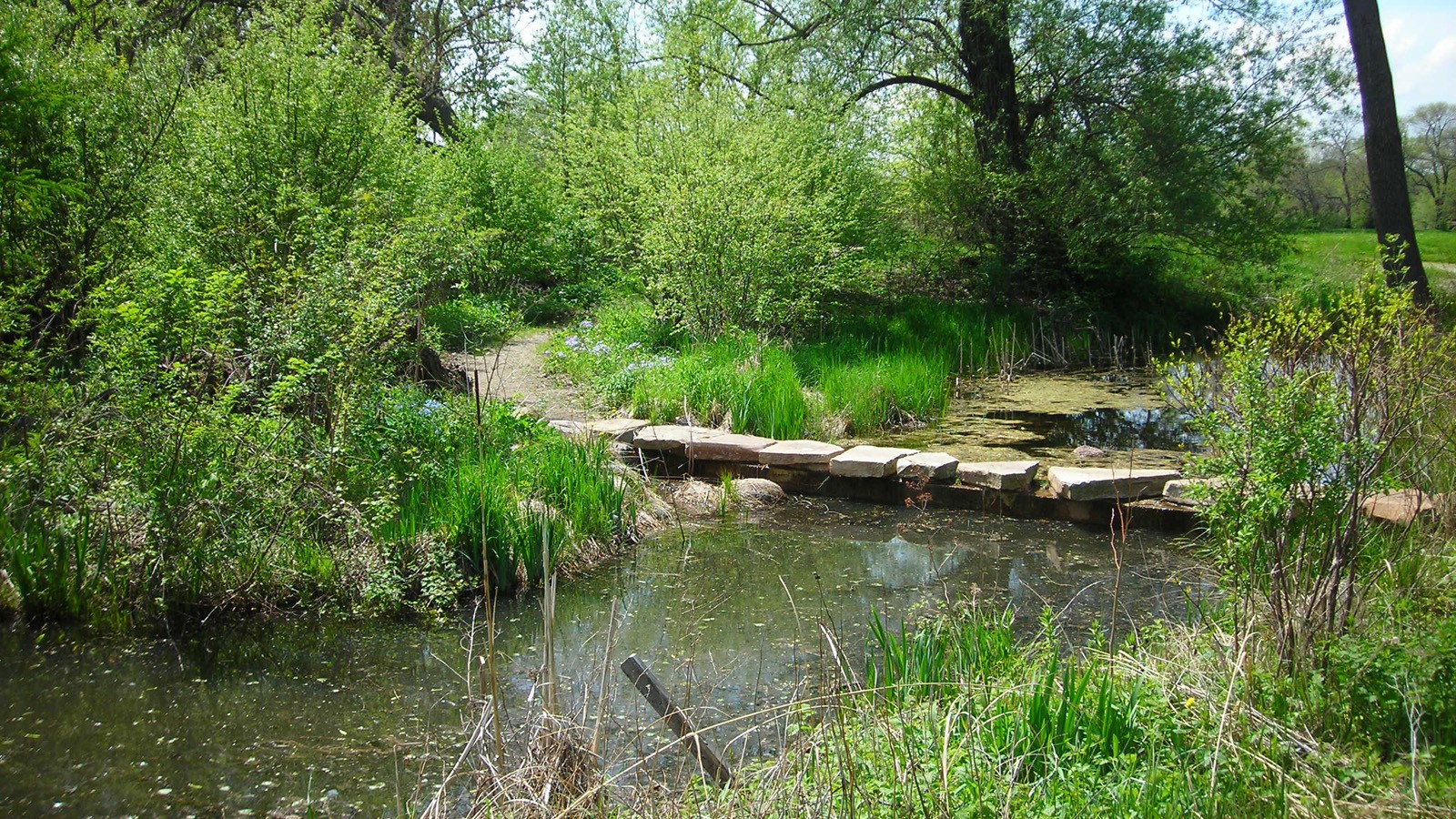 Designed by: H.W.S. Cleveland, Frederick Law Olmsted, Sr., and Calvert Vaux
Washington Park, a potential National Historic Landmark, is ranked with New York's Central and Prospect Parks, and Boston's Franklin Park, as one of Frederick Law Olmsted, Sr.'s great "country parks." It is part of Chicago's South Park System, the only mid-Western park system designed by Olmsted and his renowned colleague Calvert Vaux. Nonetheless, its stature was not significant enough to prevent consideration of an 80,000 seat Olympic stadium that would have obliterated nearly half the park. Though Chicago's failed 2016 Olympics bid granted the park a reprieve, the very existence of this threat should serve as a warning about the fragility of parks, gardens and open space—even the nation's most significant park systems.
History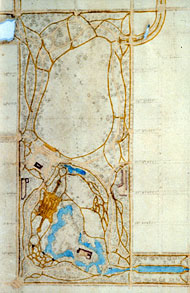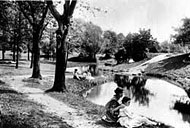 Frederick Law Olmsted, Sr., the "father of American landscape architecture," began advocating for a park and boulevard system in Chicago when he visited the city during the Civil War. In February 1869, the Illinois State Legislature passed three bills that would create a system of parks and boulevards for Chicago. This legislation ultimately led to the formation of the South Park Commission and the engagement of Olmsted and Vaux.
The newly appointed Board of Commissioners identified 1,055 acres of land (larger than either Central or Prospect Parks) six miles south of downtown for a park, along with boulevards that would connect the new parklands with downtown and the West Park System. Originally called South Park, the property was composed of eastern and western divisions: Jackson Park, a 593-acre lakefront tract; Washington Park, a 372-acre inland rectangle of prairie lands; and the Midway Plaisance, a 90-acre five block linear boulevard connecting the two.
The commissioners hired Frederick Law Olmsted and his partner, Calvert Vaux, to create the original plan for South Park. Olmsted and Vaux published their ambitious plan in 1871, just months before Chicago's Great Fire. The pastoral park design included the construction of a greensward, great meadow, and rolling hills. Washington Park was realized according to Olmsted's design and, by the late 1880s, about two-thirds of the park was built out under the construction supervision of another celebrated landscape architect, H.W.S. Cleveland. The park had a 100-acre open meadow for sports and informal gatherings, surrounded by 90 acres of open woods with walking and bridle paths; a pavilion and concourse for refreshments and viewing sports on the meadow. There was also a mall for picnics, gymnastic displays, and other organized events, as well as a hilly ramble and 10-acre mere for boating. Finally, during the 1890s, the famed architecture firm of D.H. Burnham and Company was commissioned to design the park's structures, including stables and a refectory.  
Over time, Olmsted's signature passages of scenery could be found on three successive designs for the park: the first in 1871 with Vaux; the second in association with the temporary improvements of the 1893 World's Columbian Exposition; and the third and final, produced under the Olmsted, Olmsted and Eliot office during the 20th century.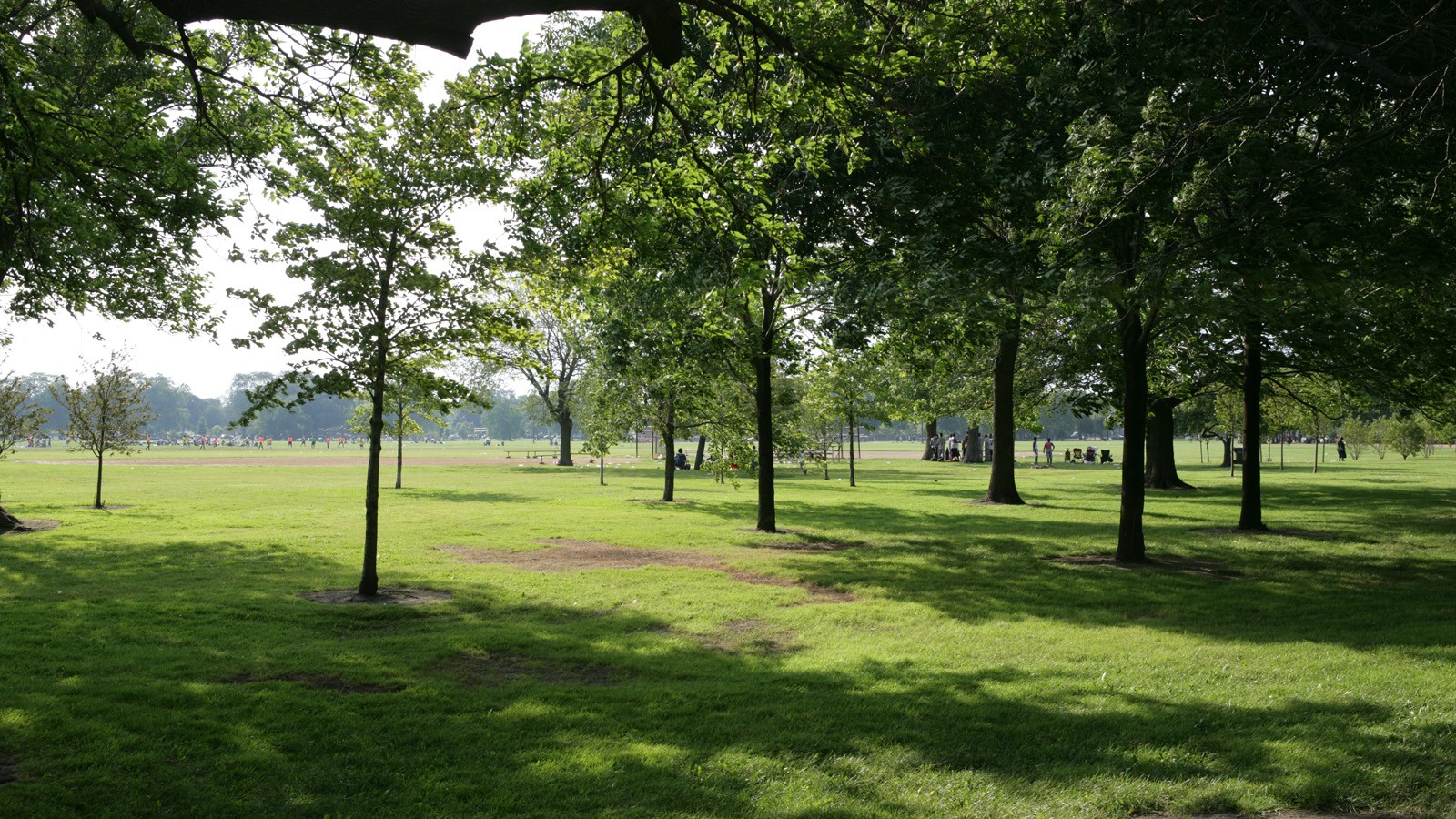 Threat
The immediate threat to Washington Park—construction of an 80,000 seat Olympic stadium—would appear to have died with the City of Chicago's failed bid for the 2016 Olympics. Nevertheless, this situation following almost immediately on the heels of the recent demolition of Hideo Sasaki's modernist landscape at Michael Reese Hospital this past September, suggests that there is always the possibility that a celebrated, historic designed landscape such as Washington Park can be destroyed. Perhaps the loss of Reese Hospital and the threat to Washington Park will serve as a call to action for residents, park stewards, and city and state officials in Chicago and throughout the country that park space cannot be taken for granted. If Washington Park, designed by some of America's preeminent landscape architects for a city famed for its remarkable legacy of parks and boulevards, could so readily be removed, other parks, regardless of their historical importance, are similarly vulnerable.
Get Involved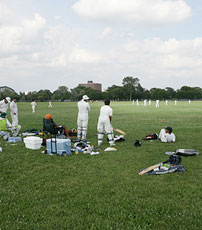 The original South Park, which encompasses Jackson and Washington Parks and the Midway Plaisance, deserves to be revitalized to meet the needs of the next generation and provide places for both active and passive recreation. The Chicago Park District's South Lakefront Framework Master Plan for Washington Park and Jackson Park proposes ways in which this might be accomplished. However, it is important for Chicago residents and supporters nationwide to contact city officials, including the Mayor's office, district aldermen, and park officials, to make them aware of the importance of thoughtfully moving forward on plans for the park.
Learn More
Washington Park
5531 S. Martin Luther King Dr.
Chicago, IL
Print Resources
Bachrach, Julia Sniderman. The City in a Garden: A Photographic History of Chicago's Parks. The Center for American Places, 2001.