Born in Chippewa Falls, Wisconsin, Gillette received his initial exposure to landscape architecture in the firm of Warren H. Manning in Boston. While supervising the construction of Manning's plan for Richmond College (now the University of Richmond) in Richmond, Virginia, Gillette made the acquaintance of a wealthy patron who sponsored his two-month tour of parks and gardens in Great Britain and Europe. Upon his return, he opened an office in Richmond, where he lived the remainder of his life.
Over his 56-year career, Gillette's wide ranging body of work includes more than 2,500 projects, encompassing residential communities, churches, hospitals, educational institutions, historic garden restorations, and private residential work primarily in Virginia and North Carolina. While serving as a nurse in a mental institution, Gillette had observed the beneficial effects of gardens and pastoral landscapes upon patients; he brought this understanding to his institutional work. Stylistically, Gillette's work was decidedly eclectic, influenced by formal design principles from English and European Renaissance traditions, as well as Colonial Revival themes from 18th century Virginia gardens. Admiring the collaborative work of Edwin Lutyens and Gertrude Jekyll, Gillette frequently incorporated flower borders into his site plans. Two notable projects are site plans for Virginia House and Agecroft Hall in Richmond.

Born March 14, 1886 in Chippewa Falls, Wisconsin, Gillette was the youngest of ten children. Raised by a family of modest means, it was necessary for him to work his way through high school in Madison, Wisconsin. He never attended college or university.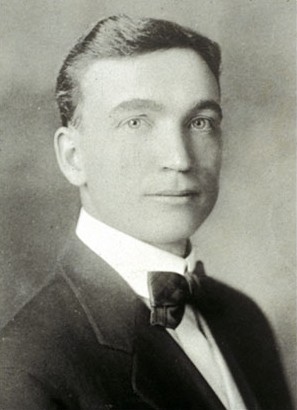 Charles Freeman GilletteGillette experimented with several vocations, including teaching in a secondary school and serving as a nurse in a mental institution before becoming an apprentice at the firm of Warren Manning in Boston, Massachusetts in 1909. His decision was influenced by a love of landscape scenery encouraged by his father, a farmer and herbalist, and by his observation while a nurse that mental patients were often aided by exposure to pastoral landscapes and gardens.
Gillette distinguished himself in the Manning firm and was chosen to supervise the construction of Manning's innovative plan for Richmond College in Westhampton, Virginia. Then, in 1912, a wealthy client sponsored Gillette's two month tour of the major gardens and parks of Great Britain and Europe. He left the Manning office that same year and opened his own practice in Richmond, Virginia, where he lived the rest of his life.
Gillette maintained a small professional office with one or two assistants. During his 56-year career, he designed approximately 2,500 projects, the majority in Virginia and North Carolina, with a few in the Midwest and Northeast. Around two thirds of his commissions were for residential landscapes: notable projects include Virginia House and Agecroft Hall in Richmond. His remaining projects consisted of site plans for residential communities, hospitals, churches, country clubs, private colleges, secondary schools, historic garden restorations, commercial and industrial properties.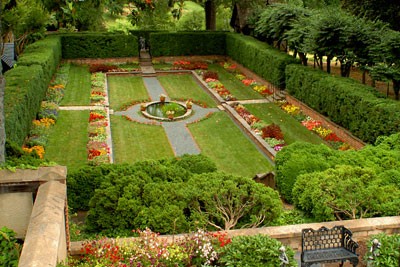 Gillette's design vocabulary was shaped by the eclecticism prevalent in American landscape architecture at the turn of the century, which would persist in most of the profession throughout the Country Place Era. This eclecticism had many sources, ranging from Andrew Jackson Downing's interpretation of Humphry Repton and the theoretician John Claudius Loudon to Mariana Griswold Van Rensselaer's essays in Garden and Forest and the widely influential design work of Charles Platt. It was codified in Henry Hubbard  and Theodora Kimball's Introduction to the Study of Landscape Design, published in 1917, which became the standard text of the schools as well as the bible of many practitioners. Hubbard and Kimball was one of the few books on design theory in Gillette's library.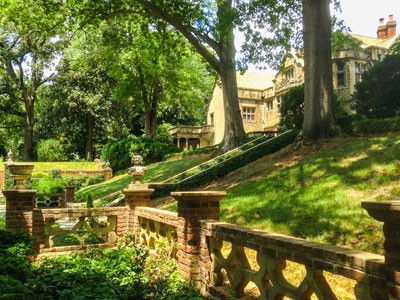 The particular form of eclecticism espoused by Gillette and most of his peers was a blend of formal design principles derived from English and European Renaissance traditions and the so called informal aesthetic of the 18th century English Landscape Gardening School and Loudon's "gardenesque" vocabulary. For example, in a typical residential site plan, the grounds in the immediate vicinity of the residence would be treated in a formal fashion, with terraces axially organized along sight lines to provide a transition from the dwelling to the landscape, as well as to create functional, well defined volumetric spaces to fulfill the particular needs of the client. This design strategy was partially a response to the predominant trend in late 19th century and early 20th century American architecture of creating period revival buildings. Such buildings called for a formal treatment of the site -- garden terraces and crisply defined outdoor spaces  in harmony with the materials and design of the building. Like their architect counterparts, American landscape architects avoided the exact replication of historical styles; rather they interpreted them freely and imaginatively, using regional plants and construction materials. The lawn of the residence provided a transition to the other component of this eclecticism, the informal vocabulary. Its soft contours and undulating lines were relegated to the fringes of the site, which frequently were treated in a park-like manner, often combined with a 19th century "gardenesque" emphasis on the display of rare and exotic plant species.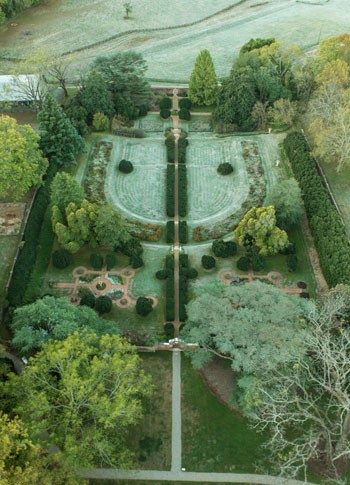 Unique to Gillette's stylistic eclecticism were the strong regional overtones in his work. Although French, English, and Italian Renaissance traditions continued to assert themselves, they were supplemented with themes from 18th century Virginia gardens. These themes included an axial organization of multilevel terraces; highly crafted masonry construction; elegant, finely detailed garden structures; and planting design that emphasized fragrance, seasonal color, shade, and strong volumetric expression through the use of massed evergreens. Gillette was also deeply influenced by the collaborative work of Gertrude Jekyll and Sir Edwin Lutyens; he espoused Jekyll's theory of color harmony and frequent use of the herbaceous border.
Gillette's work received national recognition, with examples of his residential site plans appearing in the annual exhibit of the Architectural League of New York in 1937 and 1938. He was elected a Fellow of the American Society of Landscape Architects (ASLA) in 1933 and his work was chosen on several occasions to appear in various ASLA publications. Gillette devoted his career entirely to professional practice, publishing only two short newspaper articles on planting design, two articles in Landscape Architecture, and a brief book review. He died on March 30, 1969 in Richmond.