Born in Puttenham, England, Cooke studied for a brief time at the Royal Botanic Gardens, Kew, but never received formal training in landscape architecture or engineering. He held a series of horticultural and gardening jobs in Leicestershire, England, in the 1880s, including work at Launde Abbey, a country house with extensive gardens. In 1891 he began working at the Quorn House and was married in 1892 to Eliza Jane.
After the owner of Quorn House died in 1895, Cooke moved to Madison, New Jersey, and worked on the 840-acre Florham estate designed by McKim, Mead & White and Frederick Law Olmsted, Sr. By 1897 Cooke was employed by the New York City Department of Public Parks. During his time in New York, Cooke met landscape architect Samuel Parsons, Jr. Together they formed the landscape architecture firm Samuel Parsons and Company.
Among the company's major projects was City Park in San Diego (later known as Balboa Park). Cooke arrived in July 1903 to supervise the grading of roads and paths on the west side of the park. He also completed work on the landscape of the Marston House and laid out the streets for the Point Loma and Mission Hills neighborhoods, designing curvilinear roadways that respect the natural terrain. Drawing upon his roadbuilding expertise, he became the supervising engineer for the San Diego Chamber of Commerce Committee on Boulevards, beginning in May 1907, and the chief engineer for road building in San Diego County on June 10, 1908. While Cooke was surveying roads near Alpine, California, in early August 1908, he was involved in an accident with a horse-drawn wagon and died three days later.
Authored by: Nancy Carol Carter
George Cooke was born on February 7, 1849, in Puttenham, an ancient village in the English county of Surrey. He never received formal training in either landscape architecture or engineering, although he did study and work for a time at the Royal Botanical Gardens, Kew.
A big man with a "massive frame," Cooke worked as a gardener in Leicestershire in the English Midlands. In the 1880s he was employed at Launde Abbey, a substantial country house with extensive gardens. By 1891 he was working at Quorn House in Leicestershire and had developed a reputation as a skilled horticulturist. In the world of Victorian gardening, where exotic plants were prized and competition keen, he was the first to flower a white form of the Cattleya mendelii orchid. He was also credited for success with Nepenthes, carnivorous tropical pitcher plants.
In 1892 Cooke, at age 43, married Eliza Jane, whose surname is not recorded. After the owner of Quorn House died, the couple immigrated to the United States, arriving in 1895. Cooke first worked in New Jersey, laying out the extravagant 840-acre estate, known as "Florham," owned by Hamilton McKeon Twombly and Florence Adele Vanderbilt and designed by McKim, Mead & White and Frederick Law Olmsted, Sr.
As work on the estate wound down in 1896, Cooke advertised his services in Garden and Forest as a "gardener and general manager or park superintendent." He described himself as "a first class practical man, having a thorough knowledge of building, road making, drainage, etc." By 1897 he was employed in New York by the City Department of Public Parks. At some point, Cooke met landscape architect and New York City parks official Samuel Parsons, Jr. Together they formed the landscape business Samuel Parsons and Company.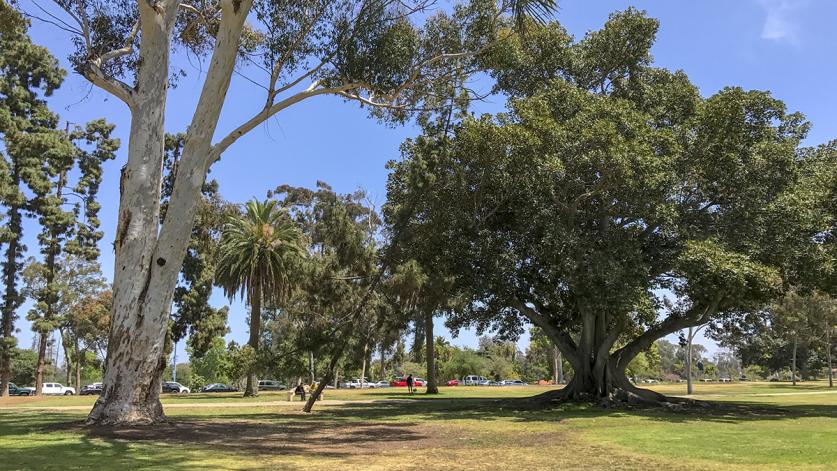 After Parsons was selected as the landscape architect for San Diego's City Park (later known as Balboa Park), Cooke travelled to San Diego with the preliminary drawings in hand, arriving on July 24, 1903, to personally superintend the grading of roads and paths on the west side of the park. Mary B. Coulston, executive secretary for the San Diego Park Improvement Committee, wrote that Cooke was "specially known for his skill in designing and constructing roads, bridges and architectural features of parks."
In addition to his work on City Park, Cooke completed private commissions in San Diego as early as 1903, when George W. Marston hired him to complete the landscape for what would become the Marston House Museum and Gardens, designed by the architectural firm of Hebbard and Gill and completed in 1905. Cooke drew up the plan and suggested initial plantings for the gardens. The bones of his English Romantic style garden are still discernable today.
Cooke also laid out streets and lots in the soon-to-be-developed Mission Hills properties owned by Marston and horticulturist Kate Sessions, neither of whom wanted a grid imposed on their land. Cooke's plans embraced the natural topography of the area, showing curving streets and oddly shaped lots along canyon rims.
By 1905 Cooke was employed on a third private assignment, this time for Pomona College in Claremont, California. Marston, president of the college's board of trustees, encouraged the purchase of a tract of land adjoining the campus and recommended that Cooke "secure data for laying out a 60-acre park and planting of the same." The landscape designer later submitted a plan for integrating the new parcel into the college campus. A part of Cooke's plan is still discernable in "The Wash," a cherished campus park of native vegetation and old oak trees.
In addition to the private work Marston steered his way, Cooke laid out a 140-acre subdivision in La Mesa's Mount Nebo district for the Park-Grable Investment Company. He also began work on the landscape of the new La Mesa Springs country home and model poultry farm belonging to lawyer and real estate developer D.C. Collier. Cooke additionally undertook the design of a private recreational park on 50 acres in Normal Heights, conceived by its owner as a "Big Chutes Park" in imitation of the Los Angeles water-slide park.
Having completed ten miles of roads within City Park, Cooke was hired as the supervising engineer when the Chamber of Commerce established a Committee on Boulevards in May 1907. Within a month, he was ready to begin overseeing roadwork to link San Diego with Del Mar. He also worked on a major roads report for the committee, published by The San Diego Union in August 1907 and hailed as "the most important report ever submitted to the Chamber of Commerce." The Chamber accepted and endorsed the impressive document detailing 200 miles of proposed road building.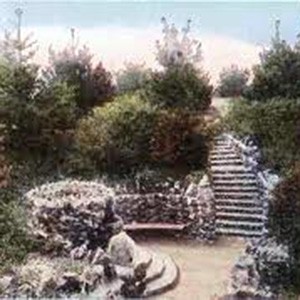 On June 10, 1908, Cooke was hired as San Diego County's chief engineer for road building, and he soon proposed an ambitious plan of action that would extend five main transportation arteries out of San Diego. His visits to communities to learn about their transportation needs took him to East County San Diego early in August 1908 for a meeting on an improved road from Alpine to Descanso. Local "good roads" advocates invited him out for a reconnaissance before the meeting. The party set out in a horse-drawn wagon. Six miles from Alpine on Canejo Mountain Road, a harness loudly snapped, causing the horses to bolt. The wagon overturned, violently ejecting Cooke. He suffered five broken ribs and a dislocated shoulder. Three days later, on August 6, 1908, Cooke succumbed to pneumonia at the age of 59. 
After his death, the Parsons plan for City Park lost its most vocal advocate. If Cooke were better remembered in San Diego today, he would be credited with the pioneering road planning that helped to modernize Southern California. He should also be remembered for his lasting contribution to the appearance of Point Loma and Mission Hills, two neighborhoods whose curvilinear roadways respect the natural terrain and provide a charm that continues to attract residents and visitors alike. Cooke's memory is also evoked by the Fountain Grotto that he installed (but did not design) in Balboa Park in 1907. The remnants of the grotto—now little more than a cobble stairway and part of a wall—inconspicuously grace the landscape near the park's southern entrance and are its oldest surviving man-made features. 
Adapted from:
Carter, Nancy Carol. "Ambition and Service: The Life and Death of George Cook." The Journal of San Diego History 62, no. 2 (2016): 159-180.