Born in Santa Monica, California, Burton was raised in California and New Mexico and graduated with a bachelor's degree in Environmental Design and a master's degree in Architecture from the University of California, Los Angeles, where she studied with influential architects Charles Moore, Yoshio Taniguchi, Charles Gwathmey, and Eugene Kupper, among others. Upon graduation, Burton opened her own office in 1975. Drawing inspiration from her travels in Japan, study of Buddhist spiritual centers, and friendships with minimalist artists including Robert Smithson and Elyn Zimmerman, Burton developed a style characterized by contemplative form, clear hierarchies of space, and the use of native, sustainable plant materials. She became a Fellow of the American Society of Landscape Architects in 2006.
A native of Southern California, Burton was drawn from a young age to the style and serenity of sparse, Southwestern landscapes and Modernist art and architecture, particularly the work of architects Richard Neutra and Rudolph Schindler, and artists including Sol LeWitt and Richard Serra. After finishing her undergraduate education, Burton worked at Los Angeles' ACE Gallery. Opened in Los Angeles in 1967 by Burton's friend Doug Christmas, the ACE Gallery was a foundational platform for modern, abstract, minimalist, and pop art in America, featuring the work of artists such as Robert Rauschenberg, Carl Andre, Sol LeWitt, Bruce Nauman, and Donald Judd. At ACE, Burton worked in art installation and handling, and became acquainted with artists including Richard Serra and Robert Smithson, whose genre-bending land art work would have a major influence on her own designs.
As a graduate architecture student at UCLA, Burton studied with influential architects including Charles Jencks, Yoshio Taniguchi, César Pelli, Charles Gwathmey, and Eugene Kupper, and participated in projects including Kupper's design for the home of singer Harry Nilsson. At UCLA, Burton also studied with art historian J. Leroy Davidson, whose analysis of Buddhist Chaitya Halls had a profound impact on her awareness of the relationship between ritual, choreographed movement, and physical space.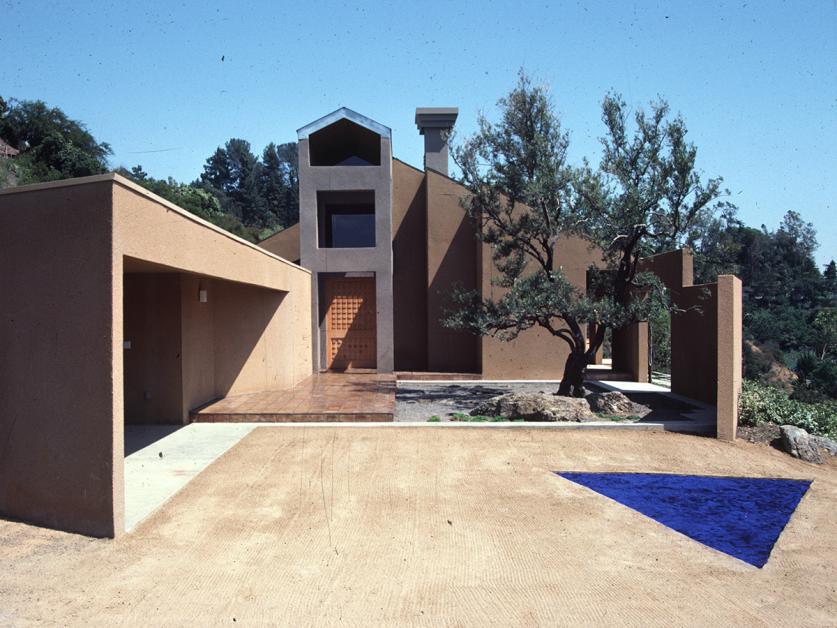 During her graduate education, Burton took a leave of absence, working as a clerk of the works for the construction of a high-rise medical center in Stonybrook, New York, where she honed her project management and organizational skills. Gaining confidence from this experience, Burton prepared to open her own office, establishing Pamela Burton and Company upon her graduation.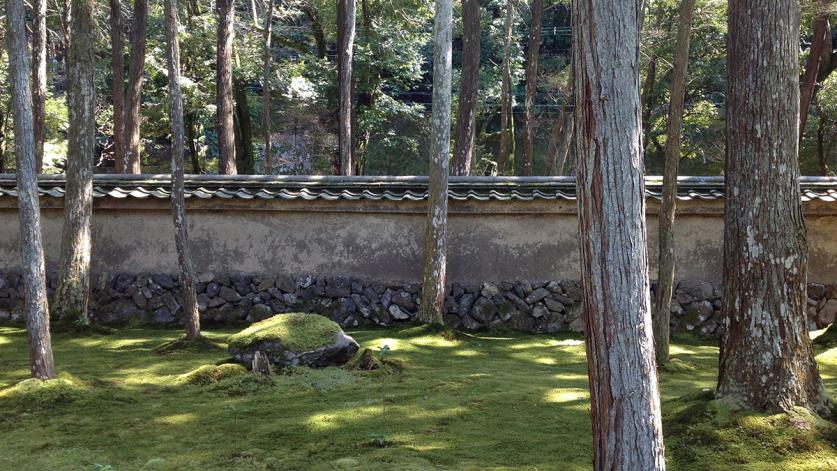 Before beginning her career, Burton travelled to Japan on her own, embarking on a motorcycle journey around the country. Her memorable encounters including Ryoan-ji and the Kokedera (Moss Temple) of Saiho-ji in Kyoto had a profound impact on her life and work. Burton absorbed the elemental simplicity and emphasis on meditation and contemplation found in Japan's gardens, principles which she carried over into her professional and personal life upon returning to California.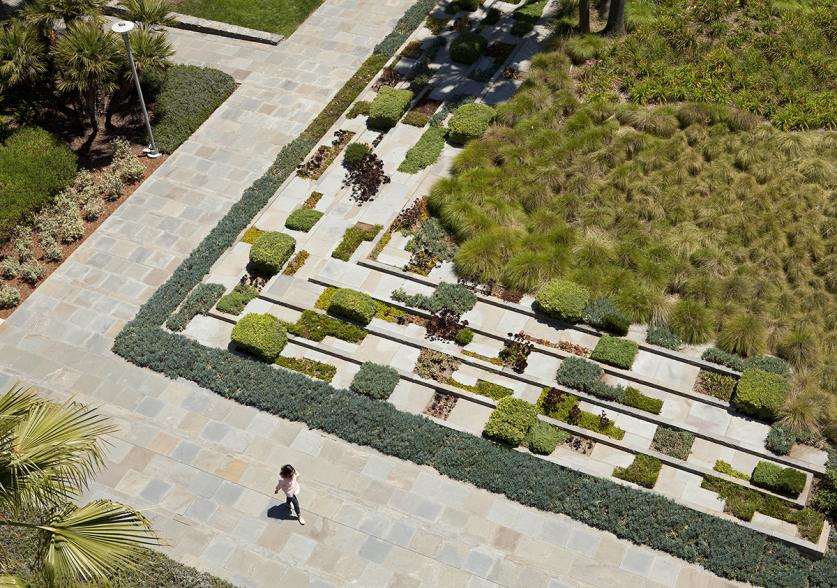 In 1975, Pamela Burton and Company was established in Los Angeles. She established and grew her reputation with a keen sense for scale and form, as well as a vast knowledge of native plant materials. A pioneer of sustainable design principles, Burton was an early implementer of drought-tolerant design, utilizing species which thrive harmoniously with their Southern California surroundings while still providing a varied palette of colors, textures, shapes, and smells.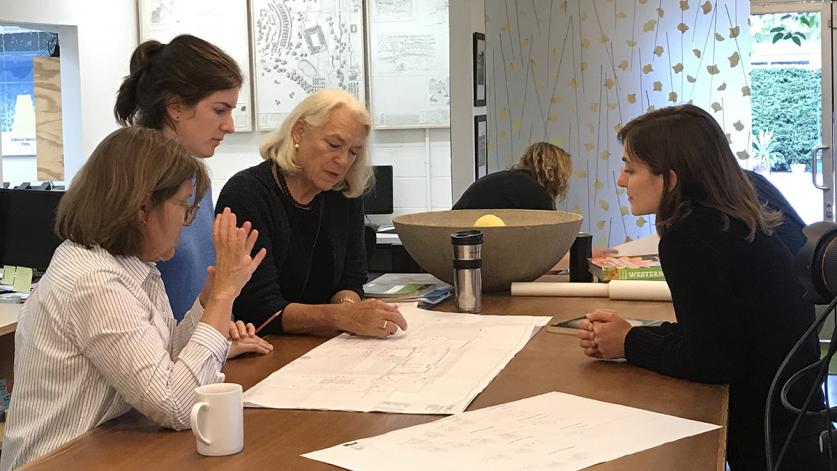 Burton's projects include designs for both private and public landscapes in California, New York, Idaho, Japan, Brazil, Korea, Taiwan, and China. She has designed for corporate, institutional, and educational campuses, high-rise commercial developments and residential condominiums, medical, governmental, cultural, and civic institutions, parks, and private homes. Throughout her career, Burton built and maintained productive, creative relationships with prominent architects including Robert A. M. Stern, Moore Ruble Yudell, and Frederick Fisher. Notable projects include the UCLA Healthcare Santa Monica Orthopaedic Hospital and Medical Center, the Colorado Center, the Santa Monica Public Library, the Sao Paulo Rochavera Esplanade, the Escondido Performing Arts Center, and her family's Rancho Dulce citrus farm in Ojai, California. Her landscapes are characterized by their use of native plant materials, clear hierarchies of space, and contemplative form encouraging circumambulation and discovery.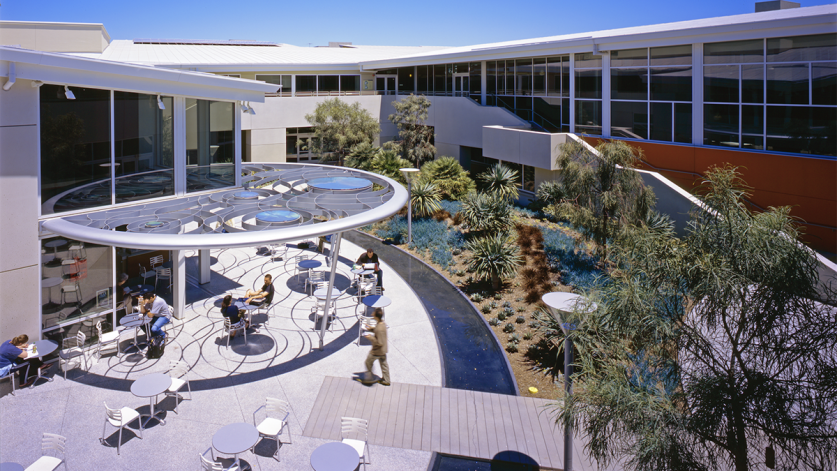 Burton has worked closely with her husband, the art historian Richard Hertz, since their marriage in 1981. She has published two books, including Private Landscapes: Modernist Gardens in Southern California, written with Kathryn Smith. Burton became a Fellow of the American Society of Landscape Architects in 2006.