Recent Developments at Frederic Church's Olana

Recent Developments at Frederic Church's Olana
Recent Developments at Frederic Church's Olana
Editor's Note: Much has happened since October 2009 when Olana was added to The Cultural Landscape Foundation's Landslide, at-risk watch list. Today, the historic designed landscape is more than "saved;" it is being afforded a high level of stewardship and management that is both impressive and inspiring.
The Olana Partnership has worked collaboratively with the New York State Office of Parks Recreation and Historic Preservation for several decades. Beginning in 2010, the trustees and staff of The Olana Partnership began to shift its focus more heavily toward Frederic Church's 250-acre designed historic landscape and its integral viewshed. This attention has resulted in a dramatic increase in landscape projects and related interpretation efforts at Olana State Historic Site. In 2011, Charles Birnbaum worked with The Olana Partnership to develop an influential White Paper titled "Managing Change at Olana".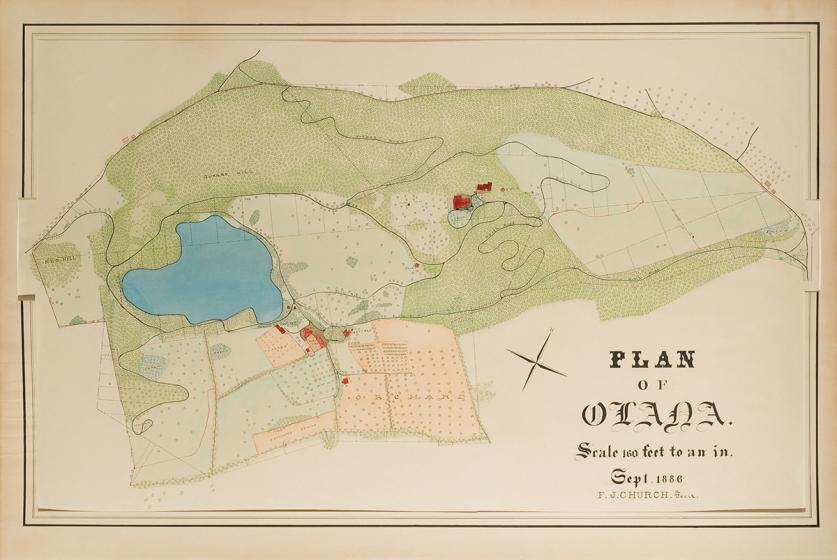 The Olana Partnership widened its search to engage present-day landscape architects with Olana and themes related to Olana's creator, the artist Frederic Church. Landscape initiatives have since been spearheaded by The Olana Partnership on an annual basis, largely funded through New York State grants and private donations. Thomas Woltz (Nelson Byrd Woltz Landscape Architects) was selected to lead Olana's Farm Project in 2011. This project focused on the historic footprint of Olana's agricultural fields, the establishment of native meadows (with the consultant Larry Weaner), the uncovering of historic farm structure foundations, and the restoration of a carriage road which gave access to a composed view over Olana's farm buildings and fields. From 2012 through 2013, the Crown Hill Project (Saratoga Associates) focused on the removal of second growth and invasive vegetation along a southern hillside at Olana, the establishment of a native meadow and native trees, and the restoration of an historic view over the farm complex. From 2013 through 2014, the North Meadow Project (Nelson Byrd Woltz Landscape Architects) involved the removal of second growth and invasive vegetation and the establishment of a native meadow in a historic pasture zone. From 2014 through 2015, the Main House Environs Project (Nelson Byrd Woltz) included the restoration of the Hudson River view from Olana's main house, the replacement of invasive vegetation with native grasses and sustainable native trees and shrubs; stone retaining wall repairs, and improvements to the Mingled Flower Garden. In 2015, stabilization design work for Olana's Main Barn began with Jan Hird Pokorny Associates.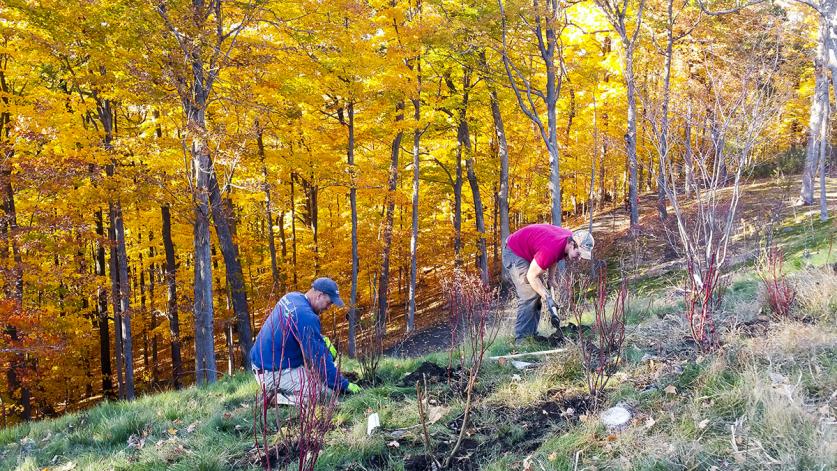 Olana was designed by Frederic Church around its 360-degree views, and much work has gone into protecting Olana's integral viewshed. Following significant viewshed protection accomplishments with the St. Lawrence Cement Plant and the Athens Generating Plant in the early 2000s, The Olana Partnership has continued to work with preservation organizations such as Scenic Hudson to safeguard particular views from Olana State Historic Site.  Efforts to expand communications towers on neighboring Blue Hill's ridgeline resulted in legal action by The Olana Partnership and Scenic Hudson, and the FCC has since requested that a Section 106 review be conducted to find a solution which works for all. The Olana Partnership joined the Hudson Valley Smart Energy Coalition to advocate for sensitive treatment of cultural resources related to a proposed expansion of high-voltage power lines throughout the Hudson Valley. The route near Olana will now be avoided. To-date, nearly 3,000 acres have been protected beyond Olana's historic landscape – in Olana's viewshed -- on both sides of the Hudson River, largely through conservation easements and cooperation with private landowners.
The Olana Partnership also embarked on an interpretative and education series called "Framing the Viewshed." The first event was a 2011 symposium, focused on Olana's viewshed titled, "The Transformative Power of Art and Landscape in the Hudson Valley." Landscape architect Laurie Olin and historians participated as speakers. "A Bend in the River" was a panel discussion in 2012 which reunited key figures and landscape architects who played a role in the Hudson Valley's 1979 nuclear power plant victory. In 2013 through 2015, The Olana Partnership collaborated with Wave Farm's WGXC 90.7-FM to present the exhibition/event titled "Groundswell." This landscape-focused event engaged contemporary installation and sound artists to react to Olana and its viewshed along the carriage roads designed by Church.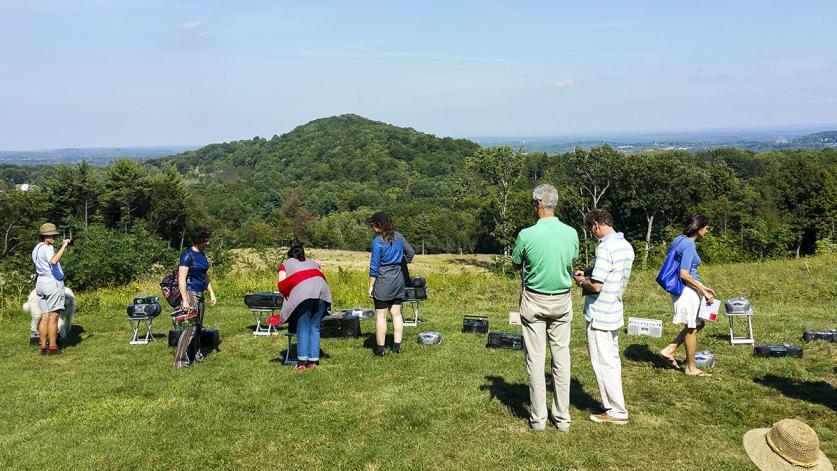 In 2015, the New York State Office of Parks, Recreation and Historic Preservation worked with The Olana Partnership and commissioned Nelson Byrd Woltz and the LA Group to assess Olana's landscape from a programmatic, operational and ecological perspective. Completed in 2015, the Olana Strategic Landscape Design Plan (SLDP) provides a framework for reactivating the historical relationships between Church's home and studio, his historic designed landscape, and Olana's greater context. The SLDP focuses on increased visitor attendance and access, expanded educational opportunities, and it lays the groundwork for a cohesive arrival experience for visitors to Olana. Improvements near the main house and expanded agricultural themes are included. Landscape historian Suzanne Turner served as a consultant for this plan and developed an extensive timeline related to Olana's landscape.
In 2016, The Olana Partnership launched public Historic Landscape Tours in three forms along the carriage roads designed by Frederic Church: 1) guided walking tours; 2) guided driving tours in an electric vehicle; and 3) self-guided tours through a downloaded podcast. These tours combine history and art, landscape design themes, landscape rehabilitation and preservation efforts, as well as viewshed protection. The Olana Partnership also collaborated with the ASLA-NY and AIANY to create the exhibition, "Follies, Function & Form: Imagining Olana's Summer House." Here, 21 notable landscape architects and architects presented concept sketches to imagine what Olana's summer house could be.
This year also marks Olana's 50th anniversary as a large-scale public work of art. Through private and public efforts in the 1960s, Olana was saved from near-destruction in 1966, and this significant preservation victory resulted in the creation of Olana State Historic Site and what is now The Olana Partnership, a successful public/private collaboration. Olana's regional PBS affiliate, WMHT, created two films to commemorate this preservation anniversary: a short film titled "The Saving of Olana" and a longer film titled "Frederic Church's Olana: An American Treasure." The longer film -- which features commentary from Charles Birnbaum, Thomas Woltz, and Ned Sullivan, President, Scenic Hudson -- and other project work over the past five years highlight Olana's significant landscape and iconic viewshed and nests these heritage assets within the birth of the scenic conservation movement in America.
ABOUT THE AUTHOR
Mark Prezorski is the landscape curator with The Olana Partnership.