Landslide
Rehabilitation of Eckbo's Tucson Commission Begins
Since the Tucson Convention Center was first placed on Landslide in August 2010 there have been some important first steps in the renovation of this unique civic asset. Moreover, its importance to central Tucson has been recognized by a large and diverse number of civic and private entities, including the Urban Land Institute, the Tucson Pima Arts Council, the Tucson-Pima County Historical Commission, the Tucson Historic Preservation Foundation, Rio Nuevo, the College of Architecture, Planning and Landscape Architecture of the University of Arizona, the Downtown Tucson Partnership, and the City of Tucson.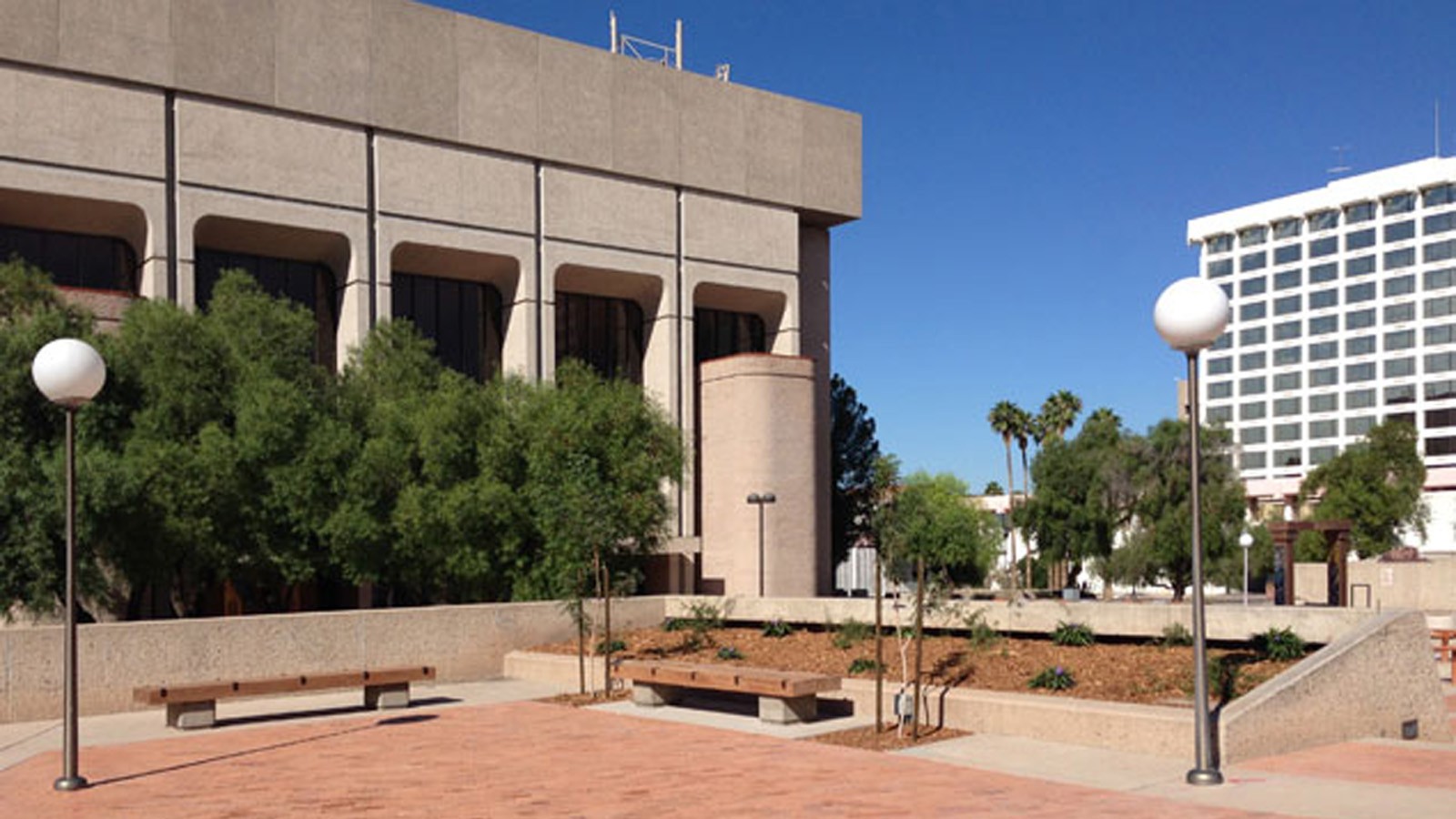 The site, designed by the pioneering Modernist landscape architect Garrett Eckbo, suffered from aging systems and a lack of understanding about its significance. A citizen's advocacy organization – TCC Today – used a small gathering space outside the Leo Rich Theatre as a demonstration area for rehabilitation. The plaza's bricks were carefully removed allowing for the installation of an underground structure intended to provide sufficient root space for replacement trees while also serving to detain rainwater. The replaced brick surface appears undisturbed. Metal seating, installed around 2000, was removed and replaced with replicas of the original Eckbo-designed benches. Clones of original pots were placed here and in other locations around the plaza, two missing trees were replaced, and some shrubs re-installed. Original lighting fixtures were relocated from less-frequented areas of the plaza in order to provide a glimpse of Eckbo's dramatic lighting design. A visitor to this area is now able to imagine what rehabilitation of this masterpiece would offer.
Rehabilitation of the entire plaza is being considered for inclusion in a proposed November 2015 Pima County Bond Election. If passed, the bond would provide funding for the rehabilitation of this unique Modernist landscape as well as for improvements to two adjacent performance facilities.
The Tucson Convention Center Plaza has been determined eligible for the National Register of Historic Places, and work continues on the completion of this  nomination. To help in this effort, TCC Today and the Tucson Historic Preservation Foundation welcome information about any scholarly papers and other studies that examine this site and its historic context.
Information can be sent to:
Helen Erickson
P.O. Box 57249
Tucson, AZ 85732-7249
520-909-9921