Walks & Talks 2020: From Tribeca to Hudson Yards with Ken Smith RESCHEDULED

Walks & Talks 2020: From Tribeca to Hudson Yards with Ken Smith RESCHEDULED
Walks & Talks 2020: From Tribeca to Hudson Yards with Ken Smith RESCHEDULED
All events will be subject to local guidelines on gatherings, including social distancing, wearing face coverings, and stay-at-home orders. Attendance is limited to 25 people, not only to maximize the safety of those attending but to promote an intimate learning experience. If this event needs to be postponed to comply with local ordinances, registrants will be notified directly.
TCLF is proud to present its inaugural Walks & Talks event with featured guide Ken Smith. Smith will conduct a tour that traces his daily morning walk in New York City's far West Side, beginning in his Tribeca neighborhood and reaching his office across the street from the Hudson Yards.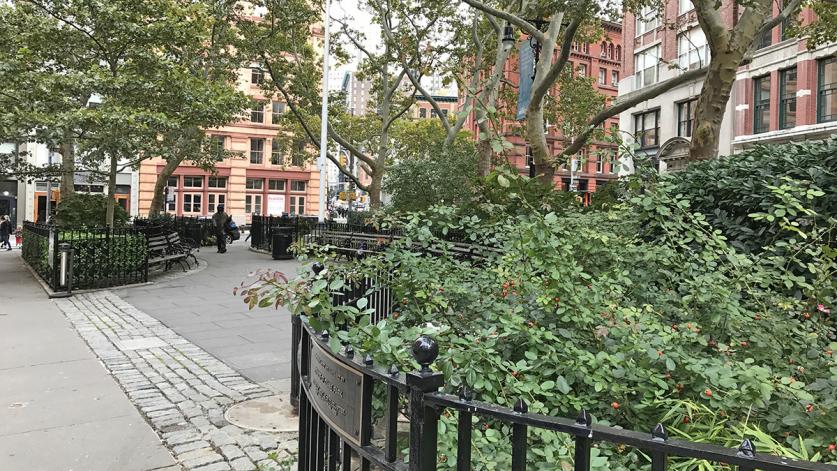 The walk will move through West Soho, the West Village, the Meatpacking District, and Chelsea. Several sites of interest will be discussed along the way, including Hudson River Park and the Highline, as well as the new Meatpacking District, which was designed by Ken Smith Workshop.
About Ken Smith:
Ken Smith, FALSA, is one of the best-known of a generation of landscape architects equally at home in the worlds of art, architecture, and urbanism. Trained in both design and the fine arts, he explores the relationship between art, contemporary culture, and landscape. His practice, Ken Smith Workshop, was established in 1992 and is based in New York City.
He is committed to creating landscapes, especially parks and other public spaces, as a way of improving the quality of urban life. Much of his work pushes beyond traditional landscape typologies—plaza, street, and garden—to landscapes that draw on diverse cultural traditions and influences of the contemporary urban landscape. Smith's approach is directed at projects of varying scales and types: temporary installations, private residential gardens, public spaces, parks, and commercial projects. With a particular emphasis on projects that explore the symbolic content and expressive power of landscape as an art form, the Workshop specializes in the investigation of new expressions in landscape design.
Ken Smith is a graduate of Iowa State University and the Harvard University Graduate School of Design. He has taught and lectured at Harvard, the City College of New York, and other universities and institutions around the world. Smith's work has been published widely in the popular and trade press.
2.0 LA CES™ professional development hours will be available to attendees.
Light refreshments will be served.
The meeting location will be sent out a week before the event. 
Refund Policy
Cancellations and Refunds will be granted according to the following schedule:
Up to two (2) weeks in advance: 90% (Deduction represents administrative processing fees)
Less than two (2) weeks in advance but up to seven (7) days prior: 70%
No refunds will be made for cancellations seven (7) days prior to event
No refunds will be made for "No Shows" (a person who registers for a program but who does not cancel registration or attend the program).
Refunds will be processed as they are received or after the conclusion of the program, depending on the program date and when cancellation occurs. Refunds may take five (5) to seven (7) business days to process.