feature
2015: The New American Garden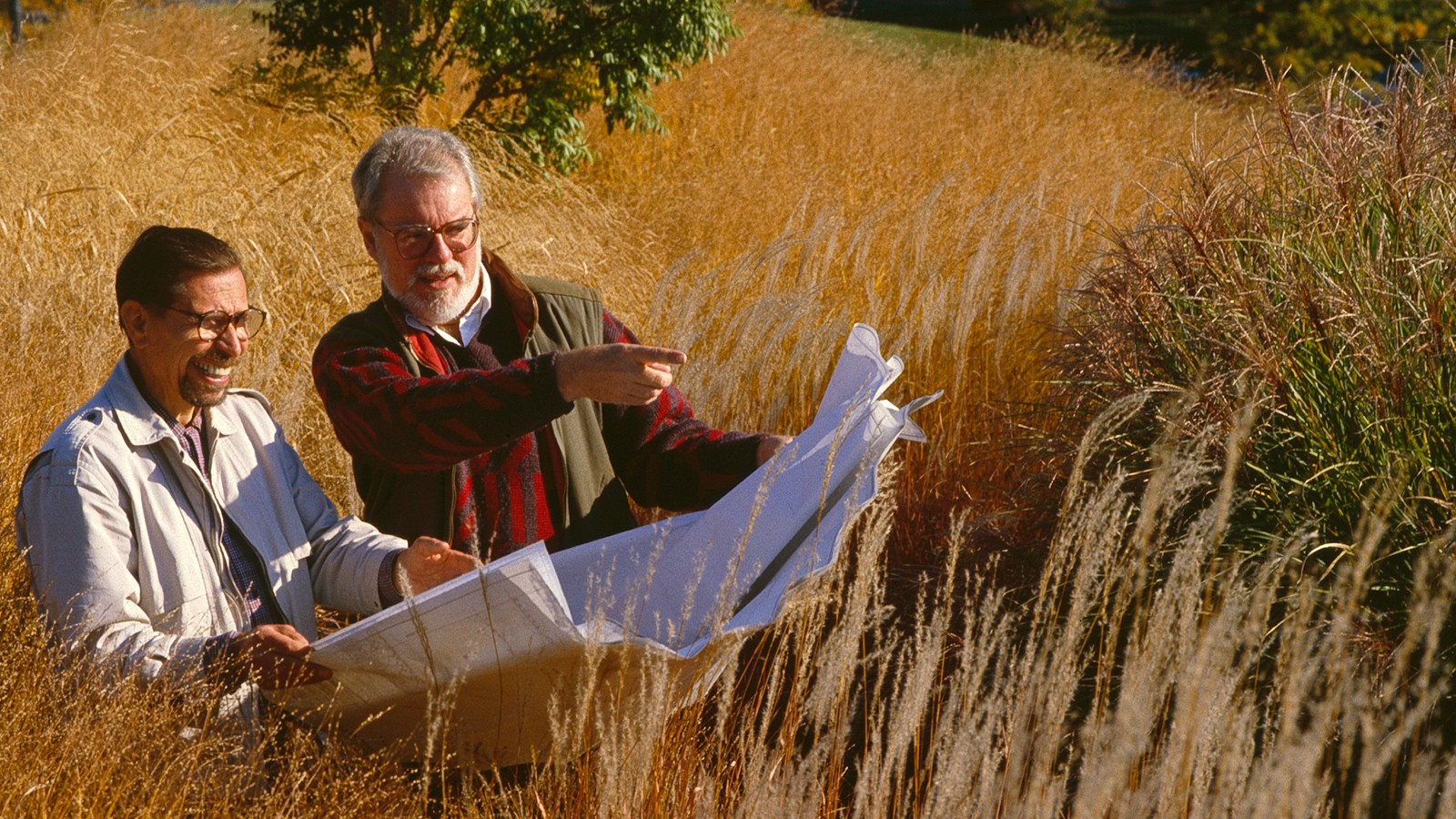 Wolfgang Oehme and James van Sweden revolutionized landscape architecture with the creation of the New American Garden, a type of garden characterized by large swaths of grasses and fields of perennials. Their style celebrated the seasonal splendor of the American meadow while promoting its inherent ecological, sustainable, aesthetic, and ornamental values. According to van Sweden: "It is vigorous and audacious, and it vividly blends the natural and the cultivated."[1]
Artistically, their style evolved from the Modernist tradition, and while they were not known for creating architecturally composed hardscapes—walkways, seating, fountains, and so on—such as those associated with landscape architects Dan Kiley, Lawrence Halprin, and M. Paul Friedberg, their early planting plans show a geometric rigidity that they would later abandon until, ultimately, plants became the dominant and signature feature of their work.
As van Sweden said in a 2008 Washingtonian interview: "[Our designs] did not feature lawn but tapestry-like plantings and perennials and masses of the same plant—3,000 black-eyed Susans instead of six."[2] Significantly, the landscapes were created to be interesting in all four seasons. "Grasses dry and turn a golden color, so they're wonderful in the fall and winter," van Sweden observed, and "dried petals … catch snow."[3]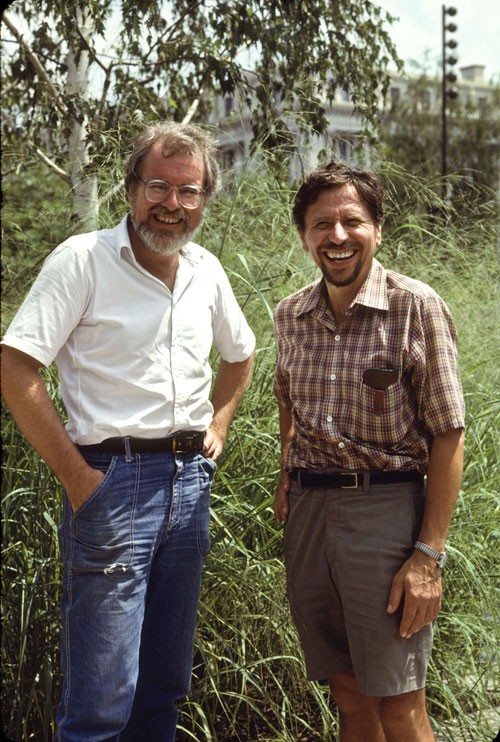 Portrait of James van Sweden and Wolfgang Oehme. Photo by John Neubauer, 1982.
This website complements the traveling photographic exhibition The New American Garden: The Landscape Architecture of Oehme, van Sweden, which was presented in collaboration with The National Building Museum and documents the work of the landscape architects through newly commissioned photographs and archival images. It coincides with the 25th anniversary of Bold Romantic Gardens: The New World Landscape of Oehme and van Sweden, a widely influential book the two business partners wrote with Susan Rademacher, former executive director of the Louisville Olmsted Parks Conservancy, Inc., and currently the parks curator at the Pittsburgh Parks Conservancy, chronicling 21 projects that introduced the world to Oehme, van Sweden & Associates' horticulturally exuberant designs.
Many individuals worked with Oehme and van Sweden on the projects illustrated in the exhibition, most notably the three principals of the successor firm, OEHME, VAN SWEDEN | OvS—Sheila Brady, Lisa Delplace and Eric Groft—who continue their legacy.
The exhibition, gallery guide, and website are meant to be introductions to the work of Oehme and van Sweden, not exhaustive accounts of their professional activities. In fact, there are numerous well-written and beautifully illustrated books about their work, many written by van Sweden individually and in collaboration with others. Along with Bold Romantic Gardens: The New World Landscape of Oehme and van Sweden (Acropolis Books, Ltd., 1990; revised and reprinted 1998, Spacemaker Press), they include Gardening with Water (Random House, 1995); Gardening with Nature (Random House, 1997); Architecture in the Garden with Tom Christopher (Random House, 2003); and, The Artful Garden: Creative Inspiration for Landscape Design with Tom Christopher (Random House, 2011). There is also Ornamental Grasses: Wolfgang Oehme and the New American Garden, by Stefan Leppert (Frances Lincoln Ltd., 2009).
In addition, TCLF produced a video oral history with van Sweden in 2009, part of the foundation's ongoing and award-winning Pioneers Oral Histories series featuring first hand interviews with leading and influential practitioners. Over the course of two dozen one-to-six minute video clips, van Sweden discusses his biography, design theory and built projects. There are also seventeen written recollections from friends, clients and colleagues (they are cited in several entries and also presented together in a separate section).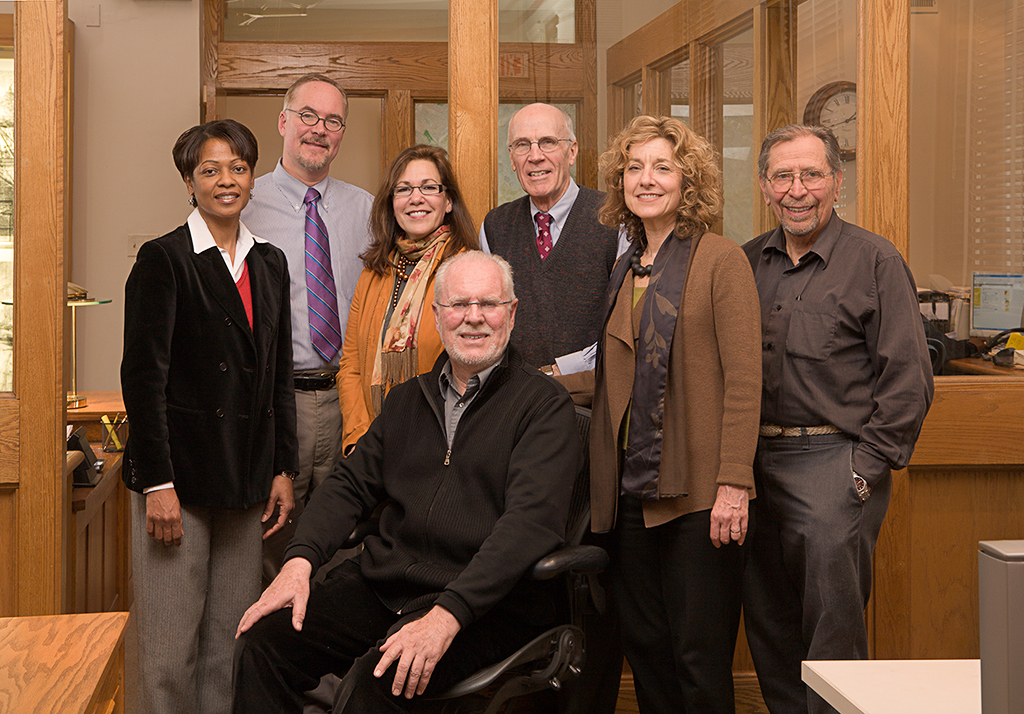 Oehme, van Sweden & Associates, [seated] James van Sweden; [standing from left]
Vernae Jones-Seals, Eric Groft, Lisa Delplace, Charles Turner, Sheila Brady, and
Wolfgang Oehme. Photo by Roger Foley, 2007.Finally, the New American Garden is presented within the context of TCLF's Landslide program, which brings attention to nationally significant works of landscape architecture and landscape features that are threatened and at-risk. Already nine of 21 projects in Bold Romantic Gardens have been lost, including van Sweden's garden at his former home and the Nef Residence, both in the Georgetown neighborhood of Washington, D.C. Another site, Pershing Park on Pennsylvania Avenue in Washington, D.C. (two blocks from the White House), could yet be demolished. The park was designed by M. Paul Friedberg and opened in 1981. Subsequently, Oehme and van Sweden were brought in to redesign the planting plan. Efforts are underway to demolish Pershing Park and replace it with a national World War I memorial. In addition, the garden at Ferry Cove, van Sweden's country home in Sherwood, Maryland, has undergone major alterations under new ownership. A primary goal of this entire undertaking is to make the Oehme, van Sweden legacy, much of which is in private hands, visible and valued, and to promote a dialogue that will lead to informed stewardship.
On behalf of The Cultural Landscape Foundation's Board of Directors, Stewardship Council, and staff, and the exhibition's many supporters, I hope you enjoy the work of these great artists.
Sincerely,
Charles A. Birnbaum, FASLA, FAAR
PRESIDENT & CEO, THE CULTURAL LANDSCAPE FOUNDATION
1. Trine Tsouderos, "You got it! Readers love quiet beauty of Botanic Garden," Chicago Tribune, August 17, 2006.
2. Jill Gleeson, "What I've Learned: Reinventing the Garden," Washingtonian, April 1, 2008, http://bit.ly/1O6nDBM.
3. Ibid.
The exhibition was organized by The Cultural Landscape Foundation and co-curated by Charles A. Birnbaum, Presidence & CEO, and Nord Wennerstrom, Director of Communications, in collaboration with G. Martin Moeller, Jr., Senior Curator at the National Building Museum.