feature
An Aspirational and Inspirational Inaugural Race and Space Conversation
The Cultural Landscape Foundation's (TCLF) inaugural Race and Space Conversation began with a bold declaration by event moderator April De Simone that was equally aspirational and inspirational; the conversation, she said, was about "more than race; it's about the spatial practice of democracy." As De Simone observed at the close, it has been "400 plus years in the making for conversations like this and it's hard to cover in an hour and a half."
In between, panelists representing three sites in Landslide 2021: Race and Space provided in-depth histories and offered their visions for each site's future, followed by two respondents, who commented on the individual presentations and provided broader observations (here's information about the participants). Prefatory and introductory remarks were made by TCLF Board Co-chair Emma Skalka and TCLF President and CEO Charles A. Birnbaum.
The event is part of the foundation's broader Race and Space initiative announced in 2020. The three Landslide sites examined in the inaugural conversation – Carpenter Creek in Pensacola, FL, Lincoln Avenue Corridor in New Rochelle, N.Y., and Rochester Heights in Raleigh, N.C. – each represent fascinating and deeply moving parts of a larger history that has been overlooked, ignored, and even deliberately erased. Throughout the conversation, participants addressed some of the throughlines identified in Landslide 2021: Race and Space including erasure, spatial nostalgia, and amplifying community voices.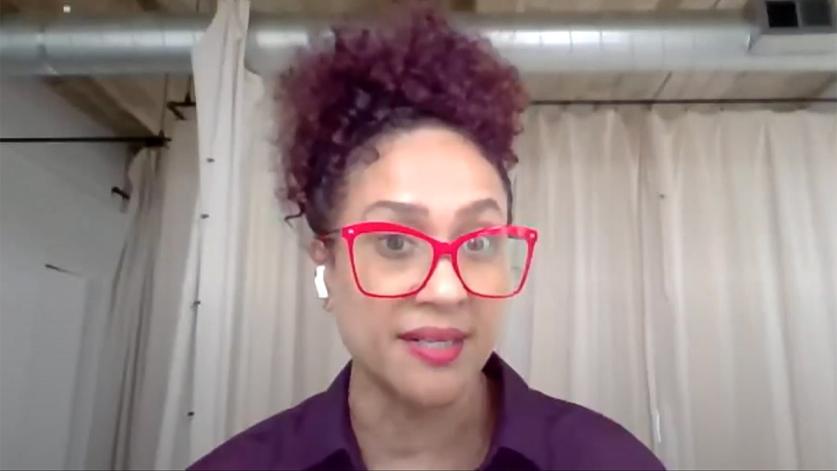 Throughout her remarks, De Simone sought to illuminate and motivate. She spoke of the necessity to "challenge the notion that Black and Brown people are incapable, that we do not have stories and we do not have legacies." She added: "If we're exposed to the different stories and histories, what could the potential of our human connectedness be?" De Simone also offered a dose of cold reality: "It's extremely hard work that's often underfunded and neglected." Her observations were borne out by the panelists: Angela Kyle at Carpenter Creek; Amin at Rochester Heights; and Linda Tarrant-Reid at Lincoln Avenue Corridor.
Kyle's work at Carpenter Creek, the home of her great, great grandmother Jennie Hudgins aims to both reconstruct a broken narrative.  As noted in Landslide 2021, Jennie Hudgins' husband Fred was deeded ten acres along Carpenter Creek in 1901. Jennie and daughter Minnie used the creek to launder the clothes of their white neighbors. A deep pool at the edge of the property was known as "Aunt Jennie's Swimming Hole." In 1922 she was the co-founder of the New Hope Missionary Baptist Church. Hundreds of Black Pensacolians were baptized in the creek. For White residents, this was a site of recreation. In 1956, the family sold eight acres that became a development to which Black people did not have access. The area is now one of the most densely developed commercial and residential sections of Pensacola.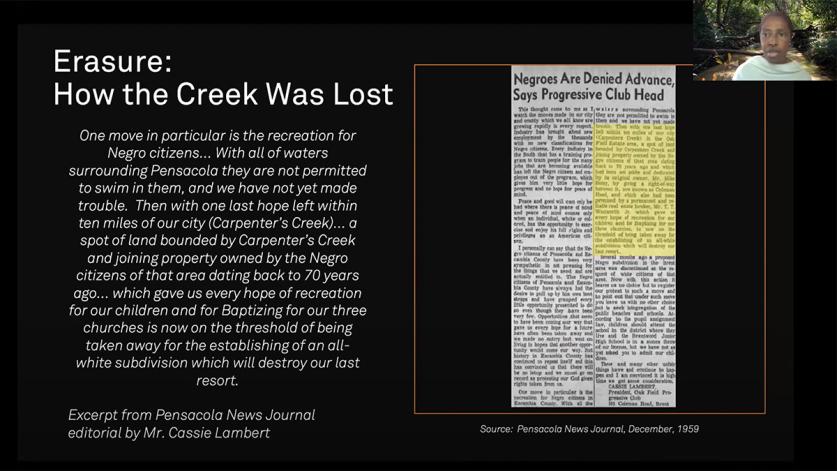 In 2021, Kyle, who describes herself as an ancestor, urbanist, and advocate, created "Jennie's Legacy" with the intent of land acquisition. She hopes to stitch back together some of her family's historic property. The city has offered to install a commemorative marker, but Kyle wants to "move beyond the marker" and to create a "resilience district" with a new vision for resiliency, one not just primarily focused ecology, but interwoven with the social needs of the community; to create a space with public access to nature trails, places for contemplation, spaces for public art, and other characteristics.
Amin Davis, with Partners for Environmental Justice (PEJ), provided an overview of Rochester Heights, one of the first postwar subdivisions for African Americans in Raleigh. Created in 1957, Davis said the economically diverse community included "clergy, teachers, retired military, government employees, small business owners, and general laborers." The site was located in less desirable lowlands near Walnut Creek and has suffered from decades of persistent flooding.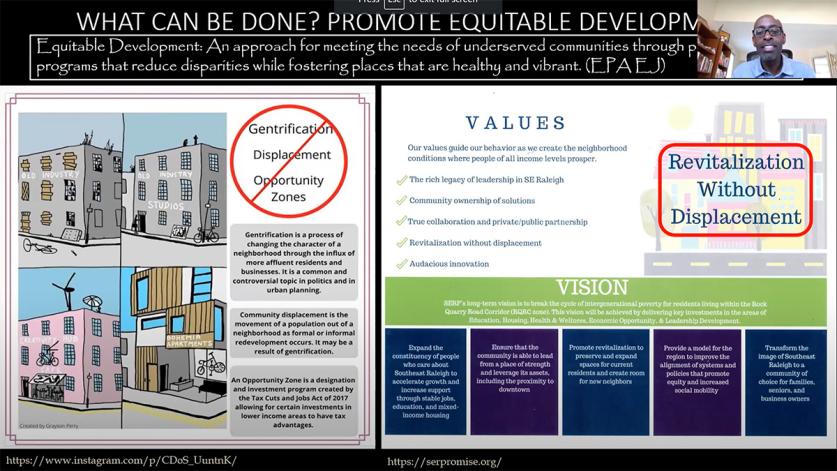 Historically, efforts to address the problem have run up against opposition from national and local agencies. The federal government denied that upstream development in predominantly White neighborhoods was the cause, the U.S. Army Corps of Engineers concluded there were no economically feasible flood mitigation measures, and the city, which offered to dredge a stream running through the site, only if residents would pay for it (residents in other parts of the city were not charged for similar drainage improvements). In addition, I-40 was built along its southern border, separating Rochester Heights from Biltmore Hills, another predominantly African American neighborhood.
PEJ was founded in 1997 and is a model for community engagement and environmental remediation. In 2009, the PEJ opened the Walnut Creek Wetland Center.
Linda Tarrant-Reid's narrative about Lincoln Avenue Corridor is one of inspiration, tragedy, and tenacity. The area was originally settled in the late 1600s by French Hugenots who brought with them enslaved Blacks from the Caribbean. The Black population grew considerably following the end to the Civil War, Reconstruction, and Jim Crow laws, which saw a great migration from the south to the north and elsewhere in the country. By the early 1900s, the community was comprised of Black people from the Caribbean, Florida, Georgia, North and South Carolina, Virginia, Maryland, and Pennsylvania.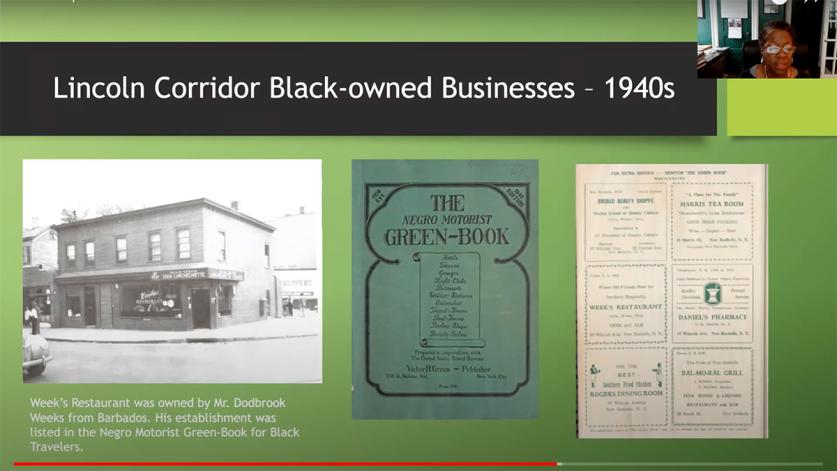 Black business owners created a local cooperative that was an affiliate of the National Negro Business League created by Booker T. Washington. Local establishments were featured in "The Negro Motorist Green-Book," destinations including restaurants, shops, hotels, and other places where people of color were welcome. The area was known for its religious institutions including the AME Zion Church established in 1841 that was the first school for Black children.
All of that changed with the construction of I-95, which like other urban highway and urban renewals projects, decimated the neighborhood and saw the destruction of local landmarks including Lincoln Elementary School, one of the first desegrated schools in a northern city (1961), which was torn down in 1963.
In the Race and Space Conservation, Tarrant-Reid, author of Discovering Black America and founder of the Lincoln Park Conservancy, discusses the 10,000-square-foot community garden that was built on the site of the demolished school. It's used to teach about sustainability and healthy living and helps feed the area's food insecure. But a new transit program – LINC – which is part of a broader development initiative that envisions the future of New Rochelle as a community of commuters to New York City aims to attract young, high-earning urban dwellers to the suburbs. Tarrant-Reid says this new vision for the city is negatively impacting the Black population (20% of New Rochelle's population of 78,000) and that community members must have a greater voice in the planning process.
Following the case studies, landscape architects Walter Hood, creative director of Hood Design Studio and professor of landscape architecture & environmental planning and urban design at U.C. Berkeley, and Kofi Boone, Joseph D. Moore Distinguished Professor of Landscape Architecture and Environmental Planning at North Carolina State University, offered insightful and moving comments that further elevated the overall conversation.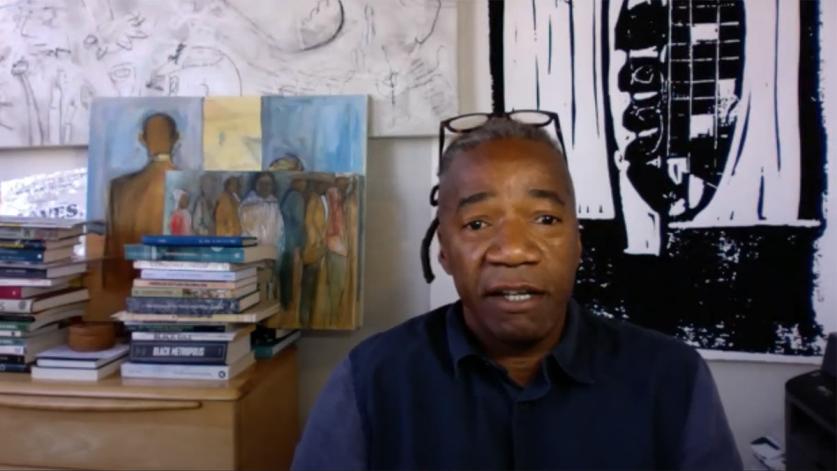 Hood commended Kyle, Davis, and Tarrant-Reid, as "true memory workers." He said, "this has been our job as people who look like us to remind this country that there are other memories out there." He also said that spatial nostalgia should not just be trying to restore what was there but should be reflective because that's more dynamic and "could spur us to move forward." Hood noted how "during Jim Crow, we got bottomland; the cheapest and most dangerous land" became communities of color. He noted with tragicomic irony that historically in urban Black neighborhoods, "at a certain point the freeways find us."
He also said that the topic of this event shouldn't be a "special area of research" and should be in every issue; these stories have to be included. He closed by saying: "landscape architecture has to embrace race, embrace gender, ecology, history, the arts, literature … we should be reading Baldwin … thinking about other ways we see ourselves in this culture."
Boone offered that he was pleased that "there's an opportunity for people to tell their own stories in their own words. In landscape architecture you think that would happen naturally, but it does not. It's usually through a filter or a translator."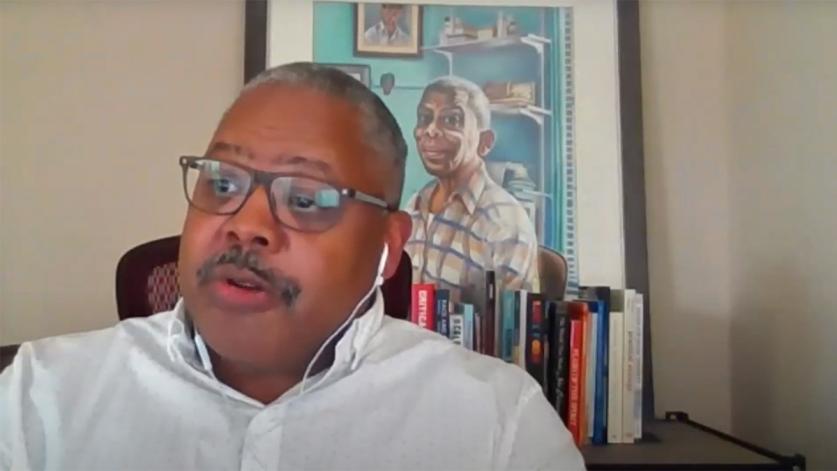 Boone also stated: "Part of our challenge is moving from the mobilization stage to the organization. A lot of current real estate threats, private development threats are coming from people who have never been in these places. They see it a s purely transactional. That's a challenge we have to face.
De Simone closed the proceedings by noting that preservation for some is about artifacts, for others it's about storytellers, and for others still it's about activating this type of work. Regardless, there's more to do and more conversations to be had.
NOTE: For landscape architects, 1.5 LACES credits are available for those who view the presentation and complete a quiz – click here for details.