Is Cuomo Taking Public Parkland … Again?
Is Cuomo Taking Public Parkland … Again?
Is Cuomo Taking Public Parkland … Again?
UPDATE: According to a July 13, 2021 report in The Broadsheet, "the Battery Park City Authority (BPCA) announced that it was putting on hold a controversial plan by Governor Andrew Cuomo to build an Essential Workers Monument within the community."  It remains to be seen whether efforts to site the memorial in Battery Park City will be renewed or if another location within New York State will be selected in its place.
Plans for a noble sounding Essential Workers Memorial have not only infuriated a neighborhood, but they've also exposed major deficiencies in the public review process and the stewardship of nationally significant public parkland. On June 23, 2021, New York Governor Andrew Cuomo released plans to build the memorial in Battery Park City's Rockefeller Park in the lower Manhattan section of New York City. The memorial is to honor "the essential workers who served their communities throughout the pandemic" and be completed by Labor Day, September 6. Area residents erupted in protest claiming there was no public consultation. City Council Member Margaret Chin, in calling for Cuomo to halt to the current plans, wrote: "This memorial is the third memorial … [recently sited] in Battery Park City, with a Hurricane Maria Memorial in 2018 followed by a Mother Cabrini Memorial in fall 2020. All three projects have not included any form of public engagement [emphasis added]."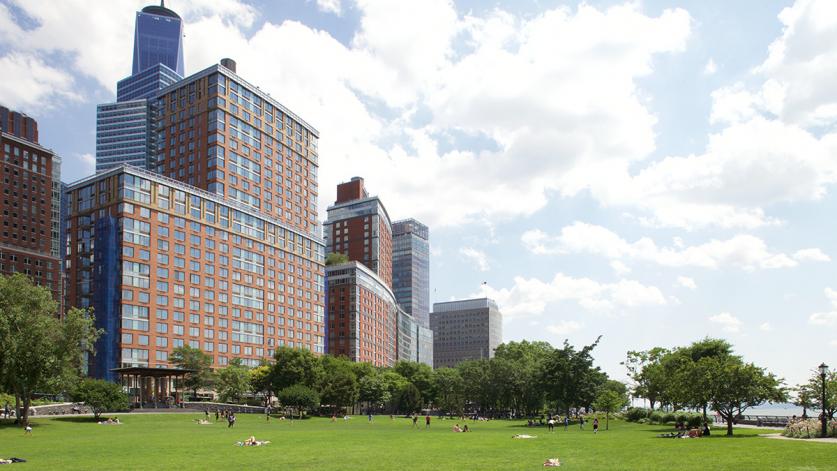 Lost in the furor was a key issue: is a Section 106 review pursuant to the National Historic Preservation Act required because the park, designed by celebrated landscape architects James van Sweden (1935-2013) and Wolfgang Oehme (1930-2011), is likely eligible for listing in the National Register of Historic Places? The Cultural Landscape Foundation (TCLF), which was inundated with calls of concern, is investigating and we believe that such a review is an imperative to determine the impact and methods of mitigation. TCLF reached out to the State Historic Preservation Office (SHPO) on Thursday, July 1, and learned the SHPO was not aware of plans for the memorial to be sited in Rockefeller Park.
History
Situated at the southwestern tip of Manhattan along the Hudson River, Battery Park City is a 92-acre mixed-use community that was built on landfill created from dredging New York Harbor and the excavation of the World Trade Center site. Named after the adjacent Battery Park, the community houses numerous residential, commercial, and retail buildings along with nearly 36 acres of parks and open space. The master plan for Battery Park City was created in 1979 by Stanton Eckstut and Alexander Cooper of Alexander Cooper Associates. The plan's 26 parcels were designed independently by different developers, creating a diverse neighborhood fabric that emulated the city's mixed character.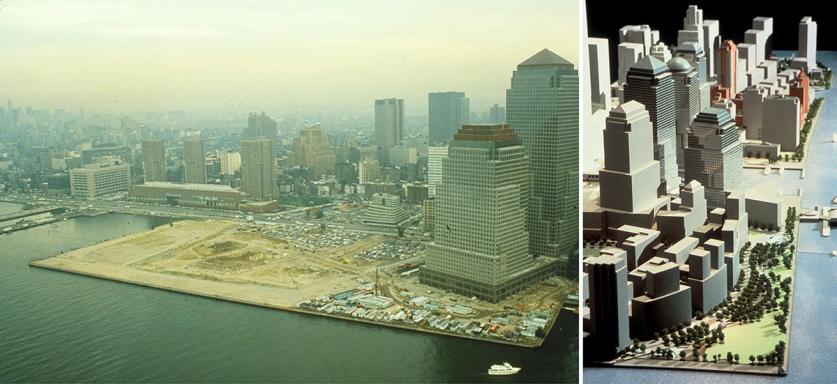 As noted in Next City: "Battery Park City's success is due to a constellation of high-profile names, from former New York Gov. Nelson Rockefeller — under whose watch the State's Battery Park City Authority (BPCA) was formed in 1968 — to Amanda Burden, chair of New York City's Planning Commission and director of the Department of City Planning."
Generous public spaces were part of the original plan and are integral to the neighborhood's design. Highlights include Rector Park, designed by Innocenti and Webel in 1985; South Cove, a collaboration with artist Mary Miss, Child Associates, and Stan Eckstut, opened in 1988; Nelson Rockefeller Park, by Carr, Lynch, Hack and Sandell, with Oehme van Sweden as landscape architects; and the Esplanade, opened in stages by Hanna/Olin in the 1980s and 1990s. Olin Partnership's Robert F. Wagner Jr. Park opened in 1996, and Teardrop Park, designed by Michael Van Valkenburgh Associates, debuted in 2004. In 1998 architect Cesar Pelli's World Financial Center was completed, with a Winter Garden by M. Paul Friedberg + Partners. It was restored in 2002 by Balmori Associates.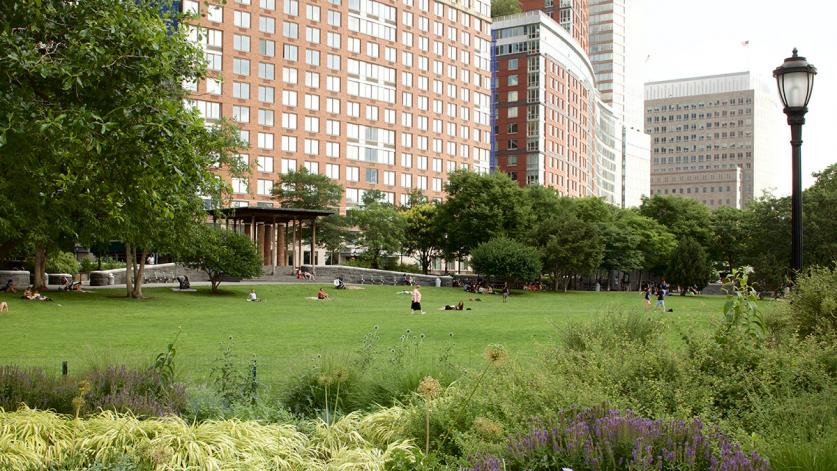 The eight-acre Rockefeller Park by Oehme, van Sweden is a memorial to former New York Governor and U. S. Vice-president Nelson Rockefeller. In a 2009 oral history, James van Sweden said: "The entire Battery Park City was a great way to display various landscape architects' designs and aesthetics." He noted: "It was up to that point the biggest, most important project that we had done … We were just thrilled to work on Manhattan and do this eight-acre park … which includes a lot of lawn because people wanted to play games."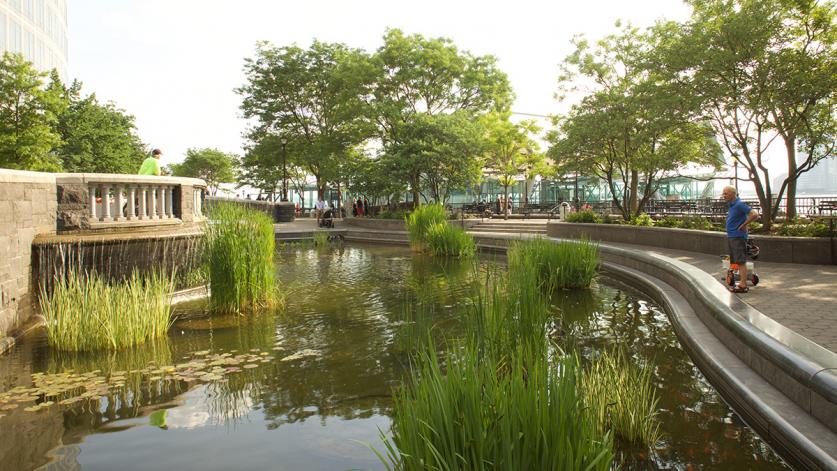 Divided into upper and lower sections by terraces, the park comprises several unique, yet interconnected, environments. A columned, open-air pavilion designed by architect Demetri Porphyrios, ball courts, and a playground accommodate a diversity of distinct uses along the length of the upper terrace. Meandering pathways lined with stone walls and benches pass amidst Tom Otterness' playful The Real World sculptures and a pedal-powered carousel by landscape architects Johansson & Walcavage. To the north, a large expanse of lawn used for recreation, sunbathing, and picnicking accommodates the grade change from the upper terrace to the Esplanade along the river. Drifts of meadow grasses and perennials are complemented by rows of specimen pines and copses of maples and oaks. On the southern end of the park, the Lily Pond, planted with aquatic grasses and lilies, is ringed by stepped seating and topped by a balustrade and ornate fountain, attracting migratory birds and park visitors alike.
The Threat
Battery Park City is state property overseen by the Battery Park City Authority (BPCA) and, importantly, not subject to the city's stringent review standards. But it is also a vital community asset and the threat resulted in a substantial local backlash. A change.org petition was launched, Twitter was flooded with postings with #pausethesaws and #saverockefellerpark hashtags, and dozens of residents occupied the park, several maintaining an overnight vigil, with handmade signs protesting the potential loss of parkland.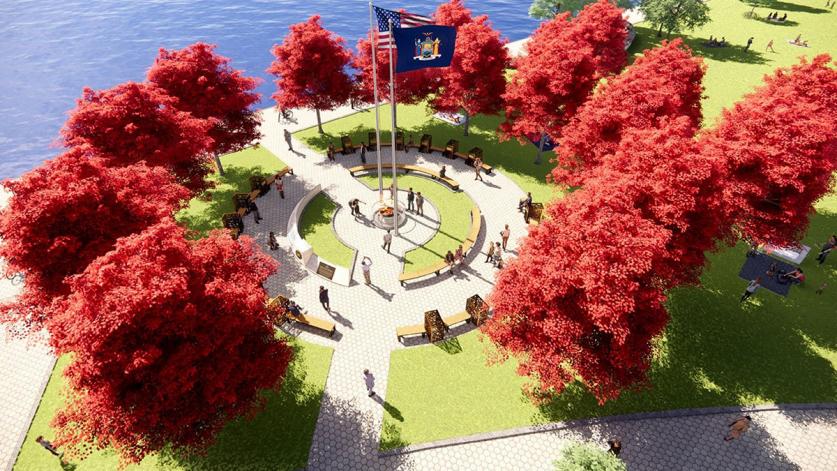 Good news did come during an informal meeting with area residents on July 1, when BPCA Chairman George Tsunis said the Rockefeller Park was "off the table" as the site for the memorial, news that residents cheered. Though he added that other sites are under consideration, Tsunis did say "We should get this done for Labor Day." 
This "deadline" raises the question: what's the urgency? If other sections of Battery Park City are under consideration, that would still potentially raise Section 106 issues and, presumably, some attempt to get public buy-in. And if a city owned site is chosen, then the local reviews process would kick in. A Labor Day ribbon cutting seems ambitious. 
It should be noted that the BPCA Board Members are all Cuomo appointees. As Zachary Small reported in Curbed, BPCA Chairman Tsunis, a hotel magnate, "was the subject of a 2018 article in the New York Times that revealed he and his wife contributed more than $180,000 to the governor's reelection campaign and that Tsunis received his appointment to the authority just two weeks after hosting a "summer barbecue" fundraiser for Cuomo."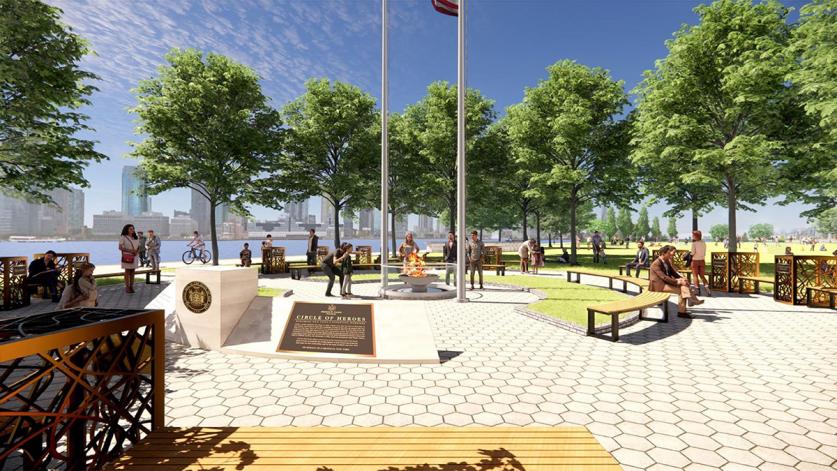 A lack of transparency in the public consultation process was the focal point of media coverage in the New York Post, New York Daily News, Artnet News and elsewhere. In a letter, U.S. Representative Jerrold Nadler and state and local officials urged Cuomo to "halt construction, and undertake a transparent process with input from the community in which the monument is to be sited."
The local newsource The Broadsheet reported: "There is no record that the Cuomo administration or its Advisory Commission took the customary steps of conducting an environmental review or drafting an environmental impact statement gauging the significance of the planned changes to this public space."
BPCA Chairman Tsunis seemed to dispute a lack of public notification saying: "I announced this at a public meeting in February. I didn't hear from anyone of you, not one, not one email, not one phone call, not one." In addition, Cuomo spokesperson Jordan Bennet said: "This location was chosen in an open process by 23 leaders representing hundreds of thousands of essential workers, and the site design allows for people to continue to enjoy the park space." According to The Broadsheet: "Not a single resident of Battery Park City was appointed to this panel."
The 23-person advisory committee is comprised of officials from unions representing the Teamsters, SEIU, Professional Firefighters Association, and others who would be honored in the memorial. Ironically, as reported by the The Broadsheet: "the employees of the multiple contracting firms that showed up in Rockefeller Park on Monday morning to begin cutting down trees and tearing up the lawn (before they were turned away by protestors) unanimously acknowledged that they were not members of any union."
How You Can Help
1. Write to New York Governor Andrew Cuomo and request that the Essential Workers Memorial not be sited in a significant work of landscape architecture that is likely eliglble for listing in the National Register of Historic Places.
Governor of New York State
NYS State Capitol Building
Albany, NY 12224
2. Attend the next meeting of Community Board 1's Battery Park City Committee, on Wednesday, July 7, at 6:00 PM ET: https://live.mcb1.nyc"