feature
An Evening Honoring Harriet Pattison
On April 19, The Cultural Landscape Foundation (TCLF) launched the thirteenth installment in its award-winning Pioneers of American Landscape Design® Oral History Project, documenting the life and career of landscape architect Harriet Pattison. The launch was celebrated at the Architectural Archives of the University of Pennsylvania in Philadelphia and occurred in conjunction with the opening there of Harriet Pattison: Gardens and Landscapes, a solo exhibition on Pattison's career mounted by the Archives (Pattison earned her M.L.A. from Penn in 1967). Serendipitously, it was announced during the opening that Pattison had been inducted into the Council of Fellows of the American Society of Landscape Architects—the crowning achievement in a career spanning 50 years.  
Housed in the Harvey and Irwin Kroiz Gallery and comprising sketches, working drawings, models, and photographs (some of which were provided by TCLF) the exhibition opened with a contemporary portrait of Pattison overlooking a room in the gallery dedicated to Franklin D. Roosevelt Four Freedoms Park on Roosevelt Island in New York City. The park was one of several projects on which Pattison collaborated with famed architect Louis I. Kahn, with whom she also had a son. The exhibition, which was the first solo show of a woman's work in the Archives' history, fully explored Pattison's oeuvre, from early residential projects to Kahn's museum masterpiece, the Kimbell Art Museum in Fort Worth, Texas. TCLF's new oral history on Pattison played on three video stations placed throughout the venue, further illuminating the landscape architect's life, design philosophy, and built projects.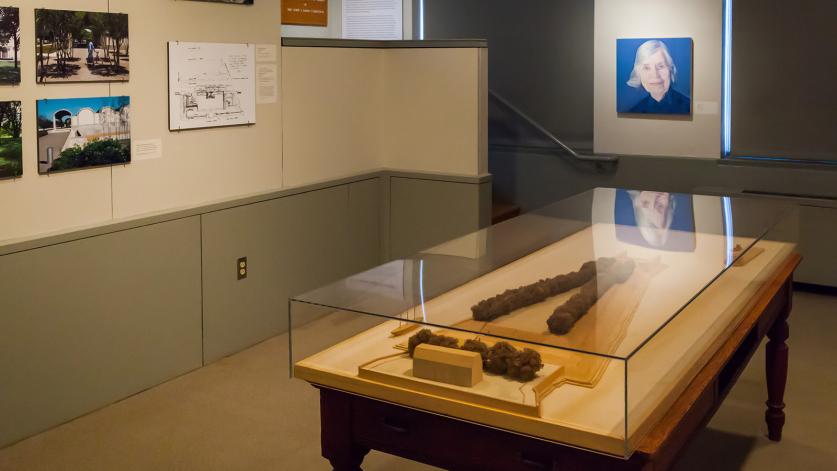 The well-attended opening included Pattison and her son, Academy Award-nominated director Nathaniel Kahn; Laurie Olin and his wife Victoria Steiger (Olin is himself the subject of one of TCLF's video oral histories); noted architect James Timberlake, with whom Pattison also collaborated; and Madeline Grimes and Stephen Martin from FDR Four Freedoms Park. Also in attendance were former Kahn collaborators Nick Gianopulos, Carles Vollhonrat, and Henry Wilcots.
The evening was punctuated by many memorable remarks. In his welcome speech, Bill Whitaker, the archivist at the Architectural Archives, expressed his profound joy in hosting Pattison's inaugural exhibition in the same place where he had first met her during the filming of Nathaniel Kahn's documentary, My Architect. And remembering the pride that Pattison had felt upon being called "Louis Kahn's landscape architect," TCLF president and CEO Charles Birnbaum toasted "Louis Kahn, Harriet Pattison's architect"—an amusing but apt acknowledgment of the long overdue recognition that Pattison's career deserved, and which TCLF is honored to have played a small role in achieving. The exhibition will remain on view through July 15, 2016, and TCLF's documentary oral history can be viewed in perpetuity in the organization's website.