Landslide
Milwaukee's Mitchell Park Domes Are Threatened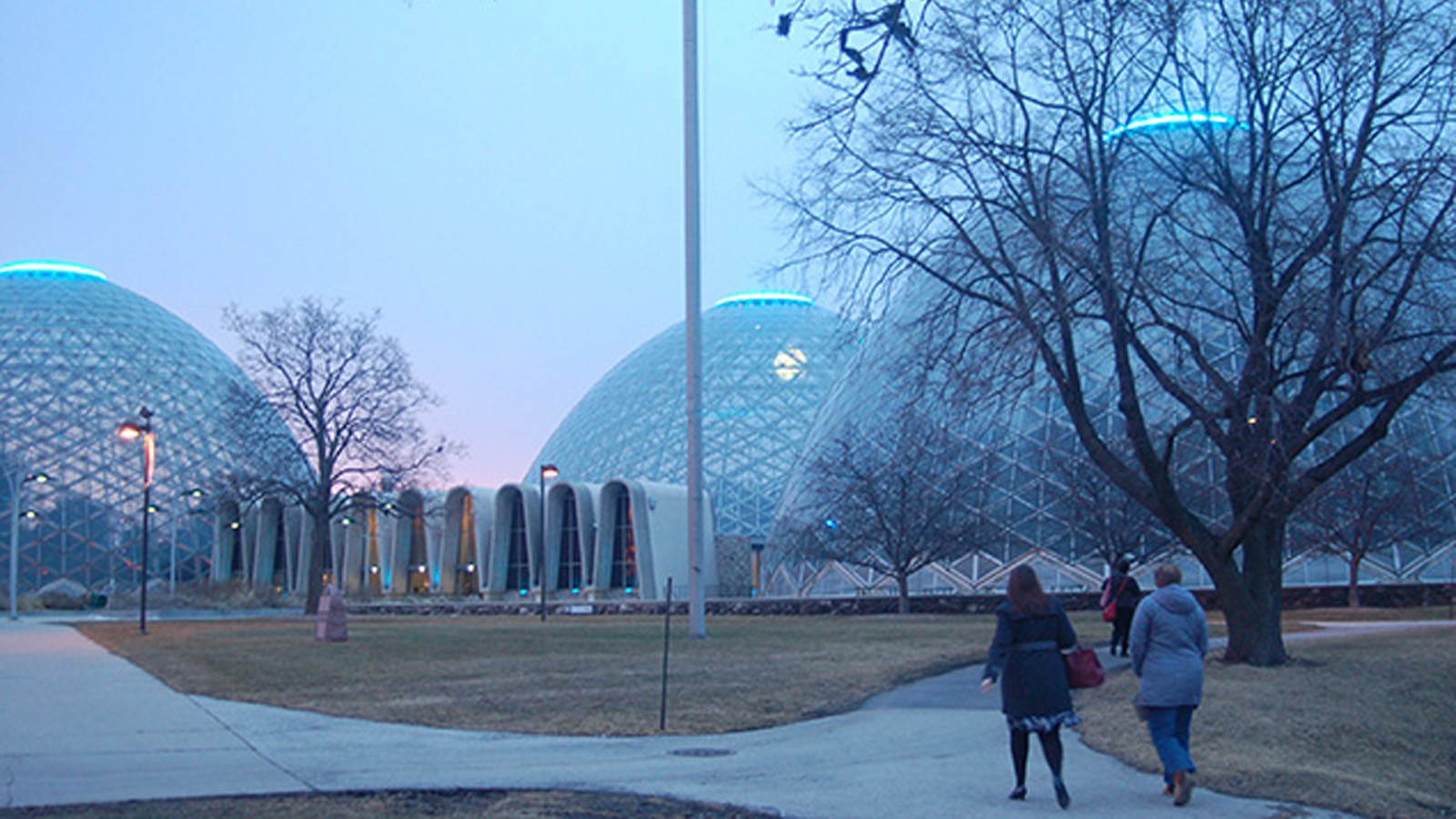 Designed by architect Donald Grieb and built in southern Milwaukee's 61-acre Mitchell Park between 1959 and 1967, the Mitchell Park Domes are three cone-shaped horticultural conservatories, each seven stories high and supporting a different climate.
Perched atop Milwaukee's Menomonee Valley, the Domes are a horticultural learning center and an iconic symbol of the city, attracting nearly 250,000 visitors in 2015. After a small concrete fragment was found in the Desert Dome in January 2016 (presumably having fallen from the ceiling), Milwaukee County officials closed all three Domes indefinitely and have since publicly raised the possibility of demolishing them.
History
Mitchell Park was created in 1890 by the Milwaukee Park Commission with the purchase of 25 acres of land from the Mitchell family. The first conservatory in the park was designed by Henry Koch and constructed in 1898. In 1955, the old conservatory was razed, having been deemed unsafe and impractical to repair. Local architect Donald Grieb then won a national design competition in 1958 for a new conservatory with his innovative plan that included three Modernist dome-like structures, each 140 feet in diameter and built with a cast-concrete undercarriage covered by a steel-and-glass shell. Grieb undertook a range of projects throughout Milwaukee in the 1960s and 1970s, designing homes, offices, and a number of larger projects, including the Amtrak depot, the Milwaukee Courthouse Annex, and the Milwaukee Civic Center Plaza. Much of his significant and once celebrated legacy, however, does not survive.
Construction on the Domes began in 1959. The Show Dome, which hosts seasonal shows and other special events, opened in 1964. The Tropical Dome opened in 1966, eventually featuring birds and nearly 1,000 species of plants. The Arid Dome, opened in 1967, is home to a wide variety of plants from Africa and the Americas. Lady Bird Johnson was in attendance at the grand opening of the Domes in 1965. By virtue of their age, and by meeting Criterion C of the National Register as "the Work of a Master," the Domes would now likely be eligible for listing in the National Register of Historic Places. In 2008, the central lobby that connects the Domes was remodeled, hundreds of glass panels were replaced, and new internal and external lighting systems were installed.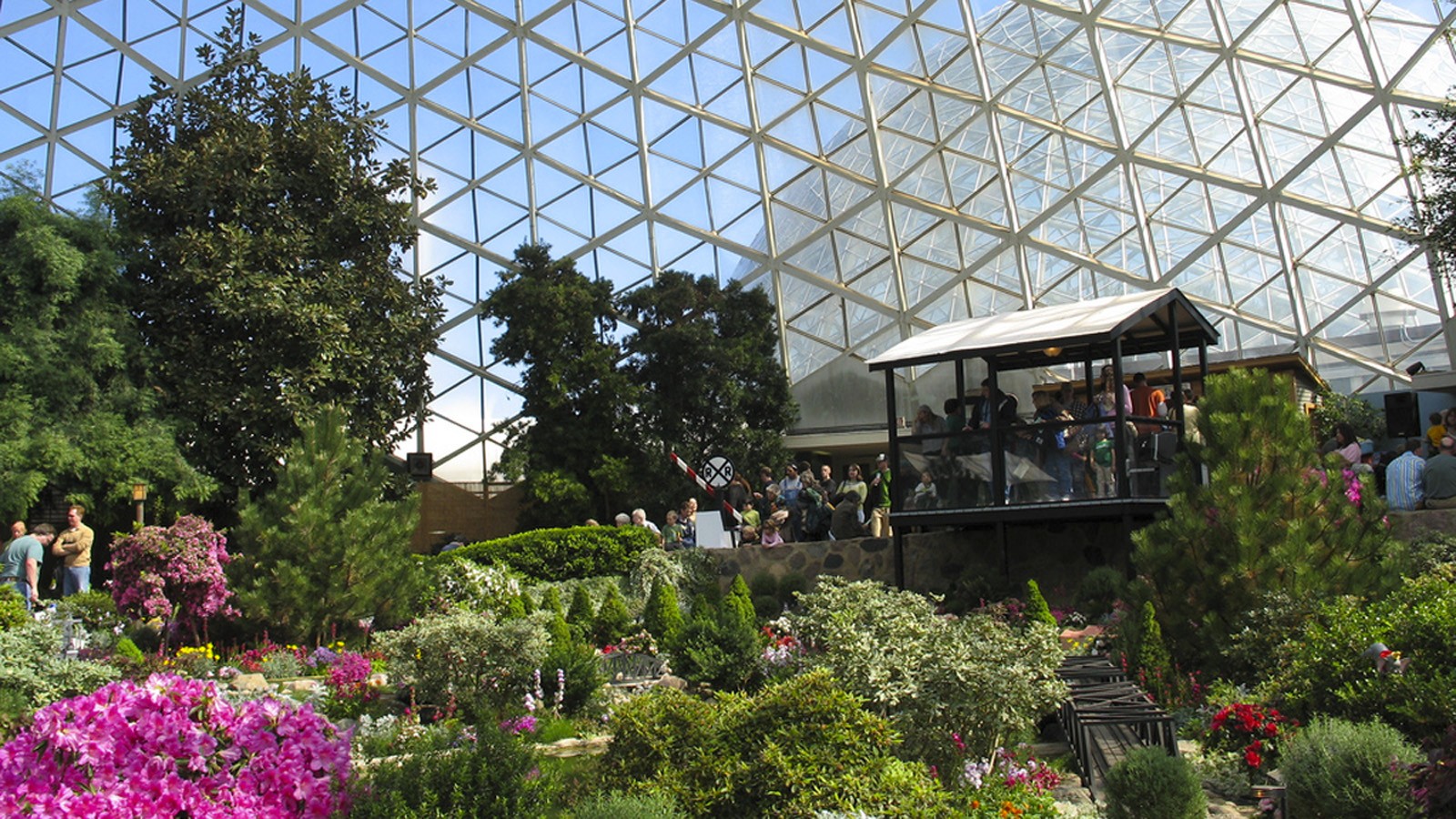 Threat
After a small piece of concrete was found in the Arid Dome (a.k.a. Desert Dome) in late January, Milwaukee County officials closed all three Domes. Other such spalling has occurred in recent years and attempted fixes have not proved effective in the long term. No strategy for fully restoring the Domes has yet been developed, despite calls for years by the county's engineering consultants that such planning is required to ensure their longevity. Since the temporary closure in February, County Executive Chris Abele and other officials have repeatedly expressed a willingness to demolish the Domes, either to make way for their rebuilding or for an entirely new design concept. Abele told the Milwaukee Journal Sentinel on March 1 that razing the Domes was "a realistic option." "When the Domes replaced the Victorian conservatory that was there before, I'm sure there were plenty of people who bemoaned the loss of the Victorian conservatory and saw these new, modern McDonald's-y domes as, oh, it was heresy," he added.  
Abele's comments came after a county hearing on February 24 was attended by more than 250 citizens. As reported in Urban Milwaukee, nearly all of those who spoke at the hearing supported saving the Domes. By contrast, in the mid-1950s, Victorian architecture was seen as outdated and did not have a strong public constituency.  
For decades, Milwaukee County has been deferring maintenance at all county-owned facilities due to defunding of the parks budget. Significantly, in 2008, county residents voted in an advisory referendum for an increase in sales tax to create dedicated funding for parks, but state officials declined to implement it.  
The Milwaukee Domes are recognized as a Modernist marvel and a rare surviving work by one of Milwaukee's most consequential architects. Another Modernist marvel opened the same year as the Domes, the Eero Saarinen-designed Arch in Saint Louis, with an expansive landscape designed by Dan Kiley. Like the Domes, the Arch has also required maintenance. Fortunately, the response from its stewards has not been to demolish the property, which is a National Historic Site; instead a public-private partnership led by City Arch River has raised more than $237 million towards a $250 million goal for the site's renewal.
The greatest threat to the Domes is that if the county continues deferring requisite upkeep and allows them to continue to deteriorate, the Domes will reach the point where razing them would be the only viable option. As Mary Louise Schumacher, the art and architecture critic for the Journal Sentinel, noted, "The Domes are fragile precisely because they were inventive, sometimes an inescapable fact of midcentury architecture. This does not, by the way, absolve Milwaukee County for allowing this piece of our heritage to fall into such a state, as it did similarly with Saarinen's War Memorial."
How You Can Help
Contact the following individuals and urge them to explore all options for preserving the Domes:

Chris Abele, Milwaukee County Executive
Milwaukee County Courthouse
901 N. 9th Street, Room 306
Milwaukee, WI 53233
Phone: (414)-278-4211
Fax: (414)-223-1375
John Dargle, Jr., Milwaukee County Parks Director
Milwaukee County Parks
9480 Watertown Plank Road,
Wauwatosa, WI 53226
Phone: (414)-257-7275

Theodore Lipscomb, Sr., Chair, Milwaukee County Board of Supervisors
Milwaukee County Board of Supervisors
901 North 9th Street, RM 201
Milwaukee, WI 53233
Phone: (414)-278-4280