Olana is Threatened

Olana is Threatened
Olana is Threatened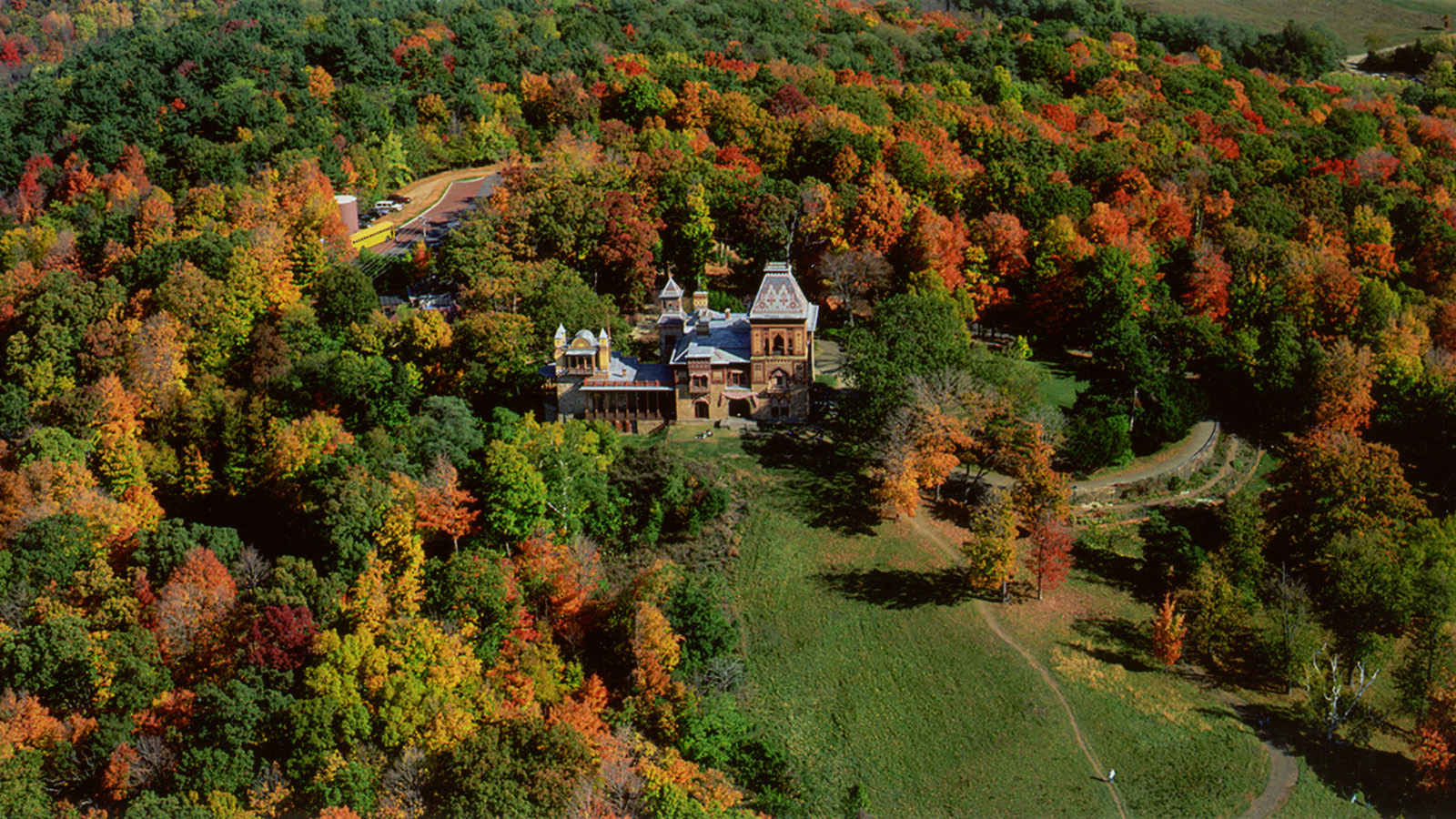 Designed by: Frederic E. Church
The eminent Hudson River School painter Frederic Edwin Church designed his family home, studio, and estate as an integrated environment embracing architecture, art, and landscape. The result is a landmark of Picturesque landscape gardening with a Persian-inspired house at its summit, embracing unrivaled panoramic views of the vast Hudson Valley. Unfortunately, benign neglect, disease and decline affecting hundreds of trees, the spread of many invasive species, second growth forest, and recent winter storms (which have cause ice-damaged trees to litter the  property), have taken a major toll on the integrity of the property.
"Again and again has it been said, that Landscape Gardening and Painting are allied."
 – Andrew Jackson Downing, A Treatise on Landscape Gardening, 1844
History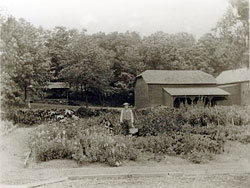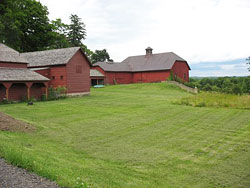 Olana is the Persian-inspired home, studio, and 250-acre designed landscape of renowned Hudson River School landscape painter Frederic E. Church (1826-1900). The house, the landscape, and the views that comprise Olana were developed by Church as a three-dimensional work of art, a total environment intended to be both a major aesthetic statement and a home for his family.
In May 1845, Church traveled to Catskill, New York to study painting with artist Thomas Cole. As Cole's first pupil, he was sent on sketching expeditions and even crossed the Hudson River to sketch the spectacular view of the Catskill Mountains from Red Hill. He continued under Cole's tutelage for two years. He then departed for New York City where he quickly came to prominence. Ultimately rising to fame as the nation's greatest landscape painter of the 1840s and 50s, Church never wavered in his connection to the Hudson Valley. In March 1860, recently married, he returned to the area and purchased 126 acres of property at the base of Long Hill (or Sienghenbergh) that adjoined Red Hill. Church worked on creating his landscape design for Olana between 1860 and 1890, establishing a series of hide-and-reveal views with five miles of drives that incorporated woodland framed vistas leading to open meadows and cultivated farmland. In 1864, he began a series of land purchases that eventually doubled his holdings and provided the landscape needed for the future Olana. He quickly set to work to create new roads, opening views and planting "thousands and thousands" of trees. He also focused attention on the farm and planted rye, corn, hay and vegetables. He converted a large 60-acre wetland to a lake (about ten acres of water surface) within a woodland setting. By 1867 Church was able to purchase the remaining eighteen acres at the top of Long Hill where he would build his Persian-inspired mansion.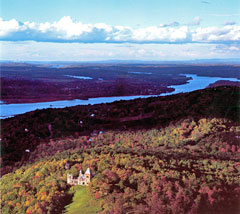 Church's landscape painting directly informed his design for the landscape at Olana. The Picturesque design approach used by Church was inspired by romantic sensibilities, celebrating an idealized mix of agrarian and wilderness landscape that so distinguished the American continent in Church's lifetime. At Olana these themes resulted in a masterpiece of American landscape design. By the last decade of the 19th century, Church had substantially completed Olana as a unified designed landscape. By then the house at the top of the hill was completed, with its adjacent stable, service yards and lawns, reached by a circular final approach drive that dramatically presented the house and its setting. The entrance roads were supplemented by an elaborate system of internal roadways that allowed access by carriage, farm vehicles or on foot to all areas of the property. The landscape character was highly varied but well integrated, an effect achieved by melding the edges of one area with another, so that mown house grounds, the meadow park, acres of cropland, orchards and pastures, and the rehabilitated woodlands merged into one place. Farm buildings, barnyard and ploughed fields were isolated, away from the purely ornamental landscape, subtly excluded from the primary views while still vital elements of the total composition and critical to the property's identity as a farm.
Considered by many to be one of the most important artistic residences and planned landscapes in the United States, Olana is perhaps the greatest masterpiece of this important American artist. Upon Church's death in 1900, Olana was inherited by his youngest son Louis, who along with his wife, Sally Good, lived there the remainder of his life. After Sally's death in 1964, family members were unable to maintain the large property and the contents of the house were to be auctioned, the house razed, and the land sold. Following a two-year effort to save Olana, a group of citizens, with the assistance of the New York State Legislature and then-Governor Nelson Rockefeller, succeeded in raising the requested amount and purchased the property. Olana State Historic Site was opened to the public in 1966.
Threat
Church's design for Olana's landscape has been at risk since his death in 1900. Beginning in 1901, Louis Church expanded the property, adding nearly 30 acres over the next 20 years. He installed brick aprons outside the house and the stable, altered existing structures and built a garage near the house to accommodate his growing passion for automobiles. He allowed open meadows to grow over, removed the apple orchards, and converted the east lawn to an elaborate, walled flower garden with fountain. When Louis died in 1941, his wife Sally stopped all expenditures on the property and abandoned farming allowing the fields to revert to woodland. She neglected the carriage drives and allowed them to deteriorate to the point that only a person on foot could traverse them. In 1966, New York State added modern roads to provide ease of public access to the house and focused restoration efforts on the main house. They did remove the gardens created by Louis to restore the lawn but other landscape restoration work was put on hold.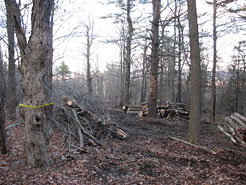 It was 30 years before a Historic Landscape Report was commissioned and another six years before the Landscape Restoration Plan was published. During this time, The Olana Partnership and the State targeted small landscape projects including some selective clearing to open views, replanting a small portion of the orchard, and burying utilities lines.
Even with these accomplishments, the threat remains. Winter storms litter the property with ice-damaged trees, and staff shortages have hindered clean up efforts (there are only two park workers for over 300 acres and 12 buildings). Furthermore, this reduced staffing has halted regular maintenance work in some areas, allowing invasive plants to take hold in the lake and surrounding areas of the landscape.
Get Involved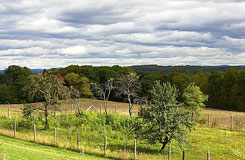 The shortage of funds and staff makes the recruitment of an active volunteer corps imperative; volunteers with all levels of experience are welcome. Additionally, advocates are needed to assist in educating the public on the significance of the views created by Church as an aspect of his plan, and to aid in efforts to mitigate modern intrusions into the historic views. Those interested in assisting in advocacy work should visit http://www.olana.org/volunteers-interns/
Learn More
Olana State Historic Site and The Olana Partnership
5720 Route 9G
Hudson, NY 12534
Print Resources
Avery, Kevin J. Treasures from Olana: Landscapes by Frederic Edwin Church. Cornell University Press, 2005.