profile
Mia Lehrer
Posted: Jan 16, 2020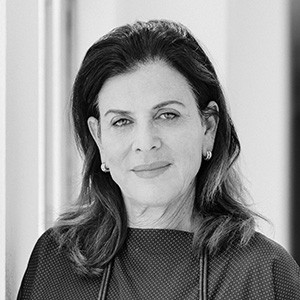 Mia Lehrer, FASLA, founded Studio-MLA with a vision to improve the quality of life through landscape. She is internationally recognized for progressive landscape design, advocacy for sustainable and people-friendly public places, and catalyzing work for a climate-appropriate future. Ms. Lehrer has led the design and implementation of several ambitious public and private projects, including the Hollywood Park Racetrack redevelopment and its new LA NFL Stadium, the Los Angeles County Natural History Museum Gardens, Vista Hermosa Natural Park, and many projects related to the Los Angeles River. She earned her M.L.A. from Harvard University's Graduate School of Design, and she lectures and teaches around the world. In 2017 Ms. Lehrer received the Alfred B. LaGasse Medal from the American Society of Landscape Architects.
Statement: Cornelia Oberlander is a consummate mentor. She is a talented, proficient, and eloquent designer. Over the decades, I have admired her work, which brings unimaginable beauty into the world. She is a pioneer when it comes to issues of sustainability. It all came naturally, an advocate for the profession who stood her ground when challenged by bureaucrats and clients. I appreciate and admire the balance she struck between family and work. Her commitment to advocacy is a critical obligation for us as professionals. She delivered with panache lectures and articles about our responsibility to work with nature. As a leader in our profession, she has always been supportive and encouraging to younger professionals. Her legacy is tremendous; she forged a path for women and landscape architects that I appreciate immensely.
In the 1980s Cornelia was operating as a global and environmental leader before global practices were the norm. She is a generous and spirited woman who has inspired us, and whose lectures were always thought-provoking. It is an honor to be a part of this campaign to establish the Cornelia Hahn Oberland International Landscape Architecture Prize, a fitting tribute.