feature
Leading with Landscape Wrap-Up
"You have managed some remarkable things with the program here in Toronto. We are all grateful for the ideas, inspiration, and provocation you have provided."
– Geoff Cape, Founder and CEO, Evergreen Brick Works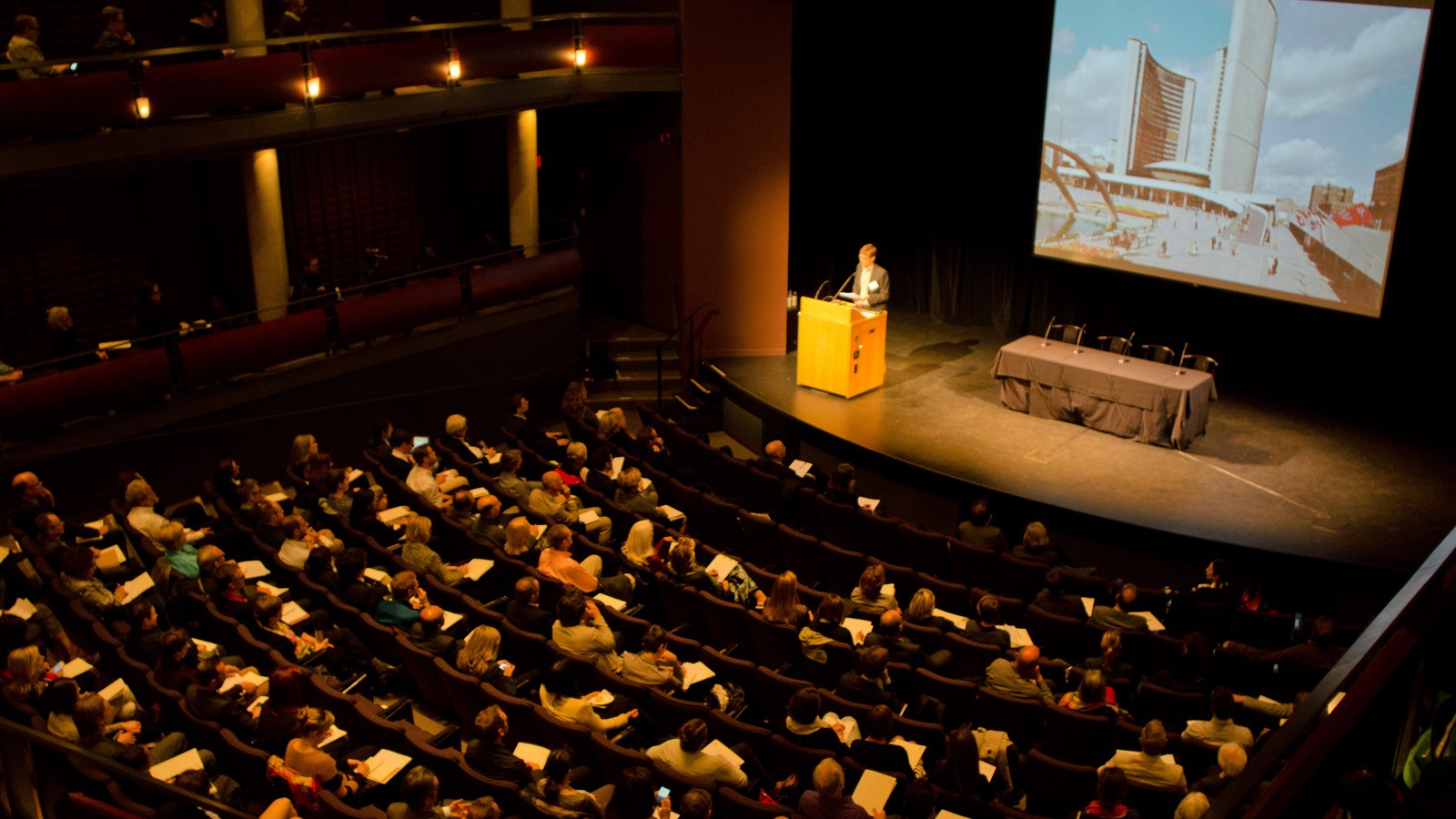 Held in North America's fourth largest city, TCLF's first international conference took place on May 22 in Toronto, a "city within a park." Welcoming a record number of attendees (more than 430 people from Canada and abroad), Toronto Mayor John Tory remarked that the conference's theme Leading with Landscape was about, among other things, the "need to create a backyard for everyone." This was followed by informative, entertaining, and riveting presentations plus headline making news from the City of Toronto Chief City Planner Jennifer Keesmaat. TCLF's Second Wave of Modernism III: Leading with Landscape conference and related events including What's Out There Weekend Toronto, were two years in the making and attracted an audience from Australia, Europe, and throughout North America. The implications of the city's rapid development – there are more than 150 tower cranes currently topping-off Toronto's already dynamic skyline– generated considerable interest and thoughtful commentary.
The conference was launched on Thursday evening at a reception at the Gardiner Museum. Visibly energized, conference attendees, panelists, and invited guests mingled amidst the Gardiner's extensive collection of ceramic art. At the reception, TCLF's Founder and CEO Charles A. Birnbaum described the two-year process that led to TCLF's work in Toronto and highlighted some of the invaluable collaborations that had emerged, including partnerships with the City of Toronto, the Ontario Association of Landscape Architects, and TD Friends of the Environment Foundation. Representing the latter, TD Bank's Scott Mullin, Vice President of Government and Community Relations, spoke of the importance of stewardship for the city's significant legacy of heritage spaces within a changing landscape. Birnbaum thanked TD Friends of the Environment Foundation for supporting the research and documentation of Toronto's extensive landscapes, a process that involved Nina-Marie Lister and her Ryerson University urban planning students who photographed and wrote about a number of the sites included in TCLF's online What's Out There Toronto Guide and the accompanying printed guidebook. Birnbaum also mentioned that graduate landscape architecture students from the University of Toronto had generated an exhibition of drawings and renderings that would be on display at the conference the next day and the City Hall Rotunda over the weekend.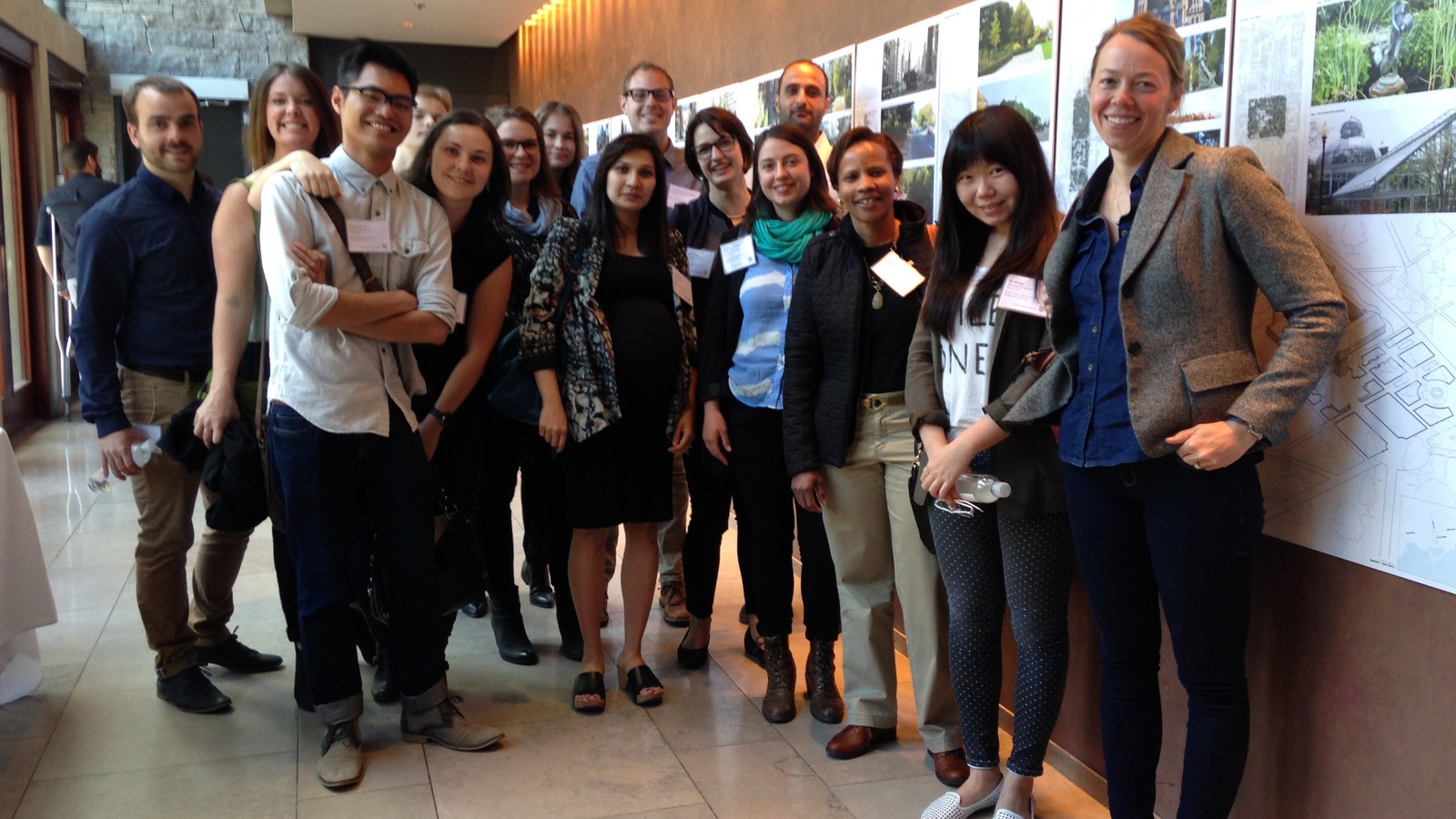 At the conference on Friday, Toronto-based TCLF Stewardship Council members Janet Rosenberg and Michael McClelland, who were the instigators and prime supporters for this, the third edition of Second Wave, opened the proceedings by expertly contextualizing the conference and its significance to the city, before introducing Mayor John Tory. The Mayor was generous in his welcome to the international audience, and provided a fitting start to the ambitious undertaking. Mayor Tory, after thanking the attendees for their interest in Toronto's future, described some of his favorite places in the city and remarked that TCLF's extensive documentation of Toronto was inspiring. Following Mayor Tory's well-received address, Birnbaum, conference co-curator with Jane Amidon, outlined the day's panels (and delivered an amusing and informative overview of Toronto's landscape that spanned its Picturesque beginnings to its Postmodernist future) in a presentation one attendee called "really inspiring."
Nina-Marie Lister, Associate Professor of Urban + Regional Planning at Ryerson University, opened the panel about the city's history followed by deft presentations by Brendan Stewart, landscape architect at ERA Architects, and Jane Wolff, Associate Professor at the University of Toronto John H. Daniels Faculty of Architecture, Landscape, and Design. Following these presentations, longtime Toronto resident Lloyd Alter, who writes for the widely influential online publication Tree Hugger, said he learned a great deal about the city he thought he already knew quite well.
Toronto's Chief Planner Jennifer Keesmaat and her equally dynamic and magnetic predecessor Paul Bedford (now Fellow of the Canadian Institute of Planners) engaged in a seated Question and Answer session that covered a broad range of successes, aspirations, and challenges. The discussion closed with Keesmaat generating headlines (and a Twitter storm) by publicly declaring her position on the future of a segment of the city's elevated Gardiner Expressway, which the Globe and Mail termed "one of the most important issues facing the city." Keesmaat called for its removal, a position at odds with the Mayor, as noted in the Toronto Star and Torontoist. Keesmaat remarked "We would never build another expressway. Why would we? Expressways were built in an era when cities were seen as something to get through, not as a place to be. We now recognize that cities are a critical asset and opportunity as places to be, to inhabit."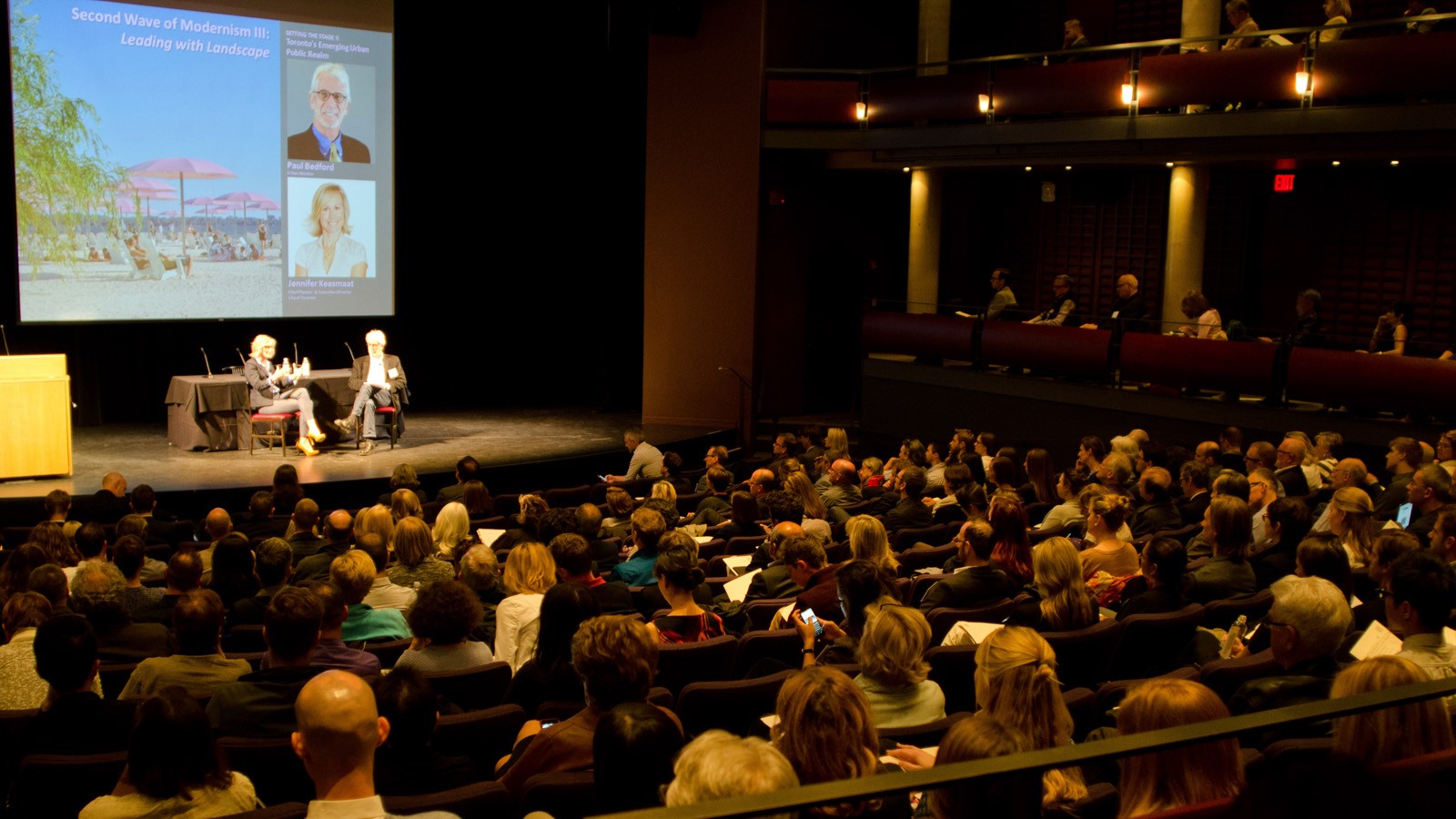 Conference co-curator Jane Amidon, Professor of Landscape Architecture and Director of the Urban Landscape Program in the Northeastern University School of Architecture  opened the section about current design work in the city, which helped to address issues of how the city can be both regional and global, historic and contemporary. Landscape Architect Claude Cormier from Montreal was both entertaining and engaging, and previewed a new dog-themed fountain at Berczy Park to be built in September, while Marc Ryan, Principal and Co-founder of PUBLIC WORK, went into great detail about his firm's approach to urban design in Toronto. Elizabeth Silver, Senior Associate at Michael van Valkenburgh Associates, explained the creation of Corktown Common, a park the Mayor mentioned as a favorite in his opening remarks.
Toronto-based architect Bruce Kuwabara, who has worked extensively throughout the city, previewed the final group of speakers who would address the concept of exporting innovation. Geoff Cape gave an overview of his non-profit Evergreen Brick Works followed by Adriaan Geuze from West 8 who is spearheading on a new waterfront project in the city. Thomas Woltz of Nelson Byrd Woltz ended the session with examinations of public engagement and the role of public/private partnerships.
Birnbaum closed the event by citing Keesmaat's announcement about the Gardiner and noting previous battles that involved expressways in American cities – New York with The Westway and San Francisco's Embarcadero – and called on the attendees, especially the landscape architects, to be advocates and make their voices and opinions heard. Abstracts for all of the panelists are viewable here and videos of the conference sessions will soon be posted on TCLF's YouTube page.
The conference and its associated events are the result of numerous invaluable partnerships: Presenting Sponsors include Great Gulf, the City of Toronto, TD Bank, The W. Garfield Weston Foundation, and Polycor. Additional sponsors are acknowledged here. 
Following up on the Second Wave of Modernism: Leading with Landscape conference, Nina-Marie Lister remarked "I've been to many academic and professional conferences that relate to the cultural landscape. Yet I can honestly say I have never seen such a level of professionalism and relevance with finely tuned research and thought given to the local context to both deepen and highlight the TCLF mandate around design history, legibility, and stewardship outcomes -- a vision we share. As I know this is your organization's first foray internationally, it is especially important that this work be acknowledged for the power and clarity of its message."