Phoenix Events Offer up the Wright Stuff

Phoenix Events Offer up the Wright Stuff
Phoenix Events Offer up the Wright Stuff
In late September thousands of landscape architects and allied professionals went to sunny Phoenix, Arizona for the American Society of Landscape Architects 2012 Meeting and Expo, with many attending TCLF's annual silent auction and fall garden excursion.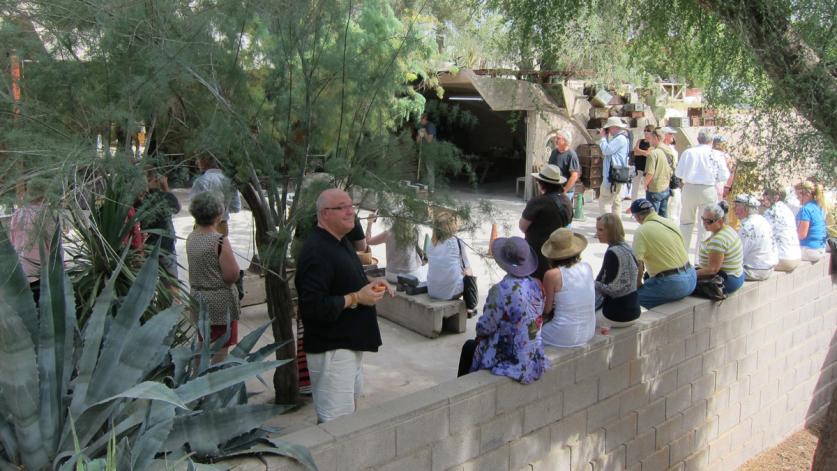 This year's events, which included a day-long look at some of the Phoenix area's most significant landscapes, and two days of competitive bidding at the Phoenix Convention Center Expo Hall were a huge success: tour participants raved about the distinct and unusual places they visited, successful bidders brought home new treasures and the combined effort raised more than $90,000 for TCLF's educational programs that tell the rich story of landscape architecture and its practitioners. This was made possible by an additional $70,000 of support and in-kind donations from auction sponsor Freeport McMoRan Copper & Gold and the American Society of Landscape Architects (ASLA), whose continued generous support has been fundamental to TCLF's success. In addition, TCLF would like to offer its thanks to Bison Innovative Products, who generously agreed to donate $10 for each firm who had a conference attendee scan their badge at the Bison Innovative Products booth in the ASLA Expo Hall.
Here's a look at this year's events;
Frank Lloyd Wright's Blurred Line in the Desert: Taliesin West and Other Projects
The Foundation's fall garden excursion, Frank Lloyd Wright's Blurred Line in the Desert: Taliesin West and Other Projects, took attendees on an exclusive day-long excursion to some of the Phoenix area's cultural highlights.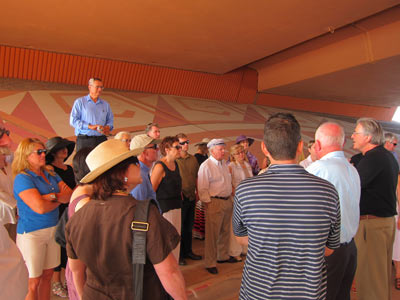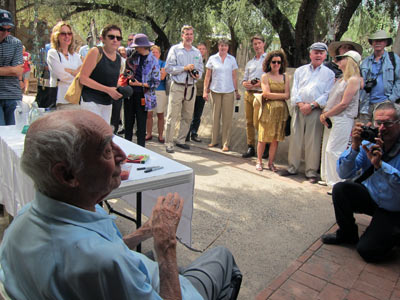 (upper) Taliesin; (lower) Architect Paolo Soleri speaks with tour attendeesThe excursion began with a narrated bus trip from Phoenix to Scottsdale, Arizona provided by Leroy Brady from the Arizona Department of Transportation Roadside Development office. A quick stop along the highway provided a closer look at the rock landscaping surrounding the valley freeways. Charles Schiffner explained how the highway's landscaping is designed to control erosion and dust in the arid climate, while beautifying the roadside by incorporating motifs that reflect Arizona's heritage. The tour continued to Taliesin West, Frank Lloyd Wright's home and workspace on 600 acres he purchased in the 1930s. This 20th century icon and enduring source of inspiration later became the winter home for Wright's well-known architectural school, the Taliesin Fellowship. At Taliesin West participants were treated to a detailed guided tour of the property by local architects, Frank Henry, Studio Master at Taliesin West, and Charles Schiffner, the former son-in-law of Wright.
Following the Taliesin West tour, the group visited Cosanti, the residence and sculpture studio of Italian-born Wright student Paolo Soleri.  For nonagenarian Soleri, Cosanti (from the Italian words "cosa" and "anti," meaning before/after-things) is an ongoing project – an intoxicating mix of earth and surrealism that interweaves architecture and landscape architecture into a unique design vocabulary – the ultimate blurred line in the desert. Soleri, who also created Arcosanti (an experimental desert community 90 minutes north of Phoenix) met with the group for a casual conversation and to sign his books.  The group was also given a demonstration of bronze bell making (a pastime that helps fund the Arcosanti initiative). Following Cosanti, guests enjoyed a luncheon at El Chorro, a justifiably famed Paradise Valley institution with expansive views of the starkly beautiful, arid landscape. In the afternoon, participants visited the rarely accessible Wright-designed private residence known as the Harold Price, Sr. house and the Arizona Biltmore, the only existing hotel in the world with a Wright-influenced design.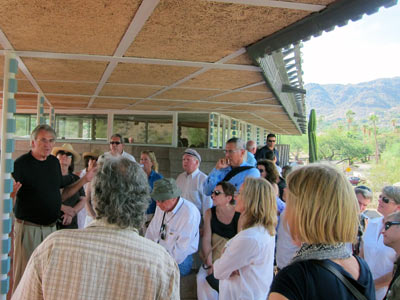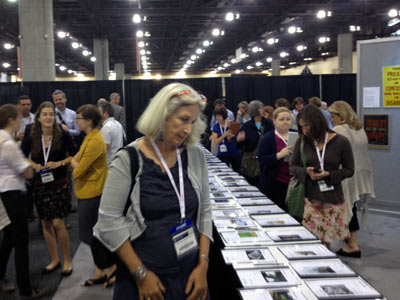 (upper) Harold Price, Sr. House; (lower) 2012 Silent AuctionWe wish to thank our friends at the Arizona Department of Transportation for their assistance with arranging the tours including Joe Salazar, Leroy Brady and Jason Satterly along with Adam Perillo from the local office of the firm Kimley-Horn & Associates.  Tour attendees included TCLF Board members and supporters, including; Elizabeth Goodfellow, Lisa Gimmy, Kelly Comras, Robert Bedell, Pamela Burton, Janice Parker, Dave Zeitlin, Nancy O'Donnell, Joeb Moore, Karen Janosky, Mara Seibert, Lenore Rice, Hank Rapport, Steve Koch, Ian Ramey, Jennifer Andrews, Amy Beltemacchi, Steven Ziegler, and JP and Pamela Shadley.
Eighth Annual Silent Auction
On the weekend of September 29-30, TCLF's annual silent auction was held in the Expo hall of the Phoenix Convention Center. The auction featured seventy-six works by sixty-four artists including two rare Roberto Burle Marx lithographs and new original art by Ken Smith, Michael van Valkenburg, Mark Klett, Garie Waltzer, Alex MacLean and many others. Attendees were clearly energized judging by the numerous compliments we received and the fierce bidding, which netted a record $48,000 in proceeds.
TCLF's What's Out There® Database Receives an ASLA Honor Award in Communication
At an awards ceremony held Monday, October 1, ASLA recognized TCLF's What's Out There® (WOT) database with an Honor Award in Communications – as a result, all four  TCLF programs and initiatives – WOT, Pioneers, Landslide and Cultural Landscapes as Classrooms have received ASLA National Honor or Excellence awards. TCLF President and Founder Charles Birnbaum was on-hand to accept the award, which recognizes the significant contribution of What's Out There®, TCLF's free online search engine of over 1,300 landscapes (and growing!), to the field of landscape architecture. The only resource of its kind on the web, the database has played a significant role in bringing attention to the rich heritage of cultural landscapes within the United States. According to the 2012 Professional Awards Jury the What's Out There® database is "An ambitious project that reaches both designers and the general public and raises the visibility of the profession."
ASLA Awards received by Cornelia Hahn Oberlander, subject of the 2011 Pioneers Oral History, and TCLF Board Member Firms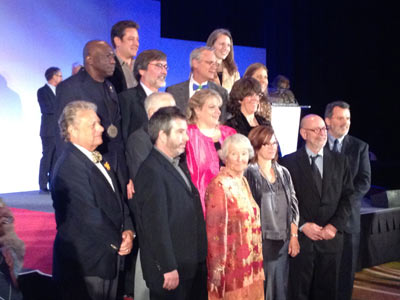 ASLA award recipientsWe are also tremendously pleased to report on a number of additional ASLA awards received by friends and supporters of TCLF. Canadian landscape architect, Cornelia Hahn Oberlander, subject of the 2011 TCLF Oral History was honored with the ASLA Medal – the highest award ASLA bestows on an individual. In addition, the firms of several TCLF Board Members received awards including a Landscape Architecture Medal of Excellence (Design Workshop, Inc.); ASLA Award of Excellence (Sasaki Associates, Analysis and Planning); Honor Awards (SWA Group, Analysis and Planning, Communications; Sasaki Associates, Analysis and Planning; Reed Hilderbrand, LLC, Residential Design). Read more at http://www.asla.org/2012awards/.