What's Out There Weekend Richmond: Beyond Colonial Revival

What's Out There Weekend Richmond: Beyond Colonial Revival
What's Out There Weekend Richmond: Beyond Colonial Revival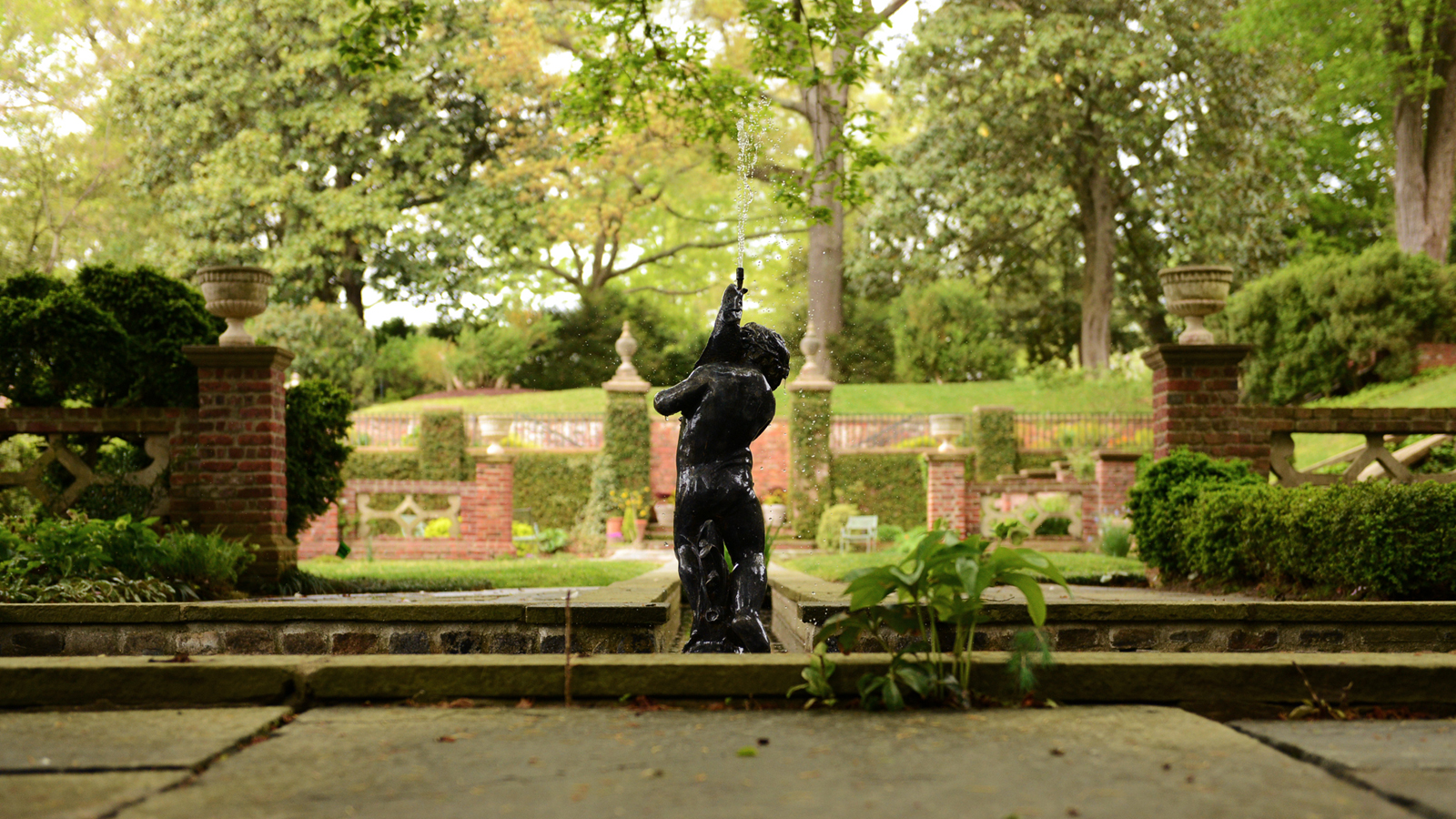 What's Out There Weekend Richmond, October 25-26, 2014 will feature free, expert-led tours of a diverse group of nearly 30 designed landscapes and historic sites.
In 2013 TCLF embarked upon What's Out There Virginia, a survey of the Commonwealth's landscape legacy with the expectation of adding more than 150 significant sites to the What's Out There online database. As the program matured and the partner base broadened, TCLF developed What's Out There Weekend Richmond, the tenth in an ongoing series of city- and regionally-focused tour events that increase the public visibility of designed landscapes, their designers, and patrons. This focused study has provided us a great opportunity to vastly expand our breadth of knowledge about the Colonial Revival style, its designers, and the wide range of sites upon which the style has been employed.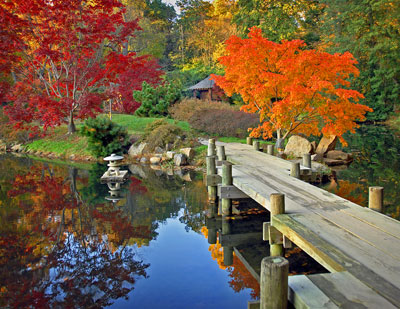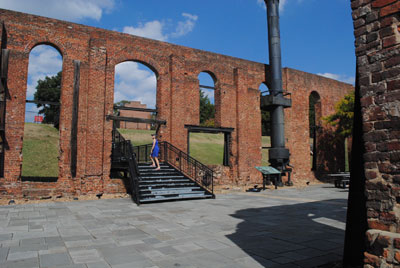 (upper) Maymont, courtesy Maymont Foundation; (lower) Tredegar
Iron Works, photo by Katherine Cannella.Colonial Revival is a broadly-used term that encompasses architecture, decorative arts, painting, literature, and dance in addition to landscape and garden design. As it applies to landscape architecture, TCLF has developed the following definition for this style, one of sixteen in the What's Out There database:
Developed in the late 19th and early 20th centuries coincident with the popularization of the landscape architecture and historic preservation professions, this uniquely American design style reflects a nationalistic awareness, appreciation, and pride. Building upon the success of the 1876 Centennial Exhibition in Philadelphia, popular interest in American history flourished. Coupled with industrialization, a nostalgic return to simpler times resulted in the development of the Colonial Revival. Found primarily in the eastern states and replicating idealized and romanticized forms and materials, the style was popularized by landscape architects including Arthur Shurcliff, Ralph Griswold, Alden Hopkins, Ellen Shipman, Charles Gillette, and Morley Jeffers Williams. The Colonial Revival style is found in public parks, institutional grounds, and residential designs.
Often based on Dutch and British examples, compact, well-ordered, symmetrical gardens of perennial plants, herbs, and flowering trees are located in close proximity to homes. Blending formal elements including parterres, allées, and cruciform plans with informal kitchen gardens, the style is both organized and relaxed. Geometric beds often are enclosed by low walls and accessed by axial paths. Highly detailed planting plans create year-round interest and vertical dimensionality by employing low-maintenance ground cover, flowering shrubs, and canopy trees, often organized to frame significant views. Pergolas, arbors, fountains, sundials, stone walls, precisely-laid brick walkways, and clipped boxwood hedges are popular elements found in Colonial Revival gardens. Rusticated materials and antique elements provide a sense of permanence and heritage. Among the most popular styles of the 20th century, the historicist appeal of Colonial Revival design endures today.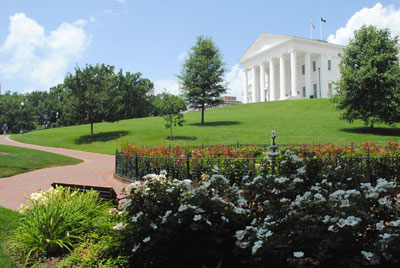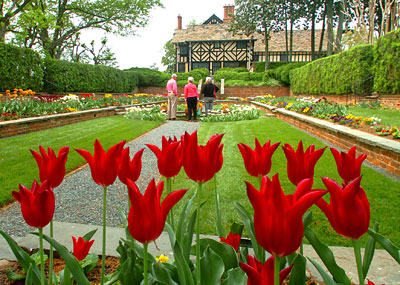 (upper) Capitol Square, photo by Jennifer Livingston; (lower)
Agecroft Hall, courtesy Agecroft Hall.In Richmond, Virginia the Colonial Revival style is showcased in a wide variety of public spaces including institutional grounds, parks, memorials, and even suburbs. Charles Gillette, a young landscape architect who worked for Warren Manning and relocated to the Commonwealth in 1913 to develop Manning's plans for Richmond College (now University of Richmond) would eventually design a number of Colonial Revival gardens – and would spend the remainder of his career practicing in Richmond, until his passing in 1969. Many of Gillette's extant designs will be featured in the Weekend. His design for Virginia House—located in the 444-acre Garden Suburb called Windsor Farms developed by John Nolen in 1924—is an exceptional instance. Commissioned in 1927 to create a Tudor-style garden to complement a sprawling English reconstruction mansion on a dramatically-sloped one-acre lot, Gillette spent twenty years working with the homeowners to perfect their gardens. Expanded to nine acres in 1939, the property lies adjacent to another imported English manor and Gillette landscape, the 23-acre Agecroft Hall. On both properties Gillette employed garden terraces to accommodate the steeply-pitched topography extending to the James River, along with fountains, statuary, brick retaining walls, and flower gardens surrounded by boxwood, yet each landscape remains distinct. Gillette also designed a Colonial Revival two-tiered memorial garden at Tuckahoe Plantation, Thomas Jefferson's boyhood home.
The grounds of the Capitol building were designed by a succession of people including Jefferson who in 1780 proposed the development of a gently sloping knoll to serve as the 12-acre setting for the statehouse. Maximilian Godefroy transformed the bare lot with the addition of trees, terraces, and gardens and in 1859 John Notman further developed the stately Capitol Square with fountains, walks, and native trees. Notman also is responsible for the initial design of the Picturesque Hollywood Cemetery overlooking the James River. Shortly thereafter in the period of Reconstruction, Richmond City Engineer Wilfred Cutshaw was key in developing public parks named to reflect Richmond's historic figures and including Byrd, Chimborazo, Libby Hill, and Monroe.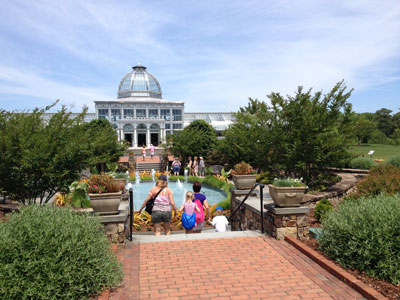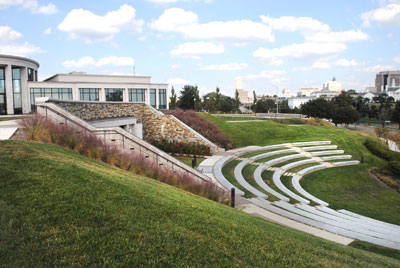 (upper) Lewis Ginter Botanical Garden, photo by Charles Birnbaum;
(lower) Virginia War Memorial, photo by Jennifer Livingston.Established in the early part of the 20th century, the Garden Club of Virginia (GCV) has worked throughout the Commonwealth to preserve and restore significant landscapes. In Richmond, working with Arthur Shurcliff and Alden Hopkins, GCV supported the design of Colonial Revival gardens at Wilton House, a mansion constructed circa 1753 and, in 1933, relocated fifteen miles to its present location overlooking the James. GCV's offices are located in the Kent-Valentine House constructed in 1845 and enveloped by Colonial Revival gardens designed by Ralph Griswold, Rudy Favretti, and Rieley & Associates. GCV has also been active in the restoration of the historic gardens at Maymont, the Poe Museum, and Lewis Ginter Botanical Garden. With 80 acres of thematic landscapes, a conservatory, and a GCV-restored Victorian garden, the Lewis Ginter Botanical Garden is presenting "Making Beauty Sustainable: The Charles F. Gillette Forum" on October 23-24 leading up to the Weekend. Registration for the Gillette Forum is required.
Returning to Gillette but departing from Colonial Revival, Richmond is also the setting of a number of significant Modernist landscapes including the Altria Headquarters (formerly Reynolds Metals Company International Headquarters). A decade before his passing in 1969, Gillette collaborated with architect Gordon Bunschaft to develop the 121-acre campus with a 250-foot-long reflecting pool, allées of willow oak, and a courtyard housing fountains and a specimen magnolia. Shortly thereafter, Zion & Breen Associates designed the three-acre Kanawha Plaza, a distinctly Modernist public space with a stepped fountain rising from a sunken pool. The plaza is connected to One James River Plaza, an elevated plinth designed by Vlastimil Koubek adjacent to his Dominion Power headquarters. By the end of the 1970s Danadjieva and Koenig Associates had developed their conceptual design for the 550-acre James River Park System, which includes the Modernist Belle Isle and the Postmodernist Tredegar Iron Works.
We hope you will join us for What's Out There Weekend Richmond. Generously supported by Bartlett Tree Experts, Charles Luck Stone Center, and a National Endowment for the Arts Art Works grant and presented by local partners, the Weekend will provide exceptional opportunities to explore the Commonwealth's diverse legacy of historic sites and designed landscapes. Building upon the momentum of What's Out There Virginia, this Weekend illustrates TCLF's strong commitment to our university partnership program and our engagement with local and regional partners.