feature
What's Out There Weekend Berkshires Inaugurates Autumn 2013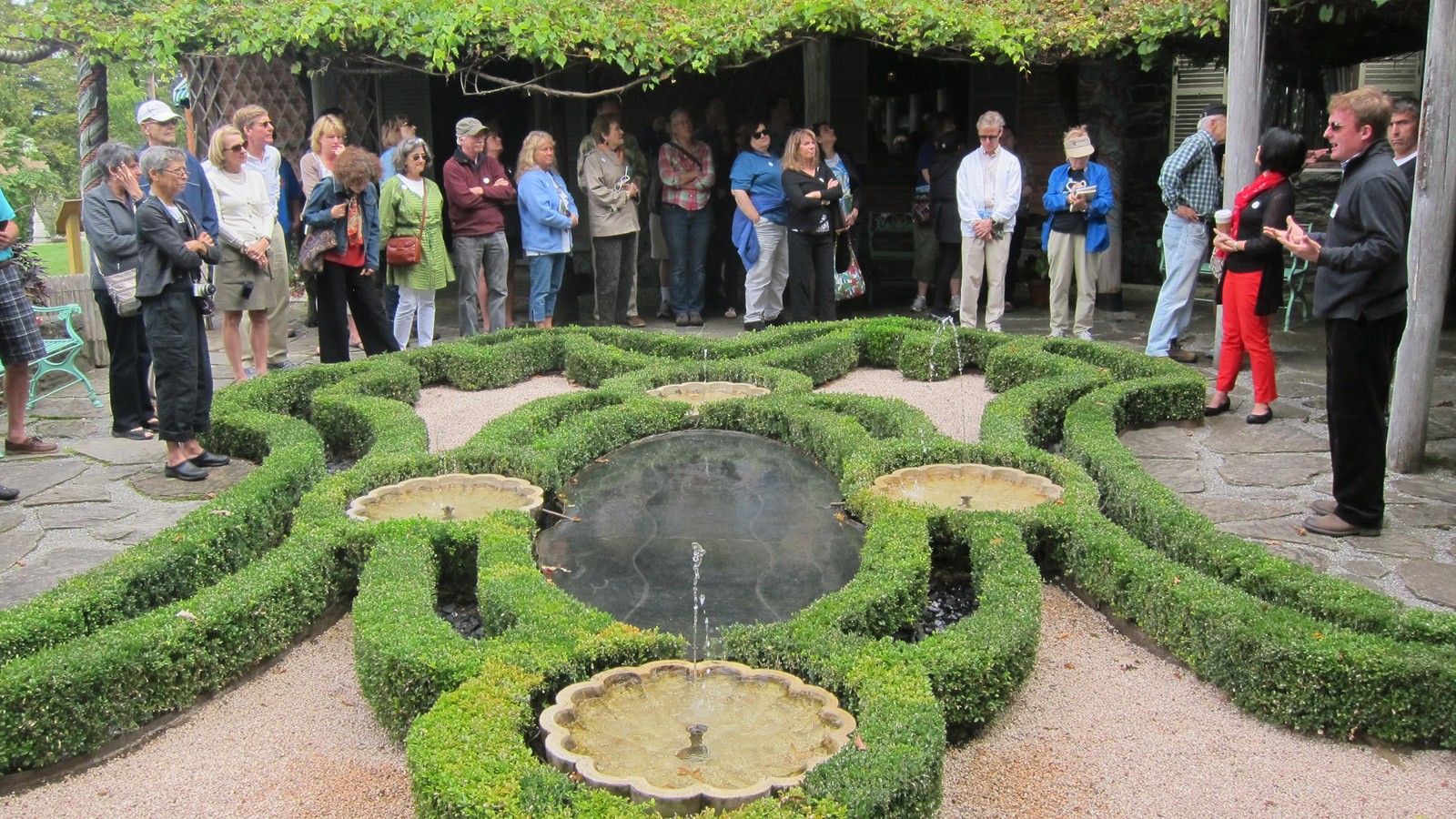 Tucked amid the natural beauty of the Berkshires of Western Massachusetts are centuries-old New England towns and dozens of unique and historically significant designed landscapes. On September 21-22, the inaugural days of autumn 2013, more than 1,000 people toured numerous sites during What's Out There® Weekend Berkshires, the first Weekend event in a non-urban setting since the program's inception three years ago.
The results? Well, this is fairly representative: "Kudos TCLF for a Berkshire weekend only superlatives can describe. The variety of offerings and their caliber were outstanding."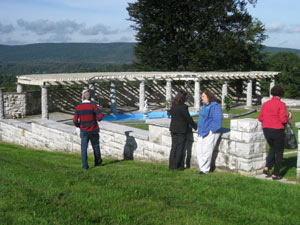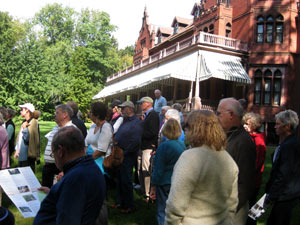 (upper): Exploring Elm Court's gardens, designed by the Olmsted firm
and slated for restoration in the coming years; (lower): Tour visitors at
Ventfort Hall, a gilded age estate with grounds designed by John Huss.Intense pride and curiosity of locals, interested out-of-town visitors, and coverage in The Berkshire Eagle and other media outlets along with the local NPR affiliate, drove a constant stream of tour registrations right up to and throughout the Weekend. Despite one small patch of light rain on Saturday, the weather was perfect – brilliant blue skies, dramatic puffy clouds and exquisite early fall sunshine. There was a light touch of fall color in the leaves and the mountainous terrain provided an exquisite backdrop throughout.
The Weekend kicked off with a heavily attended opening reception at Shakespeare & Company's Elayne P. Bernstein Theatre, in Lenox, where the What's Out There Berkshires booklet was officially unveiled. Weekend participants, guides and partners, along with TCLF Board Members and staff were among the attendees.
Thirty-two tours were offered over two days, and as with previous Weekends in Chicago, Philadelphia, New York, San Francisco, and Washington, DC, the sites reflected a great variety of designed landscapes. Of particular interest was the Olmsted legacy in the region at places including Elm Court in Lenox, the former estate of William Douglas and Emily Vanderbilt Sloane – a site not normally open to the public and a huge hit with the locals – and Williams College in Williamstown, where successive Olmsted firms worked for more than 60 years.
Other notable sites included Naumkeag in Stockbridge, the former home of Mabel Choate where the gardens by Nathan Barrett and Fletcher Steele are being expertly restored.  Following the garden tours, The Trustees of Reservations, which owns the site, generously waived admission fees and allowed Weekend participants to tour the home for free.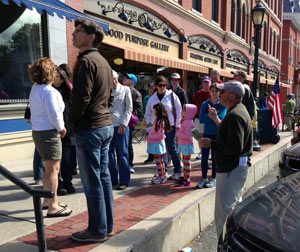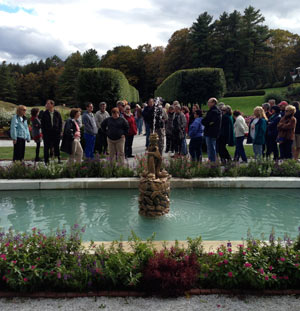 (upper): Craig Okerstrom-Lang leading the tour of Lee Town Center, part
of Lee Founders Weekend; (lower): the restored Flower Garden at The
Mount, with the Lime Walk beyond.The gardens at The Mount, the former home of the great American novelist Edith Wharton, have undergone considerable restoration following many years as a private girls' school. One attendee, who spent her 10th grade year there as a student, was amazed at the transformation (and she wasn't the only former student to visit).
What's Out There Weekend Berkshires would not have been possible without the generous support of Bartlett Tree Experts, who have sponsored What's Out There Weekend nationwide since its inception. We're also indebted to many hardworking local partners including: Adele Gravitz with the Berkshire Synergy Project who was instrumental in introducing the idea of a weekend in the Berkshires and making local connections throughout the county; landscape historian Gay Tucker; Housatonic Heritage, which cross-branded the Weekend tours with their Heritage Walks weekend; and many, many others. Thanks also to our many sites, partners, and local press who helped spread the word about the events.  Please refer to the What's Out There Weekend Berkshires Web site for a complete list of sites and sponsors and purchase a copy of the What's Out There Berkshires booklet.
Want to experience What's Out There Weekend for yourself? Registrations are open for What's Out There Weekend Los Angeles, to be held on October 26 and 27. Dozens of tours throughout Los Angeles, Santa Monica and Pasadena including The Getty Villa, Lawrence Halprin's Postmodernist network of parks and plazas in downtown LA, and many others. All free!