Playing Hardball at Nat Geo

Playing Hardball at Nat Geo
Playing Hardball at Nat Geo
UPDATE: On Thursday, May 28, 2020, the District of Columbia Historic Preservation Review Board (HPRB) met to discuss MARABAR, the widely acclaimed (but currently threatened) site-specific sculptural installation, by artist Elyn Zimmerman, on the campus of the National Geographic Society. HPRB Chair Marnique Heath affirmed TCLF's position, noting that the "issue of the sculpture was not raised" by NGS when the project was originally reviewed. Board member Outerbridge Horsey concurred that MARABAR "should have been brought to our attention" by NGS. Citing majority opinion to reconsider the case, Ms. Heath said that NGS should "strongly consider whether the sculpture can remain." The case has thus been reopened and will be reviewed by the HPRB in the near future.
---------------------------------------------------------------------------------------------------------------------- 
Here's a basic rule from the public-relations rulebook: When you're trying to bury a controversy, release news about it on the Friday before a holiday weekend. That's what a lawyer representing the National Geographic Society (NGS) did on May 22, 2020, the Friday before the Memorial Day weekend, in a letter to the D.C. Historic Preservation Review Board (HPRB) asserting NGS' right to destroy MARABAR, the influential and widely lauded site-specific installation by New York-based artist Elyn Zimmerman. NGS plans to renovate the main plaza on its Washington, D.C., campus headquarters, and MARABAR would be destroyed in the process. On August 1, 2019, the HPRB approved NGS' proposed plaza renovation plan. However, as reported in the New York Times: "Steve Callcott, a preservation officer for the district who speaks for the board, said that, at the time of the August vote, members had not understood that the society intended to remove the sculpture." TCLF has asked the HPRB to reopen the case and re-examine its decision approving the demolition.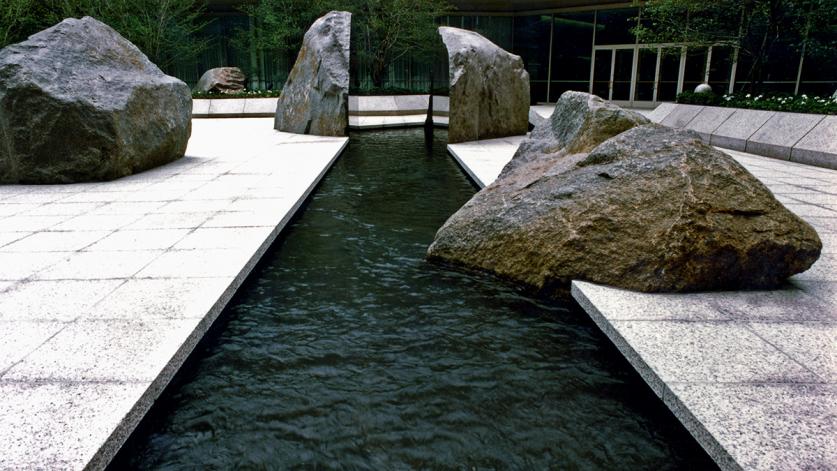 In NGS' May 22, 2020, letter, lawyer Cary Kadlecek, with Goulston & Storrs, wrote: "The Board should not reconsider its concept approval to account for Marabar because Marabar is not historic, reconsideration would establish a bad precedent, NGS was forthcoming with its plans, Marabar removal is necessary for an improvement, and Marabar is NGS' private property." [emphasis in the original]
TCLF responded on May 25, 2020, writing, in part: "NGS is not the arbiter of what is and is not considered historic in the District of Columbia," and NGS' "presentation to the HPRB makes no mention of MARABAR," a point underscored by the New York Times in the quotation from its interview with Mr. Callcott at the HPRB. NGS also asserted, in so many words, that MARABAR is its property, and it has the right to destroy it. Read the full text of NGS' letter here and TCLF's detailed response here.