Landslide
From Near Tragedy to Triumph, Once Threatened Marabar is now Sudama
The opening on the American University (AU) campus of Sudama – the artwork was originally called Marabar and located on the National Geographic Society campus – was a victory for the artist, Elyn Zimmerman, who had full artistic control of the reimaging of what she called her most important work, which had been threatened with demolition.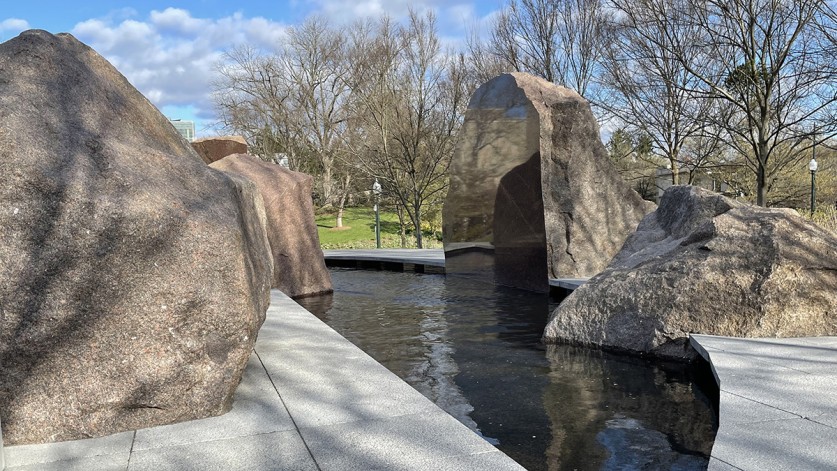 On April 4, amidst abundant sunshine and colorful spring blooms (and a New York Times feature), the mid-afternoon dedication of Sudama was attended by dozens of people who had been part of the years-long saga that culminated with the artwork's relocation. Participants who spoke at the dedication ceremony included the artist and university officials: President Sylvia Burwell, Museum Director and Curator Jack Rasmussen, and Dean Linda Aldorry of the College of Arts and Sciences who acted as emcee for the event. CEO Jill Tiefenthaler from Nat Geo, which donated the work to the university and paid for its relocation, also spoke. Among those in the audience was landscape architect Jeff Lee, principal of the Washington, D.C.-based Lee & Associates, along with numerous people from companies associated with the move, transport, and reinstallation of the 450,000-pound work.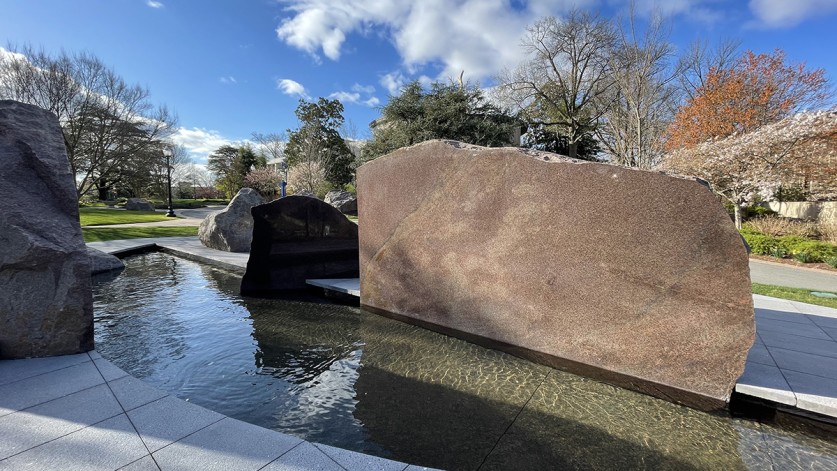 Burwell expressed gratitude to Nat Geo for their largesse and to all the workers and university staff who participated in the installation. Rasmussen, who was also thankful, observed that Sudama "doesn't invade the space, it occupies it." In her remarks, Zimmerman said three years ago she was in "despair" about the future of Marabar, which Nat Geo had proposed to demolish as part of a partial campus expansion, until mid-March 2020 when The Cultural Landscape Foundation (TCLF) learned of the threat and reached out to her to advocate on its behalf.    
To briefly recap, on March 31, 2020 TCLF designated the work an at-risk Landslide® site. TCLF contacted and consulted with regulatory agencies and commissions, provided expert testimony, mounted a strategic communications campaign, and galvanized the support of other advocates nationally. TCLF also solicited more than two dozen letters of support for saving Marabar from leaders in the art world, landscape architects, architects, journalists and others. On March 4, 2021, TCLF, working in collaboration with Zimmerman and Nat Geo, announced that a resolution has been reached to save Marabar. NGS offered to relocate the work at their expense and under Zimmerman's direction.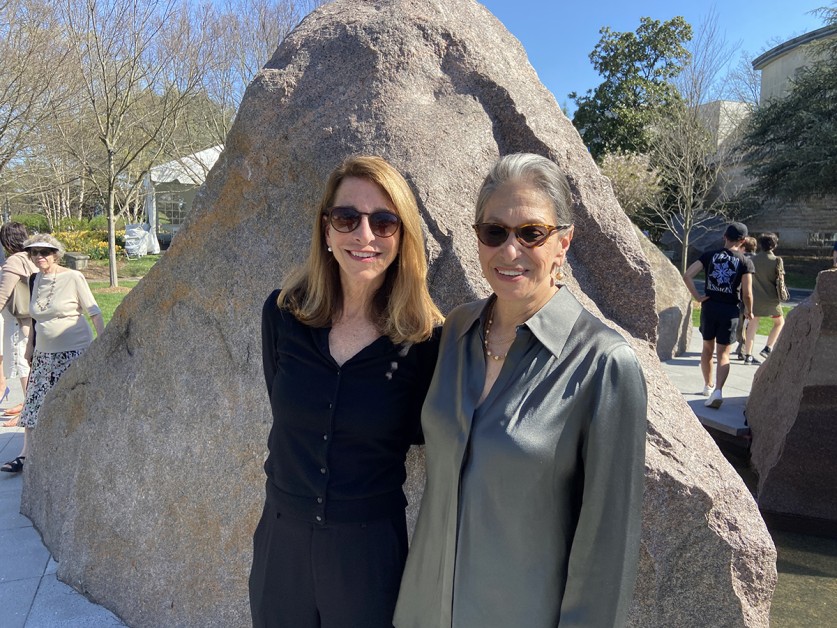 The artist thanked TCLF and Kathryn Keane, Nat Geo's former Vice President of Public Experiences and Director of the Society's Museum, for their involvement and said the location behind the Kay Spiritual Life Center and across Massachusetts Avenue from the museum was "the most perfect spot." She thanked Lee and Associates who "did the heavy lifting" and the university for being a "willing partner." She closed by saying "I'm thrilled It looks different, feels different, and I hope the students enjoy it ... Just not too much."    
Following the public events at AU, Lee and his ever-gracious wife Muireann hosted an intimate private reception at their Logan Circle townhouse. The Veuve Clicquot flowed and the group, many of whom had not met prior to March 2020, reflected on the adventure they had shared over the past three years and the new friendships made. During the gathering, TCLF President Charles Birnbaum toasted the artist and those involved and quoted lines from Stephen Sondheim's Sunday in the Park with George: "Anything you do, let it come from you. Then it will be new. Give us more to see."