Replacement for Prouty Garden Opens in Boston

Replacement for Prouty Garden Opens in Boston
Replacement for Prouty Garden Opens in Boston
On Tuesday, May 15, Boston Children's Hospital officially cut the ribbon on an 8,000-square-foot garden atop the eleven-story Berthiaume Building, the hospital's main building, on Boston's Longwood Avenue. The new rooftop garden is one of several spaces (four others are forthcoming) meant to serve as a replacement for the beloved Prouty Garden, the half-acre healing sanctuary and noted exemplar of healthcare-garden design that the hospital demolished in order to expand its facilities. TCLF listed the Prouty Garden in its Landslide program in 2013, after the planned demolition was announced. Despite pleas from families and staff, an online petition signed by more than 16,000 people, and a lawsuit aimed at stopping the demolition, the Prouty Garden was destroyed in December 2016.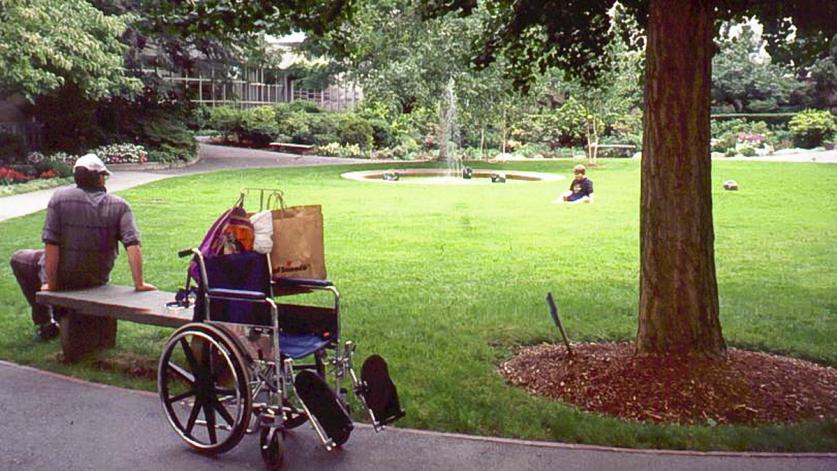 Based on a design by Olmsted Brothers and built by Boston landscape architects Shurcliff and Merrill, the Prouty Garden opened in 1956, a gift of novelist and poet Olive Higgins Prouty in honor of her two children who died in the hospital. Ms. Prouty asked that the garden be perpetually maintained "as a haven…for as long as Children's Hospital has patients, families, and staff to enjoy it." The garden was featured in an article in Scientific American in 2012, which documented the many benefits of hospital gardens.
The newly opened rooftop garden comprises a small patch of green space surrounded by hardscape, tables, and chairs, along with several statues salvaged from the Prouty Garden. Even with its view of the Boston skyline, the new garden does not measure up to its predecessor, according to many. As the Boston Globe's Priyanka Dayal McCluskey noted, "there are no squirrels or bunnies or other critters here, as there were in the Prouty Garden. And there are no big trees." And while there are successful examples of rooftop healing gardens, the new addition atop Boston Children's Hospital does not fit the bill for several reasons. According to the group Save the Prouty Garden, the new green space lacks many basic elements of healing gardens, such as serenity, privacy, wildlife, and immersion in nature.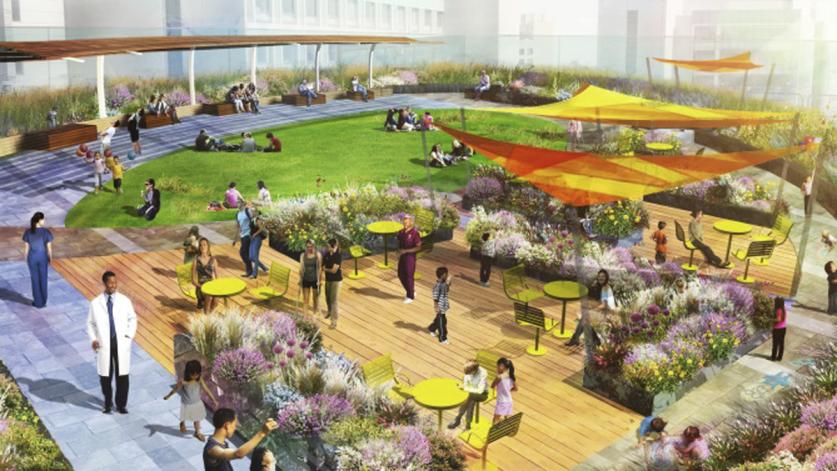 WBUR reported that Gus Murby, a leader in the lawsuit to stop the demolition of the Prouty Garden and "one of the thousands of people who opposed [its] elimination," also found the new rooftop garden less than inspiring, saying that it does not come close to "qualifying as a healing garden." In an interview with the Boston Globe, Murby likened the rooftop garden to "the deck of a cruise ship where people can go out and have lunch." Mr. Murby had become acquainted with the Prouty Garden and its 65-foot-high dawn redwood tree while spending time there with his teenage son who was being treated for leukemia at the hospital. The garden is also the place that Mr. Murby chose to take his son to die in 2007.