feature
2013: The Landscape Architecture Legacy of Dan Kiley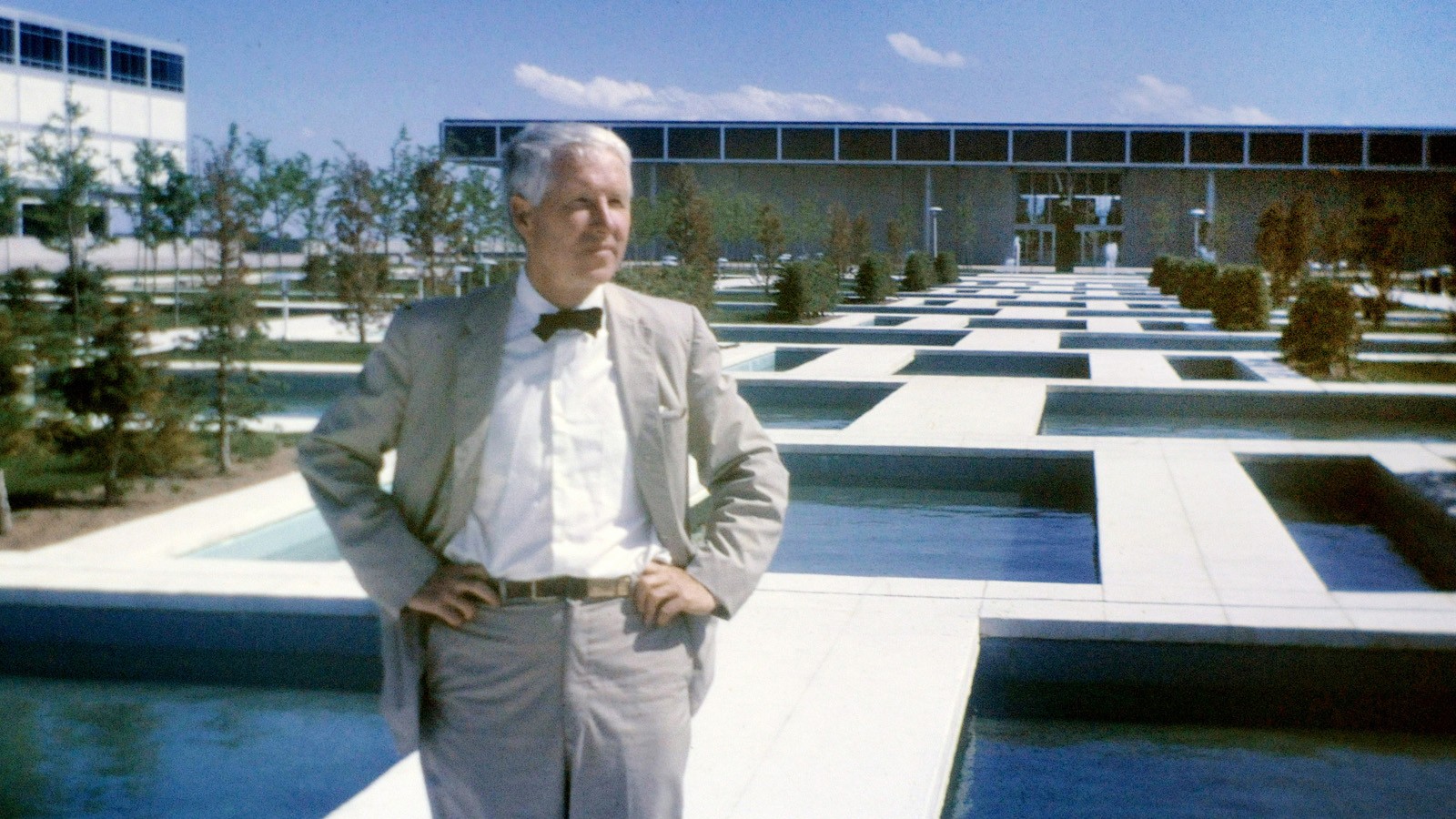 Should not the role of design be to reconnect human beings with their space on their land? - Dan Kiley
In 2013, Landslide, TCLF's annual thematic report about threatened and at-risk landscapes, was dedicated to the life and work of Dan Kiley (1912-2004), one of the nation's most important Post War landscape architects. During his prolific career, which spanned more than half a century, he worked with equally significant architects, including Eero Saarinen, Louis Kahn and I.M. Pei, to create internationally acknowledged Modernist design icons. Kiley's legacy is substantial, influential and, like the broad swath of our Modernist designed landscape legacy, ephemeral. To honor Kiley and his legacy, and call attention to the need for informed and effective stewardship of his work - and by extension Modernist landscape design - TCLF organized a traveling photographic exhibition: The Landscape Architecture Legacy of Dan Kiley. The exhibition, which opened at the Boston Architectural College on November 14, 2013, is currently touring nationally and is currently booked into 2019 - the schedule can be found here.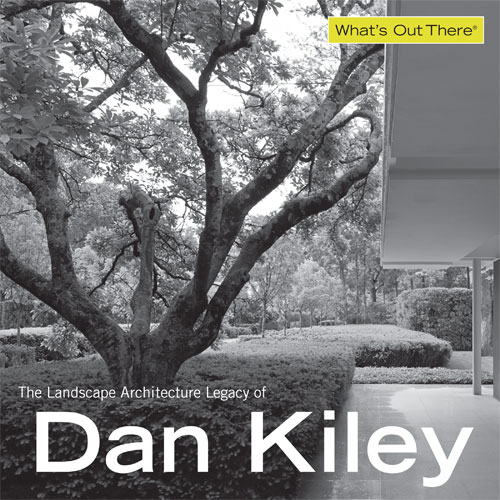 The Landscape Architecture Legacy of Dan Kiley Gallery Guide
The exhibition features 45 newly commissioned photographs of 27 of Kiley's more than 1,000 designs including: the Miller House and Garden, Columbus, IN; the Art Institute of Chicago South Garden, Chicago, IL; and one of his final residential projects, Patterns, a garden for Gov. & Mrs. Pierre S. "Pete" du Pont IV in Delaware. A full-color gallery guide – What's Out There: The Landscape Architecture Legacy of Dan Kiley – funded through a Kickstarter campaign, includes images from the exhibition, brief site descriptions, site plans and excerpts from recently collected personal recollections from colleagues (an additional site currently under restoration at the National Gallery of Art is included in the catalogue but not the exhibition). A more in-depth treatment of Kiley's life and legacy is available on TCLF's website.
"When the 100th anniversary of Kiley's birth came and went – and nothing happened – The Cultural Landscape Foundation decided to mount a tribute to this great Modernist landscape architect," said TCLF Founder and President, Charles A. Birnbaum. "We have received tremendous support from the artists, who donated their time and work, along with professional associations, landscape architecture firms and individuals who underwrote the exhibition and helped TCLF's Kiley Exhibition Catalogue Kickstarter campaign exceed its $7,500 goal by more than 20%."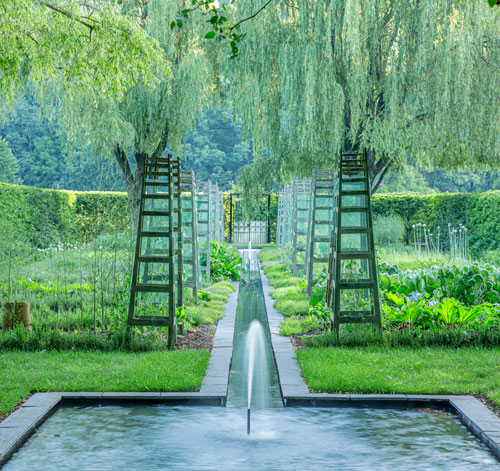 Patterns, photo copyright Roger Foley
This exhibition was organized in the space of eleven months and, though by design it's not an exhaustive survey, it does manage to illustrate the breadth of Kiley's design vocabulary and how his collaborations synthesized architecture and landscape architecture into elegant artistic statements.
However, there are Kiley designs that are not illustrated because they have been significantly altered. Examples include Lincoln Center in New York, NY, and Dulles Airport, outside Washington, DC, which architect Jacquelin Robertson said was, "in some ways the most lyrical piece of large-scale landscaping that I know of in this country." Indeed, the present day condition of Kiley's legacy is mixed.  Some works are dying quite deaths through neglect, while others are doing well. The Miller House and Garden is now owned and operated by the Indianapolis Museum of Art, which has been a very effective steward. Fountain Place in Dallas has been well maintained by Crescent Real Estate Equities. As mentioned above, the National Gallery of Art has recently replanted the portion of Kiley's design between the East and West Buildings and additional work will occur in conjunction with the East Building's renovations. In Tampa, FL, the ground plane of the Kiley Garden (originally NationsBank Plaza) has been rehabilitated, but plans for replacing the trees have stalled. Fortunately, what remains undiminished is Kiley's great influence.
As his former colleague Peter Ker Walker wrote in a recent recollection: "The legacy of Dan Kiley is that his work demonstrates how place informs life and how life in turn gives meaning and value to place.  That he has done with art, grace and good humor to the lasting benefit of all."