2021 Year in Review

2021 Year in Review
2021 Year in Review

It finally happened. On October 14, after seven years in the making, The Cultural Landscape Foundation (TCLF) announced the winner of the inaugural Cornelia Hahn Oberlander International Landscape Architecture Prize, Julie Bargmann. She was chosen from more than 200 nominations received from around the world by an international seven-person jury chaired by Dorothée Imbert and assisted by Oberlander Prize Curator John Beardsley. The announcement received global coverage including U.S. media PBS NewsHour, NPR, Washington Post, New York Magazine (Curbed) and dozens of others plus articles in Australia, Borneo, Canada, Chile, China, Denmark, Germany, and elsewhere.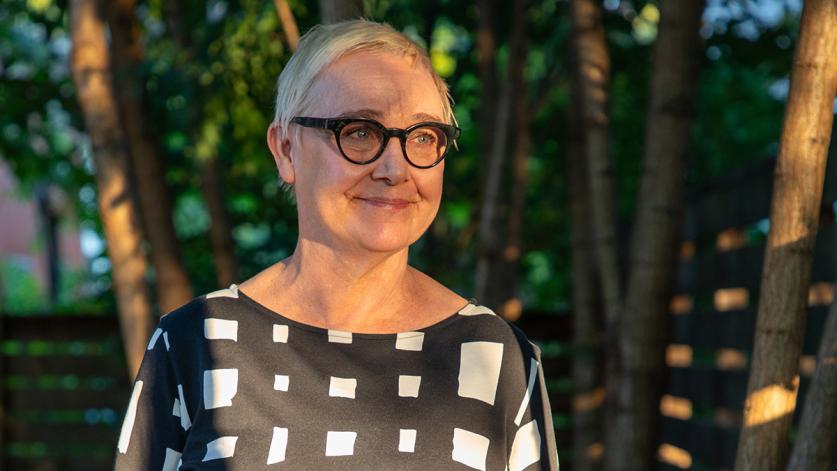 This is a major milestone for the profession and a substantial new chapter for TCLF, which is now establishing a firm presence on the international stage. We are grateful for the faith, support, counsel, and trust extended to TCLF throughout this journey.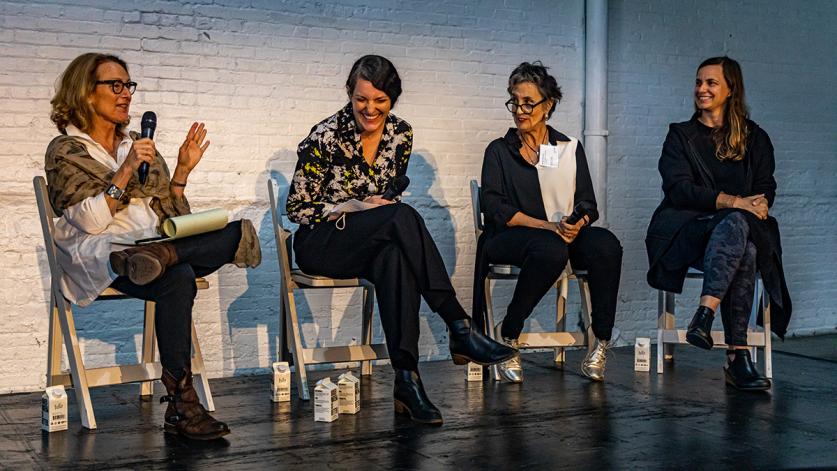 But that is only part of the story. Despite a global pandemic that continues to reshape our home and work environments, and the course of daily life, 2021 was a year of great success. In fact, the day after the Prize announcement, the inaugural Oberlander Prize Forum, Courageous by Design, a daylong symposium focused on the women landscape architects who are leaders in addressing the climate crisis in New York City, took place at Highline Stages. The videos from these presentations can be found on TCLF's YouTube page. Bargmann, Oberlander Prize Curator John Beardsley and TCLF staff are collaborating on future events.
And, TCLF's website traffic doubled – again – 100% in 2020 and another 100% in 2021. A clear demonstration of the relevance of TCLF's work and content.

In November 2020 we announced that "Race and Space" would be the unifying theme for TCLF's programmatic agenda beginning in 2021. As part of that commitment, in 2021 TCLF's annual thematic Landslide report and exhibition about threatened and at-risk landscapes, which continues to be one of our most high-profile and effective initiatives, examines thirteen sites associated with African Americans, Hispanic Americans and Native Peoples and includes detailed and illustrated narratives, contemporary and newly-commissioned photography, and eighteen richly produced and deeply moving videos with people associated with each site and other commentators. Whether through imminent threat or, more likely, the accretion of years of neglect and inattention, these lesser known, but no less important, cultural landscapes that comprise our history could be lost and that need not happen. Landslide 2021: Race and Space features thirteen sites across eleven states and spanning almost a millennium of history.
TCLF also continued to strengthen bedrock initiatives: the What's Out There database of cultural landscapes (which has grown to more than 2,400 sites), the Pioneers of American Landscape Design biographies and oral histories, and the advocacy core to Landslide. A What's Out There Weekend was held in Minneapolis/St. Paul, MN, which drew hundreds and was accompanied by the launch of an extensive illustrated online guide and 62-page printed guidebook. Plans are advancing to create digital guides for and hold Weekends in St. Louis, MO, Cleveland, OH, and Dutchess County along the Hudson River Valley in New York State.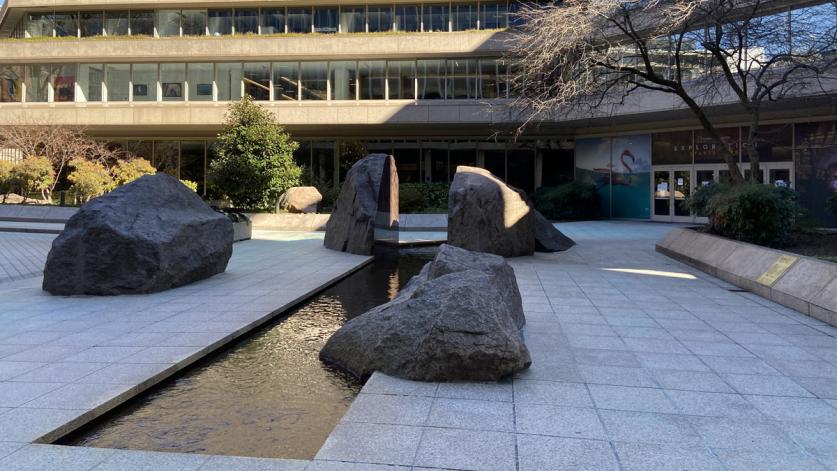 Advocacy by TCLF helped yield victories at: MARABAR in Washington, D.C.; Bears Ears National Monument, Utah; Coyote Valley, San Jose, CA, and Rockefeller Park, New York City. Work continued at the Hirshhorn Museum's Sculpture Garden; the Weyerhaeuser Campus in Washington State; Boundary Waters in Minnesota; the McGinley Garden in Milton, MA; Olmsted's Jackson Park in Chicago; and numerous others.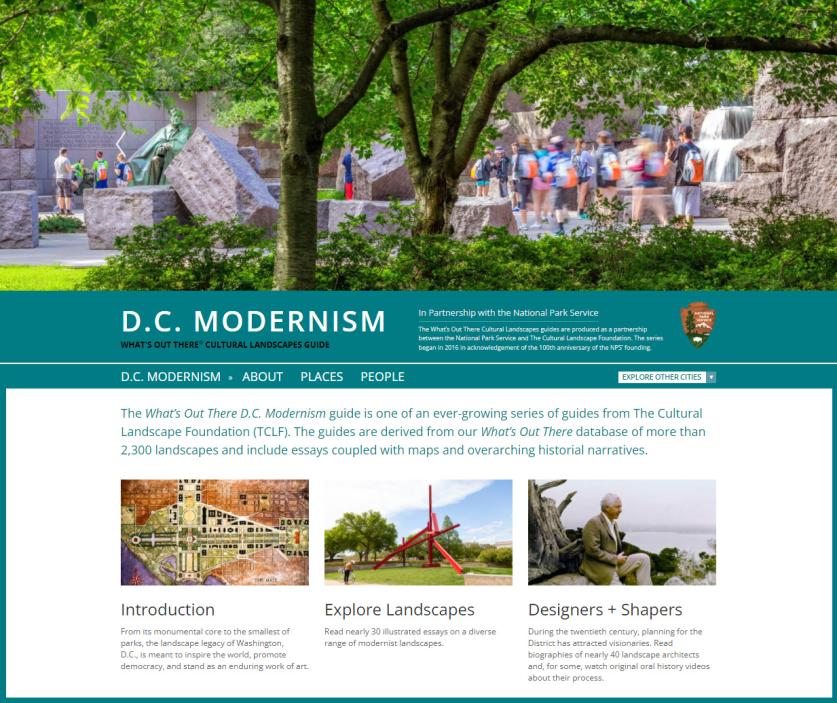 Working in collaboration with the National Park Service TCLF produced a guide to Modernism in the District of Columbia, the first style-specific guide TCLF has created. In preparation for the bicentennial of Frederick Law Olmsted, Sr.'s birth in 2022, TCLF is completing a digital guide and printed guidebook (with Timber Press) about more than 200 Olmsted landscapes throughout the U.S. and Canada.
The latest Pioneers Oral History was launched about the Southern California-based landscape architect Pamela Burton whose travel adventures, infectiously upbeat personality and creativity at projects from Brentwood to Brazil are captured in 29 richly produced videos. This is the seventeenth in an ongoing series of oral histories with one currently underway for Oberlander Prize laureate Julie Bargmann. Notably, Cornelia Hahn Oberlander, the "grande dame of landscape architecture," namesake of the Oberlander Prize and subject of a Pioneers oral history, passed away in May, less than a month before her 100th birthday, due to COVID. Her legacy, however, lives on.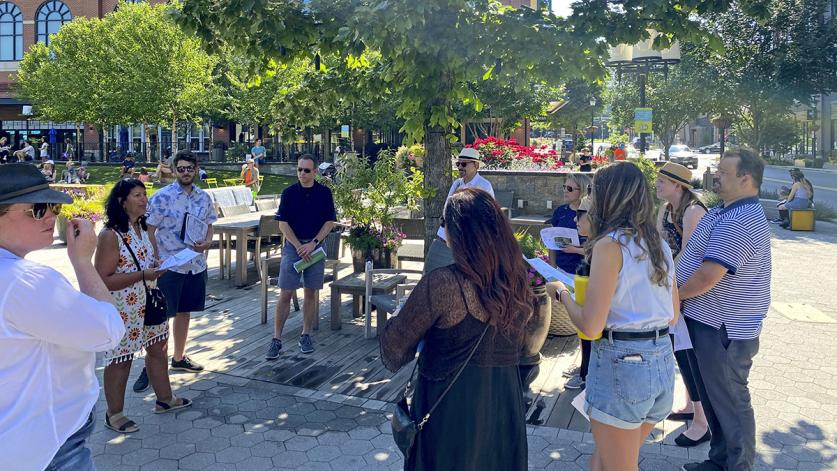 Garden Dialogues, featuring exclusive access to great gardens, were held throughout the U.S. starting in April in Sarasota, FL, and continuing in Greenwich, CT, Napa Valley, the Hamptons, NY, Los Angeles, CA, and many others. Other events included Walks & Talks, landscape architect-led walking tours, in Miami, FL, Fort Washington, NY and North Bethesda, MD.  TCLF's annual excursion in tandem with the American Society of Landscape Architects (ASLA) annual conference took place in Nashville, TN, and included tours of the Civil War-era Fort Negley (a former Landslide site), stately Glen Leven Farm, Centennial Park, and Cheekwood – and an unforgettable lunch at Miel.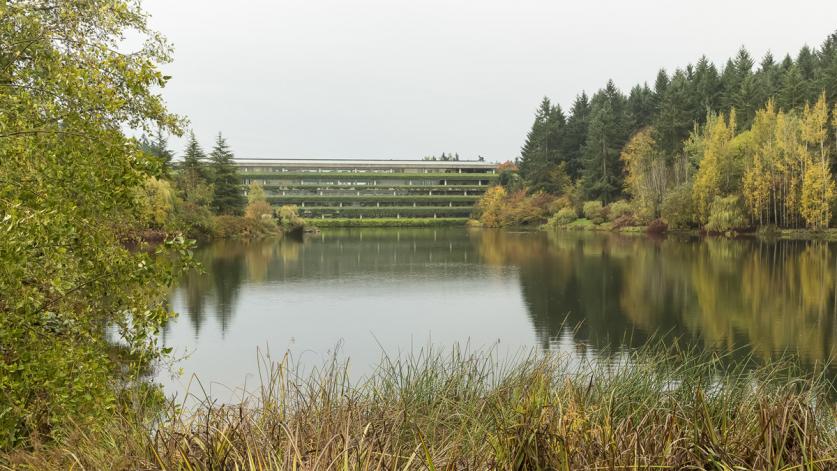 Technical Assistance spanned coast-to-coast and included Boston Navy Yard, MA, Brackenridge Park, San Antonio, TX, Copley Square, Boston, MA, Federal Reserve Board Garden, Washington, D.C., Fort Lincoln Park, Washington, D.C., Genesee River Confluence, NY, Heritage Park, Fort Worth, TX, La Gorce Island, Miami Beach, FL, Live Oak Plantation, LA, Polk Park, Charlotte, NC, Playland Park, Rye, NY, Weyerhaeuser Corporate Campus, Federal Way, WA, and the Town of Rhinebeck NY on myriad cultural landscape projects. 
Media coverage in 2021 was substantial and driven by the announcement of the Oberlander Prize laureate and TCLF's advocacy: New York Times, PBS NewsHour, NPR, Washington Post, Wall Street Journal, Dallas Morning News, New York Magazine,  Yahoo! News, and others; specialty media outlets such as ArchDaily, Architect's Newspaper, Art Newspaper, Landscape Architecture Magazine, Wallpaper, Metropolis and more; international media including Globe and Mail (Canada), Die Zeit (Germany), ORIGO (Hungary), DOMUS (Italy), Independent (United Kingdom), and scores more. 
This past year would not have been possible without the support of many individuals, organizations, and others, including Season of Events Sponsors ABC Stone, Bartlett Tree Experts, Lapitec, and Victor Stanley, and Annual Sponsor, the American Society of Landscape Architects. Finally, these programs would not be possible without your sustained support, commitment, and generosity. Thank you.