Garden Dialogues
Garden Dialogues: Dallas + Fort Worth
On April 11-12, get exclusive access to private gardens in Dallas and Fort Worth and hear directly from the designers and their clients about their collaborative process.
How do clients and designers work together? What makes for a great, enduring collaboration? Garden Dialogues provides unique opportunities for small groups to visit some of today's most beautiful gardens created by some of the most accomplished designers currently in practice.
This event is now complete.
---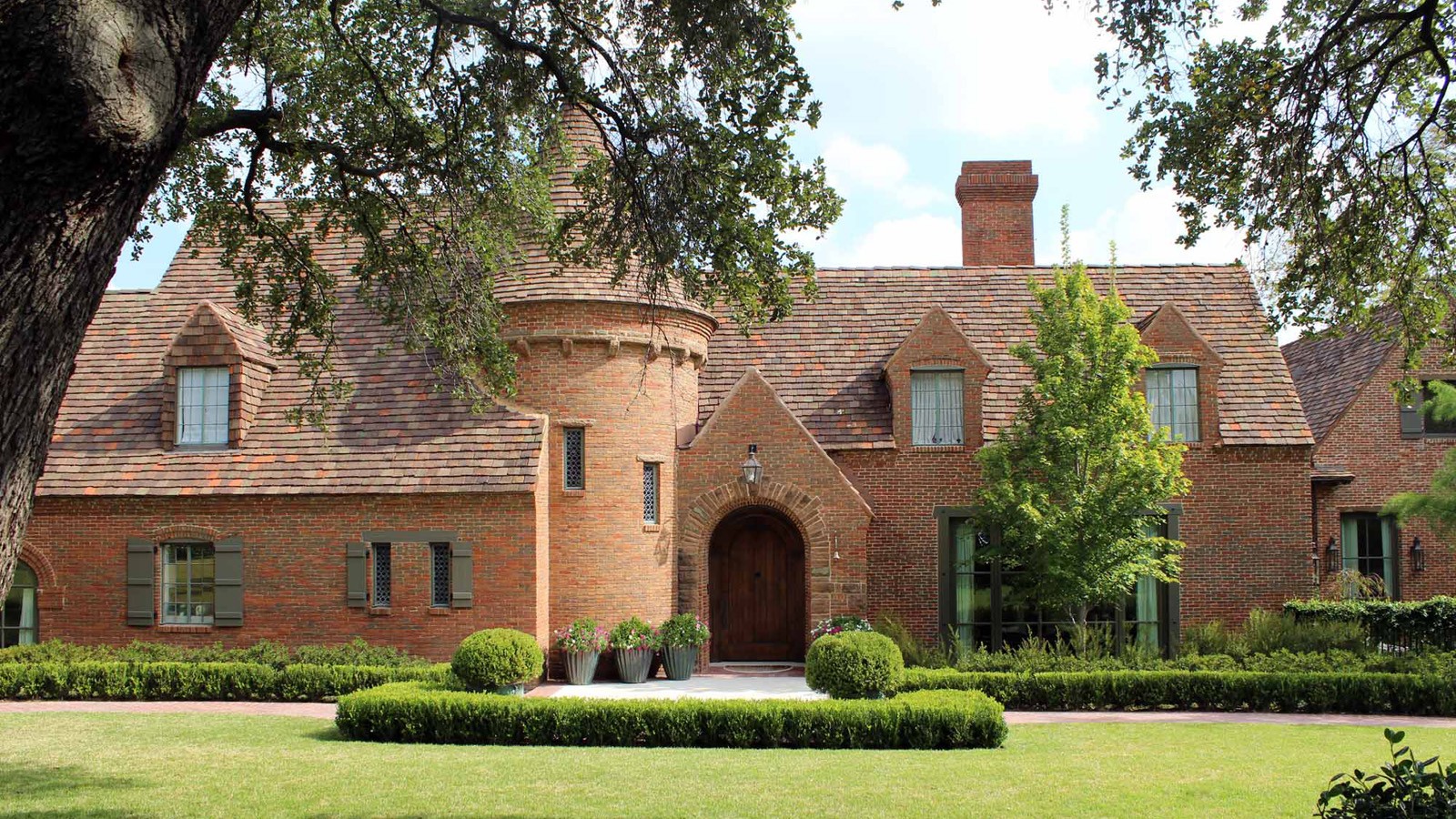 Saturday, April 11, 2:00-3:30pm | Westover Hills
One Westover
William Bibb and Brian McDonald of Archiverde, LLC, with Weldon Turner, Turner | Boaz Architecture
This stately private property, originally owned by the philanthropic Rhodes family for more than 100 years, was completely renovated by the current owner from 2010-2013. The project is a major collaboration between the landscape architect and architect, both of whom will participate in the Dialogue. The landscape is just over an acre, and its design is based on centerlines and relationships of the architecture. The arrival is marked by a sweeping walkway that runs along the edge of a grand central lawn and stately groves of pond cypress trees frame the house on both sides. At the rear of the home an open courtyard holds an elaborate swimming pool complete with fountain, infinity weir and shallow water ledge. An adjacent fire pit is surrounded by four live oak trees. The pool and fire pit area were designed based upon the centerline of the master bedroom. At the basement area the lower courtyard centers on the large library windows. Here lacey Japanese maple trees set in large pots provide a delicate canopy. To the east a veranda overlooks a small lawn area backed by pre-existing woodland and a creek bed enhanced by new native plantings.  more photos
---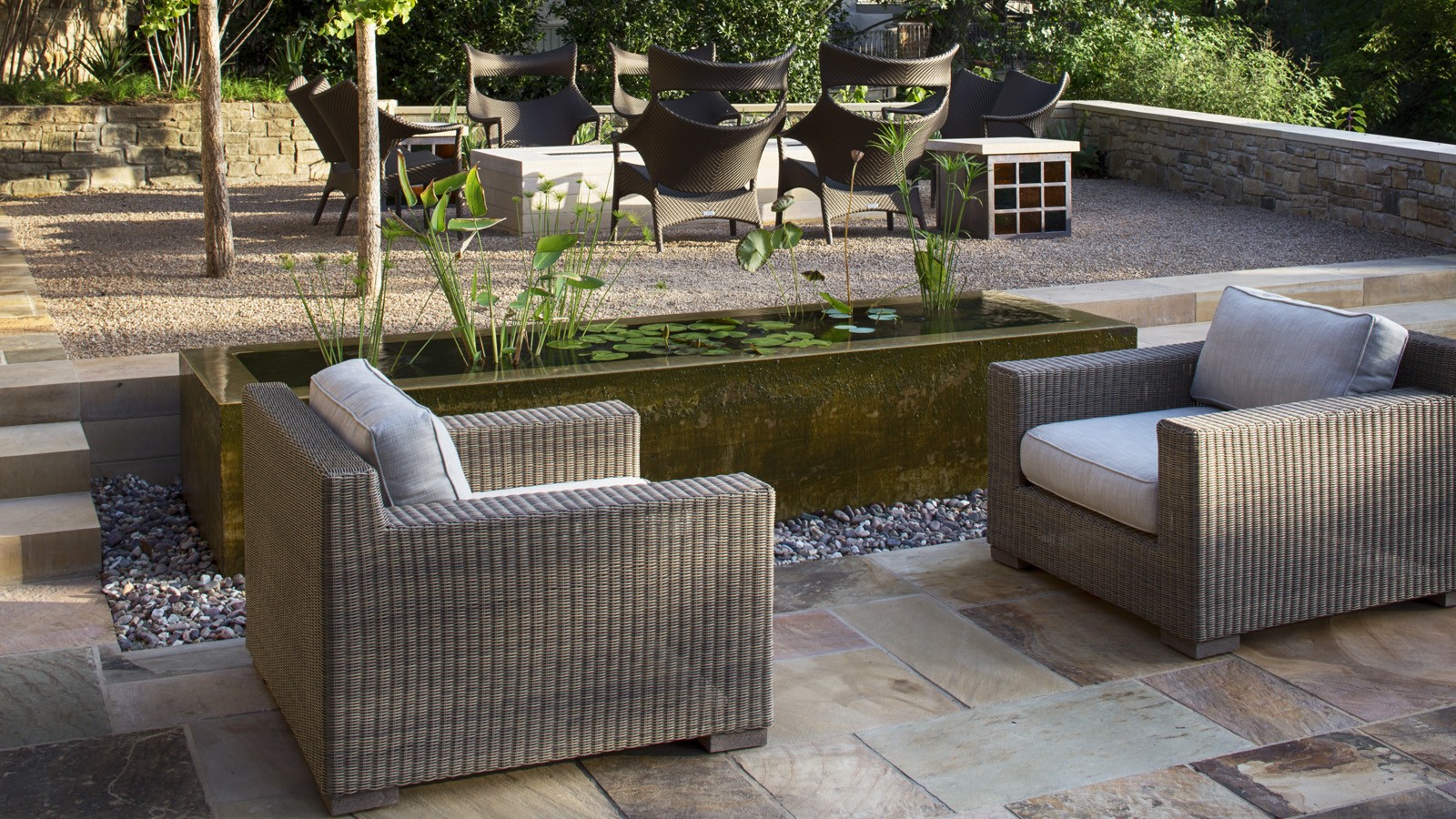 Sunday April 12, 1:00pm-2:30pm | Dallas
Midcentury Reduct
Tary Arterburn of Studio Outside, with Svend Fruit, AIA, Bodron+Fruit
This rare mid-century modern home on Turtle Creek was a find that the owners couldn't resist. The rear of the home overlooks the creek and the unique floor plan opens into the landscape on both the upper and lower levels.
The landscape design strikes the perfect balance between the home's strong architectural lines and its creekside environment. A plant palette of varying shades of green was chosen for texture and seasonal interest. Berkeley sedge creates a soft evergreen base to the garden and plantings include beautyberry, indigo, yellow iris, and dwarf palmetto.
At the home's entry, tall blue-green rushes contrast with a bed of sweet flag, set below two gingko trees.  In the upper level courtyard, large native pecan trees create provide shade and dappled light. A sculpture composed of a sliced and mounted teak root sits above a low fountain. A fire table, seating, and a dining area complete the perfect space for entertaining.
At the rear, the creekside terrace features a simple fountain trough, planted with lotus and other aquatic plants. Water constantly flows over the edges, mirroring the sound of the stream below. A glass floodwall along the patio edge allows uninterrupted views of the creek. more photos
---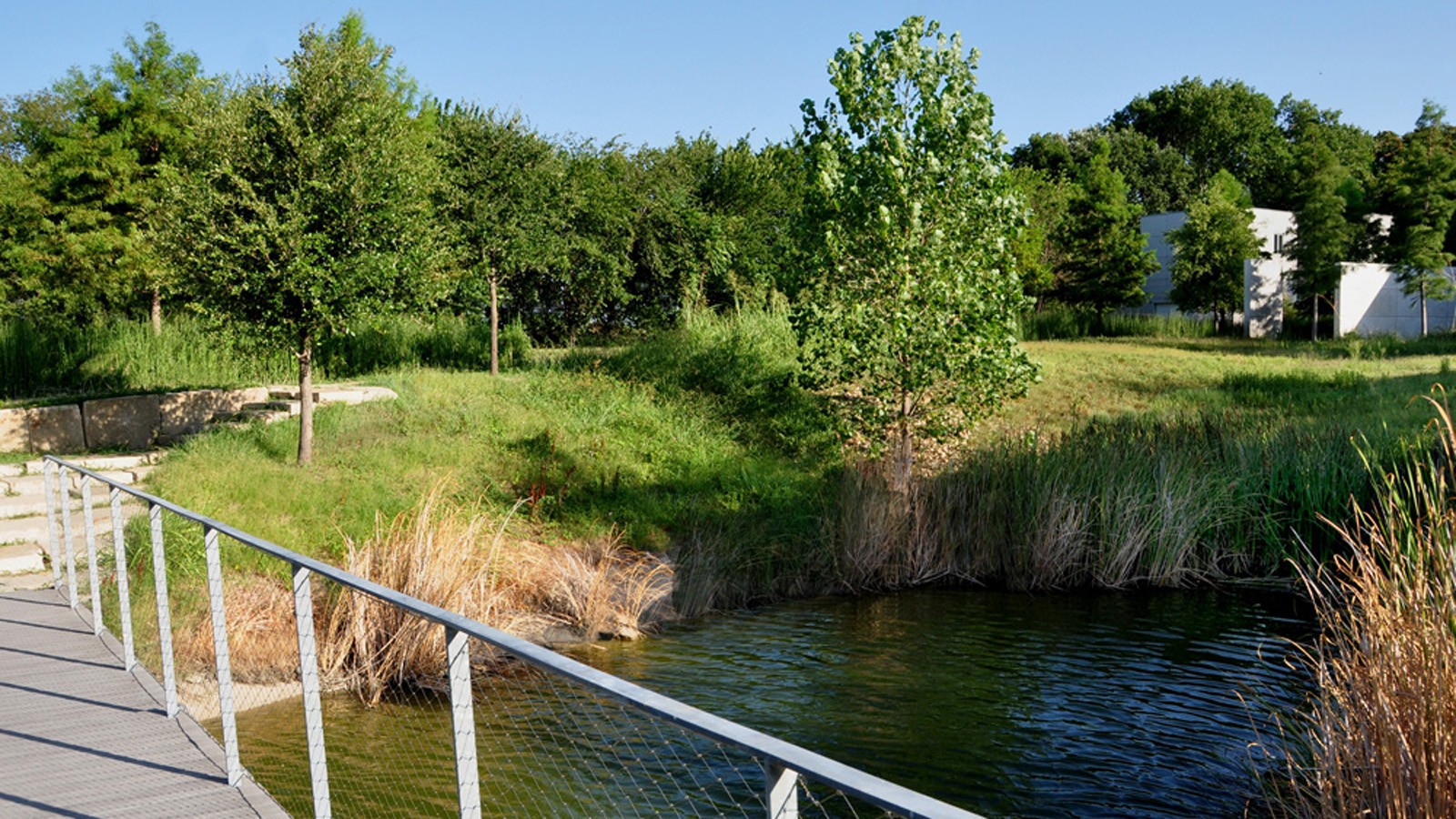 Sunday, April 12, 3:00-5:00pm | Dallas
The Dallas Urban Reserve
Kevin Sloan, ASLA, M.Arch of Kevin Sloan Studio, with Robert Meckfessel, FAIA, DSGN Associates
Internationally recognized as an "innovative green project," the award-winning Urban Reserve transformed a 10-acre site that had been an illegal landfill for more than 50 years into an exquisite Modernist community. In 2004, Urban Edge Developers in Dallas purchased the tract to construct a sustainable community, engaging landscape architect Kevin Sloan Studio and architects including Tod Williams and Billie Tsien. The refined aesthetics and careful grooming are equaled by environmentally sensitive details: the main street is a continuous biofilter; storm water is conveyed into rain gardens, separated by parking; cypress and reed plants filter water to sedimentation ponds for low-velocity drip irrigation. Concrete fragments and steel beams left over from its previous use as a landfill have been repurposed as "bricolage" for pavements and terraces. As part of the Dialogue, attendees will visit the landscapes of three private residences. more photos
Various Locations
United States