Garden Dialogues 2015: Washington DC Metro Area

Garden Dialogues 2015: Washington DC Metro Area
Garden Dialogues 2015: Washington DC Metro Area
Jun 27, 2015
to
Jun 28, 2015
In June get exclusive access to private gardens in Washington, DC, Maryland, and Virginia and hear directly from the designers and their clients about their collaborative process.
How do clients and designers work together? What makes for a great, enduring collaboration? Garden Dialogues provides unique opportunities for small groups to visit some of today's most beautiful gardens created by some of the most accomplished designers currently in practice.
This event is now complete.
---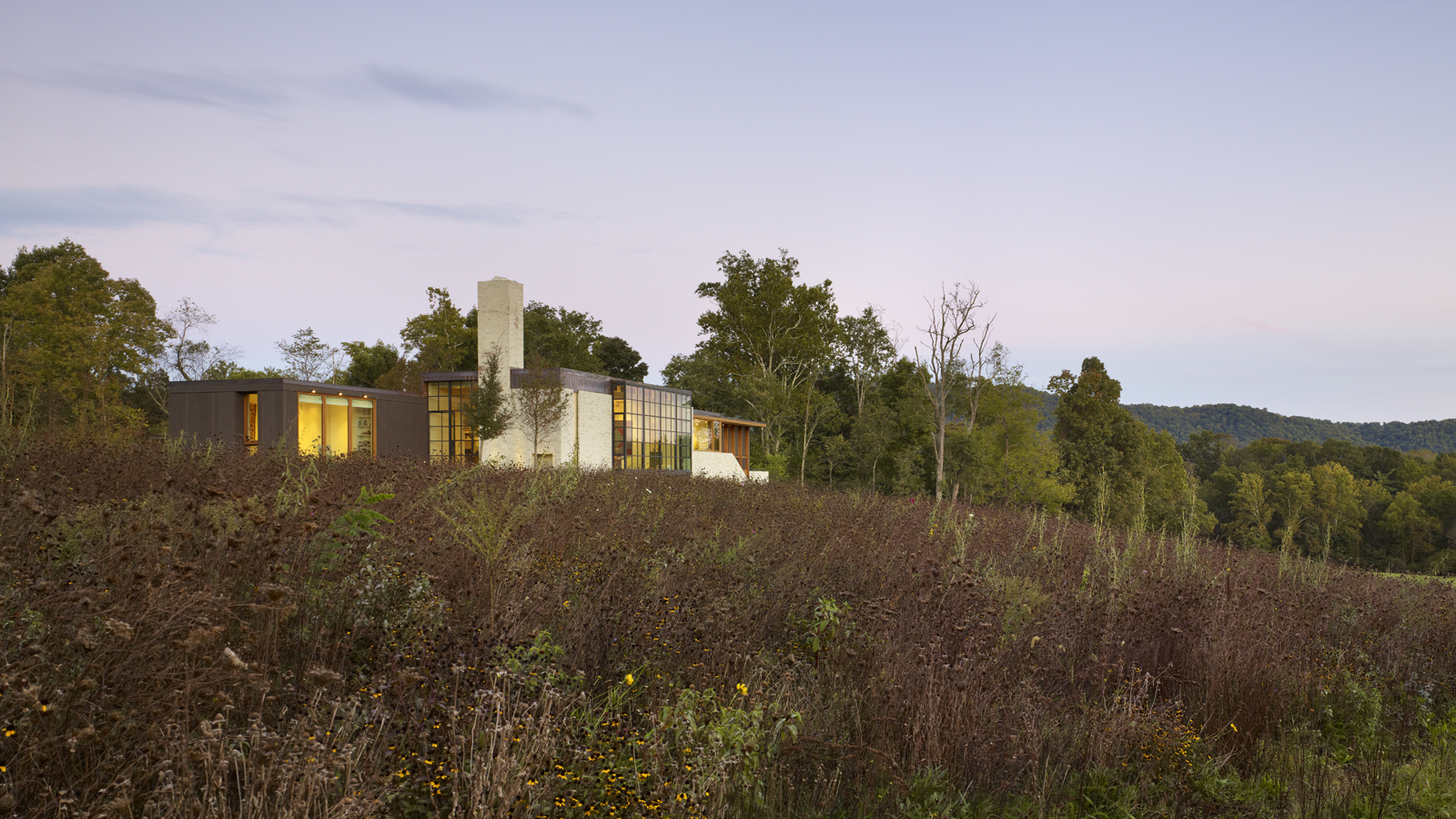 Saturday June 27, 10:30am to 12:00pm | Sperryville
House at Fletcher's Mill
Richard Williams, FAIA of Richard Williams Architects, with Gregg Bleam, FASLA of Gregg Bleam Landscape Architect
This modern complex set directly in the working agrarian landscape of the Virginia Piedmont recalls local traditions once strongly held. A new residence and guest house are perched on a picturesque knoll, abutting gently sloping meadows. The compound formed by the two structures is bordered by woods, and a new entry drive. From this vantage point, the minimalist house of concrete, cedar, copper, bluestone, and steel windows features views of the meadow, Thornton River, and three nearby peaks of the Blue Ridge Mountains, including Old Rag. The living spaces open up to broad views of the lower river meadow to the south and the wooded hills beyond the river. A linear pool, nestled into the landscape, occupies one of the choicest locations on the site. more photos
---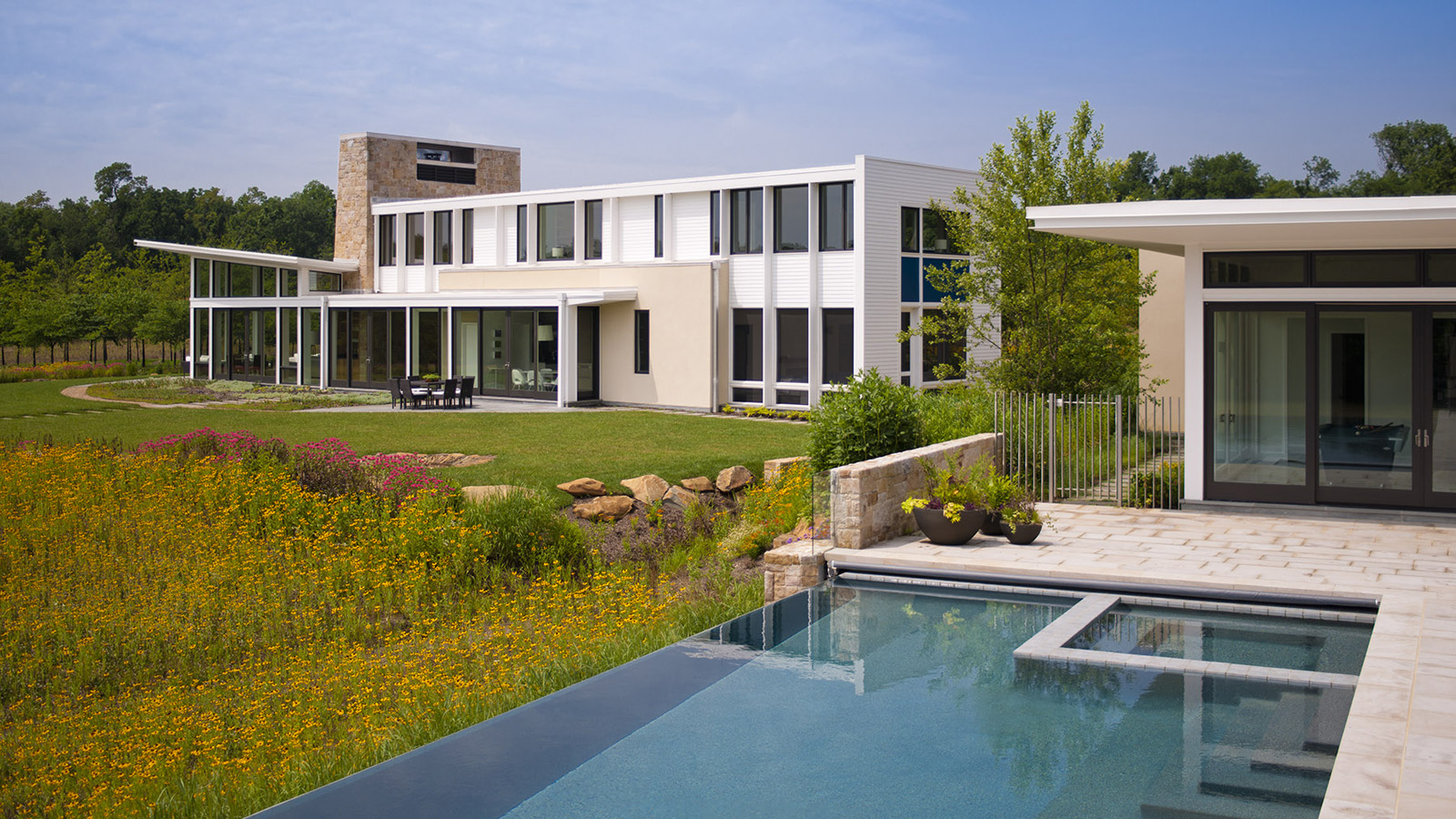 Saturday June 27, 2:30 to 4:00pm | Bluemont
Piedmont Retreat
Jay Graham, FASLA of Graham Landscape Architecture, with Ralph Cunningham, FAIA
Nestled at the base of the Shenandoah foothills in Virginia, this 178-acre site, once used for agriculture, has been transformed by the current owners into an attractive country retreat. The expansive landscape surrounding the residence incorporates Modernist design elements while acknowledging the site's vibrant agricultural history. Visitors enter the property along an extended driveway, aligned to perfectly capture views of the nearby foothills before meandering through a wooded area featuring a beautiful array of stone walls and mature oak trees that terminate abruptly in a clearing, offering guests their first glimpse of the main residence. Pathways, and terraces, encircle the home where a wedge-shaped entry garden beckons, drawing visitors through the front door. Other spaces include the Tapestry and Master's gardens, which were designed to introduce a diverse palette of plants to the property, direct views, and provide an additional splash of color and personality to the outdoor area. Adjacent to the home and bounded by natural boulders found on site, a turf platform provides flat ground for outdoor games. Beyond the lawn, a newly established meadow completes the design plan as it draws attention outward to more natural aspects of the environment, a pond, and restored woodlands. more photos
---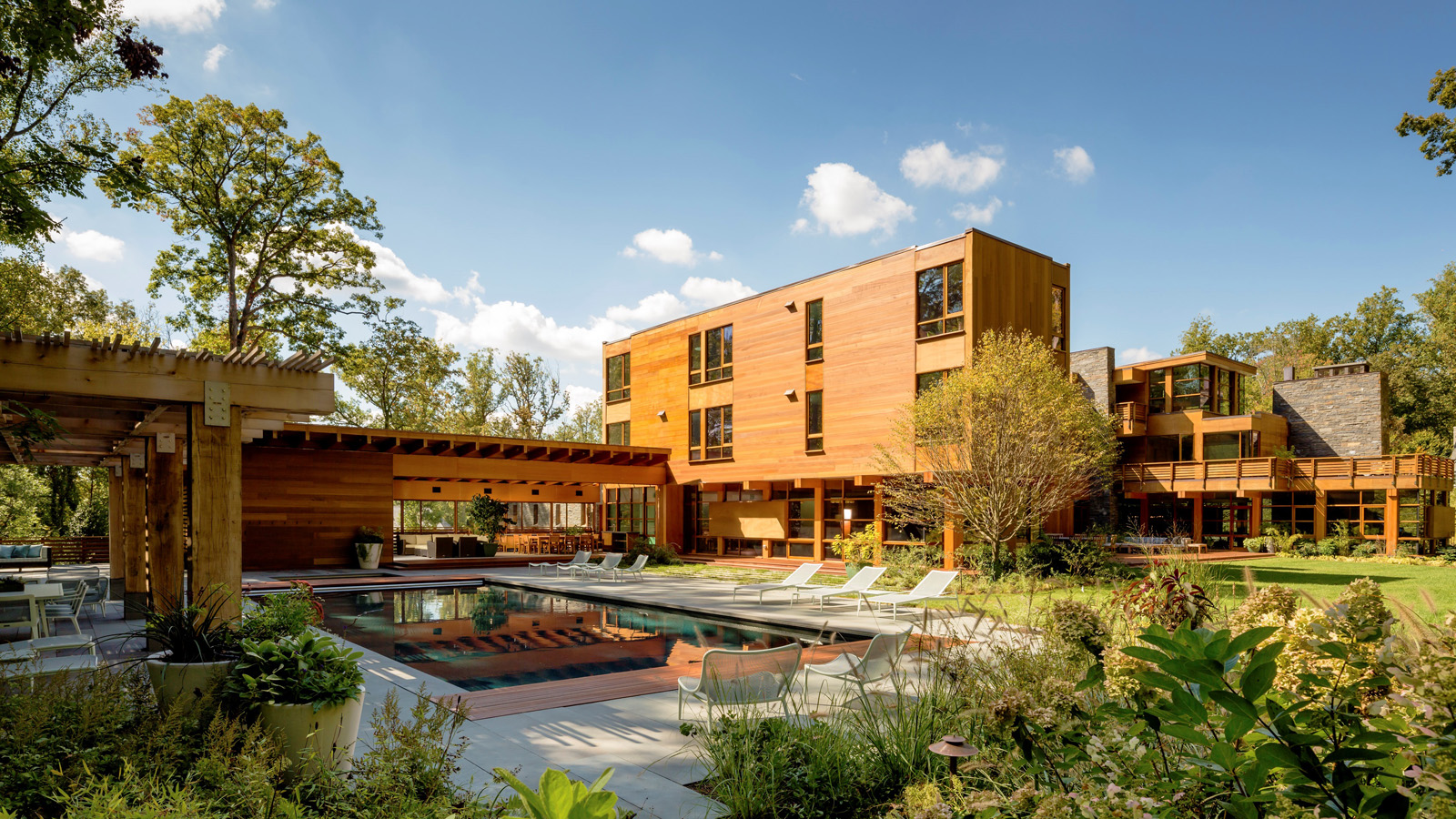 Sunday, June 28, 10:30am to 12:00pm | Bethesda, MD
Chalon Residence
Lisa E. Delplace of Oehme, van Sweden & Associates, Inc. with architect Alan Dynerman, FAIA of Dynerman Architects PC
An idyllic gathering place for a large, extended family, this distinctively modern home and garden in Bethesda, Maryland, is the result of a strong, collaborative process between the homeowner, architect, and landscape architect. It's reflective of the family's desire to balance function, craftsmanship, and superior aesthetics within the comprehensive site design. A prominent fence constructed of eye-catching steel slats defines the expanse of this two-acre property, creating an enclosed, private enclave for family activities and intimate gatherings. To effectively counter the sharp angles of the landscape and house, the interior gardens embrace a fluid design, creating a link between the home's modern architectural design components and the surrounding landscape. Indoor and outdoor living areas converge as the garden and lawn space form a hub for family functions. A sports court, sledding hill, and vegetable garden support a myriad of activities, while the backyard terrace, pool, and spa provide a modern space for entertaining. Farther from the central house, a mixture of understory plantings enhance a half-acre of preserved woodlands—adding a natural component to the site design and further enhancing the property's already diverse assemblage of landscape types and uses. more photos
---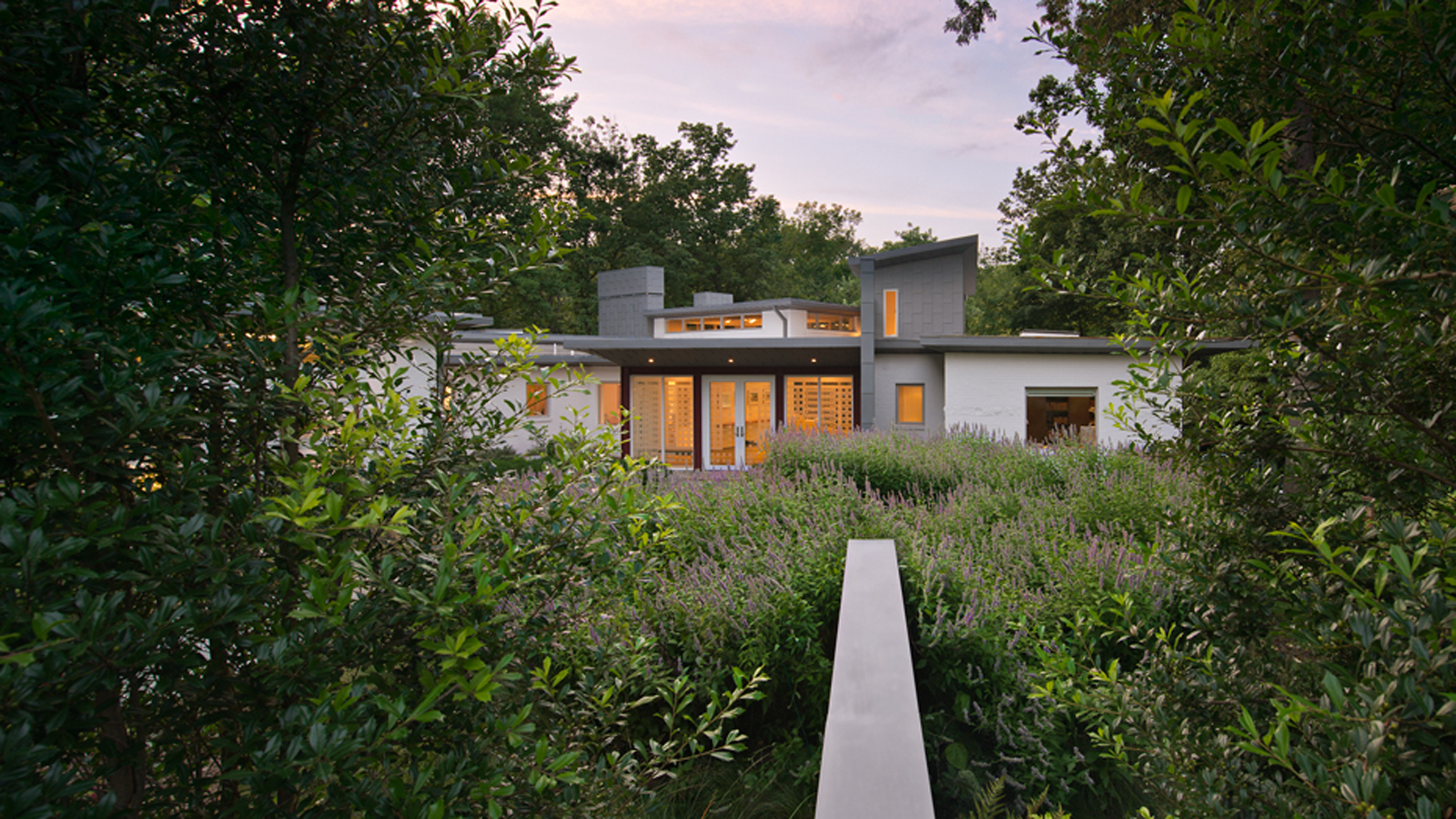 Sunday, June 28, 1:00 to 2:30pm | Washington, DC
Forest Hills Residence
Jay Graham, FASLA of Graham Landscape Architecture with architect Christopher Morrison, FAIA, LEED-AP
This recently renovated urban landscape and garden located in the Northwest quarter of Washington, DC, sprang from a near-complete reconstruction of the property's main house. Adjacent to Rock Creek Park, a large urban park and natural area, the landscape and gardens reflect both the woodland character of the nearby park and the modern architectural design of the home. Mirroring a distinct, internal angular wall separating the public and private spaces of the residence, a complimentary wall in the outdoor garden creates a dialogue between the interior of the home and the outdoor living space. Throughout the renovation process, the architect and landscape architect worked cooperatively to create a memorable outdoor space. Moving the original garage entrance allowed for an extension of the entry garden, where an extended walkway and ornamental screen along the street front provide enhanced privacy for the residence and create a garden backdrop visible from inside the home. Plantings in the rear of the home occupy the site's natural slope as the property descends steeply into Creek Valley, a spur of Rock Creek Park, and provide residents with a rare scenic view of dense woodlands and a space for quiet contemplation in the midst of the bustling metro region. more photos
---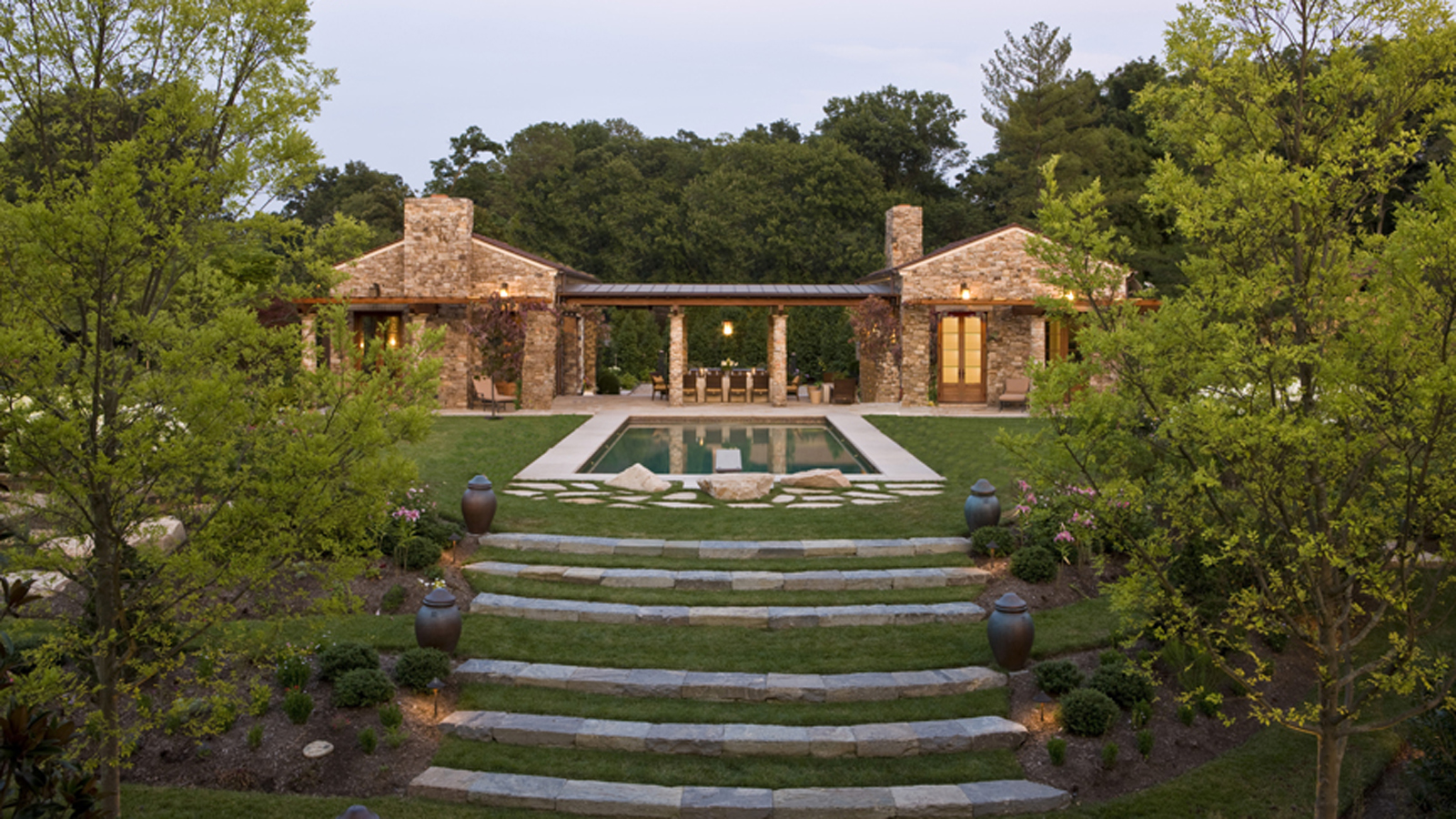 Sunday, June 28, 3:30 to 5:00pm | Potomac, MD
Family Retreat
Lila Fendrick and Doug Stookey of Lila Fendrick Landscape Architecture and Garden Design
The landscape architects incorporated an adjoining lot to create this delightful family retreat where the clients spend time with their two sons growing vegetables, swimming, playing in splash pools, soaking in the hot tub, hiding in a below-grade fort, and running through a maze of paths formed by towering shrubs.  The height differential between the owner's house and the crest of the new lot presented opportunities for linking the two lots. The landscape architect designed dramatic lawn steps up to the new pool and pool house complex, designing tiers of waterfalls around a sunken spa, terracing the site with playfully hidden paths, and concealing a lower level parking area and garage. The project uses locally sourced Western Maryland stone on the pool house/guest house and Delaware River Jacks for the pebble paving. Utah-sourced quartzite-sandstone boulders reflect the clients' appreciation for rugged western American landscapes. The variety of materials, linked by color and texture, and the unusual programming create a place of retreat and fun that feels far from the typical Washington, DC, area backyard. more photos