Annual Fall ASLA Excursion
Few Tickets Remain for Stewardship Excellence Reception & Chicago City Guide Launch
On Friday evening, November 6, at a reception at the Arts Club of Chicago, The Cultural Landscape Foundation (TCLF) will honor two Chicagoans with Stewardship Excellence Awards and debut the new, online What's Out There Chicago Guide (register below). The event, to be held on the eve of the American Society of Landscape Architects' (ASLA) Annual Meeting and EXPO, November 6-9, 2015, follows the sold-out, daylong Prelude to Modernism excursion (a wait list has been created; please contact Suzanne Garza).
The 2015 Stewardship Excellence Awards will honor the late Peter Lindsay Schaudt, a former TCLF board member and principal of the firm Hoerr Schaudt, and Cassandra J. Francis, former president & CEO of Friends of the Parks.  "Peter has been selected for this award," wrote TCLF President Charles Birnbaum in a letter to Mr. Schaudt's widow, Janet, about the award, "in recognition of his long-standing leadership and collaborative efforts to achieve holistic and thoughtful stewardship through the practice of landscape architecture … Peter's thoughtful and sensitive work has led to renewed and revitalized nationally significant landscapes." Ms. Francis is being recognized for her exceptional courage, resilience, and principled determination in protecting open space and significant parkland held in the public trust. Her advocacy has been crucial in the national conversation about the confiscation of Olmsted-designed parks for the Obama Presidential Library, and the potential privatization of lakefront open space for the Lucas Museum of Narrative Art. Both recipients are role models of stewardship excellence.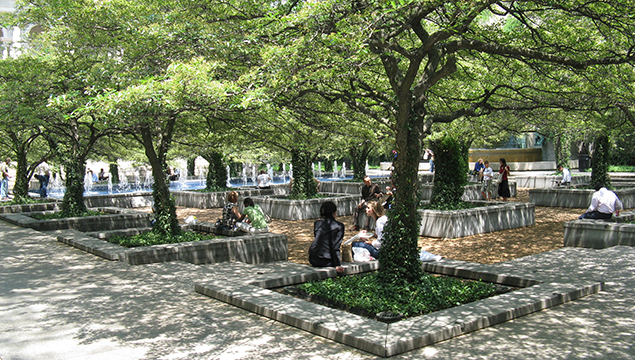 Art Institute of Chicago, photo by Charles A. Birnbaum, 2015.

Also, at the reception, TCLF will announce the launch of the What's Out There Chicago Guide. This online, interactive compendium—the fourth in the series— will raise the visibility of the landscapes and designers that have made Chicago great. Funded in part by the Richard H. Driehaus Foundation and developed in collaboration with the ASLA Illinois Chapter, the Guide will include illustrated site profiles for more than 50 landscapes and biographies of more than 20 designers.  GPS-enabled, the Guide will include maps that display the locations of all of the sites, enabling people to develop itineraries for exploring Chicago's nationally significant landscapes. It will also include narratives about the history of the city's landscape architecture, providing critical background about the interconnectedness of all of these sites. And, as a digital resource, the Guide is flexible, allowing for the addition of sites and designer profiles.
201 E Ontario Street
United States