Garden Dialogues 2021: "Truly Spectacular!"

Garden Dialogues 2021: "Truly Spectacular!"
Garden Dialogues 2021: "Truly Spectacular!"
After a truncated 2020 Season of Events, The Cultural Landscape Foundation (TCLF) was thrilled to get back in the field this year. Judging by the reviews, TCLF's 2021 Garden Dialogues Season was a huge hit. "Between the garden, the architecture and the weather it was a truly spectacular tour!" raved one attendee. The 2021 Season covered eleven tours in eight states across the South, the East Coast, New England, the West Coast, and the Pacific Northwest. Almost 250 attendees learned first-hand from landscape architects, architects, and their clients about the secrets to creating great gardens.
The Season started in Sarasota and Bird Key, Florida with three modernist projects from DWY Landscape Architects. Attendees raved about the all-day event that included a boxed lunch in a local park. Dialogue leader David Youn reported, "We had a great time doing this and appreciate TCLF's support and continued involvement in advancing the profession."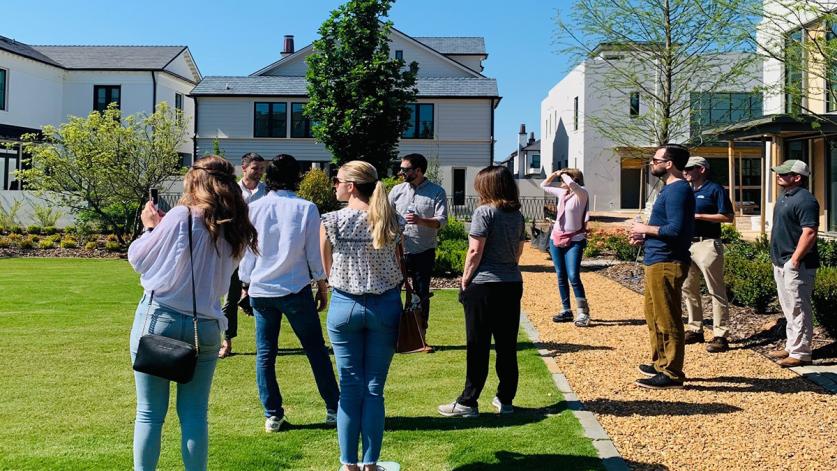 In Fayetteville, Georgia attendees learned about The Town at Trilith, a community intentionally designed to promote health, wellness, and creativity through the creation of an exceptional pedestrian environment with over 15 miles of sidewalks and trails. Attendees marveled at the fact that 51% of the development is being dedicated to green space and upwards of 19 unique parks when fully realized.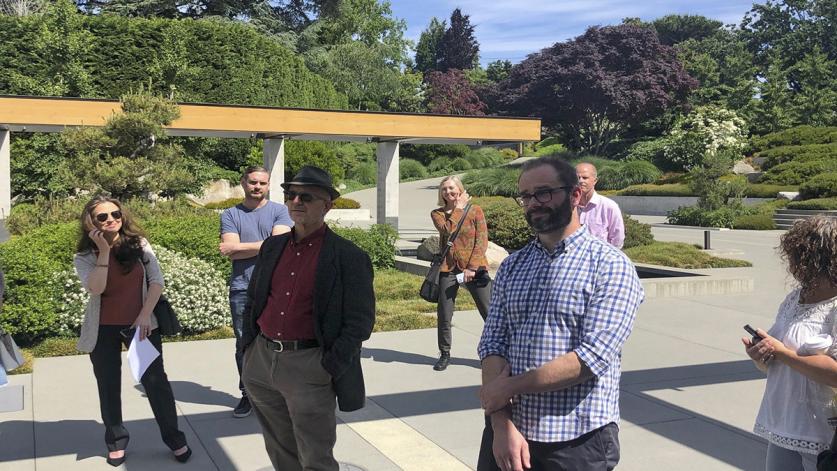 The weekend of June 12 was a busy one with two Dialogues in California, one in Mercer Island, Washington, and one in Concord, Massachusetts. The California events began in Los Angeles with a project by Pamela Burton, the subject of TCLF's most recent Pioneers Oral History. This project breathes new life into the gardens surrounding a recently renovated mid-century-modern home, known as the Goldman House, designed by Richard Neutra in 1951. Extant landscape drawings for the property by Garrett Eckbo informed the new work, which is sensitive to the sloping topography and existing native Coast Live Oak trees.
Attendees also explored a unique beachfront landscape, once five shoreline properties, now converted into one vast, flexible space by Seattle-based Allworth Design. "Randy Allworth was a wonderful guide and the property was amazing," said one tour-goer. Cohesion, functionality, and beauty define this large property which accommodates social gatherings large and small and includes an upper pavilion, great lawn, outdoor fireplace, beach fire pit, bocce court, water features, a hot tub, cold plunge pool, and the owner's sculpture collection.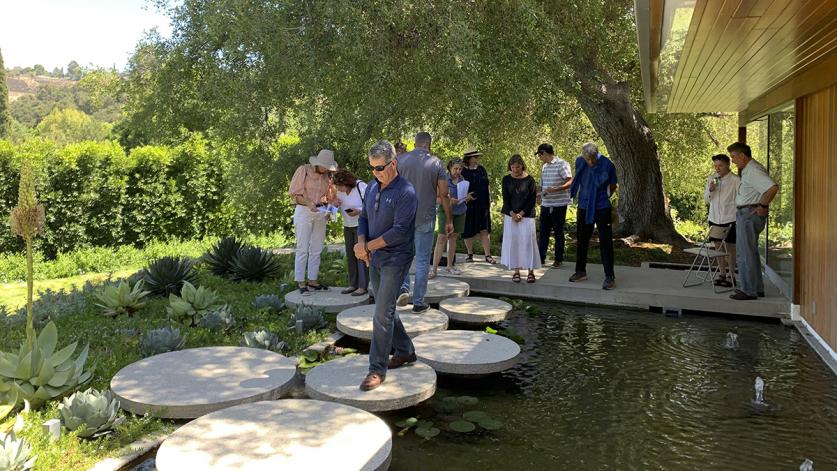 High above Bel Air, Stephen Billings shared a two-acre garden affording panoramic views of downtown Los Angeles, the distant San Gabriel Mountains, and the Los Angeles Westside. The owners commissioned Stephen Billings Landscape Architecture to create gardens that reflect their active lifestyle and growing family. Billings proclaimed, "The tour was a real treat for people to see and to get out of their homes for a change."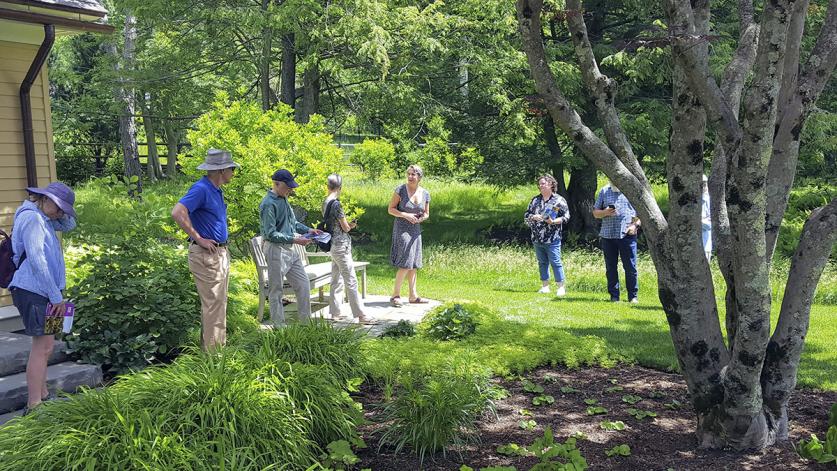 On the opposite coast, Crowley Cottrell and Naomi Cottrell featured a Concord, Massachusetts project that enhances the connection of the house to the large wetland meadow, creating a sense of place that is ecologically focused. "Having the architects, the landscape designers and the homeowners there to explain things was a real treat," reported one attendee.
Two tours on Long Island demonstrated opportunities for highly flexible and sustainable residential landscapes. In Sagaponack, the tour explored the property surrounding a contemporary home which brings luxurious, easy living outdoors. A terrace with full outdoor kitchen and dining area and a serene pool offer equal opportunity to entertain or relax in view of the shoreline. In nearby Wainscott, attendees explored how Abby Lawless and Edwina von Gal brought coherence to a site of multiple properties now connected into one sprawling landscape. Since 2012, the property has been free of synthetic chemicals, and it now includes a full-on composting operation to repurpose biomass produced onsite.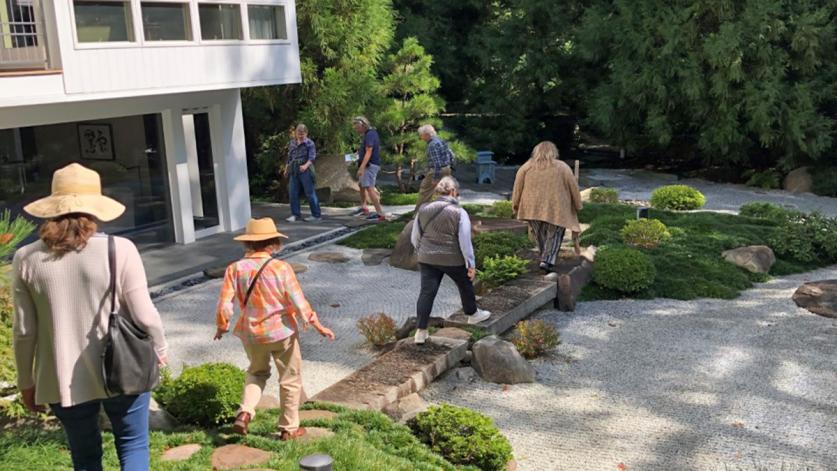 The Season concluded with tours in Greenwich, Connecticut and Annapolis, Maryland. In Connecticut, architect Joeb Moore and landscape designer Kathryn Herman led attendees through the two-acre site of Slice House, a unique family home carefully situated to fit between the property's rock outcroppings and mature trees. In Annapolis, the tour led by landscape architect Jay Graham and gardener Ron Ammon showcased a one-acre garden laid out by Moody Graham at Aberdeen Creek consisting of several outdoor rooms, including a meditation garden by ZEN Associates, designed to complement the client's 20th century art collection and love for midcentury modern design.  
Each of this year's tours, as one attendee put it, "was a welcome 'coming out' event after being away from people and events like this for the last year plus." It was wonderful to bring this beloved series back to life in 2021, and TCLF thanks this year's hosts, guides, and attendees for a successful Season. Keep a lookout for an announcement about the next series of Garden Dialogues, coming soon! For more information, please contact TCLF's Aileen Beringer.